Helping Students Address their Health and Well-being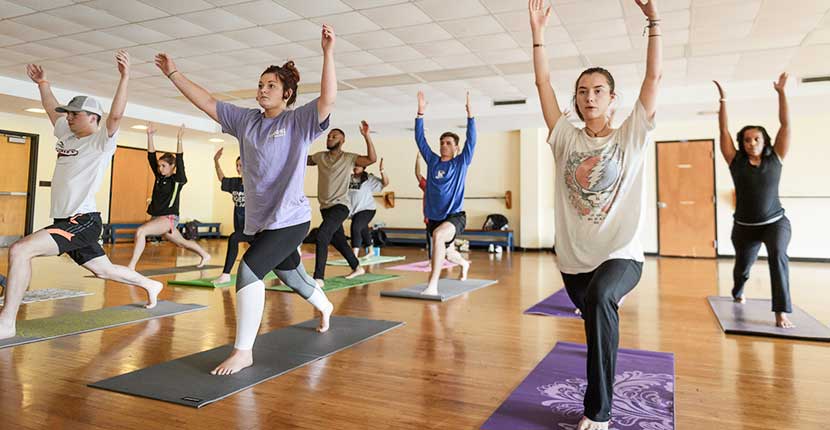 Student Affairs offers two departments that are specifically connected to enhancing students' health and well-being, including Student Health and Counseling Services as well as Campus Recreation and Intramural Services.
Student Health and Counseling Services
The Student Health Center (SHC) helps students (and faculty and staff) maintain, restore and improve their physical and emotional well-being. SHC is an accessible, cost effective health care facility that emphasizes campuswide health promotion, disease prevention and short-term acute episodic outpatient medical care.
The center also offers a walk-in clinic where no appointment is necessary. Only lab tests ordered by SHC medical providers can be performed.
SHC is staffed with nurse practitioners, registered nurses, licensed practical nurses, laboratory and X-ray technologists, health educators and various administrative support personnel. Most frequently used prescription medications (written by SHC nurse practitioners) and a variety of over-the-counter medications can be purchased at a nominal charge. More information on SHC services can be found via its website.
The Counseling Center provides a number of services to support students experiencing mental health concerns, including free counseling services (up to 12 visits) to students enrolled for at least six credit hours in the current fall or spring semester. Therapy groups are also available to help students talk with other students about their challenges. Students can walk in Monday - Friday between 10 a.m. and 4 p.m. to meet with our staff. After their initial meeting, students can schedule appointments directly with their therapist.
During this time of the year, many students are in need of stress management resources. The Counseling Center has a Relaxation Zone which offers a variety of "relaxation stations," including: multiple vibrating massage chairs, biofeedback computers, stress relief coloring, zen garden sand trays and stress ball creation. The Relaxation Zone, located in Brister Hall 302, is free to enrolled UofM students; no appointment is necessary. It is open in fall semester on Monday - Friday between 9 a.m. - 4 p.m. and in summer between 10 a.m. - 3 p.m. Students with accessibility concerns can check in at the Counseling Center in Wilder 214 for alternative arrangements.
Helping students manage their stress as they enter into the final stretch of the semester is always important. Dates and times, as well as information on other outreach efforts can be found on our outreach web page.
Campus Recreation and Intramural Services
Campus Recreation and intramural Services (CRIS) provides opportunities and experiences that contribute to the health, well-being, development and education of the UofM community. Students pay membership fees to use these services, including full workout facilities, basketball courts and fitness classes. The hours of operation may vary around finals time and students are encouraged to review these hours on the CRIS website.