UofM Helped Me Break Out of My Shell.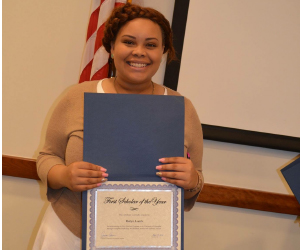 Railyn Lamb
I never thought college would be an opportunity that I'd actually get to experience. I grew up in a single-parent household with my mother whose highest education level is high school. I'm the first in my family to attend college and it's something I've grown proud of over the last four years.
Although my time at the University of Memphis (UofM) has been life changing, my freshmen year was a struggle. I wasn't involved, and I didn't know a lot of people. Needless to say, I was often homesick. Yet, as a recipient of the First Scholars scholarship, the program pushed me to break out of my shell. As a requirement, all members must be actively involved in at least one registered student organization. As a result, I ventured around in search of an organization that I felt most at home.
The Black Student Association (BSA) became that place for me. As soon as I joined, I became an active member and served in several leadership roles, including the Black History Month committee chair, treasurer, vice president and currently, president. Thus, I've grown to deeply love this organization and all the opportunities that it has afforded me. Moreover, Multicultural Affairs, as a whole, has connected me with administration on campus, past alumni and community partners who enjoy giving back to the UofM.
My involvement on campus has most definitely played a role in my college success. It has motivated me to stay on top of my assignments and keep my grades up so that I can continue to set an example for other students on campus. Additionally, it has helped me find my voice and enhance my networking and communication skills. I would not trade my involvement or time here for anything.