Meet Our Staff
Carol Chancellor - Admissions Counselor for Transfer Students
cchncllr@memphis.edu
Phone:901-678-3331
I am an Admissions Counselor for transfer and non-traditional students. As a native Memphis and alumna of Memphis State University, I greatly appreciate the diversity and generosity of spirit among our students and staff. I look forward to exploring ways in which the UofM can assist you on your academic journey.
---
ToNaya Gulley - Admissions Counselor
tsgulley@memphis.edu
Phone:901-678-2707
I am originally from Akron, Ohio but as a military kid I've had the opportunity to live in 6 different states! As a former student-athlete and proud alumna of this University, I'm honored to call Memphis my new home because of the grit and grind that it has taught me, the beautiful green spaces on campus and in the community, and the plethora of delicious food options. I'm excited to share the abundant opportunities here and in the city of Memphis with you. Go Tigers!
---
Adam Johnson - Coordinator of Recruitment & Enrollment Services (UofM Lambuth)
ljhnsn35@memphis.edu
Phone:901-678-1964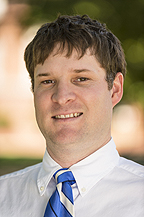 My name is Adam Johnson and I have worked in recruitment for 10 years. I have been with the UofM for the past five years. I have the pleasure of promoting the great experience that the UofM has to offer both in Memphis and in Jackson, TN -- at the Lambuth Campus. The UofM offers a great college experience and benefits greatly from having the support of the city of Memphis at its fingertips. Internship and research opportunities along with tons of fun things to do and plenty of great food are just a few of the reasons to consider the UofM. If you want a very unique experience that provides all of the resources that the UofM has to offer on a smaller, picturesque campus, then come and visit us at the UofM Lambuth! We look forward to having you on campus soon!
---
Beckah King - Admissions Counselor
rmking@memphis.edu
Phone:901-678-4011
I am an Admissions Counselor. I am a born and raised Memphian and University of Memphis alumna. I love getting to share more about the University of Memphis and the city of Memphis that I love so much with high school students, as they are getting ready for the next chapter in their lives. The city of Memphis has class and grit and it's a beautiful mix. On campus, I love that you can have the big campus student life with a small campus vibe. Please do not ever hesitate to reach out to me if you need anything. Go Tigers Go!
---
Cayman McMahan - Admissions Counselor
cmcmhan2@memphis.edu
Phone:901-678-4182
Originally from Seymour, TN, I recently moved to Memphis and serve as an admissions counselor for East Tennessee. I am an alumnus of East Tennessee State University, where I earned a bachelors degree in Media and Communications. There are many things to do here in Memphis – between the restaurants and attractions like the Memphis Zoo, Civil Rights Museum, and the historic Beale Street. It's hard to be bored in Memphis! On top of that, the University really cares about its students; there are so many resources to ensure that students succeed and get the most out of their education.
---
Sammy Morris - Admissions Counselor
smorris6@memphis.edu
Phone:901-678-3934
I was born and raised in Springfield, Tennessee but I am proud to call Memphis my home now. I am alumnus from the University of Memphis with a bachelor's in Sport and Leisure Management. My favorite thing about Memphis is there is always something to do, no matter your interests. You could catch the Tigers play football or basketball, you could go to one of the many restaurants in the Memphis area, you can visit historic Beale Street, or you could go for a nature hike at Shelby Farms! Take it from a former student, you have to see for yourself how great Memphis is!
---
Kyle Nixon - Associate Director for Recruitment & Communications
kcnixon@memphis.edu
Phone:901-678-0857
I was born and raised in south Mississippi, but have found a home here in Memphis! I graduated from the University of Southern Mississippi with a bachelor's degree in psychology, and from Louisiana State University with a master's in Higher Education Administration. What I love most about Memphis is the chance to always experience something different – no two days are the same. From kayaking at Shelby Farms Park, enjoying a summer concert at the Levitt Shell, to eating some world-renowned BBQ downtown, there's always something to do in Memphis. Come see for yourself; I think you'll feel the same way!
---
Lauren Robbins - Admissions Counselor (UofM Lambuth)
lhllbrtn@memphis.edu
Phone:901-678-1950
I am an admissions counselor for West Tennessee, as well as some out-of-state areas. I'm located on our Lambuth Campus in Jackson, TN. I'm an alumna of Union University and earned a bachelor's degree in Exercise Science and Athletic Training. Two of my favorite things about Memphis are food and the Memphis Grizzlies basketball team. I love Central BBQ, Whimsy Cookie Company, and watching the Grizzlies play at the FedEx Forum. At the University of Memphis, everyone has a place and makes you feel like it's your home. I hope to see you on campus soon!
---
Paige Rooney - Assistant Director for Orientation & Recruitment
lplblanc@memphis.edu
Phone:901-678-2163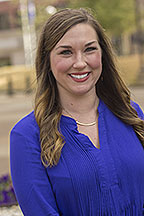 Hailing from Jackson, MS, I graduated with a communication studies degree from the University of Southern Mississippi before attending Louisiana State University for my Master's in higher education administration. Since moving to Memphis, my favorite thing about the university and the city has been the rich diversity! There is such a wide variety of people, food, and fun things to do around campus and in the city. If the diverse opportunities don't win you over, the kind and welcoming community surely will. It's the type of place that you never want to leave after coming to visit – trust me, I came for an internship and am still here 5 years later! We can't wait to show you our growing city and our beautiful campus!
---
Jordan Scott - Admissions Counselor
jscott17@memphis.edu
Phone:901-808-3330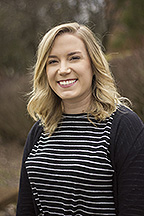 My name is Jordan Scott and I am the regional admissions counselor for the Middle Tennessee area (residing in Nashville). I graduated with a Communication/Public Relations degree from Austin Peay State University before beginning my Master's in Higher Education at the University of Mississippi. Growing up in Jackson, Tennessee, my family spent a lot of time in Memphis. One of my favorite things is the collection of murals you can find around the city. They truly show the pride that Memphians have for the city and the UofM— they're even a great photo op for your Instagram if you're into that! As for the university, I love the instant sense of community that you feel when you step on campus. Even if you don't see a familiar face, you'll see many friendly faces. Come visit us and we'll show you how great being a Tiger truly is!
---
Chloe Simmons - Admissions Counselor
csmmns18@memphis.edu
Phone:901-678-3062
My name is Chloe Simmons and I'm a native of West Point, MS. I attended Mississippi State University, where I earned my bachelor's degree in Educational Psychology. I love Memphis and all of the culture that has made it what it is today. Please reach out to me with any questions you may have. I'm excited to share with you all that the UofM and the city has to offer. Go Tigers!
---
Jamie Staggs - Admissions Counselor
jstaggs1@memphis.edu
Phone:901-808-4870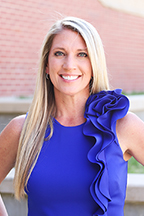 My name is Jamie Staggs and I am the Regional Admissions Counselor for students from Missouri, Illinois and Indiana. My office is regionally based near St. Louis, Missouri. I graduated from Southern Illinois University at Edwardsville with a double major in Speech Communication and Mass Communication. I think students appreciate the innovation and creativity that can be found in our classrooms, plus they get to enjoy the amazing music, food, parks and entertainment that the city of Memphis can offer them.
---
Kristen VanNoord - Coordinator of Campus Visitation
kvnnoord@memphis.edu
Phone:901-678-3994
I'm from Grand Rapids, MI but lovingly call Memphis home now. I graduated from Grand Valley State University with my bachelors in nonprofit administration and the University of Mississippi with a masters in higher education/student affairs. I love being a tourist in this city – experiencing Memphis food, culture, and music. If you need suggestions on restaurants or other things to do during your visit to Memphis, please let me know. We can't wait to show you around our beautiful campus here at the UofM.
---
Erika Wynn - Communications Coordinator
ekwynn@memphis.edu
Phone:901-678-0566
My name is Erika Wynn, I am a native Memphian and as the Communications Coordinator I handle prospective student communications and manage the telecounseling department. I have worked in communications for five years in both Memphis and Nashville and I am elated to be back where my love for all things communications started. I am a product of the Department of Journalism—Public Relations and I still utilize what I learned in college through education and student involvement daily. I am a firm believer that there is no place in the world like Memphis with its diversity, uniqueness, food and of course the UofM. Go Tigers!
---