News/Events
Art Education Alumni Juried ExhibitioN: "Tolerance through Art Education"
Submission Deadline February 27, 2016
The theme for the exhibition is "Tolerance through Art Education." Each alumnus must submit one recent work of art, and two students' works (one male and one female). The artwork must convey the idea of tolerance. Student work may or may not show a relationship to their Art Teacher's work. Please make sure the works of art submitted are ready to hang and are constructed to withstand being hung.
For more information/schedule and registration form download here.
---
Art Review: "Say What?" Greely Myatt at Sandler Hudson Gallery
Image caption (above): Michael Aurbach, Administrative Vision, 2013. Mixed media. Image courtesy of the artist.
Art is a form of communication. The visual language of pictures and symbols spans cultures and breaches the boundaries of speech. Viewers personify it by asking: What does it mean? What is the art saying? The sculptures in Greely Myatt's show, "Maybe I Can Paint Over That," at Sandler Hudson Gallery depict these articulations and audience-art conversations.
The symbols Myatt creates out of cut wood and bent steel are ubiquitous icons that have been used, in different iterations, for over 1,400 years. Thought and speech bubbles were in use as far back as 600 A.D. in Mesoamerican art, appearing in the form of scrolls streaming from the speaker's mouth. Over the years, these visual representations of speech have taken the form of scrolls, balloons, and bubbles in illuminated manuscripts in the Middle Ages, political cartoons during the Revolutionary War, the first-known newspaper comic cartoon Yellow Kid in the late 1800s and the golden age of comic books that followed in the decades after, then again when Pop artists adopted the visual language of comics. Myatt's free-floating speech and thought bubbles mimic a Pop art sensibility, but in a way that translates the symbol into the language of our current era, where it has been recast in technological correspondence and advertisements. Read full article.
---
GRAPHIC DESIGN SENIOR SHOW
Thursday, December 8, 2016
6-8 pm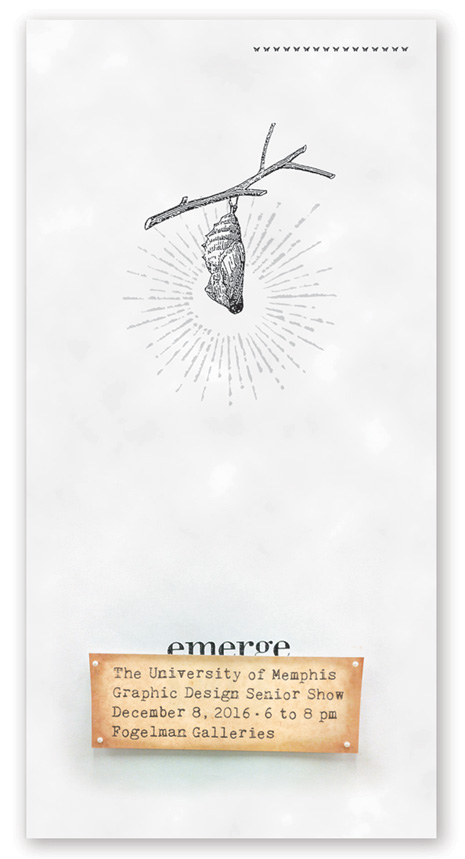 Join us for a one-night only exhibition of works by graduating University of Memphis undergraduate Graphic Design students: Karrick Adams, Fatimah Alkabsh, Zuri Allen, Joshua Carodine, Michael Coker, Jasmine Ford, Kamaria Gunn, Nichole Hopper, Deshae Johnson, April Kirkwood, Caryn Nichols, Lauren Nix, Joshua Rounds, Geoffrey Ware, Austin Winstead, and Jasmine Woods.
---
U of M's Egyptian Institute Will Host November 10th Lecture
"City of the Falcon: Excavations at Egypt's Earliest Capital"
The Institute of Egyptian Art & Archaeology and the Department of History of the University of Memphis, in association with the Tennessee Chapter of the American Research Center in Egypt, will co-host the eleventh annual William J. Murnane Memorial Lecture on Thursday, Nov. 10, in the Art and Communications Building, room 310. Dr. Renee Friedman, Curator in the Department of Ancient Egypt and Sudan at the British Museum, London, will present at 7:00 p.m. A reception will precede the lecture, at 6:15 p.m. Both events are free and open to the public. Pay parking is available in the Innovation Garage (Lot 40), located next to the Fogelman Executive Center.
Dr. Friedman earned her doctorate at the University of California, Berkeley, and is a world renowned scholar specializing in the earliest stages of ancient Egyptian prehistory and history. She has extensive field experience in Egypt, including leading excavations at the ancient city of Nekhen / Hierakonpolis, where she has served as director since 1996.
Dr. Friedman will be speaking on the ancient Egyptian city of Nekhen, which was known to the Greeks and Romans as Hierakonpolis ("Hawk-town"). Nekhen was one of the largest urban centers during the fourth millennium bce. Its great temple of the hawk god Horus produced some of the most important early artifacts known from ancient Egypt, including the Narmer palette, which appears to document the unification of Upper and lower Egypt over 5,000 years ago. The site continues to yield important information about Egyptian history. Dr. Friedman will present some of her most recent research on the site.
For more information, email Dr. Joshua Roberson at jrbrson4@memphis.edu or the IEAA at 901.678.2555.


---
U of M's Egyptian Institute Will Host October 27th Lecture "Magic and Demonology in Ancient Egypt"
The Institute of Egyptian Art & Archaeology, in association with the Tennessee Chapter of the American Research Center in Egypt, will host a public lecture on Thursday, Oct. 27, in the Art and Communications Building, room 310. Dr. Rita Lucarelli, Assistant Professor of Egyptology at the University of California, Berkeley, will present at 7:00 p.m. A reception will precede the lecture, at 6:15 p.m. Both events are free and open to the public. Pay parking is available in the Innovation Garage (Lot 40), located next to the Fogelman Executive Center.
Dr. Lucarelli studied at the University of Naples "L'Orientale," Italy, and received her M.A. degree in Classical Languages and Egyptology. She holds her Ph.D. from Leiden University in the Netherlands. She is currently completing a monograph on demonology in ancient Egypt and she is one of the coordinators of the Ancient Egyptian Demonology Project: www.demonthings.com. In 2006, her doctoral dissertation was published as The Book of the Dead of Gatseshen: Ancient Egyptian Funerary Religion in the 10th Century BC.
Dr. Lucarelli will be speaking on the character of ancient Egyptian magical practices, with a special focus on the role of demons. Dr. Lucarelli will discuss the current scholarly understanding of the terms "magic" and "demons" in ancient Egypt. Information from Egyptian texts and artifacts, including magical spells and objects employed in ritual contexts, will be presented and comparative views with other demonologies from antiquity will also be explored.
For more information, email Dr. Joshua Roberson at jrbrson4@memphis.edu or the IEAA at 901.678.2555.
---
"TED Talks: Education Revolution"
Featuring tons of stage video design by fellow Memphians/UofM Asst. Professor Brandon Bell
PBS (WKNO at 9:00 pm)
Tuesday, September 13th
On Tues, Sept 13 (WKNO at 9:00 pm), PBS will air the last of three "TED Talks" specials highlighting themes from last November's six-night series of "TED Talks Live" in NYC. I worked with photographer Sarah Rossi and animator Dan Baker (both Memphis-based) to create all the stuff on stage behind the speakers & performers: it's a full-stage video screen with content created here in Memphis.
The program is hosted by producer and comedian Baratunde Thurston and actor and singer Sara Ramirez, and features talks by educators Sal Khan, Victor Ros, Nadia Lopez, and Julie Lythcott-Haims. It also showcases performances by Meshell Ndegeocello and Anna Devere Smith.
Physical set design is by NYC-based Seth Easter Design and consisted entirely of LED screens wrapping the stage. The screens are filled with animations, video, and photography that we designed, and was programmed on-site at Broadway's Town Hall Theater with NY-based Peter Acken. Sarah & I photographed some of the material for this series here at the UofM, as well as Idlewild Elementary in Midtown (shown below in blue-green) and Memphis Equipment Company downtown.
---
SUE JOHNSON: HOME OF FUTURE THINGS
September 16 – November 11
Artist Lecture: September 15, 7 pm (ACB 310)
Opening Reception: September 16, 5-7:30 pm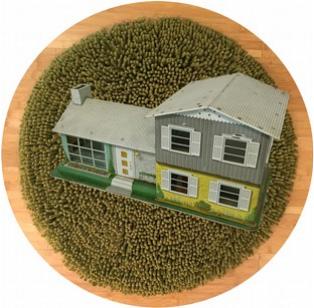 Sue Johnson: Home of Future Things is an exhibition featuring works by the artist Sue Johnson that considers the cyclical nature of mass consumption. The exhibition features small-scale works on paper as well as floor-to-ceiling vinyl panels and decals that the artist has designed—transforming the gallery into the interior of an ideal, modern home. As the exhibition title suggests, Johnson envisions a world in which the home is nostalgic and familiar yet also reduced to an empty space existing simply to house various things. Johnson's work makes various art historical allusions ranging from ancient Greek mosaics and 17th-century Dutch still-life paintings to Dada and Pop collages. Despite spanning a vast expanse of time and place, these references share a common fascination with commodities and excess that Johnson remixes through a 21st-century lens. Specifically, her work is rooted in the Dutch still-life tradition of vanitas—images that contemplate the transience of life through the display of objects with symbolic meaning. Her process intentionally blurs the boundaries between the real and imagined,historical and timeless, hand-painted and digital. What results is an immersive environment constantly tugging at our sense of reality.
Image: Sue Johnson, Shag Lawn, 2016. 48 in. diameter, vinyl floor decal. Courtesy of the artist.
---
RODRIGO VALENZUELA: FRONTIERS
August 26 – October 14

Artist Lecture: August 25, 7 pm (ACB 310)
Opening Reception: August 26, 5-7:30 pm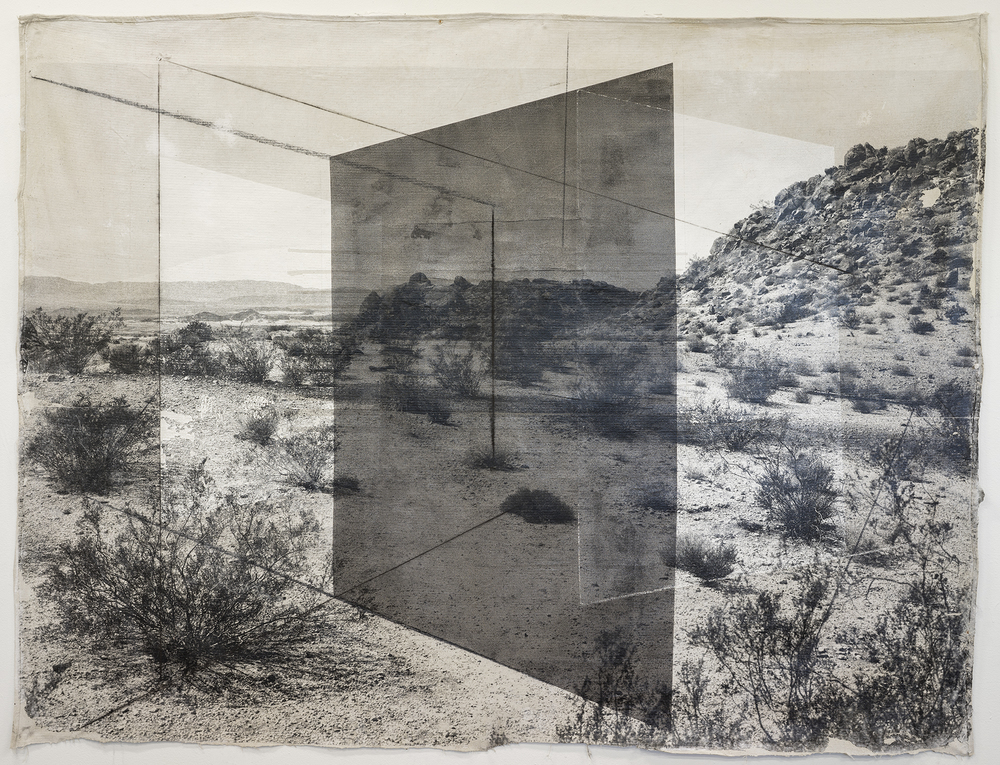 Rodrigo Valenzuela: Frontiers features the work of Chilean-born, Houston-based artist Rodrigo Valenzuela. The exhibition marks the artist's foray into painting, building off of earlier photographic work for which he is known, and also includes two video works that address issues of labor and migration. The notion of the frontier, long mythologized in the United States through the doctrine of Manifest Destiny, transcends into more nebulous, global territory in this exhibition. Venturing into uncharted lands in search of something greater is a thrilling yet alienating experience. Inherent to this journey is the role of labor and construction in the broadest sense—the way we fabricate dreams of a better future to the very real work required to get there.
The Spanish word for "frontier," la frontera, is most commonly used to refer to the border between the U.S. and Mexico. Featured in the exhibition are two video works that humanize and make visible the "invisible labor," as Valenzuela calls the manual labor often performed by immigrants and people of color. The exhibition will also showcase Valenzuela's new image-transfer paintings that present fragmented, barren landscapes spliced with geometric forms. They are amalgamations of the many places the artist has lived and visited, evoking a sense of being the first to inhabit a foreign, empty land.
Central to the ethos of the exhibition is a collaborative installation called MDF (2016) created by Valenzuela and a team of undergraduate students from The University of Memphis Department of Art. Tying into the Fogelman Galleries' identity as a teaching gallery, Valenzuela will introduce students to image transfer techniques and other aspects of his process during his week-long visit to Memphis. Together, their efforts will result a new landscape made by the hands of many.
Additionally, Valenzuela will give a public lecture on Thursday, August 25 at 7 pm in Room 310 in the Art and Communications Building, located at 3715 Central Avenue. An opening reception will be held the following day on Friday, August 26 from 5-7:30 pm in the Fogelman Galleries. The reception will also celebrate the opening of the exhibition Infoxication: Ruben Garnica.
Rodrigo Valenzuela (b. 1982, Santiago, Chile) completed an art history degree at the University of Chile (2004), then worked in construction while making art over his first decade in the United States, completing an MFA at University of Washington in 2012. Using staged scenes and digital interventions, Valenzuela's photography, video and installation work is rooted in the contradictory traditions of documentary and fiction, often involving narratives around immigration and the working class.
Valenzuela's residencies include a Core Fellowship at the Museum of Fine Arts, Houston (Texas), Skowhegan (Maine), Bemis Center (Nebraska), and the Center for Photography at Woodstock (New York). Valenzuela is recipient of several awards, including an Artist Trust Arts Innovator Award (2014). Recent solo exhibitions include David Shelton Gallery, Houston (2016), the Frye Art Museum, Seattle (2015), Museo de Arte Contemporaneo, Santiago (2015), envoy enterprises, NewYork (2015) and Upfor Gallery, Portland, OR (2015). His work is in the collections of the Frye Art Museum, Seattle; Samuel Dorsky Museum of Art, New Paltz; the de Bont collection and Dimensional Fund Advisors. Valenzuela is selected for the 2016-17 Open Sessions at The Drawing Center, New York.
Image: Rodrigo Valenzuela, Sense of Place No. 3, 2016. Toner, acrylic, chalk on canvas, 53 x 70 in. Collection of Zach Huntting.
---
Jerry and Terry Lynn
"While students at the University of Memphis, Jerry and Terry took an art class where they were assigned a collaborative art assignment. It was a no-brainer that the twins would pair up for this, and the project 'signified a fundamental change in our collaborative paintings,' according to Terry Lynn.
The creative process for the twins' collaborative art often baffles collectors, who assume the brothers must have a defined technique to accomplish pieces that flow so smoothly. However, the brothers insist that there is no one way they create their collaborative art. On the contrary, Terry says, 'Sometimes Jerry will start a painting; other times I will come up with a sketch or idea. There is no one way we create. Our twin collaborative art is about working together.'"
---
RUBEN GARNICA: INFOXICATION
August 22 – September 9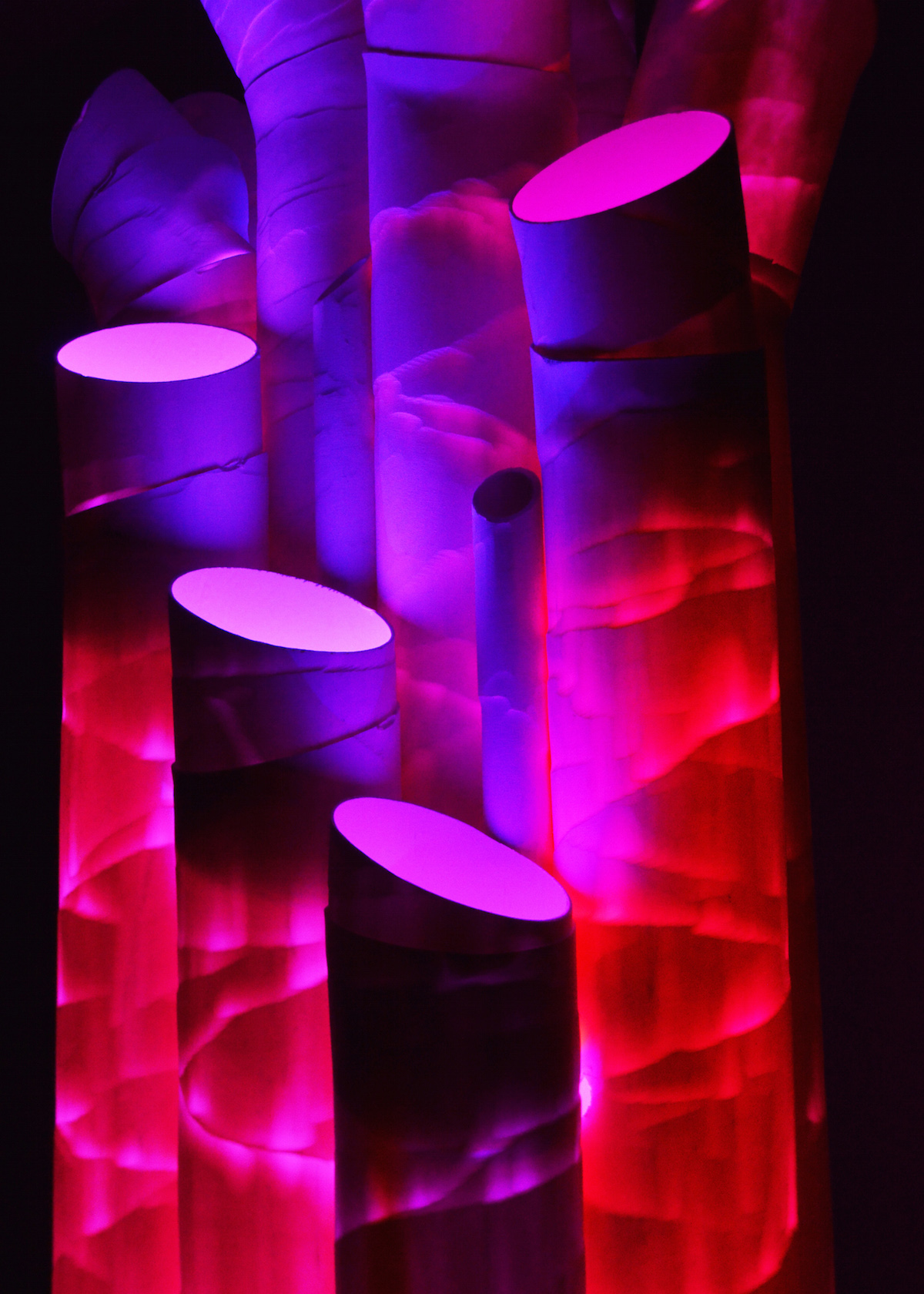 Ruben Garnica: Infoxication is the first solo exhibition of recent University of Memphis BFA graduate Ruben Garnica. The exhibition features sound, light, and video installations that grapple with today's information overload, or "infoxication," as some critics have called it. Garnica creates an immersive, multi-sensory environment in which layers of sound and image overwhelm the visitor, making information almost incomprehensible.
Faculty in the Department of Art at The University of Memphis selected Garnica from the 2016 graduating Bachelor of Fine Arts class for this prestigious solo exhibition. An annual tradition, this exhibition provides outstanding graduates with the opportunity to present a body of work as well as develop and execute an exhibition concept with Fogelman Galleries staff.
Ruben Garnica (b. 1983, Guadalajara, Mexico), originally from Degollado, Jalisco, Mexico, moved to Nashville, TN, at the age of 15. Garnica received his BFA from the University of Memphis with a concentration in Studio Arts in 2016. He has exhibited in various cities in the region of Murcia, Spain, as well in various exhibitions in Memphis, TN. He was awarded Best in Show in the 32rd Annual Juried Student Exhibition at the Art Museum of the University of Memphis (2015). His most recent group exhibitions include INFLUX at The Martha and Robert Fogelman Galleries of Contemporary Art (2016) and Mi sur/ My South at Crosstown Arts, Memphis (2015).
Image: Ruben Garnica, Mitote, 2016. PVC, LED lights, and speakers. Courtesy of the artist.
---
Print Advertising Gold Award
Hunter Hamilton, BFA Graphic Design 2015, won a Gold Award in the Print Advertising Category at the Arkansas State University chapter of The American Institute of Graphic Arts Student Graphic Design Show in March for a poster he designed for the University of Memphis Focus Fest Film Festival.
Gary Golightly, Associate Professor of Graphic Design, has a poster featured in the book Presenting Shakespeare: 1,100 Posters from Around the World, by Steven Heller and Mirko Ilic, published by Princeton Architectural Press last fall. Presenting Shakespeare collects 1,100 posters for Shakespeare's plays, designed by an international roster of artists representing 55 countries, from Japan to Colombia, India, Russia, Australia, and beyond. Professor Golightly's poster was done for the University of Memphis Department of Theatre & Dance in 2010, for the production of Shakespeare's Comedy of Errors. The poster was also included in the exhibit Presenting Shakespeare: Much Ado About Posters, at the Art Director's Club gallery in New York, from May 5-19.
---
INTERVIEW WITH CORIANA CLOSE
Assistant Professor Coriana Close, was recently interviewed in The Focus, for Locate Arts. She talks about several recent projects including work currently on view at Mysterious Flight of the Peacock, Coop Popup Gallery Nashville.