In The News
Jody Stokes-Casey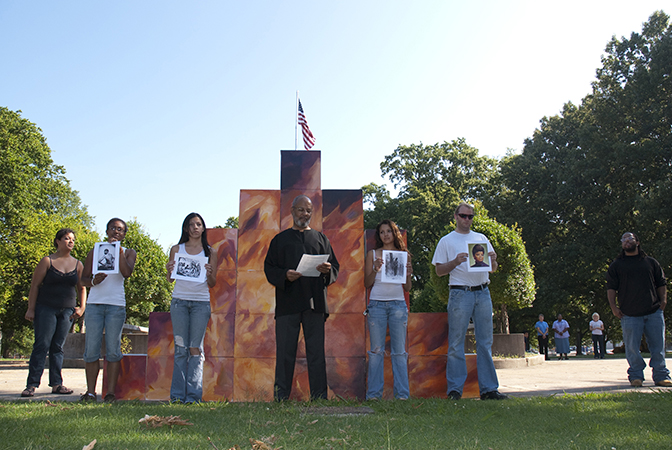 The original paper was drafted as a final project for the course ARTH 7140 Graduate Problems: Renaissance Iconoclasm taught by Dr. Todd Richardson in the fall of 2013; a time when heated debates surrounded the renaming of parks in Memphis whose identities were overshadowed by Confederate soldiers namesakes. Also taking an independent study with our Art Department chair, Richard Lou, whose performance and photography artwork surrounding the contested Nathan Bedford Forrest monument proved a fascinating way to explore the topic of iconoclasm in contemporary, local art. Dr. Earnestine Jenkins recommended I submit the paper to be published with the Tennessee Historical Quarterly. After an extended editing, researching, and writing session, the essay is published!
---
Jerry and Terry Lynn
"While students at the University of Memphis, Jerry and Terry took an art class where they were assigned a collaborative art assignment. It was a no-brainer that the twins would pair up for this, and the project 'signified a fundamental change in our collaborative paintings,' according to Terry Lynn.
The creative process for the twins' collaborative art often baffles collectors, who assume the brothers must have a defined technique to accomplish pieces that flow so smoothly. However, the brothers insist that there is no one way they create their collaborative art. On the contrary, Terry says, 'Sometimes Jerry will start a painting; other times I will come up with a sketch or idea. There is no one way we create. Our twin collaborative art is about working together.'"
---
Anna Roach
"Reliquaries, is an ongoing project, including a series of paintings based on the photographic mistakes found in my growing collection of anonymous snapshots. These are hand-rendered photo-copies done in oil on panel.
My work is an endless search for authentic ways to suggest that the observable world is not as secure as it seems, to give significance to the unknown, and to reflect the limits of perception. "
---
Niki Johnson
"'Eggs Benedict' by University of Memphis Department of Art alumna Niki Johnson was acquired by the Milwaukee Art Museum. The work is a controversial portrait of Pope Benedict XVI created from 17,000 colored condoms.
'The Milwaukee Art Museum has moved up its public display of the controversial portrait of Pope Benedict XVI fashioned from 17,000 colored condoms, saying thousands of people have asked to see it and encouraging critics to come look at it in person.'"
---
Virginia Overton
"Named in honor of the Whitney's new address, 99 Gansevoort Street, 99 Objects is a series of in-gallery programs focusing on individual works of art from the Museum's collection on view in America Is Hard to See."