Vladimir Ambartsoumian
INSTRUCTOR, DEPARTMENT OF BUSINESS AND INFORMATION TECHNOLOGY
Office Hours
By Appointment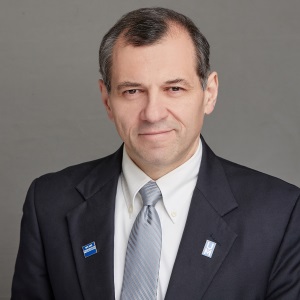 About Vladimir Ambartsoumian
Vladimir's current research focuses on the introduction of quality control in software design and testing methodology in large organizations from a risk perspective. Other research interests include examining the development of the phenomenon of IT-enabled co-creation and the role of Service Dominant Logic (SDL) approach in online commerce in the age of the Internet. He has served as a reviewer for the Hawaii International Conference on System Sciences (HICSS).
Vladimir has extensive semiconductor industry experience including the roles of Senior Engineer in Research and Development, in which he played key roles in creation of taxonomies, information and documentation flow and other knowledge management processes. He holds a patent (special machines filed). He enjoys spending time with his kids, playing piano, working on home improvement projects, and traveling in the US and abroad.
Education
Doctor of Philosophy, University of Memphis, 2016
Master of International Business Administration, University of Memphis, 2009
Master of Science, Khakiv Polytechnic University, 1987
Interests
Teaching Interests
Global IT Management; Networking & Telecommunications; Statistics, Data Mining
Research Interests
IT Enabled Co-Creation; Knowledge Management Systems; Business Value of IT; Data Mining; Software Testing Processes
Selected Research
Dhaliwal, J., Lee, T., Meservy, T., Zhang, C., Ambartsoumian, V. " Quality Gates in Software Development and Testing: A Systemic Approach to Developing Quality Gate Criteria ." Proceedings of the 4th Annual STEP (Software Testing Excellence Program) Workshop, 2010.