Group Fitness Instructors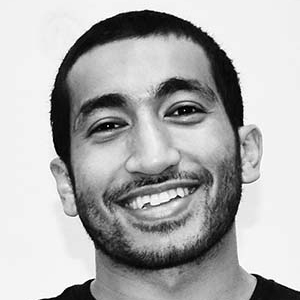 ---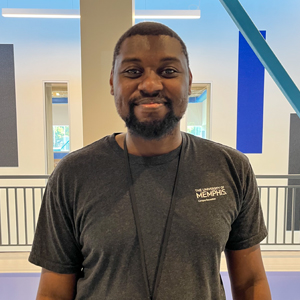 Christian | Spin
I am 24 and an alumnus from the University of Memphis. I found a liking for cycling when I took it for a grade under Marda one semester. I stuck to it and kept going to the classes that Campus Rec offered. Teaching became an opportunity for me, and I jumped at the chance! I have been a spin instructor since the summer of 2022 and I see myself doing this for several years to come.
---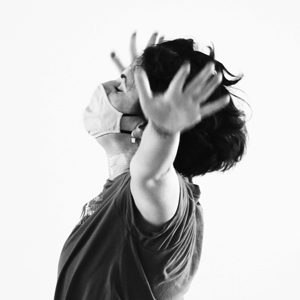 Denise | Zumba
Music has always been a major part of my life and I loved to sing and dance for anyone that would watch, so I instantly loved Zumba when I first tried it. Zumba literally saved my life by helping my body cope with debilitating effects of Lupus. I was diagnosed with Lupus (an autoimmune disease) after the birth of my second child. I suffered daily with arthritis and severe fatigue.
After making Zumba a part of my regular exercise routine, my symptoms greatly improved and it's been a game-changer for my life! I've been a certified instructor since 2014, so join me for an energizing hour of shakin' it to Latin, pop, hip-hop, R&B, indie and even Broadway tunes!
---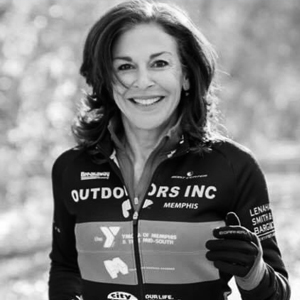 Elizabeth | Core Blast, Vinyasa Yoga
I began yoga just to stretch after running or mountain biking. After realizing that yoga was way more than a physical practice, I began to embrace it as part of my lifestyle. A deep appreciation for the benefits led to the desire to share yoga with others. I completed my 200-hour teacher training in Hood River, Oregon in the Columbia River Gorge. This beautiful area is where I spend my summer every year. I enjoy hiking, biking, SUP paddling along with yoga.
My style of teaching is best described as "lengthening and strengthening," aiming for a balance of stretching, core work and building strength. My life's mantra is borrowed from Bruce Lee, "Fall down seven, stand up eight."
---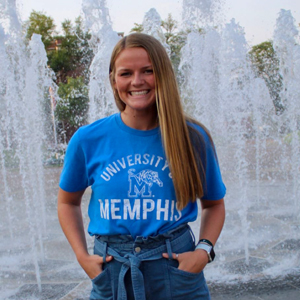 Eva | Power Yoga
I am a junior dietetics major at the University of Memphis. I began yoga because I was inspired by my grandmother. She started practicing yoga about 10 years ago and I saw the positive effects it had in her life. I attended the Yoga Teachers School of Excellence in Jackson, Tenn. where I completed my 200 Registered Yoga Teacher program.
I am so excited to be teaching for Campus Recreation as I introduce people to the practice of yoga. Being able to guide participants through a class which is helping them build strength mentally and physically is truly a joy. A fun fact about me is that I want to go skydiving!
---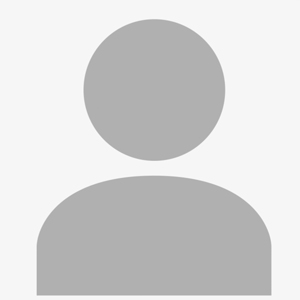 ---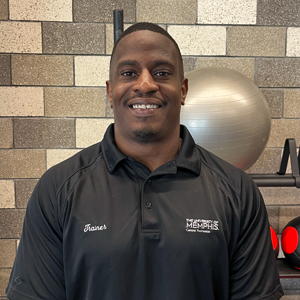 ---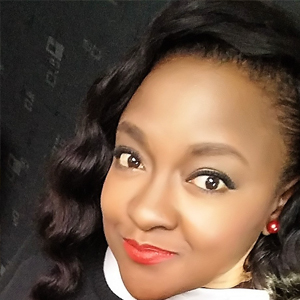 Katie | Cardio Step, Hip Hop Cardio
I have been involved in the health and wellness industry for over eight years. It was after receiving my Bachelor of Arts in Dance from Texas Woman's University that I started to explore other ways to use my degree. Years later, I discovered my gift — the ability to motivate others to commit to living a healthier lifestyle through dance and fitness.
Beachbody opened the door to instruct several different class formats such as: CIZE LIVE, CORE DE FORCE and TRANSFORM LIVE. This has also allowed me to work in a variety of settings including churches, university recreational centers, dance studios and health fairs. In 2021, I started "The Fit Crew " which is a virtual fitness boot camp to allow people to workout in the comfort of their home.
I have recently returned to the University of Memphis where I teach group fitness classes (Hip Hop Cardio and Cardio Step). To continue my impact within the health and wellness industry, I joined the locate YMCA as a group X instructor.
---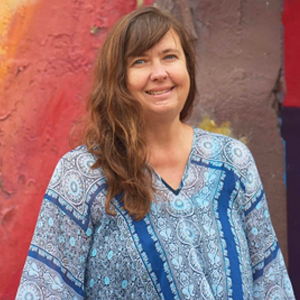 Laurie | Deep Stretch Yoga, Vinyasa Yoga
I began teaching at the Wellness Center in 2021, eight years after beginning my own yoga journey there as a student. I love the sense of connection and community we are building in our classes, and feeling that I contribute to others' wellbeing in some way. I hope I can help others experience some of the joy and other wonderful benefits that yoga has brought me.
I also teach yoga for an online women's cancer support group in New York and for children at a facility for families who are experiencing homelessness.
I teach all of my classes in a trauma-informed, accessible manner, giving several non-hierarchical options for poses to ensure that all students may participate fully.
When I'm not teaching or working at my day job in marketing, I enjoy photography, music, being outdoors, reading and spending time with my family. Favorite yoga quote: "If you can breathe, you can do yoga."
---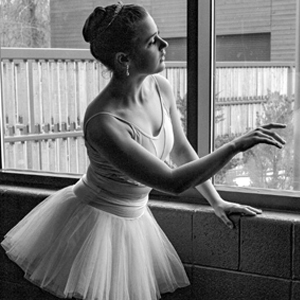 Liliana | Barre
I am professional dancer with the Tennessee Ballet Theater and teach ballet classes at Children's Ballet Theater. I am also a nursing student at the University of Memphis. I started taking barre and Pilates classes years ago as I began to incorporate it into my ballet training.
This is my first semester to teach barre at the UofM and I am so excited to share my passion for fitness with the campus community. I believe exercising should be, and can be, fun while providing a physically challenging workout. That is exactly what barre does and is why I love to teach it. I also love how I get to incorporate my interest and experience in dance into my barre classes.
---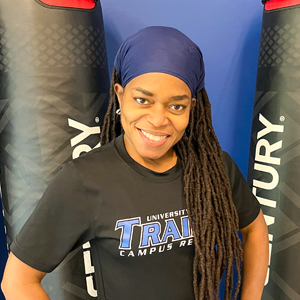 Linda | Boot Camp, Kickboxing
As a certified personal trainer, I believe that my purpose is to help people become well and live a whole life devoted to God. I know that I have a special assignment to the college campus. I absolutely love the university atmosphere — this is why I teach here at the UofM.
I have been ACE (American Council on Exercise), YMCA and now FiTour certified. I have my own business, Victory For Life Wellness and Fitness. I have taught and facilitated various classes, conferences and also taught university courses. I've trained and coached the Murfreesboro Police Department and the Memphis Police Department.
I love personal training and being a group fitness instructor because I can work with so many people, especially students. At the UofM I teach Boot Camp, Kickboxing and have previously taught Suspense Training and Sports Conditioning. I also taught the Tiger Life class for the Tiger Life department. One fun fact about me is I am older than most college students think I am. I have been here since 2013 and no one has gotten my age right yet…lol.
---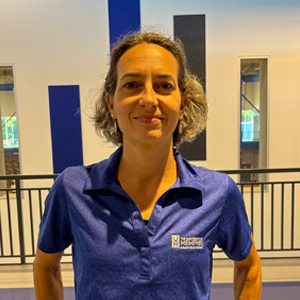 Marda | CardiomAX, Spin
I'm originally from Albuquerque, New Mexico. I am an instructor in the UofM philosophy department as well as an adjunct instructor in the College of Health Sciences. My mom used to take me to the dance studio in the 70's and 80's where she taught aerobics, so the importance and love of fitness have always been a part of my life.
My hobbies include triathlons, biking, running, weightlifting, rowing and Tai Chi. Two interesting facts are that I have done two full Ironman races and I am the current Category 3 and Master's Tennessee State champion (bike race series). My fitness certifications include AFAA Group Exercise, ACE Personal Training, and Spinning. I would describe my classes as intense but fun!
---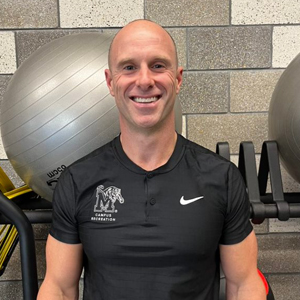 Morgan | HIIT
I have been a fitness instructor for 10+ years. I enjoy seeing people accomplish things they never thought possible. Most people's limitation in fitness is their mind, not their body. I generally won't make students/classes do a workout that I myself haven't already done. I have enjoyed pushing myself to the limits and I want to share that passion and knowledge with everyone else.
---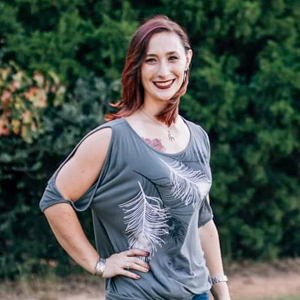 Sarah | CORE, 30-min. Morning Workout, Endurance Lift
I started lifting in high school and began coaching group fitness about four years ago. What started as a way to move back into working out after a year hiatus, quickly turned into a huge part of my life as I made new friends and watched members reach their own fitness goals.
A couple of fun facts — I've been a competitive archer for 15 years, I've been a full-time archery coach for nearly 6 years, I'm recently engaged to the nerd of my lifevand I'm a dog mom to a german shepherd. My hobbies include running, readingvand DIY projects!
---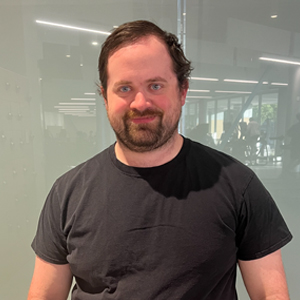 Thomas | WERQ
WERQ has been a consistent part of my workout routine since I started taking classes in 2017. I love to dance, and this is a great way to do that and get a strong workout. I want to show others that they can have fun while sweating. By mixing dance with cardio exercises, you can get the best of both worlds.
---