Read It! Eat It!
by Mickey Falls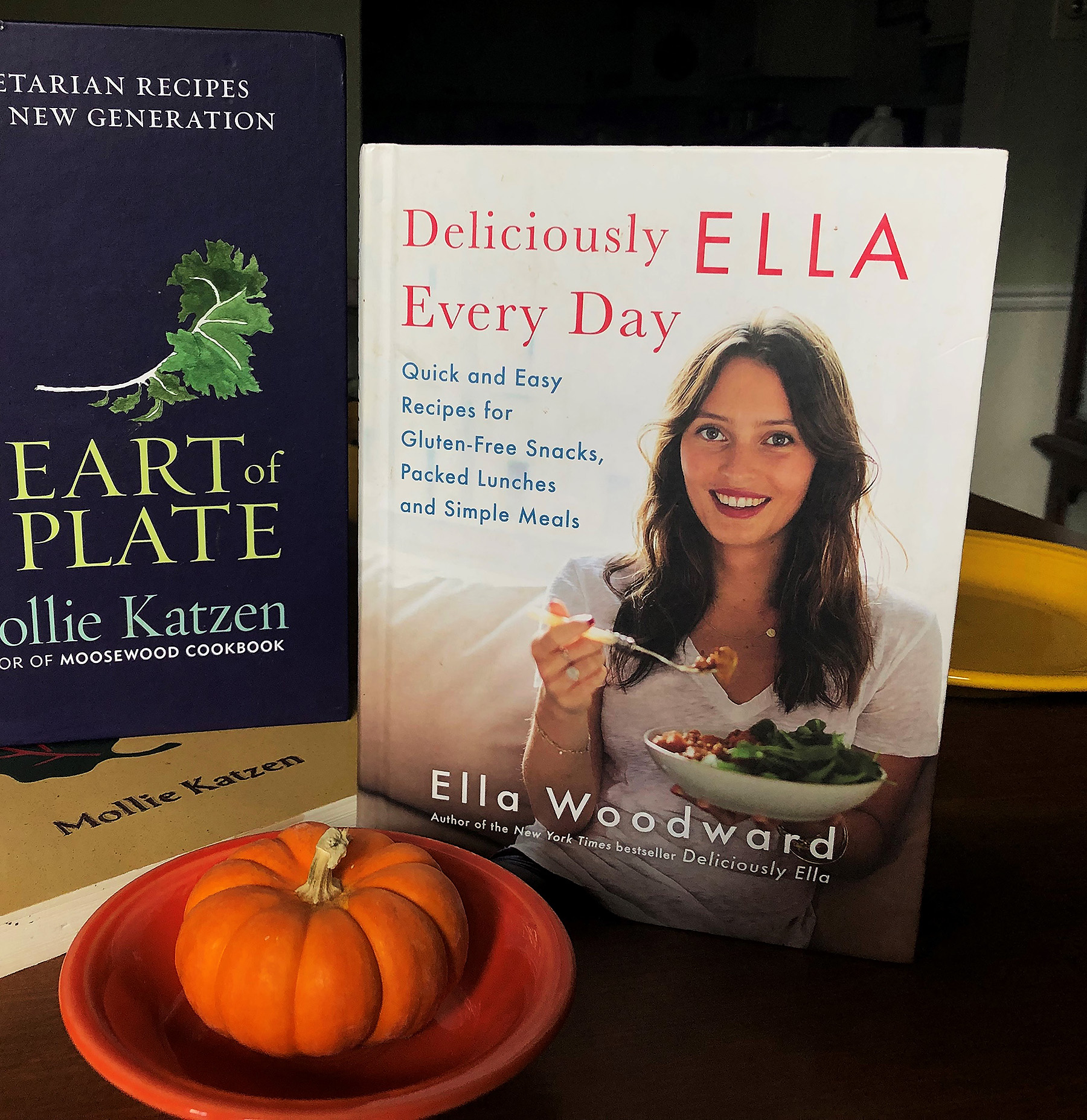 Let's talk about cookbooks! You're probably thinking to yourself, "Who wants to read a blog post about cookbooks?" Well, just bear with me (please!). Since the emergence of the Internet there is nothing, and I mean nothing, that you can't find on the Internet, including clothes, shoes, cars, homes, electronics, and even love (crazy, right?). But, most importantly, you can find recipes online. Thanks to the worldwide web, the level of extraneousness regarding cookbooks hasn't sky rocketed, but there is surely an increase. Why flip a page in a cookbook when you can just search for a recipe online? I know, it's pointless... right? Wrong! There is nothing like physically opening a cookbook to prepare greatness and deliciousness: Just ask Granny! Now listen, I am in no way, shape, form, or fashion bashing the Internet. All I'm saying is, try opening a cookbook to put together a nutritiously delightful meal: You won't regret it.
October is more than just "spooky month" (I got your back, October!). October is also the national month for healthy lungs, liver awareness, healthy living, breast cancer awareness, and much more. Let's not forget cookbooks, as well. That's right! There is a National Cookbook Month, and October is its home. Since the tenth month of the year raises so much awareness about important health issues, why not make this month the start of a healthy diet? It can be done by finding tons of healthy recipes in cookbooks for healthy eating. There's more than cold carrots and veggie smoothies to healthy eating. A cookbook could provide you with instructions and recipes for tremendous meal preparation...and maybe a crossword puzzle to fill in while you prepare something non-catastrophic (just like the good ole days!). This is not a celebration (unless you want it to be) but let's make National Cookbook Month the start of something new (or something old) and turn a page in a cookbook for a healthy meal.
Cookbooks aren't the norm these days, but they are very useful when trying to discover new recipes. Our very own Deidra Nelson, the Registered Dietitian at The University of Memphis Campus Recreation, says she sometimes use cookbooks. Deidra states that she was gifted an all-purpose cookbook (The Joy of Cooking) that has many basic recipes and tips on how to prepare different foods. Her favorite cookbook is "Cravings" by Chrissy Teigen, and it provides her favorite recipe, Chicken Pot Pie Soup (see below for recipe so you can try it at home!). Cookbooks are essential to any kitchen (especially for beginners). They provide you with multiple recipes, as well as preparation instructions. Some may say they are old-fashioned (and they are!), but who cares? They still provide you with great meals. So, this October, while sitting at home warm and cozy, consider preparing dinner using a cookbook. It will give you ideas for the family or yourself. A cookbook will provide you with all the directions and the rest is up to you! Happy National Cookbook Month!!!
Chicken Pot Pie Soup
From Cravings by Chrissy Teigen
Ingredients
For the pie crust:
2 sticks (8 ounces) cold unsalted butter, cubed
2 1/2 cups all-purpose flour, plus more for dusting
1 teaspoon fine sea salt
1/2 cup ice water
For the soup:
6 cups low-sodium chicken broth
2 cups whole milk
2 sticks (8 ounces) unsalted butter, cut into chunks
2 tablespoons minced garlic (about 3 cloves)
1 cup all-purpose flour
4 teaspoons kosher salt, plus more to taste
1 1/2 teaspoons freshly ground black pepper, or more to taste
1 large russet (Idaho) potato, peeled and cut into 1/2-inch cubes
1/2 pound diced carrots (2 cups)
1 cup frozen peas
1 cup frozen pearl onions
1/4 pound deli ham, thinly sliced
1 pound skinless rotisserie chicken meat, cubed (3 cups)
1/2 cup heavy cream
Directions
Make the crust: You might think the butter is cold, but after you cube it, put it back in the fridge for at least 20 minutes.
In a food processor, pulse the flour and sea salt until incorporated. Add the cold butter and pulse until just pea-size pieces of butter remain, 15 to 20 pulses. Add the ice water and pulse until a dough just forms, 15 to 20 pulses.
Dust your work surface with some flour. Turn the dough out of the processor bowl and gather the dough into two 5-inch discs and wrap in plastic wrap. Freeze one of the discs for another use (it will last for weeks in the freezer if you wrapped it nice and tight). Chill the other dough disc in the refrigerator for at least 30 minutes (you can keep the dough in the fridge for up to 2 days).
Preheat the oven to 375°F.
Place the dough on a piece of parchment paper. Using a floured rolling pin, roll the disc into a 12-inch round (it doesn't have to be perfect). Prick it all over with a fork. Put the dough, with the parchment, on a baking sheet and bake until golden and crisp, about 30 minutes.
Cool thoroughly and break into pieces.
Make the soup: In a saucepan, bring the broth and milk to a simmer and keep at a simmer.
In a big soup pot, heat the butter over medium-high heat until foamy. Add the garlic and cook, stirring, until fragrant, about 1 minute. Add the flour, reduce the heat to medium, and cook, stirring, until toasty and foaming, 2 to 3 minutes. Whisk in the broth-milk mixture, slowly at first, then add the salt and pepper.
Bring to a boil, then reduce the heat and cook until thickened, about 5 minutes. Add the potato, carrots, peas, pearl onions, and ham and simmer until the potatoes are tender, about 20 minutes.
Stir in the chicken and cream and heat through for 5 additional minutes. Season with salt and pepper to taste and serve with the broken pie crust on the side.
Reprinted from Cravings: Recipes for All the Food You Want to Eat. Copyright © 2016 by Chrissy Teigen. Published by Clarkson Potter/Publishers, an imprint of Penguin Random House LLC.
Mickey Falls is a Senior majoring in Health Studies. He will graduate from The University of Memphis in December with a Bachelor of Science in Health Studies with a Concentration in Healthcare Leadership. He is currently serving as a Marketing Intern at the UofM Campus Recreation Dept. In his free time, Mickey likes to play basketball, work out, spend time with his son, and try new restaurants and foods. His favorite healthy meal to cook is salmon served with lots of vegetables on the side. Post-graduation, Mickey hopes to enroll in the UofM's MBA program with the goal of eventually working in a hospital as a healthcare administrator or healthcare marketer.