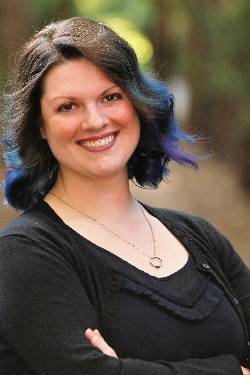 Amanda Nell Edgar
ASSISTANT PROFESSOR (COMMUNICATION STUDIES)
Email
anedgar@memphis.edu
Office
Art & Communication Bldg 231
Office Hours
Contact for office hours
About Dr. Edgar
Professor Edgar joined the Memphis communication faculty in 2015. She teaches Media and Information Literacy, Rhetoric of Popular Culture, Oral Communication, and a graduate seminar in Media, Rhetoric, and Sound Studies. Professor Edgar's research focuses on media and rhetoric, and she specializes in feminist and critical race theory perspectives on popular culture. Specifically, her work focuses on the power of sound to alter, enhance, or obfuscate the politics of visual and language-based messages in contemporary American society.
Education
Ph.D., University of Missouri, 2015
M.A., University of Arkansas, 2011
M.S., Fort Hays State University, 2008
B.A., Friends University, 2004
Experience
Professional
Assistant Professor, Department of Communication, University of Memphis, 2015-present
Honors and Awards
Top Paper, National Communication Association, Rhetorical and Communication Theory Division, 2015
Top Paper, National Communication Association, Rhetorical and Communication Theory Division, 2014
Top Paper, ERIC (Ethnicity & Race in Communication) Division, International Communication Association, 2014
Top Paper, Communication Theory Interest Group, Central States Communication Association, 2013
Research and Scholarly Activities
Research Interests
Popular Music and Vocal Sound
Race and American Culture
Women's and Gender Studies
Publications
"Subordinating sound to screen: Television music supervision in an imagocentric world," Sound Studies (forthcoming)
"'Not just the levees broke': Jazz vernacular and the rhetoric of the dispossessed in Spike Lee's When the Levees Broke," Communication and Critical/Cultural Studies, 12.1 (2015) (with Lisa M. Corrigan)
"Toward a genosonic lens: Linking the anatomy of a 'screech' to language and body," Velvet Light Trap, 74 (2014)
"Blackvoice and Adele's racialized musical performance: Blackness, Whiteness and discursive authenticity," Critical Studies in Media Communication, 31.3 (2014).
"The R&B rhetoric of victim blame: Exploring the popular press' revision of Rihanna's contextual agency," Women's Studies in Communication, 37.2 (2014).
"YouTube's 'Bad Romance': Exploring the vernacular rhetoric of Lady Gaga parody videos," The Journal of Social Media in Society, 2.1 (2013)