Because you should press pause every once in a while.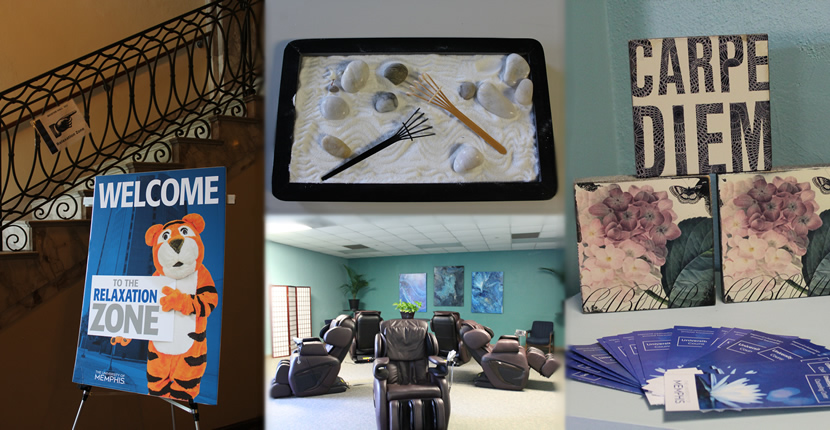 UNWIND & RESTORE AT 302 BRISTER HALL
Unplug. Remove the mental clutter. Find some "you" time. That's what we tell stressed-out students every day at the Counseling Center's newly expanded Relaxation Zone. With more physical space, tools and services, we can help you figure out how to stop hammering through your college years. Stop putting pressure on yourself. Let your brain relax. Bring some calm to your life.
The Relaxation Zone offers a variety of services called "relaxation stations" that include multiple vibrating massage chairs, biofeedback computer stations, stress relief coloring, zen garden sand trays, and stress ball creation station. You can come individually or with a group to learn instruction on a variety of self-care skills like Mindfulness, Relaxation, and Guided Meditation, just ask for stress management consult. Our friendly staff can relate to the stresses of campus life and the unique challenges of being adult learners. The wellness techniques and practices taught in The Relaxation Zone can be life savers.
The Relaxation Zone services at the Center are FREE to enrolled UofM students. No appointment is necessary; Drop by anytime.
The Relaxation Zone located in Brister Hall 302 is open Monday - Friday between 9:00 am - 4:00 pm for the Fall and Spring and 10:00 am - 3:00 pm in the Summer.
At your first visit to the relaxation zone, one of our staff will assist you with the necessary intake paperwork and orient you to the equipment in the RZ. This process should only take about 5 to 10 minutes.
All subsequent visits will only require you to sign in and complete a pre-test and post-test about your experience each visit.
After your paperwork is complete, simply pick your Relaxation Station!
* For concerns about accessibility, the Oasis Room in Wilder 206 is accessible and also offers a private experience of our relaxation stations. Check in for the Oasis Room is located in Wilder 211.
The Oasis Room
A new extension of the Relaxation Zone, the Oasis room is a private experience of our relaxation stations. Practice your self care without distraction for 30 minutes once a day in our newly revamped and rebranded Oasis Room!
Free for all students and only requires a short pre test and post test for usage.
Feel free to walk in or pre book your appointment!
Visit Wilder Tower 211 or call 901.678.5305 to schedule.
Get Your Relax on Program Request
Please use the following link to request our Get Your Relax On Program in the Relaxation Zone (Brister 302).
If you are faculty or staff and are seeking to request for your department constituents please see our Faculty & Staff Spa Day Program.
If you have any questions, please contact Outreach Coordinator, Victoria Jones at vmaher@memphis.edu.