COE News
View the College of Education's Announcements and Accolades.
Dr. Stephen Zanskas Named President of ARCA
Dr. Stephen Zanskas, Associate Dean of the COE and Associate Professor in CEPR, was named President of the American Rehabilitation Counseling Association (ACRA) for July 2020-June 2021. Dr. Zanskas's research and clinical experience focuses on rehabilitation counseling and his role with ACRA reflects his commitment to his field.
ARCA is an organization of rehabilitation counseling practitioners, educators, and students who are concerned with improving the lives of people with disabilities. Rehabilitation Counselors are counselors with specialized training and expertise in providing counseling and other services to persons with disability. ARCA's mission is to enhance the development of people with disabilities throughout their life span and to promote excellence in the rehabilitation counseling profession.
Dr. Helen Perkins Elected to Literacy Board
Dr. J. Helen Perkins, ICL Professor, has been voted as a Board member of the International Literacy Association (ILA) beginning July 1 for a three-year term. The ILA is a global advocacy and membership organization of more than 300,000 literacy educators, researchers, and experts across 146 countries. With more than 60 years of experience, ILA set the standard for how literacy is defined, taught, and evaluated.
This honor certainly reflects Dr. Perkins' impressive career, especially her commitment to literacy, and is another example of the excellence of the faculty in the COE. Read more about her appointment here>.

Dan Strahl (CREP) Receives Grant
Dan Strahl, associate director in the Center for Research in Education Policy, was awarded $46,500 from the Tennessee Alliance for Legal Service for his project "Tennessee Alliance for Legal Services 2020 Evaluation of Case Management Program."
COE "Exceeds Expectations" in Educator Preparation Report Card
The COE Teacher Preparation Program has been awarded an "Exceeds Expectations" in the TN Teacher Prep Report Card. We are one of only nine teacher prep programs (out of the 39 in the state) to receive this honor. Dean Hill-Clarke says of the distinction, "We are proud of the collective and collaborative efforts of our faculty and staff in the College of Education and the support and engagement of our district partners. It is good to see the hard work taking place in the College of Education being recognized across the state. In the College of Education, we have been taking a more intentional approach to the preparation of teachers with an enhanced focus on meeting the needs of P-12 students which includes: closely analyzing and monitoring our data, aligning our curriculum with state standards, strengthening our relationships with district partners, as well as increasing our level of responsiveness and refining our processes and support to ensure that our candidates are student and classroom ready."
Dr. Byford interviewed about his book on East Germany and the Cold War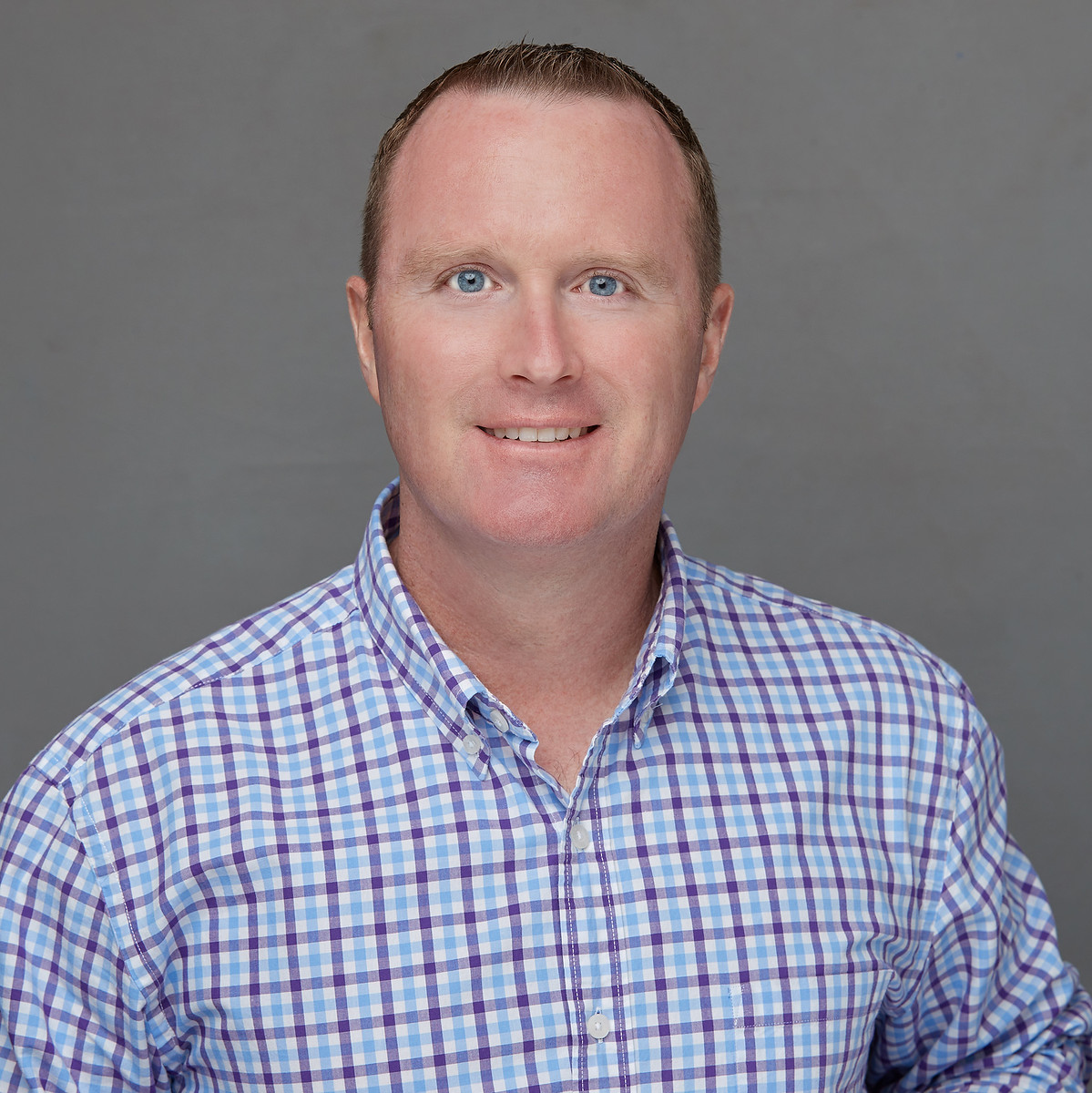 Dr. Jeff Byford, ICL Professor in Secondary Social Studies Education, was recently interviewed on The Radio GDR podcast about his book Behind the Iron Curtain – A Teacher's Guide to East Germany and Cold War Activities. Dr. Byford discussed his fascination with East Germany history, writing the teaching manual and his current research on the Free German Youth, also know as the FDJ, an East German youth movement. Listen to the podcast here> or purchase the teacher's guide here>.



US News and World Report Ranks COE Programs
Our Online Education was ranked #96 in the Best Online Education ranking. Not only does this ranking now place our program in the top 100, but we are also now #1 in the state of Tennessee. This ranking is a considerable jump from our 2019 ranking of 139 and our 2018 ranking of 150. Read more about the UofM's online program rankings here>.
Dr. Andrew Tawfik and UofM team receive NSF grant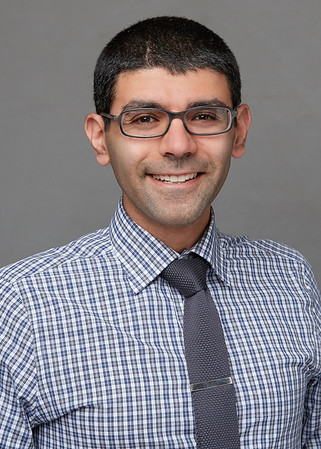 The National Science Foundation awarded a team from the UofM a $3.4 million grant to train individuals in the field of data science and fund research into programs that make data science easy for the public to use. Andrew Tawfik (ICL) worked on the grant as well as Dale Bowman (Math Sciences) and Vasile Rus and Scott Fleming (both from Computer Science). Andrew Olney (Psychology) serves as PI. Data science combines computer science, software design and statistics to analyze and increase access to data. The grant will allow the UofM to develop a data science program that will be accessible to those with and without computer science knowledge. To learn more about this project, read about in the Daily Helmsman here> and also read about Congressman Steve Cohen's support of the project here>.
Dr. Eraina Schauss, CEPR, featured in a Daily Memphian follow-up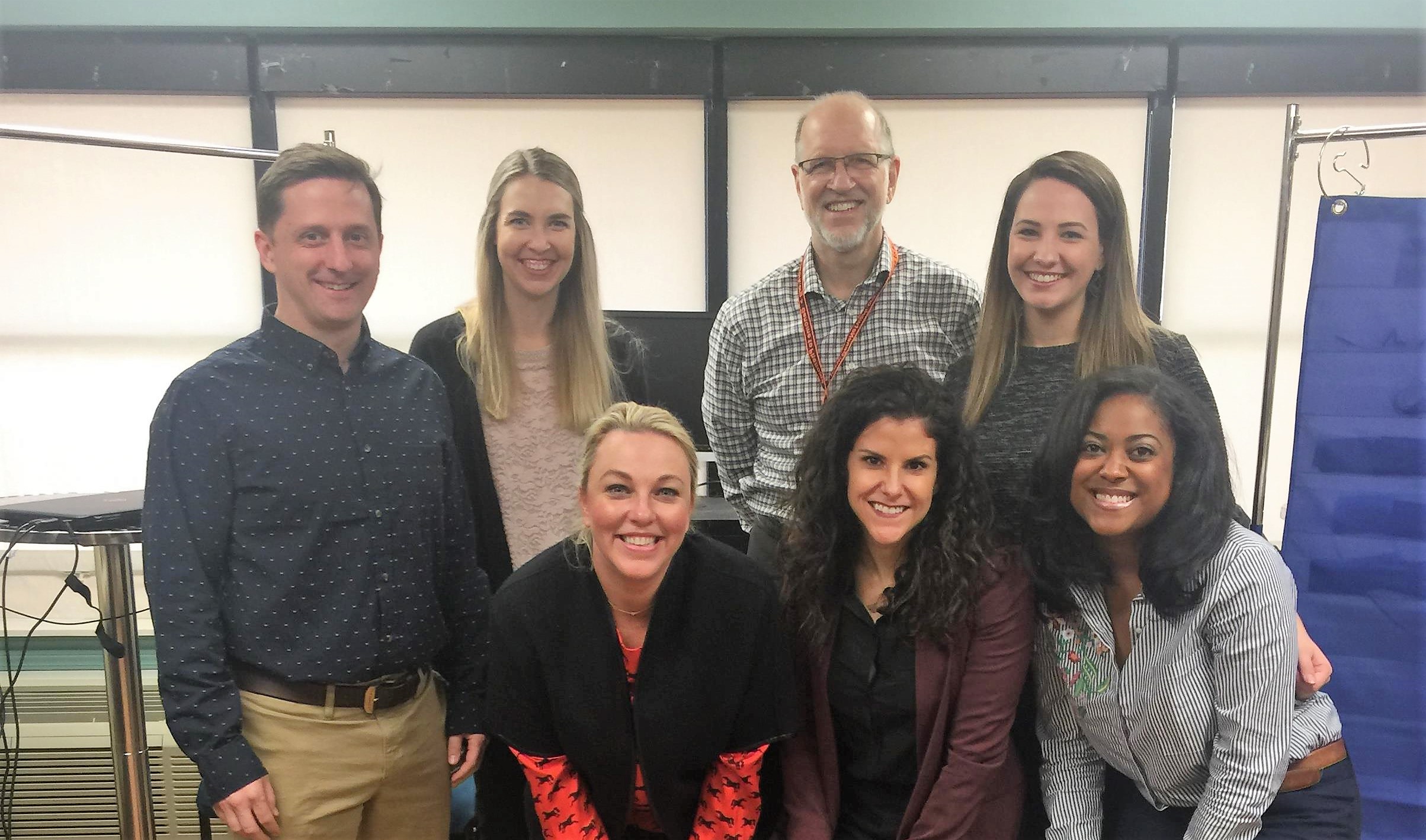 In a follow-up to the September article in the Daily Memphian, Dr. Eraina Schauss and her collaborative team at the BRAIN CENTER focused on their initial findings in their attempt to help teenagers who have been affected by childhood trauma and adverse childhood events to retrain their brain through neurofeedback training. Dr. Schauss reported that children and teens who received the treatment showed a greater improvement in self-control and emotional regulation than those who did not receive the treatment. As a result, the team has begun a second clinical trial. The research was funded, in large part, by a 2018 $1 million grant from the Memphis Research Consortium. Last fall, the team - which includes Dr. Khyobeni Mozhui of the Department of Preventive Medicine at UTHSC - received a $100,000 CORNET Award in Adverse Childhood Experiences (ACEs) Research. Read the initial story about Dr. Schauss's research, this fascinating project, and its implications for the city in the September issue of the Daily Memphian> and the follow-up February 2020 article here>.


Career Services in the COE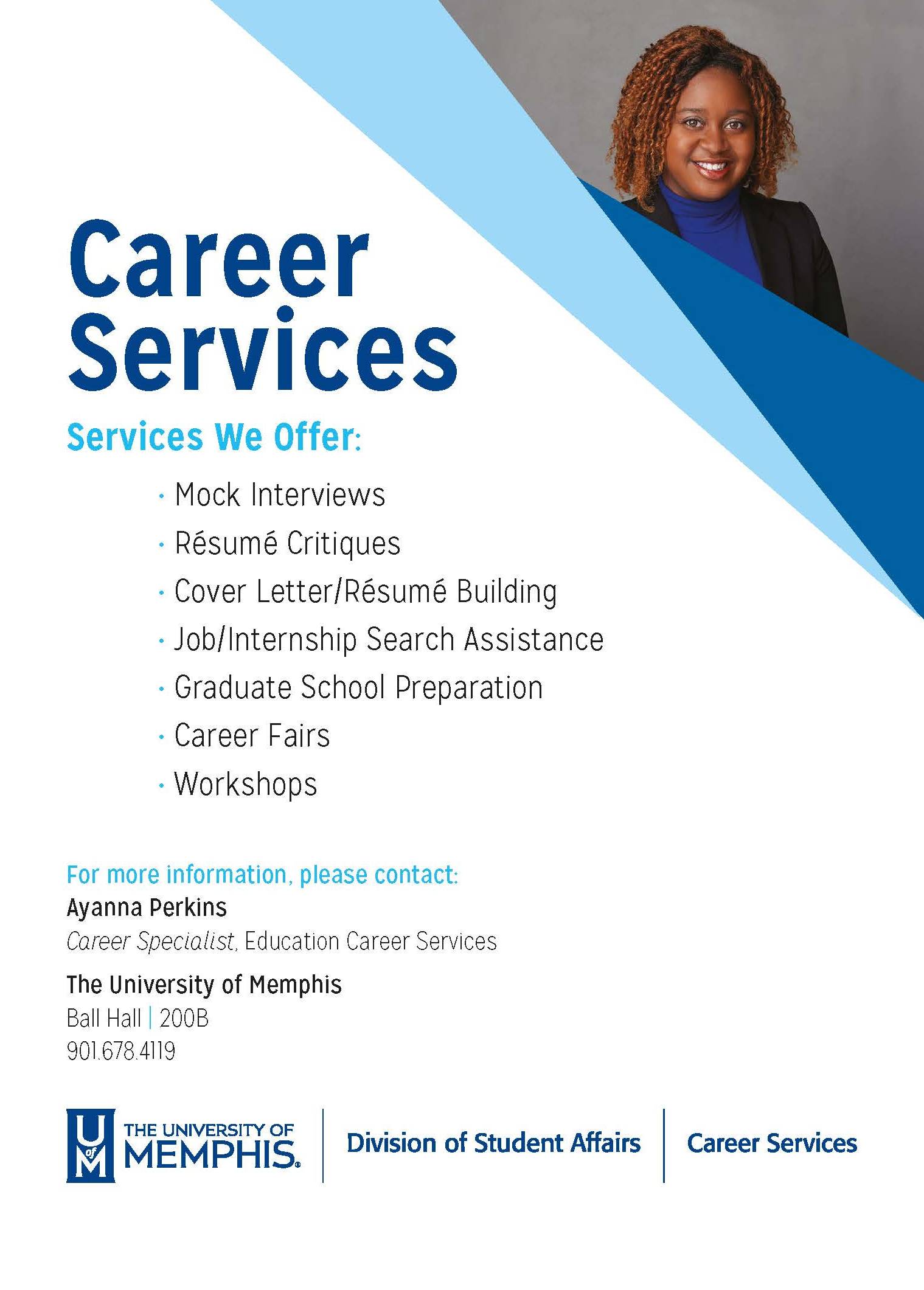 Ayanna Perkins, Career Specialist, is available to assist students as they navigate the job market. Make an appointment with Ayanna today! Email prkins10@memphis.edu.
River City Partnership Teacher Scholar Featured in SCS Video
Meet Lindsey Harris, Teacher Scholar in the inaugural River City Undergraduate cohort, in her SCS Spotlight Story.
ICL Updates
Dr. Lee Allen was asked by the Director of Teacher Performance Assessment/edTPA National Director at the Stanford Center for Assessment, Learning and Equity (SCALE) in the Stanford Graduate School of Education to participate in the National Panel of reviewers for revisions to the edTPA handbook for Library Specialists/School Librarians.The new handbook will be released in 2020.

ICL students Anna Derrick, Audrey "Lizzy" Archer, Kierra Piliere, John "Benji" Akridge, and Hannah Little participated in the Fall Student Tennessee Education Conference (STEA) conference in Nashville. All 5 students are officers in the COE's chapter of STEA. To learn more about the COE chapter of STEA or to join visit their instagram: memphis_stea_ or email them at steamemphis@gmail.com.

Dean Hill-Clarke and Jennifer Bubrig, ICL, participated in Dean's Day at local SCS partner schools this fall. Dean Hill-Clarke visited pre-residency and residency COE students and witnessed recent COE graduates in action teaching classes.
Visit the Faculty and Staff Awards page for information about the 2019 COE Faculty/Staff Awards Ceremony.
Celia Rousseau Anderson named Associate Editor for AERJ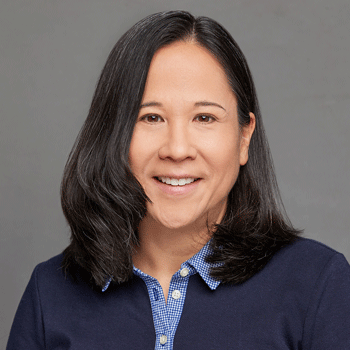 Dr. Celia Anderson, a professor in the ICL department who specializes in Mathematical Education, was recently named as Associate Editor for the American Educational Research Journal, the flagship journal of the American Educational Research Association (AERA). Dr. Anderson is also serving as Interim Graduate Program Director of the River City Partnership. Her research focuses on equity in mathematics education, mathematics teacher professional development and critical race theory in education.
AERA, a national research society, strives to advance knowledge about education, to encourage scholarly inquiry related to education, and to promote the use of research to improve education and serve the public good. As Associate Editor, Dr. Anderson will initiate the selection of peer reviewers, engage with reviewers and senior editors and follow-up to secure expert reviews. She will also synthesize review feedback for authors and make a recommendation for manuscript determination. According to AERA, Dr. Anderson was selected for her high visibility, experience, and demonstrated engagement in the educational sciences.

We are so proud of Dr. Anderson for this wonderful honor!
Dr. Cross and Dr. Wright Travel to Cuba with NAME to Explore Cuban Literacy Efforts
| | |
| --- | --- |
| | |
| Dr. Cross and Dr. Wright with the Cuban and American flags. | Dr. Wright and Dr. Cross at the Che Guevara Mausoleum in Santa Clara, Cuba. The inscription reads, "The basic material of our work is the youth: In it we place our hope and we are preparing it to take the banners from our hands." |
Dr. Beverly Cross, Moss Chair of Excellence in Urban Education, and Dr. Brian Wright, Associate Professor in Early Childhood Education in ICL, were selected by the National Association for Multicultural Education (NAME) as delegates to its Professional Research: Cuban Educational System Exchange from November 23, 2019-December 1, 2019. The learning exchange included school visits, university conversations, museums, historical tours and meeting with community organizations. They learned about the Cuban Literacy Campaign that united the country and led to UNESCO certifying Cuba as illiteracy free. Dr. Cross and Dr. Wright's travels represent the COE's commitment to diversity, social justice and inclusion.
Residency Candidates Receive Scholarships
Congratulations to our 2020 Teacher Candidate Scholarship Recipients. These students are undergraduate teacher candidates in the Residency II semester. The awards are made possible by the hard work of our Office of Teacher Education, the dedication of our Director of Development, Venita Doggett, and, most importantly, our generous donors who are willing to give back and support our students.
| | | |
| --- | --- | --- |
| | | |
| Melissa Gray, recipient of the Theodora Jackson Cummings Educational Scholarship (pictured with Associate Dean Dr. Hall, the Cummings family and Venita Doggett) | Allison Cobb, recipient of the Beverly Hope Presley Scholarship (pictured with Venita Doggett and Dr. Hall) | Rachel Gibbons (L) and Alison Harrison (R), recipients of the Turetzky Family Teacher Candidate Scholarship (pictured with Dr. Hall and Venita Doggett) |
Christine Bertz and CREP partner with Smithsonian Science Education on Grant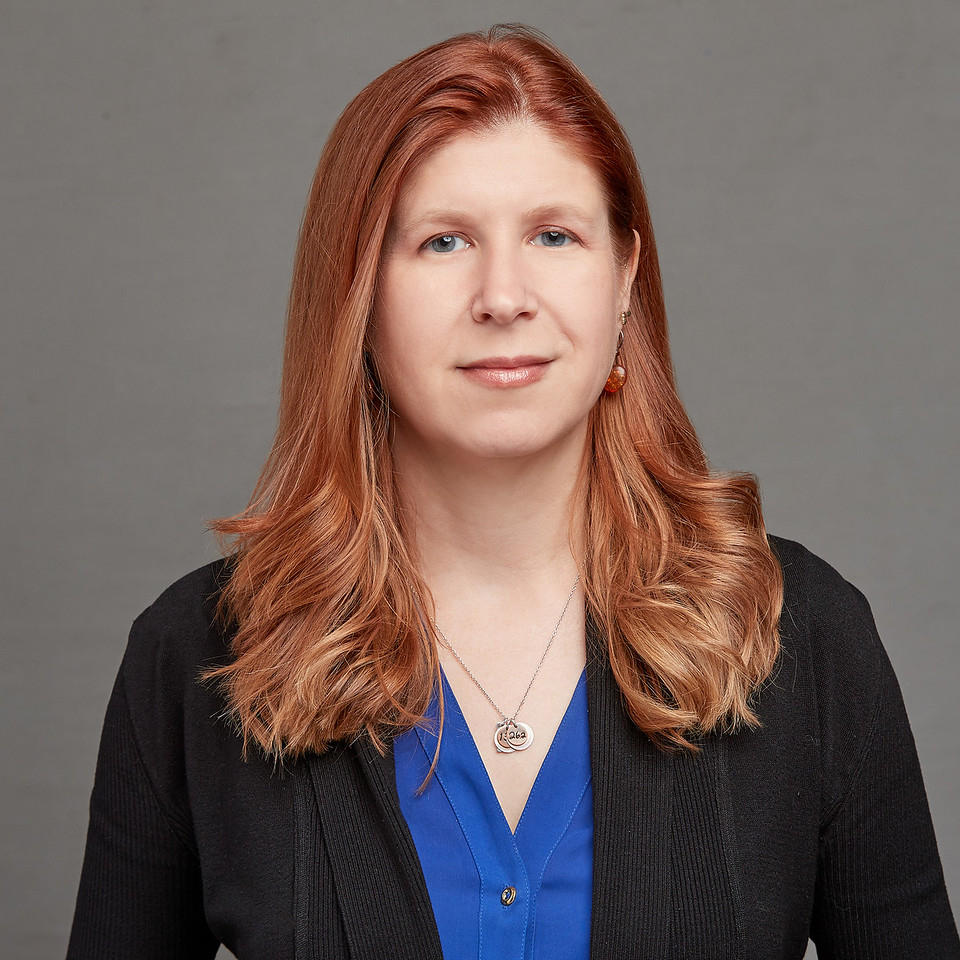 The Center for Research in Educational Policy is partnering with the Smithsonian Science Education Center (SSEC) on a new five-year grant. SSEC was awarded a $4.5 million grant from the US Department of Education's Education Innovation and Research program. The evaluation for the grant will be performed by CREP and will assess the impact on student achievement. Dr. Christine Bertz will serve as Principal Investigator for the evaluation. Dr. Todd Zoblotsky and Dan Strahl, CREP Associate Director, will serve as Co-PI's. Dr. Bertz coordinates all CREP and Smithsonian activities.

CREP Faculty Attend NPD Project Directors' Meeting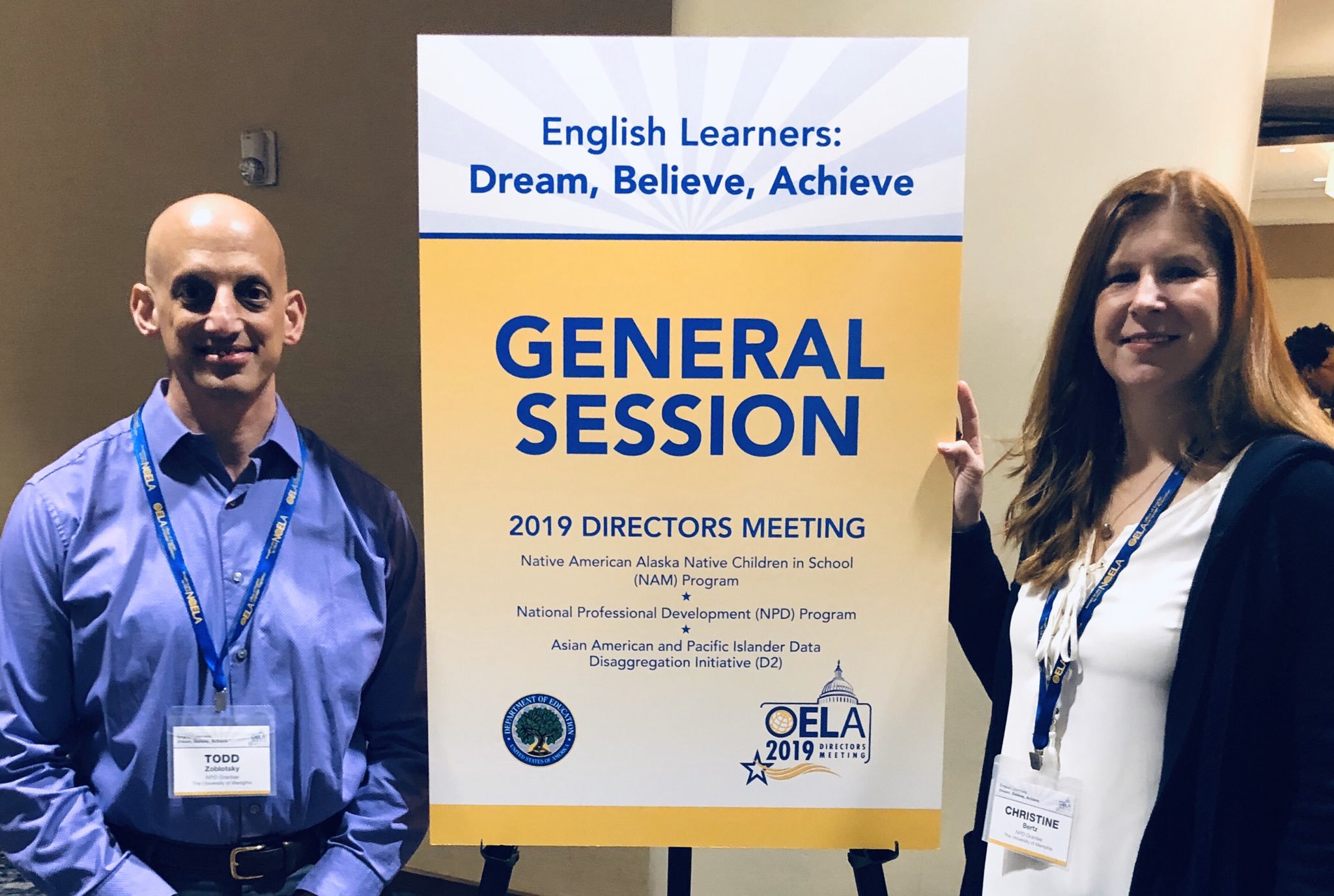 In November, CREP (The Center for Research in Educational Policy( faculty members, Dr. Christine Bertz and Dr. Todd Zoblotsky, traveled to Washington, DC for the National Professional Development (NPD) Project Directors' Meeting. NPD, a part of the National Clearinghouse for English Language Acquisition, supports teachers instructing English Learners. The annual event brought together more than 200 grantees from the NPD Grant Program, the Native American Alaska Native Children in School Grant Program, and the Asian American and Pacific Islander Data Disaggregation Initiative. This year's meeting provided real-world solutions and national connections for those who share a common interest in improving educational opportunities for Native language students and English learners. Learn more about the NPD Grant Program here> or see the influential and innovative work CREP> is doing to impact education and educational research.
Will Hunter, ICL, Elected to CEC Board of Directors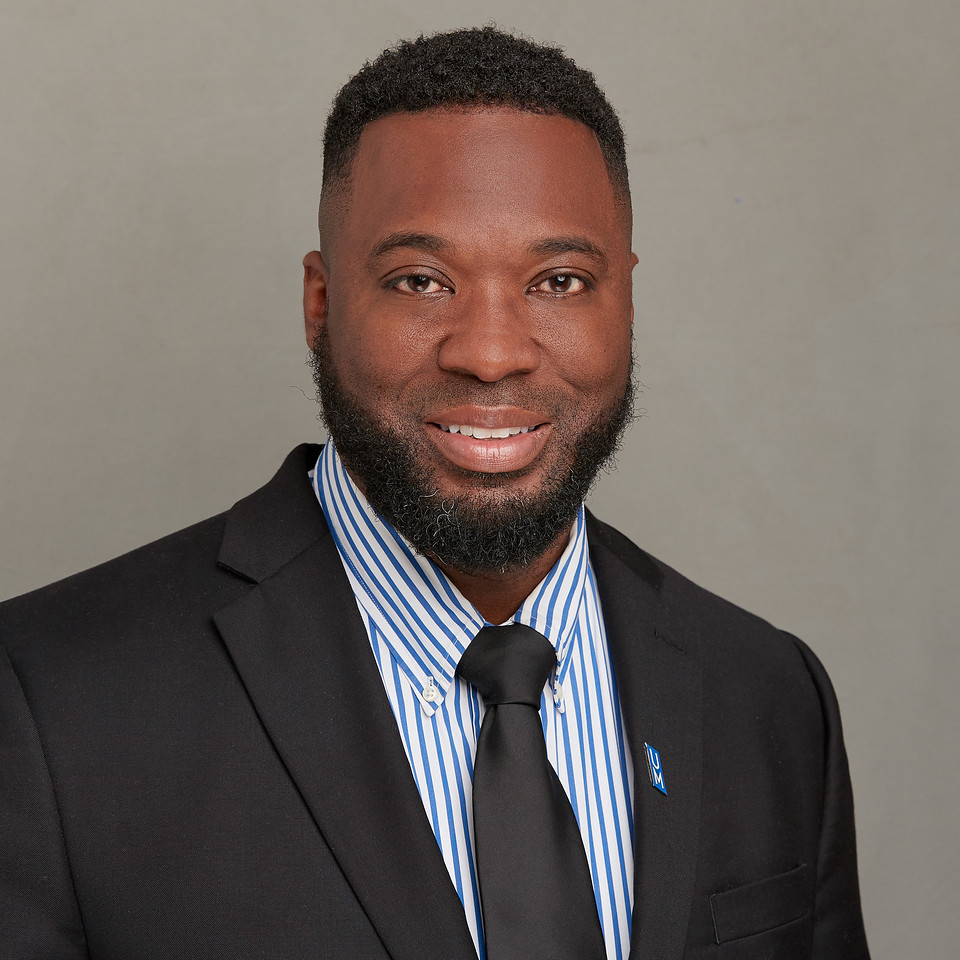 Will Hunter, Associate Professor of Special Education Instruction Curriculum & Leadership in the College of Education at The University of Memphis in Memphis, Tennessee, was elected to the Council for Exceptional Children (CEC) Board of Directors in its recent member-wide election. His three-year term begins on January 1, 2020.
Hunter has been a CEC member for nine years and served on the Executive Board of two CEC divisions: The Council for Children with Behavioral Disorder (CCBD) and the Division for Culturally and Linguistically Diverse Exceptional Learners (DDEL).
"I plan to be a servant leader for CEC, an organization that has a global impact on the special education community," Hunter said. "I have the privilege of being a parent of children with exceptionalities. I have also worked with P-12 students with exceptionalities and their families in a variety of capacities including teacher, professor, and educational leader. I will bring this unique perspective to my work on the CEC Board to advocate and promote the advancement of our field."
The Council for Exceptional Children (CEC) is the professional association of educators dedicated to advancing the educational success of children and youth with exceptionalities that accomplishes its mission through advocacy, standards, and professional development. Learn more about CEC at www.cec.sped.org>.
Ayanna Perkins, COE Career Specialist, wins Memphis Urban League Award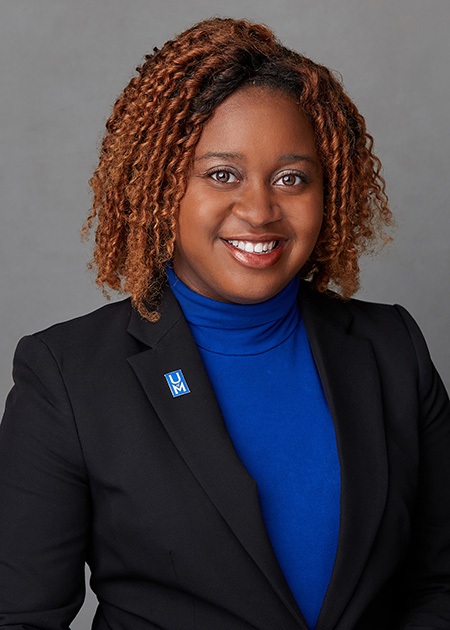 Congratulations to Ayanna Perkins, our Career Specialist, on being awarded Memphis Urban League's "Diamond Rockstar Award" at their 2019 Empowerment Gala. Mrs. Perkins was awarded for work with Memphis Urban League Young Professionals (MULYP). Memphis Urban League recognized and awarded Mrs. Perkins and Joshua Perkins, the President of MULYP, for their service to the community. Mrs. Perkins has been working with MUL in some capacity in the community since 2013, when she brought 50 students from Howard University to Memphis to participate in Alternative Spring Break.
According to their website, the Memphis Urban League envisions a city where all people are empowered towards self-sufficiency and share in the city's prosperity and well-being.Their mission is to assist African Americans, the underserved and economically disadvantaged to expand economic opportunities and secure equality, power and civil rights. We're so proud of Ayanna for her service to the COE and the Memphis community!
Dr. Wendy Griswold Keynote Speaker for the 2019 AAACE Conference
Dr. Wendy Griswold, LEAD, will serve as a keynote speaker for the AACE (American Association for Adult and Continuing Education) conference in St. Louis in October. The conference is entitled "Adult Education for Human Rights, Economic Empowerment, and Environmental Sustainability." Dr. Griswold will join Dr. Laura Bierema, University of Georgia, and Dr. Vanessa Sheared, who serves on the Board of Directors for United Way, Capital Region – Sacramento and the Closing the Gap Foundation, as keynote speakers. They will share their perspectives on the intersectionality of the issues that frame the global agenda for the protection and advancement of people and planet set forth within the 2017 United Nations Sustainable Development Goals. The underlying themes of the UN global agenda over the years have been world peace, economic justice, addressing the needs of the world's most vulnerable populations, and protecting the environment. To learn more about Dr. Griswold's research and the AAACE conference, visit their website>.

ICL Doctoral Students Win AECT Awards
Two ICL doctoral students (both in the IDT doctoral program) were awarded prestigious awards by the Association for Educational Communications and Technology. Katie Sharpe, recent ICL doctoral graduate, received the Robert M. Gagné Award for Graduate Student Research in Instructional Design for her dissertation entitled "Building self-efficacy and persistence through STEM e-mentor training: A multi-site case study." Dr. Sharpe's dissertation was chaired by Dr. Amanda Rockinson-Szapkiw.
Scott Van was awarded the Outstanding Practice by a Graduate Student in Instructional Design by AECT for his leadership of the Life Prep Academy partnership between UofM and FedEx. Learn more about AECT awards here> and learn more about Scott Van's work with Life Prep Academy here>.
Memphis Leadership Scholars Program at National Principals Conference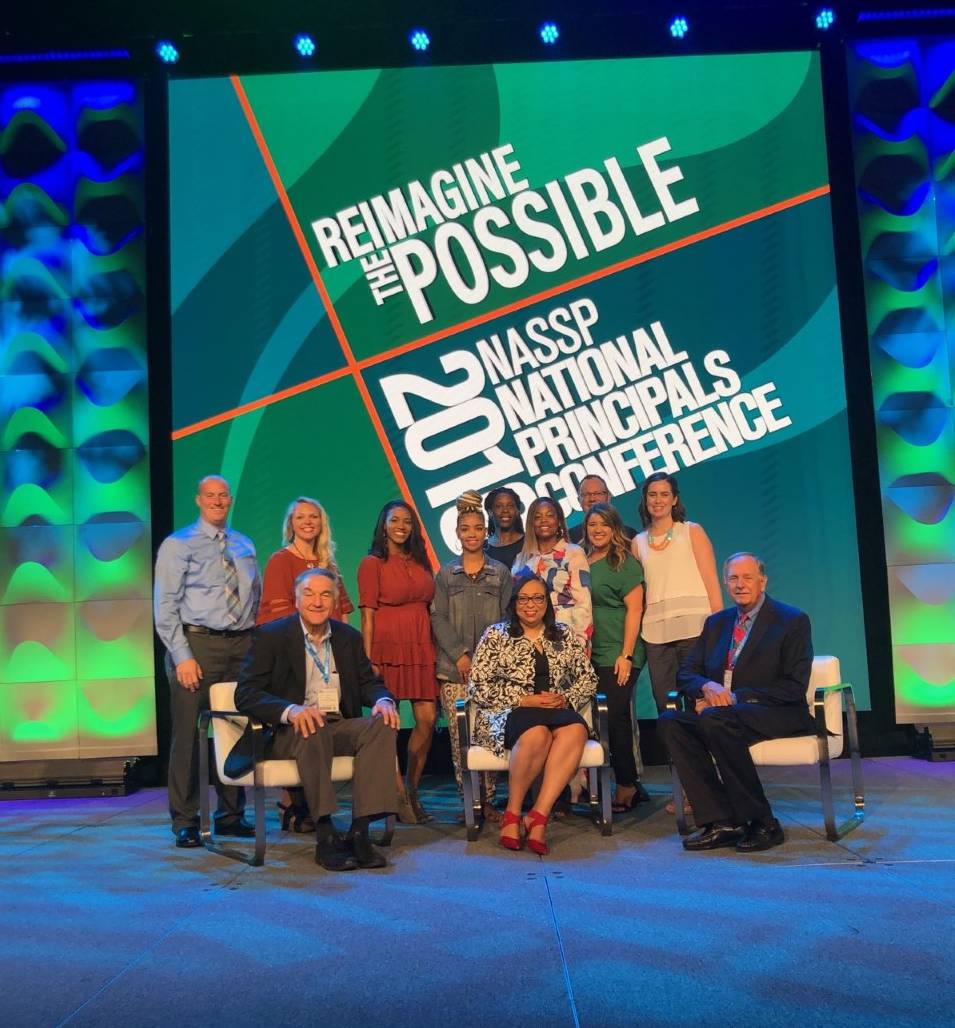 Memphis Leadership Scholars Program cohort members from the Leadership department attended the National Principals Conference in Boston over the summer. Pictured here is the Memphis Leadership Scholars Program cohort led by Dr. Jim Mitchell and Dr. Tim Fite - both retired Leadership faculty members - with the outgoing NASSP President, Christine Handy at the National Principal's Conference in Boston.
CEPR Students Present at APA Convention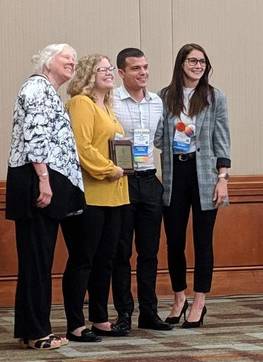 In August 2019, more than a dozen CEPR students traveled to the American Psychological Convention in Chicago to present their research with many students collaborating on research teams and presenting on multiple projects. Several of our students received awards.
Madeline Stenersen (pictured left), currently on internship at Yale University School of Medicine Forensic Addiction Services, won the APA Division Seventeen (Counseling Psychology) Student Affiliate Bridging the Gap Award. This award relates to the projects and opportunities she's had throughout the program to use research and clinical skill to "bridge the gap" between psychology clinical practice and academic research. Specifically she reported on her work (under Dr. Ovrebo's mentorship) with RestoreCorp in the Memphis community and the use of research data to be used in agency grant-funding applications. Madeline is Dr. Ovrebo's advisee.
Madeline also won the APA Division 52 (International Psychology) Student International Research Award. She received the award in relation to research work done in Thailand examining foreigners' attitudes towards individuals who sell sex in the country.
Christina New, currently on internship at Southwest Consortium/NMVAHCS, won the APA Division 44 Committee for Transgender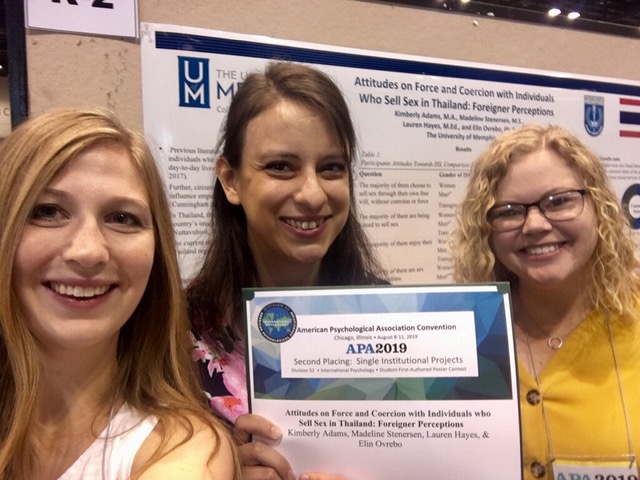 People and Gender Diversity Transgender Research Award for her dissertation work on understanding symptom disclosure related to hormone therapy for transgender people. Christy is Dr. Bridges' advisee.
Finally, a poster presentation by Kimberly Adams, Madeline Stenersen, Lauren Hayes, and Dr. Elin Ovrebo (as part of Dr. Ovrebo's International Research Team) won second place for the APA Division 52 (International Psychology) Poster Award. The students are pictured to the right. Learn more about the 2019 APA Conference at their website here>.
COE Alumna and Rhodes College Accounting Professor Pamela Church Honored for Outstanding Faculty Service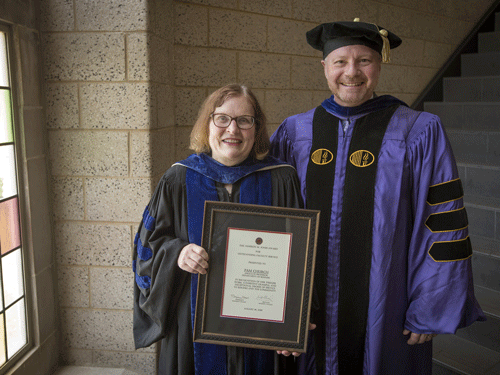 Dr. Pamela Church, associate professor of accounting at Rhodes College, was presented the 2019 Jameson M. Jones Award for Outstanding Faculty Service at the college's Opening Convocation Aug. 16. The Jameson M. Jones Award for Outstanding Faculty Service honors a current faculty member who has established an outstanding record of service to the college. It is named in memory of Dr. Jameson M. Jones '36, who served as the college's chief academic officer for more than 15 years. Dr. Milton Moreland, provost and vice president for academic affairs, presented the award at the Opening Convocation.
Church joined the Rhodes College faculty in 1988 and has served as the chair of the Department of Business, as well as taught undergraduate and graduate accounting courses in the areas of financial, managerial, governmental accounting, and auditing.
The many letters of nominations noted that Church is a skilled and gracious administrator and teacher who is known for her sense of patience and collegiality and willing to forego her own interests for the good of the whole community. One colleague wrote, "She cares about students no matter whether they are excellent performers or students who need a little more help. I know that she is always supportive and encouraging to students. She never gives up on anyone."
In addition, Church has served on many of the college's major committees, and she is the sole academic representative on the Tennessee State Board of Accountancy, which oversees the Certified Public Accountant (CPA) profession in Tennessee. Having been nominated by the governor for this position, she has a unique opportunity to have an impact on the accounting profession more broadly.
A native Memphian, Church is the parent of three Rhodes alumni. She holds a B.S.E. and an M.S. from The University of Memphis and a Ph.D. in accounting from the University of Houston. She also holds a CPA certificate in the state of Tennessee.
ICL Doctoral Student Receives NEA Award for Teaching Excellence and Global Learning Fellowship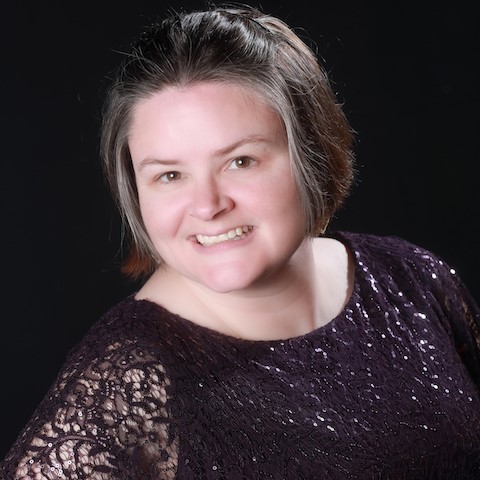 Congratulations to ICL Doctoral Student, Jessica Minton for being chosen for both the NEA Foundation's prestigious California Casualty Award for Teaching Excellence and the 2020 Global Learning Fellowship! Jessica, a STEM/Science teacher at Houston High School in Germantown, TN, is one of 45 public school educators who will be honored at the NEA Foundation's Salute to Excellence in Education Gala next February in Washington, D.C.
The California Casualty Awards for Teaching Excellence awardees are nominated by their peers for their dedication to the profession, community engagement, professional development, attention to diversity, and advocacy for fellow educators. Global Learning Fellows transform their classrooms to give students a global perspective by participating in a 12-month professional development program that includes in-person workshops, online coursework, webinars by leading experts, peer learning, and an international field study experience.
According to the NEA Foundation, Jessica Minton exemplifies the spirit of the Teacher Excellence award. A former Germantown Teacher of the Year, Minton works tirelessly to create a great learning experience for all of her students. She is a regular fixture at professional development conferences both as a presenter and an attendee. "It took me by surprise. I just want to do right by my students," said Minton. Learning outside of the classroom is key, she believes because, "becoming a stronger teacher is one way to better serve my students and model life-long learning". The focus of much of her professional development over the last two years has been in student equity. "I want to be known as the teacher that is there for all of my students," she said. Minton herself struggled in school with a hearing impairment and uses that as a teachable moment in her science classes. "Mistakes are proof you're trying," Minton told the NEA Foundation she tells her students.
"She does everything! Every time I turn around there's another group that wants to benefit from her expertise," said Principal Rob Taylor. He is consistently amazed with the work she's doing in her Biology A/B class (for students with disabilities). "I'm not surprised, but very proud that Ms. Minton will represent Tennessee and Houston High School at this national event," he said.
Of the 45 state awardees who were nominated by their National Education Association state affiliate, five finalists will be announced at the beginning of the school year and receive $10,000 at the gala. The nation's top educator will be revealed at the gala on February 7, 2020 and receive an additional $25,000. The gala will be live-streamed at neafoundation.org.
COE Alumna Wins Navy Award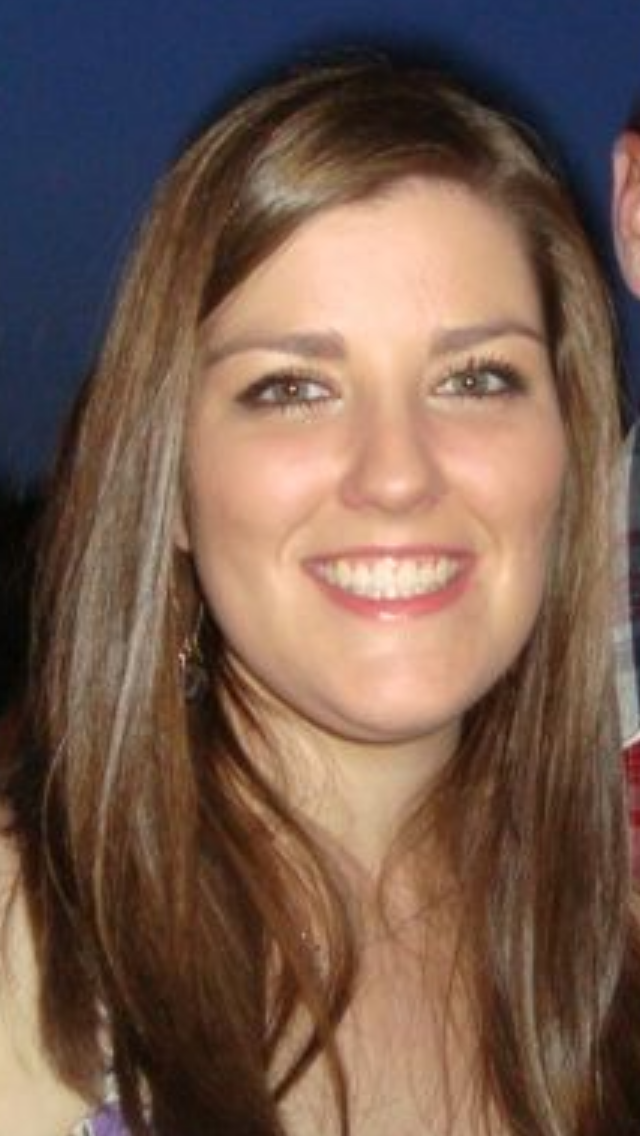 Katelyn R. Smetana (nee Moore, University of Memphis class of 2012, Bachelor's in Education) was recently selected from all sea commands under Commander, U.S. Pacific Fleet as the 2019 Mrs. Sybil Stockdale Ombudsman of the Year Award recipient!
Smetana, who graduated from the IDT program, is using her degree in her current position as the School Liaison Officer for Navy Base Everett, Washington. As the wife of a Navy Sailor, she volunteered to be the Ombudsman for the USS KIDD, DDG-100, homeported in Everett, Washington. Ombudsmen are volunteers who exemplify the spirit of Mrs. Sybil Stockdale who supported the families of Prisoners of War during her husband, Vice Admiral James Bond Stockdale's internment in Southeast Asia. This award recognizes those who serve as inspirational Ombudsmen and embody the ideals of volunteer service and commitment to Navy Sailors and their families.
Ombudsmen are nominated by their commanding officers for serving their command and families with extraordinary, selfless dedication and commitment to family readiness. Command Ombudsmen maintain the highest standards of professionalism and create a healthy sense of community by being positive role models for command members and their families. Smetana will be honored at a ceremony this December in Washington, D.C.
COE Alumna Named Collierville Schools Teacher of the Year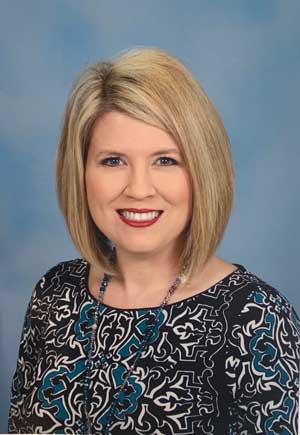 Michelle Smith Miller (Bachelor of Science, class of 2003; EdS in School Counseling, class of 2010) was recently named 2019-2020 Collierville Schools Teacher of the Year, Southwest Tennessee Teacher of the Year, and a finalist for Tennessee Teacher of the Year. Miller currently works as an Academic Interventionist at Bailey Station Elementary in Collierville. A two-time COE alumna, Miller was taught by Dean Hill-Clarke!
Miller was selected as one of 27 finalists for 2020 Tennessee Teacher of the Year. Hundreds of applications for this achievement were reviewed across the state this year. According to the State of Tennessee Department of Education, "Being selected among the top 27 is a testament to the excellence and dedication you bring to your classroom every day. As a finalist for Tennessee Teacher of the Year, you represent all that is best about public education in Tennessee, and we are grateful for the example you set for all of us."
In her application letter, Miller stated, "If selected as Tennessee Teacher of the Year, my primary message will be that teachers are the 'silver bullet' in education and deserve to be supported and celebrated for the important role they play in shaping the next generation. Effective teachers are the single most influential factor contributing to student success, and a great teacher can make the difference between a student who achieves at high levels and a student who falls through the cracks. We must continue to recruit, prepare and retain capable teachers in Tennessee. In order to achieve this goal, we must focus on building teacher capacity through strong pre-service teacher programs, teacher induction programs and ongoing professional development for all teachers." We're so proud of Michelle Miller and all the work she has done to influence teachers, students and education in the state of Tennessee!