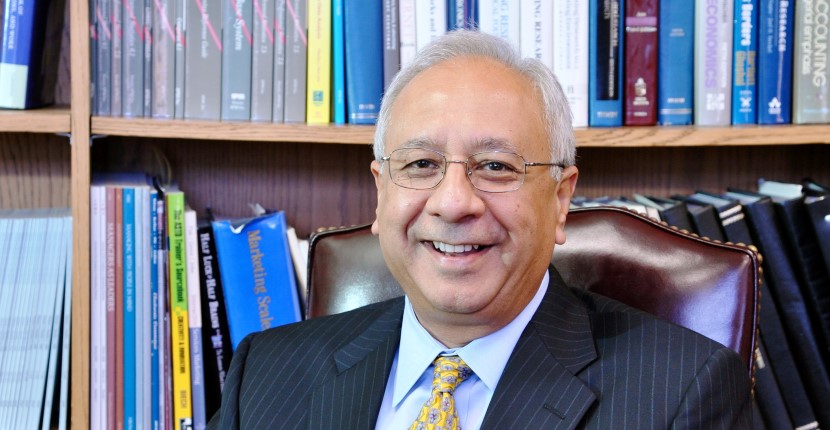 Dean's Message
Welcome to the Fogelman College of Business & Economics Web site. Under our model of operation, we consider members of the business community to be our customers; the students our products; and the faculty and staff our employees that manufacture the product.
We constantly strive to produce excellent products. By doing so, we not only satisfy our customers, but also our students who can command outstanding positions in great organizations. Our faculty and staff take great pride in producing a quality product. Whether you are a prospective student, a parent, a potential employer or someone seeking employment with the College, let it be known that under this philosophy, all stakeholders win.
At Fogelman College, we are proud to differentiate ourselves by providing a unique Complete Professional Program that holistically prepares students with the tools to achieve both personal and professional excellence. Through the Avron B. Fogelman Professional Development Center, we provide training on ethics, healthy living habits, business etiquette, resume building, professionalism, philanthropic activities, and more. This special program better prepares our students to enter the business world with a mastery of academic and interpersonal skills, both of which are necessary for success.
Memphis is home to many of America's greatest companies, and the Fogelman College takes maximum advantage of the metropolitan environment in which it is located. Students are provided opportunities to interact with the business community through real-world, relevant, and important projects and internships.
These internships, which span a variety of industries such as marketing, finance, accounting, etc., provide students with a chance to actually apply the business strategies and tactics they have learned in the classroom to real-world scenarios. Internships also provides our customers (i.e. companies) with a chance to secure new, fresh talent. These practical learning opportunities result in a win-win for all.
When you combine the wealth of real-world experience available to Fogelman College students with a philosophy geared to make the student more marketable to employers, the result is exceptional graduates who can compete with the best in the world and who are prepared for professionally and financially rewarding positions when they enter the workforce.
One of the many programs we provide to enhance this real-world learning experience for our students is the Customer-Driven MBA program. This 17-month, cohort-based program provides dualistic learning through a combination of classroom courses and on-the-job training. CD-MBA students simultaneously complete the MBA course requirements while also working as part-time interns at some of our partnering companies, such as FedEx, Smith & Nephew, Medtronic, and more. Upon graduation, these students have a thorough understanding of the inner-workings of their respective companies and are well-versed in a breadth of business principles that can be applied to any role throughout their careers.
The Fogelman College operates under a faculty portfolio model which allows us to effectively educate students at all stages in their education – whether they are undergraduate, masters or doctoral level. Under this unique model, we maximize the individual talents of each faculty member. While all faculty are engaged in varying degrees in relevant research and knowledge generation to solve business problems, some faculty members specialize in educating and inspiring our undergraduate students; others apply their unique talents to executive education and building bridges to the business community; a third group of faculty members find their calling in educating our Ph.D. students. Faculty are recruited or assigned responsibilities to take advantage of their specific skill set, and we constantly evaluate the current and needed skills of our faculty members so we can optimize the knowledge generation and dissemination functions.
Whether you are a current or future product or customer of the Fogelman College, or someone just looking for more information, I hope you will take the time to explore our Web site and visit the College in person. I look forward to working with you in whatever capacity you may require.

Dr. Rajiv Grover
Dean, Fogelman College of Business & Economics
901.678.3633