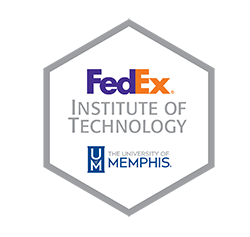 Corporate Engagement and Innovation
The FedEx Institute of Technology (FIT) has a national reputation for encouraging innovation and research-based corporate partnerships. Our strategy for innovation is centered around a research cluster model which encourages diverse interdisciplinary approaches to the challenges faced by our corporate partners. We cultivate research communities that produce tangible results.
For advanced research, FedEx sponsors FIT at the University of Memphis. The institute has a versatile, high-tech facility, and it is home to research teams that work on everything from artificial intelligence and biologistics to cybersecurity, robotics, autonomous vehicles and drones. FIT maintains a close relationship with the Innovation groups of FedEx corporation (FedEx Innovation).
Innovation requires a strong base of corporations, organizations and individuals who recognize that investment in science will lead to a brighter future for everyone. Memphis the national leader in giving, and our corporate citizens and community know that the FedEx Institute of Technology is the place to invest in the future of our city. By collaborating with the Institute on targeted research, our partners are able to leverage a comprehensive world-class research institution - gaining a unique advantage over competitors. Funding research and skills development programs at the Institute has a direct, tangible benefit to your workforce and the position of your company in your industry.

Some of our current corporate partners include: