Meet Dr. Aaryani Sajja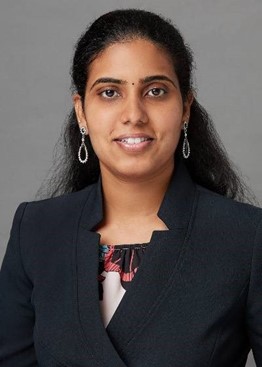 Dr. Aaryani Tipirneni-Sajja
Assistant Professor
Biomedical Engineering
"Hard work and determination always pays off."
- Dr. Sajja
Research Expertise: Magnetic resonance imaging
Dr. Aaryani Tipirneni-Sajja is a biomedical engineer with expertise in developing accurate quantitative magnetic resonance imaging (MRI) and spectroscopy (NMR) methods for identifying biomarkers and enabling early diagnosis and treatment monitoring of various diseases. She underwent pre- and post-doctoral training at Stanford Medical Center and St. Jude Children's Research Hospital where she has made several significant contributions in developing and validating MRI techniques for various NIH-funded clinical trials and pilot studies in the areas of brain stroke and tumor assessment, kidney motion and function and liver iron overload and steatosis.
Dr. Sajja earned her PhD through the Joint Graduate Program in Biomedical Engineering at the University of Memphis and the University of Tennessee Health Science Center. A problem solver by nature, she thought the engineering world would be the best place to make use of her skill. She joined University of Memphis as an Assistant Professor in 2018 and has launched new educational and research opportunities in biomedical imaging as part of the biomedical engineering program at the University of Memphis. She has published 21 journal articles with 1300+ citations, 40+ conference abstracts and one book chapter in MRI and NMR fields. Beyond the scientific community, her work received public interest and has been featured in Memphis Daily News.
Recently, Dr. Sajja received the 2023 National Science Foundation Career Award for "Open-Access, Real-Time High-Throughput Metabolomics for High Field and Benchtop NMR for Biological Injury." The NSF award is the most prestigious award that supports faculty who have the potential to serve as academic role models in research and education. She said being a woman in this industry has not been easy, but she has realized that being persistent and working hard can lead to many accomplishments.