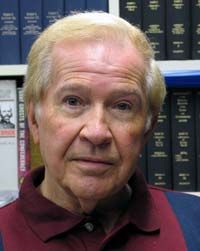 Charles W. Crawford
Professor
Email
cwcrwfrd@memphis.edu
Office Hours
Call for Hours
Education
Ph.D., History, University of Mississippi, 1968
Fields of Interest
State and Local History, Oral History
Charles W. Crawford teaches Memphis and Tennessee history in the Department of History, and is Director of the Oral History Research Office at The University of Memphis. He has successfully directed 21 doctoral dissertations and 57 students in the completion of M.A. theses and programs of study. Numerous papers written in his graduate classes have been published in historical journals, and several of the dissertations have subsequently been published as books.
As Director of the Oral History Research Office, he has conducted or supervised the completion of more than 2,000 oral history interviews dealing with historical and biographical topics throughout the Mid-South area. He was the first person from a southern institution to be elected president of the international professional association, the Oral History Association, and has participated in scholarly programs on oral history throughout the United States and in several foreign countries.
Locally, his awards include Distinguished Teaching Award of The University of Memphis and the Meritorious Faculty Award of the College of Arts and Sciences, as well as civic and community honors. He is often consulted by other authors, reporters from all media, and film and television producers to provide commentary and background on aspects of the history of Memphis and Tennessee.
Courses taught
His class, "Oral History," is taught at both undergraduate and graduate levels. He also teaches two graduate research seminars: "Thematic Studies in American History" and "Research Seminar in State and Local History."
Representative publications
His publications include reviews, articles, and twenty books — all of which have dealt with the history of Tennessee or Memphis. One of his books, Tennessee Land, History, and Government, as well as a newer edition, Dynamic Tennessee, has been used as a textbook by most of the children in Tennessee's schools since the 1980s.