History Happenings for 2013
Disclaimer: These are old files and some (perhaps many) of the links in them may not be valid now. All files before 2015 were formatted for smaller screens and may occasionally display oddly.
---
Amber Colvin wins Best Prospectus Award
[16 December 2013] The Graduate Awards Committee is pleased to announce Amber Colvin has been selected as the recipient of the Best Prospectus Award for the Fall 2013 semester.
The members of the committee were impressed by Ms Colvin's prospectus presentation and would like to support and encourage her research with a $500 award. Her presentation was on "'Annihilated in his presence': Legitimacy, Family, and Power in Royal Portraiture under Henry VIII, James II, and George II of England."
The Graduate Awards Committee offers a Best Prospectus Award every Fall and Spring semester or academic year, depending on the number and quality of presentations.
Wendy Clark wins Dorothy Seay Graduate Award in History
[11 December 2013] The Graduate Awards Committee of the Department of History is pleased to announce that Wendy Clark has been selected as the recipient of the 2013-2014 Dorothy Seay Graduate Award in History.
Beverly Tsacoyianis presents paper at Faculty Research Brown Bag discussion
[4 December 2013] At the last Faculty Research Brown Bag discussion of the semester, Beverly Tsacoyianis presented a draft of the paper she is preparing for the Colloquium on the History of Psychiatry and Medicine at Harvard on 19 December, entitled "Good Spirits and Strong Bodies: Mental Health Treatment in Syria 1903-1961."
Three PhD candidates present prospectuses for dissertations

[22 November 2013] At a well-attended and lively session this afternoon three students in the doctoral program presented prospectuses for their dissertations.
Amber Colvin (above, left) led off with "'Annihilated in his presence': Legitimacy, Family, and Power in Royal Portraiture under Henry VIII, James II, and George II of England." Christina Arflack (above, center) followed with "Selling Eden: Mount Desert Island and Acadia National Park: A Look at the Development of an Island's Economy and Conservation Ethic." Jenny Demilio (above, right) concluded with "Theophilus Hunter Holmes: The Confederacy's Forgotten Lieutenant General."
Dr Aram Goudsouzian and Dr Michael Bertrand appear in PBS documentary "The African Americans: Many Rivers to Cross"
[19 November 2013] Toward the beginning of Episode 5 of "The African Americans: Many Rivers to Cross" shown locally tonight on WKNO, Dr Michael Bertrand spoke with program host Henry Louis Gates about the significance of Memphis radio station WDIA switching to a format of all-black broadcasting. Dr Bertrand has long been a student of popular music, having received his PhD from our department in 1995, writing a dissertation on "Southern Youth in Dissent: Rock 'n' Roll, Race, and Elvis Presley, 1945-1960," with Dr Charles Crawford as his major professor. The revised dissertation was published in 2005 by the University of Illinois Press under the title Race, Rock, and Elvis. Dr Bertrand now holds the position of associate professor of history at Tennessee State University.
Toward the end of the episode, Dr Aram Goudsouzian, professor and chair of our Department of History, chatted with Dr Gates in Broad Street Park in Greenwood, Mississippi. It was at this park, during the Meredith March Against Fear in June 1966, that Stokely Carmichael unleashed the slogan of "Black Power" at a rally. The march is the subject of Dr Goudsouzian's forthcoming book, Down to the Crossroads: Civil Rights, Black Power, and the Meredith March Against Fear (see the announcement about the book).
New Books in Religion interviews Dr Robert Yelle on his recent books
[19 November 2013] In a wide-ranging interview that covered "Orientalism, Modernity, Hindu mythology, literary versus oral cultures, Max Muller, magical dimension of ritual, Christian critiques of Jewish law, scripturalism, mantras, and print culture," Kristian Petersen of New Books in Religion spoke with Dr Robert Yelle about his recent books, The Language of Disenchantment: Protestant Literalism and Colonial Discourse in British India and Semiotics of Religion: Signs of the Sacred in History. A brief introduction to the interview contains a link to the interview itself, which is in MP3 audio format.
Dr Yelle is currently on leave from the Department of History as a Joint Tikvah/Senior Emile Noël Fellow of the Tikvah Center for Law & Jewish Civilization at the Law School of New York University. During the academic year 2013-2014 he is working on completing another book, entitled Sovereignty and the Sacred: Judaism, the Exception, and the Political Theology of Secularism.
Dr Christine Eisel speaks at pizza lunch on gossip in early Virginia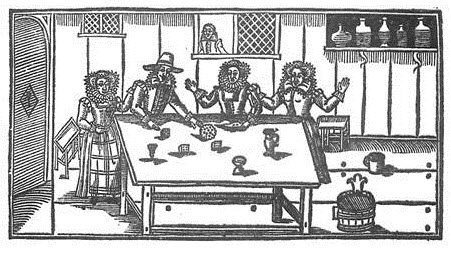 [15 November 2013] Dr Christine Eisel spoke today at the last Student History Society/Phi Alpha Theta pizza lunch of the semester on the topic "'False Scandal Most Unwanting': Gossip and Status in Seventeenth-Century Virginia." The talk was based on research she has conducted on women's gossip in two of Virginia's earliest counties, Accomack and York, using county court records that date back to the 1630s.
Dr David Turpie accepts position as editor of the Register of the Kentucky Historical Society
[14 November 2013] Dr David Turpie, a 2004 MA in history from The University of Memphis, has accepted a position at the Kentucky Historical Society, where he will be the editor of the Register of the Kentucky Historical Society. He wrote his MA thesis on college football's "mythical" national championship in 1938 and 1939, which later was the basis for the article "From Broadway to Hollywood: The Image of the 1939 University of Tennessee Football Team and the Americanization of the South" in the Journal of Sport History in 2008.
He did his doctoral work at the University of Maine, where he received his PhD in 2010 with a dissertation on southern opposition to the Spanish-American War and the postwar annexations of the former Spanish islands under the title "The Failure of Reunion: The South and Republican Foreign Policy, 1898-1902." He has taught at the University of Maine and other schools and has edited several issues of the journal Maine History.
Le'Trice Donaldson awarded 1st Generation PhD Fellowship, gives paper at Southern Historical Association conference
[14 November 2013] Doctoral candidate Le'Trice Donaldson has received a 1st Generation PhD Fellowship from the Graduate School at The University of Memphis. The 1st Generation PhD/MFA Fellowship Program is funded by the State of Tennessee to provide financial assistance to graduate students who are underrepresented in their respective disciplines and who will become the first person in their immediate families to earn a doctoral or MFA degree.
She also gave a paper, "Lincoln's Latin American Experiment: African-American Relocation to Central and South America, 1861-1865," at the 2013 conference of the Southern History Association in St. Louis, held October 31-November 3.
Dr Aram Goudsouzian's book on the Meredith March of 1966 to be published by Farrar, Straus and Giroux
[12 November 2014] Farrar, Straus and Giroux will publish Dr Aram Goudsouzian's Down to the Crossroads: Civil Rights, Black Power, and the Meredith March Against Fear. This is the story of the last great march of the civil-rights era and the first great showdown of the turbulent years that followed.
James Meredith, who had figured in the desegregation of the University of Mississippi in 1962, walked out of Memphis on June 5, 1966, on a march toward Jackson, Mississippi, that he hoped would promote black voter registration and defy racism. The next day, he was shot by a mysterious white man and transferred to a hospital. What followed was one of the key dramas of the civil-rights era. When the leading figures of the civil rights movement flew to Mississippi to carry on Meredith's effort, they found themselves confronting Southern law enforcement officials, local activists, and one another. In the subsequent three weeks, Martin Luther King Jr. narrowly escaped a mob attack, protesters were teargassed by state police, Lyndon Johnson refused federal intervention, and the young charismatic activist Stokely Carmichael first led the chant that would define the next phase of the civil rights era: "Black Power."
The book has its own page on Facebook: https://www.facebook.com/goudsouzian
Mid-South History Colloquium meets for the first time
[9 November 2013] The Mid-South History Colloquium, a collaboration between the departments of history at the University of Mississippi and The University of Memphis, met for the first time on Friday, 8 November 2013, to discuss a paper by John Ondrovcik, an assistant professor of history at Ole Miss and a specialist in post-World War I Germany. Faculty and graduate students from both schools filled 223 Mitchell Hall, and afterwards, a number of them continued the discussion over dinner at a local restaurant.
The format of the colloquium calls for discussion of a single previously-circulated paper by someone from the visiting institution, with a faculty member from the host institution serving as chair and commentator. Following the colloquium, interested participants will gather at a local restaurant to continue the conversation.
The next meeting will be in April at Ole Miss, and once the date is confirmed, there will be a call for papers. This is a fine opportunity for faculty and graduate students to meet and engage with our Mississippi peers and, just as important, to participate in a conference-level exchange without having to pay conference-level prices.
Those who are interested in participating and would like to be added to the e-mail list are asked to contact Anne Twitty (twitty@olemiss.edu) or Michael Blum (mblum@memphis.edu)
Beth Flanagan wins Outstanding Alumna Award from CAS Alumni Chapter
[1 November 2013] Beth Flanagan, a 1992 BA graduate with a major in History, received the Outstanding Alumna Award from the College of Arts and Sciences Alumni Chapter today at a luncheon at the Holiday Inn, where the Department of History had a table for some alumni and faculty. She mentioned during her remarks how happy she was to see Dr Charles Crawford there, since he was her favorite professor.
While Ms Flanagan was a history major she worked as a tour guide at Mud Island River Park, telling visitors about the rich history of the island and of Downtown Memphis. After graduation she worked at Graber Investments, where she learned a great deal about the real estate trade. In the mid-90s, she went to work at Commercial Tennessee Inc. (now Commercial Advisors LLC) as vice president of client services, where she learned about commercial real estate, working with many large Memphis corporate clients. While there, she participated in the start-up of the Memphis Bioworks Foundation and worked to create the Technical Real Estate Committee that studied the feasibility of reusing more than one million square feet of donated buildings in the Memphis Medical Center. In 2002 Ms Flanagan went out on her own as an independent consultant.
She became director of the Memphis Medical Center in 2004. One of the main objectives she has in her position as director is to ensure that the master plan of development created by the visionaries behind the Memphis Biotech Initiative is followed.
Ms Flanagan also serves on the boards of many community organizations and is a member of Leadership Memphis Class of 2003 and the 2007 Leadership Academy Masters Program. She was voted one of the "Top 40 Under 40" in 2001.
Steven Knowlton publishes article on Black Freedom struggles in Memphis
[30 October 2013] Steven Knowlton, a librarian for the University Libraries and an MA student in the Department of History, has published "Explaining the Black Freedom Struggles in Memphis: Selected Reviews," in the Spring 2013 Tuckasegee Valley Historical Review, an annual journal published at Western Carolina University.
The review was begun in 1992 by history graduate students at Western Carolina University, with its mission being to publish the best work that MA students in the Southeast have to offer, while simultaneously giving graduate students quality experience in academic publishing.
Dr David Jackson wins AHA's Equity Award
[25 October 2013] Dr David H. Jackson Jr has won the American Historical Society's Equity Award for 2013-2014.
Dr Jackson received his PhD in history from our department in 1997, writing a dissertation entitled "Charles Banks: A Black Leader in Mississippi, 1873-1915" with Dr Kenneth Goings serving as major professor. He is currently professor of history and chair of the Department of History and Political Science at Florida A&M and has sent several students from that school to our MA and PhD programs.
As an outcome of a statement on equity adopted by the AHA in 1996 that acknowledged its commitment "to diversity in the historical profession," the AHA established two equity awards, one for individuals and another for academic units, to be awarded annually. The Committee of Minority Historians seeks to bestow the Equity Award upon individuals or institutions who have demonstrated an exceptional record in the recruitment and retention of students and new faculty from racial and ethnic groups under-represented within the historical professions. Deserving nominees will have records that include such achievements as mentoring, program building, fundraising initiatives, pursuing civic engagement, and enhancing department and campus culture to promote a supportive environment.
Dr Jackson will receive his award at the annual meeting of the American Historical Association to be held in New York City, in January 2015.
Dr Dennis Laumann serves as "First Opponent" on dissertation at Norway university
[22 October 2013] Dr Dennis Laumann traveled to Trondheim, Norway, last week to serve as the "First Opponent" in a dissertation defense at the Norwegian University of Science and Technology (known by the Norwegian acronym NTSU). The First Opponent's role is to question the doctoral candidate about theoretical aspects of his work. Last year Dr Laumann was appointed an External Examiner of the Department of Historical Studies at NTSU, which has an active and longstanding program of faculty and graduate research in Ghana.
While in Trondheim, he also met with Professor Per Hernæs of NTSU who serves as co-editor of the academic journal Transactions of the Historical Society of Ghana, along with Dr Kofi Baku of the University of Ghana and Dr Laumann.
Student History Society/Phi Alpha Theta pizza lunch features screening and discussion of "The Conspirator"
[18 October 2013] Robert Redford's film, "The Conspirator," was the subject of today's meeting of the Student History Society/Phi Alpha Theta. The film was about the trial and execution of Mary Surratt for allegedly conspiring with John Wilkes Booth in the assassination of President Abraham Lincoln, a year before the Supreme Court unanimously ruled that trial of civilians by military courts was unconstitutional.
Dr Colin Chapell led a group discussion following the screening of the film.
The last pizza lunch of the fall semester will be on 15 November.
Portrait of Dr John Harkins installed in Faculty Portrait Series of Memphis University School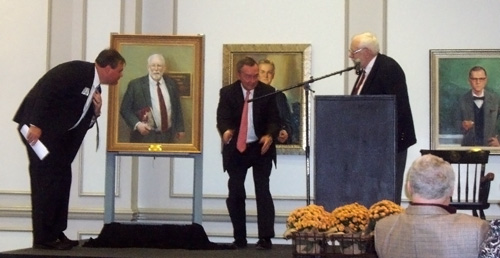 [3 October 2013] Only seconds after the veil that had concealed the portrait was lifted by John Barton and Ellis Haguewood and fell to the floor, Dr John Harkins here looks on his likeness by artist Steve Moppert that joined eight others in the Faculty Portrait Series of Memphis University School, where he had served nearly three decades in the school's History Department as a history instructor, chairman of the department, Ross M. Lynn Chair of History, and author of the MUS Century Book: Memphis University School, 1893-1993, and where in his retirement he is the historian and archivist for the school. Portraits of Leigh W. MacQueen and John Murry Springfield, the first two to be installed in the portrait series, hang on the back wall.
John Barton, class of 1995 and president of the Alumni Executive Board, presided over the occasion and spoke briefly before introducing former student Clayton Chandler, class of 1997; long-time colleague Norman Thompson, instructor in English at MUS since 1972; and Headmaster Ellis Haguewood, to offer their tributes to Dr Harkins. He also introduced Steve Moppert but Mr Moppert did not speak, letting his painting speak for him.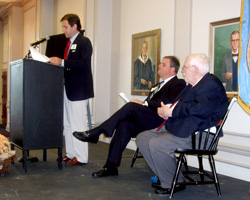 Mr Chandler said "Dr Harkins is indeed the most beloved MUS figure in my eyes, in the eyes of the Class of '97, and in the eyes of the MUS community as a whole." He based his judgment not only on his own experience but on testimonies from many former MUS students, not all from the Class of '97, as to Dr Harkins' resumé as a scholar, his excellence in the classroom, and the care and respect he had for his students. A touching illustration was his showing up stoically, as had been scheduled, in the classroom to give his students practice for Advanced Placement examinations the morning after the Harkins' son had died. On a lighter note, he said that a student who was a Jeopardy champion attributed his winnings to Dr Harkins' classes — the only place he had ever heard of Emile Zola and the Dreyfus Affair was in his 10th-grade AP history class.
Mr Thompson quoted Ambrose Bierce's famous definitions of history ("An account, mostly false, of events, mostly unimportant, which are brought about by rulers, mostly knaves, and soldiers, mostly fools") and historian ("A broad-gauge gossip") for two reasons, he said — "Dr Harkins' keen sense of humor will allow him to snicker at the snarkiness of Bierce's tongue-in-cheek sniping," and "to show that the life and career of Dr John Harkins so manifestly belies both definitions."
Among other literary allusions, Mr Thompson quoted from Henry IV, Part 2 how the King, speaking to his son, said, "Learn this . . . And thou shalt prove a shelter to thy friends,/A hoop of gold to bind thy brothers in." He added that Dr Harkins has been over many years "a hoop of gold binding faculty brothers (and sisters) together in the pursuit of truth, yes, but in the spirit of camaraderie and unity of purpose also." He observed that in the faculty lounge discussions "John Harkins often held court like a taciturn Solomon, a corrective voice of reason."
Speaking of Dr Harkins' work in the archives, he said, "In his tome-laden lair he can be found rummaging around in the dustbin of the past like a kleptomanical magpie, squirreling away nuggets from times gone by, which but for John's obsessive reclamation efforts would be lost forever in the dissolving mists of time. His labors are tireless and ongoing. Nothing relative to the history of MUS, however seemingly irrelevant, escapes his archival eye. Not very long ago he asked me for copies of my chapel talks. If these he deemed worth saving, I wonder what he would consider unworthy of salvaging."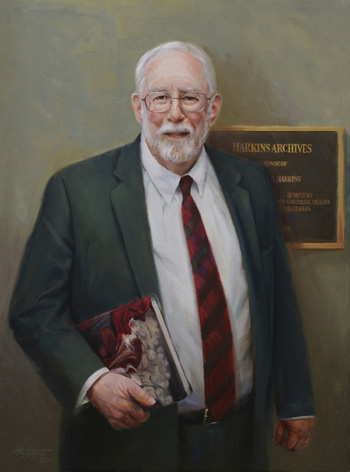 Mr Thompson quoted from Mrs Bonnie Barnes, director of the Hyde Library Learning Center, which houses the Harkins Archives: "If we stop to ask him a question, he never fails to come up with a story — one that may meander like a lazy river but that will also pick up bits and pieces of debris from the shore as it meanders. . . . If you don't get an answer when you 'Ask Vance Lauderdale,' then you have only to ask John Harkins and brace yourself for an answer."
In the same good-natured spirit, Headmaster Haguewood quoted Winston Churchill ("History will be kind to me for I intend to write it"), noting that it was literally true about Dr Harkins, since he wrote the official history of the school. He praised Dr Harkins for the impressive breadth and depth of the history courses he taught over the years, including the required courses in American and European history, their Advanced Placement counterparts, and electives in recent American, Civil War, Mexican, and Russian history. He noted his holding of the endowed Ross Lynn Chair of History from 1992 until his retirement, his earning of the MUS Distinguished Teaching Award in 1996, and the Daughters of the American Revolution naming him Outstanding American History Teacher for Tennessee in 1997.
Mr Haguewood listed Dr Harkins' activities outside the classroom as president of both the West Tennessee Historical Society and the Descendants of Early Settlers of Shelby County, and his appointment to both the Shelby County Historical Commission and the Tennessee Historical Commission. He noted that Christian Brothers High School named him to the CBHS Hall of Fame and added that "MUS, in an attempt to mitigate that designation, made him an honorary alumnus in 2008." He also listed Dr Harkins' publications (which are listed near the end of this article).
Mr Haguewood remarked that Georgia, herself a teacher and tutor, had always been by Dr Harkins' side. He quoted the famous description of the "wife of noble character" from Proverbs 31 in her praise.
Mr Haguewood said in conclusion: "William James wrote, 'The great use of a life is to spend it for something that outlasts it.' John Harkins' scholarly accomplishments and his many contributions to MUS and to our community will long outlive his life."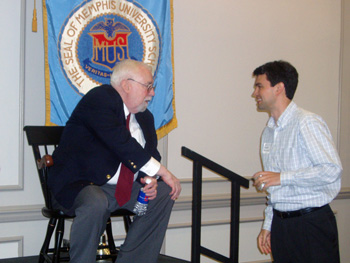 The purpose of the Faculty Portrait Series is "to honor MUS faculty members that have given much of their lives in service to the school." The faculty member must have served MUS for a minimum of 15 years and left in good standing and must be retired or deceased. Dr Harkins is the ninth person to be honored. Previous honorees are Leigh W. MacQueen, John Murry Springfield, William R. Hatchett, Jacob Courtnay Rudolph, Betty Jo Higgs, Leslie C. "Skip" Daniel, Jr., Michael R. Deaderick, and H. Jerry Peters. With Dr Harkins' portrait being added, a majority of the honorees have been members of the MUS History Department, which speaks well for that department.
Dr Harkins had been honored by MUS earlier in the year, when on the initiative of former student David O. Sacks the school archives in the Hyde Library were renamed the Harkins Archives.
Dr Harkins received his PhD in history in 1976 from what was then Memphis State University. He wrote his dissertation, "The Neglected Phase of Louisiana's Colonial History: The New Orleans Cabildo, 1769-1803," with Dr William Gillaspie as the major professor. In revised form the dissertation was published by Louisiana State University Press in 1996, with Gilbert C. Din as co-author. He has also published The MUS Century Book; Metropolis of the American Nile: An Illustrated History of Memphis and Shelby County; Historic Shelby County: An Illustrated History; and Memphis Chronicles: Bits of History from The Best Times. He is currently engaged in writing a history of the Lausanne school.
Steve Moppert, from Chattanooga, Tennessee, the painter of Dr Harkins' portrait, received the National Portrait Society's prestigious grand prize award in 1981 and has received recognition for his work in national periodicals and newspapers. He has been featured in Colorado Homes and Lifestyles and The Mississippi Magazine, and in 2000 his portrait work was featured in the International Artist Magazine. He has been represented by galleries from New York to Arizona.
Departmental advisors use "Roaring 20s" theme for Discover Your Major Day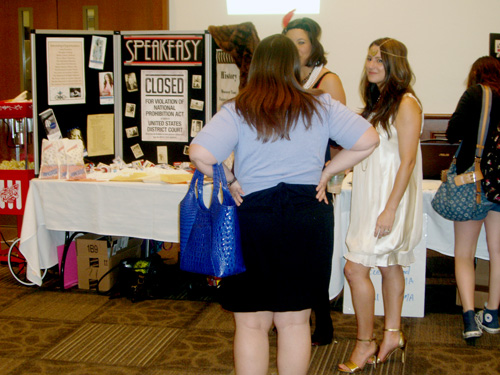 [3 October 2013] Advisors Dr Chrystal Goudsouzian and Amanda Lee Savage created a "Roaring 20s" theme for the Department of History's booth at today's Discover Your Major event. They dressed as flappers and gave visitors to the booth popcorn, candy cigarettes, and beaded necklaces as well as brochures and information about the department's undergraduate major and minor programs. Dr Goudsouzian is the Undergraduate Advising Coordinator and Ms Savage is the advisor for online students.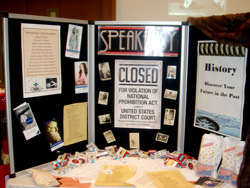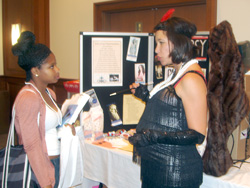 At the left is a closer view of the table and at the right is a photograph of Ms Savage speaking with one of the visitors to the booth.
[Addendum: 4 October 2013] With dozens of entries from the rest of the university competing, the "Roaring 20s" booth won third place, moving up from the honorable mention that the booth that Dr Goudsouzian and Ms Savage created last year received.
Graduate Awards Committee announces research and conference funding for Fall/Winter Break 2013
[30 September 2013] The Graduate Awards Committee is pleased to announce the recipients of research and conference funding for Fall/Winter Break 2013:
James Conway — conference participation in Jacksonville in October 2013
Le'Trice Donaldson — conference participation in St. Louis in October/November 2013
Dr Laurent Dubois delivers the Sesquicentennial lecture for 2013-2014

[26 September 2013] Dr Laurent Dubois delivered the Memphis Sesquicentennial Lecture for 2013-2014 this evening in the theater of the University Center, speaking on "The Banjo: Roots, Routes, and Ideas about 'America.'" The lecture was also an event of the Marcus W. Orr Center for the Humanities.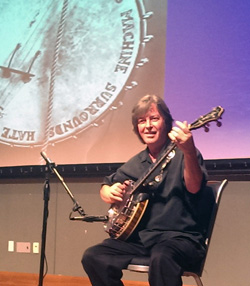 Before the lecture, Randal Morton performed on the 5-string banjo, playing pieces in several styles of 3-finger picking (including, by popular request, the legendary Foggy Mountain Breakdown). Randal has been a banjo picker since he was about twelve years old, and he won the title of National Bluegrass Champion in Winfield, Kansas, on his 21st birthday. He and his twin brother Greg (a championship guitar player) were members of the Don Ho Show in Hawaii for a time. Randal is a prominent figure in Memphis bluegrass music, but Greg now lives in Tucson, Arizona.
Dr Tom Nenon, acting dean of the College of Arts and Sciences and a former director of the Marcus W. Orr Center, welcomed the audience and outlined the purpose and programs of the center. He asked Randal to perform one more selection before turning the introduction of the speaker over to Dr Andrew Daily of the Department of History.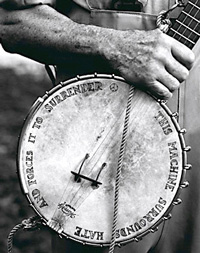 Dr Dubois began by explaining the projected image that was the backdrop for the first part of his lecture, a banjo belonging to Pete Seeger and inscribed with the words "THIS MACHINE SURROUNDS HATE AND FORCES IT TO SURRENDER." It was similar to the slogan "This machine kills Fascists" which Woody Guthrie put on his guitar in 1943, and was ultimately inspired by signs from industrial plants during World War II. He noted that the banjo has been constantly "re-invented" over the centuries, but with each reinvention presenting the instrument as being "old."
Undoubtedly of African origin, the banjo in America today is almost always played by white musicians and is a symbol of country music, especially of bluegrass. Banjo pickers are often the object of ridicule, friendly or unfriendly, as in two slides that Dr Dubois showed. At the left is a cartoon from the New Yorker and at the right is an image that is often used on T-shirts as a reference to the rural musicians encountered in the movie Deliverance.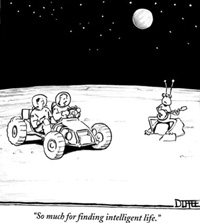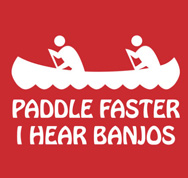 Dr Dubois noted that his approach would be centered on the Caribbean, his area of scholarly research. The banjo was mentioned first in the Caribbean, long before North American references, and the Caribbean received vastly more slaves from western Africa than did the mainland.
There was a great variety of stringed instruments in western Africa, including the xalam and the akonting, but a constant feature of them was a drum head, often a gourd with an animal hide as a sounding board, and often with one string shorter than the others. (European instruments had at one time used similar instruments, but diverged toward the use of wooden bodies at an early date.)
Banjo-like instruments were mentioned in Jamaica as early as 1687 by Sir Hans Sloane, who described several Jamaican instruments, including the two illustrated at the left. The earliest North American reference to the banjo was in the New-York Weekly Journal in 1736, but the newspaper did not include an illustration.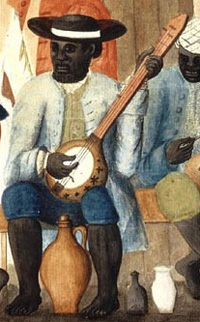 A close approach to the banjo as it is known today came in a painting done in Beaufort County, South Carolina, in the late 1700s or early 1800s (the date is uncertain). One of the most commonly reproduced paintings that show slaves on a plantation, it includes a rather detailed rendering of a seated slave playing the banjo. (A very similar painting, possibly a copy and modification of this one but with less detail about the banjo, is in the Mint Museum of Art in Charlotte, N.C.) The instrument has only four strings, but one of them is short, being pegged on the neck about halfway to the bridge. The performer is probably finger-picking, but possibly strumming or using a technique like clawhammer or frailing.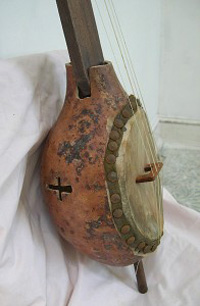 One of the most important instruments in documenting the history of the banjo in the American area is a Haitian banza, which was collected in 1841 and sent to a museum in Paris. Parts of it were discovered by a scholar in 1997 in separate boxes, and the scholar eventually realized that the parts belonged together to make a complete instrument. Pete Ross now makes replicas of the instrument, illustrated at the left.
Advertisements in the colonial period for runaway slaves sometimes mentioned that they were banza or "banjer" players. The association of the instrument with black performers was strengthened by the rise of blackface minstrelsy in mid-19th-century America. Dr Dubois said that groups like Christy's Minstrels created a craze for the banjo, such that eventually there were banjo choirs all over the United States, nearly all of them consisting of white performers. But after the Civil War minstrelsy was sometimes performed by black musicians. Some of the music could be subversive, such as "Uncle Gabriel," which told of the execution of a slave named Gabriel who was "chief of the insurgents" in an aborted slave insurrection in Henrico County, Virginia, in 1800. It contained the refrain "Hard times in Old Virginny."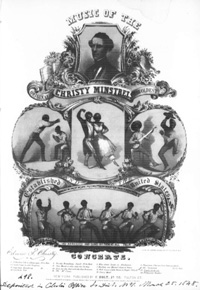 The banjo eventually became a common instrument in Appalachian music, where it linked up with the tradition of balladry from the British Isles. Bluegrass music, in which the banjo is virtually mandatory as a lead instrument, developed after 1945. Dr Dubois noted that the emergence of bluegrass corresponded to a period of economic crisis in Appalachia, when many workers left to work in northern factories. As with the banjo in the Caribbean among black exiles from African homelands, it became a favorite among white exiles in America. Dr Dubois mentioned that early support for bluegrass music often came from urban audiences, despite the popular perception of it as working-class music.
Dr Dubois is the Marcello Lotti Professor of Romance Studies and History and the director of the Center for French and Francophone Studies at Duke University. His books include Haiti: The Aftershocks of History; Avengers of the New World: The Story of the Haitian Revolution; and Soccer Empire: The World Cup and the Future of France. He is, along with David Garner and Mary Caton Lingold at Duke University, responsible for the website Banjology, where you may find additional materials about the history of the banjo in the Afro-Atlantic world.
History departments at Ole Miss and U of M form Mid-South History Colloquium, plan meeting in November
[25 September 2013] Michael Blum of The University of Memphis and Anne Twitty of the University of Mississippi are pleased to announce the first meeting of the Mid-South History Colloquium, a collaborative forum between the history departments of The University of Memphis and the University of Mississippi. Open to graduate students and faculty from both campuses, the first meeting is scheduled for Friday, 8 November, at 4 pm at The University of Memphis.
Meeting formats are simple. There will be discussion of a single pre-circulated paper, with a faculty member from the visiting institution serving as chair and commentator. Following the colloquium, interested participants will gather at a local restaurant to continue conversation over dinner. Those who are interested in participating and would like to be added to the e-mail list are asked to contact Anne Twitty (twitty@olemiss.edu) or Michael Blum (mblum@memphis.edu).
The colloquium is currently seeking a paper for the first meeting. It should be a work-in-progress and no longer than 25-30 pages. If you think you have something suitable, please contact Anne or Michael by 15 October.
History faculty members read for Banned Books Week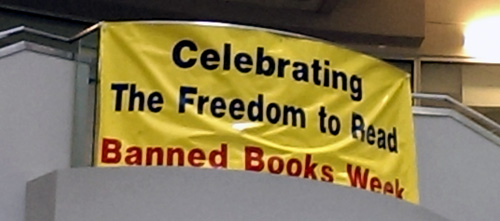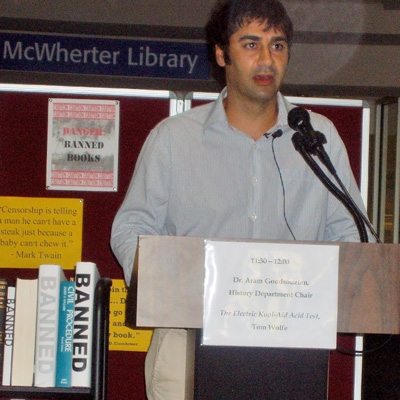 [25 September 2013] Jennifer Schnabel, assistant to the Dean of Libraries for community engagement, in introducing the readings in today's round of readings for Banned Book Week remarked that the Departments of History and English have always been strong supporters of the event. Fittingly, readings by Dr Aram Goudsouzian and Beverly Tsacoyianis from the Department of History bracketed the reading by Rachel Leigh Smith, president of the English Graduate Association.
Dr Goudsouzian led off the session, reading from Tom Wolfe's The Electric Kool-Aid Acid Test at 11:30 am. Almost as if it had been planned that way, at noon loud sirens and announcements over loudspeaker systems as a test of the university's emergency response system contributed to the somewhat psychedelic tone of Wolfe's description of the West Coast drug culture. Dr Goudsouzian took that as a signal that his time was up, and Ms Smith began her reading as soon as the noise had subsided.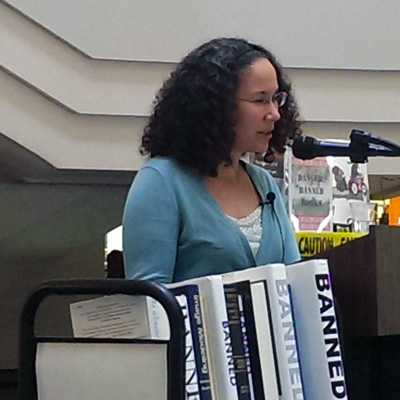 At 12:30 pm, following Ms Smith's reading from The Absolutely True Diary of a Part-Time Indian by Sherman Alexie, Beverly Tsacoyianis read selected excerpts from Marjane Satrapi's Persepolis, the largely autobiographical account of Satrapi's growing up during and after the Iranian revolution in a family that opposed the policies and practices of the fundamentalist regime that came to power. Persepolis is a graphic novel in the tradition of Art Spiegelman's Maus, about the Holocaust, but opposition to it was not so much to its form as to its content. Naturally banned in Iran because of its critique of the regime, in early 2013 it was withdrawn from seventh-grade reading lists in the Chicago Public School system for a reassessment of its suitability for the students' age level.
Dr Beverly Bond speaks to Student History Society/Phi Alpha Theta on African-American Women and Slavery in Tennessee
[20 September 2013] It threatened to be a pizza lunch without pizza. At the beginning of the first meeting of the Student History Society/Phi Alpha Theta, which had advertised free pizza and soda, the pizza had not yet arrived. The group and Dr Beverly Bond coped with the situation by going ahead with her lecture on African-American women and slavery in Tennessee as scheduled. By the time she finished the lecture, the pizza had arrived and there was a short break before the question-and-answer portion resumed.
Using the title "Ma . . . did not make a good slave," Dr Bond began by acquainting the audience with two of the main sources of information about slavery: the well known WPA transcripts and lesser known transcripts from Fisk University, both made in the 1930s. She noted that the "voice" of slavery was quite different in the two series. (The "Ma" of her title was the story of Fannie, from Eden, Tennessee, as told by Fannie's daughter to a WPA transcriber.)
Dr Bond gave brief sketches of many women who were enslaved at one time during their lifetimes, demonstrating that the conditions of slavery were by no means identical everywhere. As one example only, she told of a woman who was born free but kidnapped into slavery, who eventually got a Tennessee court not only to recognize her freedom but to order that she be paid wages for the work she performed during the period of enforced slavery. Of particular interest was that one of the women, Susan Walker Boyd, born in Haywood County, Tennessee, in 1853 and freed in 1865, was her great-grandmother.
The next pizza lunch will be on 18 October.
Department publishes History Happenings newsletter for September 2013
[18 September 2013] The September 2013 issue of History Happenings, the newsletter of the Department of History, is now online as a PDF document.
The issue contains the following articles:
Welcome from the new chair, Dr Aram Goudsouzian
Online degree program at its fifth birthday
Interview with Dr Scott Marler on his book, The Merchants' Capital: New Orleans and the Political Economy of the NIneteenth-Century South
The latest fieldwork at the Karnak Hypostyle Hall in Egypt
The latest fieldwork at Theban Tomb 16 in Egypt
Dr Colin Chapell on the influence of Protestant theology on 19th-century concepts of southern manhood
Dr Andrew Daily on the Panthéon and France's black leaders
Spring 2013 banquet of Phi Alpha Theta
Welcome to new faculty members
Mark Janzen's paper for the American Research Council in Egypt
Alumnus of our PhD program honored at Memphis University School by creation of the Harkins Archives
Dr Ann Mulhearn and graduate students commemorate Constitution Day
[17 September 2013] The proposed Constitution of the United States was approved by the Constitutional Convention on 17 September 1787.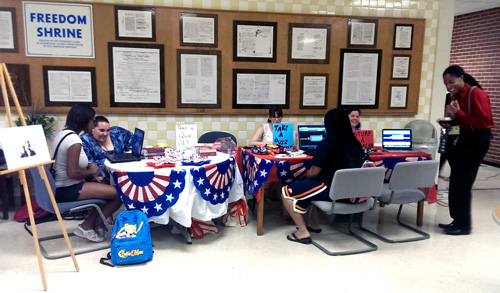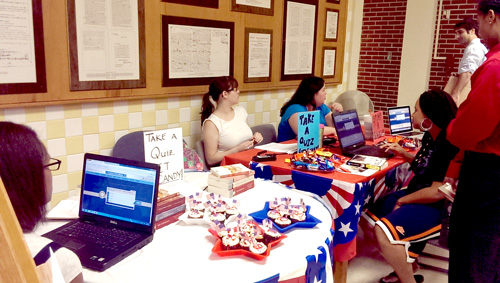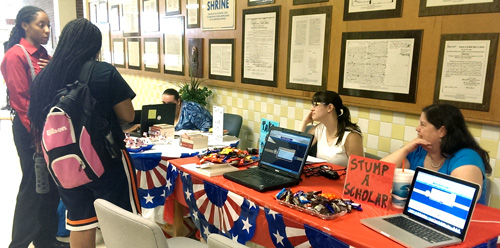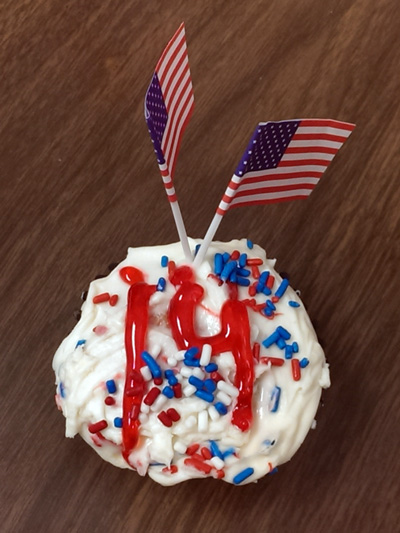 In commemoration of that event, Dr Ann Mulhearn led a group of graduate students in a event in the lobby of Mitchell Hall today from 10 am until 2 pm. Appropriately, the lobby has an array of replicas of many historic American governmental documents, ranging from the Mayflower Compact to amendments to the Constitution, in a display entitled "Freedom Shrine," installed decades ago by the Exchange Club.
The event featured several quizzes conducted on computer ("So You Think You Know the Constitution?"), the opportunity to "Stump a Scholar" by asking her or him challenging questions about the Constitution, and a chance to win a cupcake especially decorated with the number of a Constitutional amendment by explaining what the amendment was concerned with. There was candy for all.
Graham Perry performs in "No Army without Music" at Tennessee State Museum
[10 September 2013] Doctoral candidate Graham Perry is curator of social history at the Tennessee State Museum in Nashville. During the summer, as part of the museum's series on Discovering the Civil War, syndicated radio personality Michael Lasser presented the stories behind some of the most famous songs of the Civil War which were performed on the museum's stage for the audience's enjoyment.
Mr Perry sang several songs from the Civil War era together with Lisa Tucker Aguilar, accompanied by musician James Mark Sorrells. One of the performances was captured on video by Debra Sheridan from In the Raw Photography and is available for viewing online.
2013 revision of Guide for Graduate Students now available
[10 September 2013] The Guide for Graduate Students has been revised by the Graduate Coordinator, Dr James Blythe, to reflect recent changes in the graduate program in history and is now available online.
As before, there is a version of the guide that is divided into sections for more convenient reference and another version that contains the entire document in a single file.
Department of History welcomes three new faculty members
[28 August 2013] Three new faculty members have joined the Department of History for the Fall semester.
Michele Grigsby Coffey has a PhD from the University of South Carolina with specializations in African American and women's history. She is primarily interested in rhetorical constructions of gender and race within the political and legal systems of the twentieth-century South. Within this vein, she has published one article examining child custody and maternal rights in South Carolina and is currently working on an article-length exploration of conservative legal attempts to block the ratification of the Equal Rights Amendment. She is also in the process of revising her manuscript, "Proving Our Manhood: Black Power and Political Mobilization in the Depression Era South." Included in this work is a revision of the essay that won the Rankin Prize from the Louisiana Historical Association in 2008.
Dr Coffey describes herself as a dedicated teacher who is fascinated by pedagogy. In addition to thoroughly enjoying teaching college-level classes in modern U.S. and African American history, she is the author of Rising to the Challenge, a high school leadership curriculum that was recently reapproved by the state of Texas for use in public schools.
Yan Gao, who will work as an instructor in the online program, completed her PhD in history from Carnegie Mellon University in May 2012. Her dissertation was "Transforming the Water Regime: State, Society and Ecology of the Jianghan Plain in Late Imperial and Modern China," a study of how collaboration, negotiation, and manipulation between the state and the yuan communities determined the resource management of the pre-1949 Middle Yangzi region.
As a China historian, she has worked extensively in the area of Asian Studies with an emphasis on environmental and social history and has taught a broad spectrum of courses in Asian and world history, at Carnegie Mellon campuses in the U.S. and in Qatar, and at Asian University for Women in Bangladesh. She was awarded the Goldman Teaching Award of the Department of History at Carnegie Mellon in 2010. Before coming to Memphis she was a consultant in designing online courses for the Saylor Foundation in Washington, D.C.
Beverly Tsacoyianis joins the department as the new tenure-track assistant professor in modern Middle Eastern history. She is completing her PhD in history at Washington University in St. Louis; her dissertation is titled "Making Healthy Minds and Bodies in Syria, 1903-1961." She has completed fieldwork in Syria (Damascus and Aleppo, 2008, 2009, and 2010), France (Paris and Nantes,2007 and 2012), and England (London and Oxford, 2012) and has studied Arabic in Lebanon (Beirut, 2006), Israel (Be'er Sheva, 2002, 2003), and the United States.
Her research interests are in the medical and social history of the Eastern Mediterranean, especially Syria, Lebanon, Israel, Palestine, Jordan, and Egypt. She is teaching two courses this Fall semester: The Politics of Health in the Modern Middle East, and Introduction to the Modern Middle East. She will teach courses on the Arab Spring and on the Palestinian-Israeli conflict in Spring 2014. Future courses in coming years will include Race and Ethnicity in the Middle East, Science and Religion in World History since 1450, The Late Ottoman Empire, and Islam and Politics in the Modern Middle East.
Originally from New York City, she and her husband (who is from the Boston area) and their dog (who is from St. Louis) are excited to be in Memphis.
Dr Robert Yelle receives fellowship from the Tikvah Center
[27 August 2013] Dr Robert Yelle has been appointed as a Joint Tikvah/Senior Emile Noël Fellow of the Tikvah Center for Law & Jewish Civilization at the Law School of New York University for the academic year 2013-2014. He will work on completing his book entitled Sovereignty and the Sacred: Judaism, the Exception, and the Political Theology of Secularism.
The Center has published a biographical sketch of Dr Yelle and his book project.
According to its mission statement, "The Center, situated at 22 Washington Square, formally opened its doors in academic year 2009/2010. The foundational premise of the Center is 1) that the study of Jewish law can profit immensely from insights gained from general jurisprudence; and 2) that Jewish law and Jewish civilization can provide illuminating perspectives both on the general study of law as a per se academic discipline, and on the reflection of law as a central social institution refracting the most important issues in our society."
Dr Peter Brand receives NEH grant to support the Hypostyle Hall project
[27 August 2013] Dr Peter Brand received a $280,000 grant from the National Endowment for the Humanities to support his ongoing project at the Great Hypostyle Hall of the Temple of Karnak in Luxor, Egypt. This grant will supplement the recent grant he received from the American Research Council in Egypt.
Since 2004, Dr Brand has attracted $696,000 in external grants for the Karnak Great Hypostyle Hall project, which is dedicated to recording the epigraphy of the great hall created by pharoahs Sety I, Ramesses II, and their successors for the worship of Amun.
The project's Facebook page has several articles and pictures from the recent 2013 field season.
Six faculty members of the Department of History receive promotion
[24 August 2013] Effective with the beginning of the academic year 2013-2014, three associate professors in the Department of History have been promoted to professor: Dr Peter Brand, Dr Guiomar Dueñas-Vargas, and Dr Andrei Znamenski.
Three assistant professors have been promoted to associate professor: Dr Scott Marler, Dr Catherine Phipps, and Dr Robert Yelle.
Graduate organizations begin new school year with orientations and reception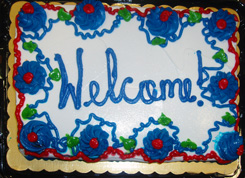 [24 August 2013] The Graduate History Association, Phi Alpha Theta, Transcending Boundaries, and the Graduate Association for African-American History sponsored orientations and a reception at the Alumni Center this afternoon.
Graduate Coordinator James Blythe met with new teaching assistants and graduate assistants at 2 pm and with all new graduate students at 2:30.
A reception for all graduate students and faculty members then followed, beginning at 3 pm.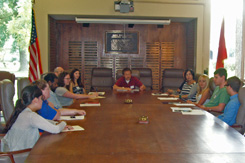 Dr Dennis Laumann lectures in NEH summer institute
[9 August 2013] Dr Dennis Laumann delivered two lectures at Michigan State University on 6 August at the National Endowment for the Humanities Summer Institute for School Teachers "Africa in World History." Dr Laumann was invited to speak on German colonialism in Africa, one of his areas of expertise, and he addressed the Maji Maji War in German East Africa and the Herero Genocide in South-West Africa.
The approximately 25 high school instructors were selected from schools across the United States and Puerto Rico. The summer institute was sponsored by Michigan State University's Department of History and African Studies Center.
Dr Arwin Smallwood accepts position in North Carolina
[2 August 2013] Dr Arwin Smallwood, associate professor of history, is leaving The University of Memphis to accept a position in his home state of North Carolina. The department appreciates his contributions to the department and university. He often taught our auditorium survey in African American History, offered a variety of interesting upper-level courses, and continued his innovative research on the interactions of African Americans and Native Americans in early America. He also helped start the Graduate Association for African American History, served on the Faculty Senate, and stood as a role model for many of our students on campus. We offer him our gratitude and wish him and his family the best during this next chapter in their lives.
Kaylin Ewing wins Coger Fellowship in History
[18 July 2013] Kaylin Ewing is the winner of the Dr Dalvan M. Coger and Dr Greta M. Coger Fellowship in History. This is a new annual award for graduate students in the Department of History; it can be used to help fund research and/or travel.
The winner was selected by a committee that included Greta Coger, who has generously funded this award. Dr Coger was particularly impressed with Kaylin's work on the blues singer Alberta Hunter, particularly her international travels and viewpoints.
Dr Caroline Ellis, PhD alumna and wife of emeritus professor Donald Ellis, dies in New York
It is with great sadness that we report the death of Dr Caroline Ellis on Tuesday, 16 July, in Rochester, New York. Caroline received her PhD in history at The University of Memphis in 2003, and was the wife of Dr Don Ellis, a member of our faculty for almost thirty years. Those who knew Caroline as an undergraduate and graduate student in our department will remember her as a bright, witty, energetic person whose love of life was infectious.
No service will be held. Donations in Caroline's memory may be sent to the National Trust of England, where she was born, trained and practiced as a registered nurse, and to which she remained deeply tied after moving to the United States over twenty years ago. The link is as follows: http://www.justgiving.com/CarolineMaryEllis.
Dr Katherine Fox wins 2013 Eggertsen Dissertation Prize
[16 July 2013] Dr Katherine Fox has won the 2013 Eggertsen Dissertation Prize for "Pidgin in the Classroom: Hawai'i's English Standard Schools, Americanization, and Hawaiian Identity, 1920-1960," for which she received the PhD in history in 2012, with Dr Janann Sherman serving as her major professor.
The prize is awarded by the History of Education Society for the dissertation judged to be most outstanding in the field of the history of education. This includes work on schooling and educational institutions more broadly, and the dissertation may have a domestic or international focus. The prize carries an award of $1,000 for the winner. The presentation of the award will be made at the History of Education Society's annual meeting later in the year.
The prize committee found her dissertation to be a unique contribution to the field and prepared the following statement to reflect its assessment of her work:
In her dissertation on Hawai'i's English Standard Schools, Katherine Fox skillfully brought the multiplicities of race, identity, class, nationality and language together in her analysis of Pidgin as a unifier of Hawaiian identity and as a catalyst for the creation, implementation, and later the elimination of these same schools. She pushes historians to reconsider how hybridity and the confluence of many ethnicities, cultures and nationalities—in this case Chinese, Japanese, Native Hawaiian, Korean, Puerto Rican, Portuguese, and white American among others—shaped public schooling and public policy in Hawaii. For example, she argues that segregated schools in Hawaii centered on language, not race or ethnicity, but on the child's ability to speak "standard English." Individual and local responses to this linguistic segregation, then, emerged in relation to Hawai'i's contentious colonial history and impending American statehood. Fox smartly integrated three very distinct historiographies—the histories of education, of indigenous people, and of Asian Americans—to interpret how school policy shifted in the mid-twentieth century from the 1920 federal survey that proposed separate schooling to pre- and post-World War II parent and teacher protests to dismantle segregation. The Eggertsen Dissertation Prize Committee of 2013 commends Katherine Fox for posing challenging and interesting questions of a broad and deep range of sources. In so doing, she has offered an original and valuable contribution to the field of history of education.
Brian McClure's blog article cited by Journal of Blacks in Higher Education
[14 June 2013] Since March 2011 Brian McClure and Tracae McClure have maintained a blog named State of HBCUs: Past, Present and Future about historically black colleges and universities. Sparked by HBCU Digest's listing of the five greatest HBCU presidents, Mr McClure compiled his own list in State of HBCUs which included three different presidents but agreed with HBCU Digest's choice of Johnetta Cole (Spelman College, 1987-1997, and Bennett College, 2002-2007) and William R. Harvey (Hampton University, 1978-present).
Recently the Journal of Blacks in Higher Education published an article about Dr Harvey, citing articles from both blogs. The Journal teasingly suggested that since both McClures are graduates of Hampton University, "they may be a bit prejudiced in favor of Dr. Harvey."
Michael Blum awarded Woodbury Fellowship in Southern history
[11 June 2013] The Ruth and Harry Woodbury Graduate Fellowship in Southern History is awarded to a doctoral student with research interests in the history of the American South. The recipient for 2012-2013 is Michael Blum.
Katarzyna Scherr receives Dr Peggy Jemison Bodine Dissertation Award
[10 June 2013] Katarzyna Scherr is the 2013-2014 recipient of the Dr Peggy Jemison Bodine Dissertation Award. This is a faculty-nominated prize in the amount of $1,300 for a full-time doctoral student who has completed all coursework, passed the comprehensive examinations, and had the dissertation topic approved. The award is intended to assist the student in completing the dissertation.
Theresa Corbett receives Kell F. Mitchell Memorial Undergraduate Award
[10 June 2013] Theresa Corbett is the 2013-2014 recipient of the Kell F. Mitchell Memorial Undergraduate Award. This prize in the amount of $500 is awarded to the junior History major with the highest GPA in History courses taken.
The funds may be used for course books and supplies, etc., this Fall semester.
Dr Robert Yelle to edit volume on language and religion for de Gruyter Publishers
[5 June 2013] Dr Robert A. Yelle, assistant professor of history, has signed a contract with Walter de Gruyter Publishers (Berlin and Boston) to edit a volume entitled Language and Religion for the new series Intersections. The projected publication date is 2016. His co-editors are Christopher I. Lehrich (Boston University) and Courtney Handman (Reed College).
The publisher's description of the book follows:
This volume brings together an interdisciplinary team of editors and chapter authors to advance the study of the religious dimensions of communication and of the linguistic aspects of religion. The intersection of language and religion provides scholars with an opportunity to examine fundamental questions about religious subjectivities and communities as these are formed through sacred, scriptural, and mundane practices of communication among humans and with the divine. The volume contains discussions of such key issues as: poetry, iconicity, and iconoclasm in religious language; semiotic ideologies in different religions; the role of materiality and mediation in religious communication; sacred writing and inscription; the secularization and disenchantment of religious language under modernization; and the possibilities and limits of using language as a theoretical rubric for the analysis of religion. More than a handbook, this volume will provoke new questions about and approaches to language and religion.
Department of History alumni participate in award-winning documentaries
[3 June 2013] Two 1999 alumni of the Department of History, Dr Kent Moran and Ed Frank, have recently figured prominently in award-winning documentaries.
New Madrid: The Earthquakes of 1811-12 won bronze for outstanding documentary at the national 2013 Telly Awards. Dr Kent Moran, a research associate of the Center for Earthquake Research and Information at The University of Memphis, narrated much of the historical content of the documentary, which was based on his work in investigating historical descriptions of the violent earthquakes that shook the Mississippi Valley in 1811 and 1812 and created Reelfoot Lake in their aftermath.
Kip Cole of Pale Moon Media directed and produced the documentary and Gary Patterson of CERI was the executive producer. The project was sponsored by the West Tennessee Seismic Safety Commission, the University of Memphis Center for Earthquake Research and Information, the Tennessee Emergency Management Agency, and the U.S. Geological Survey.
The Telly Awards honor the finest film and video productions, groundbreaking web commercials, videos and films, and outstanding local, regional, and cable TV commercials and programs.
The documentary is available for viewing online from vimeo.com.
Dr Moran's 1999 PhD dissertation was "Isham Harris and Confederate State Government in Tennessee," with Dr Charles W. Crawford as major professor.
MLK: The Assassination Tapes won the prestigious Peabody Award for the Smithsonian Institution. Directed by Tom Jennings, it follows the 1968 Sanitation Workers Strike in Memphis and other events leading up to the murder of Dr Martin Luther King, Jr. The film makes use of various formats of material from the Sanitation Workers Strike Collection in the University Libraries' Special Collections Department, for which Ed Frank is the director.
The materials for the collection were assembled over a period of time under the initial direction of Dr David Yellin of the Department of Speech and Drama.
According to Ed Frank, "This production is the most visible, and probably the most significant, use of these materials in recent years. While other shows have featured brief snippets from the collection, often used as background or illustrations in conjunction with narration or talking-head experts, this one creates a 'you are there' experience. It exposes all the moment-to-moment confusion and official disarray that quickly became fertile ground for conspiracy theorizing and second-guessing about the most famous murder ever to take place in Memphis."
Director Jennings said the documentary would not have been possible without the cooperation of The University of Memphis and its Special Collections Department. "Since most of the local news stations no longer have their footage from that time, we were thrilled when we discovered such a vast archive housed at the University," he said. "Curator Ed Frank and his staff worked long hours with us to make sure we had the footage needed to make the film a reality. This project was truly a labor of love — piecing together dozens of hours of footage from the university's archives into a solid story. I will always be extremely grateful for the assistance that Ed and his team provided for us."
The documentary is available for viewing online from the Smithsonian Institution.
Mr Frank's 1999 thesis for the MA in history was "The Meriwethers of Memphis and St. Louis" under the direction of Dr David Tucker.
Dr Aram Goudsouzian is new chair of the Department of History
[1 June 2013] At the end of her third term as chair of the Department of History, which capped off a distinguished career at The University of Memphis, Dr Janann Sherman retired and moved to Vinalhaven, Maine. The new chair of the department is Dr Aram Goudsouzian.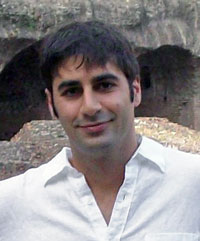 Dr Goudsouzian joined the department in 2004 after receiving his PhD from Purdue University in 2002 and teaching briefly at other institutions. He quickly began being recognized for his scholarly contributions in the fields of African-American history and sports history. Purdue conveyed its Emerging Voice Award, sponsored by the College of Liberal Arts and the college's Alumni Board, on him in 2007. The award is given to those deemed "rising stars" in their respective fields. The College of Arts and Sciences at The University of Memphis gave him its Early Career Research Award in 2008 and its Distinguished Research Award in the field of the humanities in 2012. He became a full professor in 2012.
Dr Goudsouzian's dissertation on Sidney Poitier was published in revised form as Sidney Poitier: Man, Actor, Icon by the University of North Carolina Press in 2004. Commonwealth Editions in the same year published The Hurricane of 1938, his story of the most powerful and most devastating hurricane to have struck New England since 1635. His book, King of the Court: Bill Russell and the Basketball Revolution, was published by the University of California Press in 2010. He has written numerous journal articles, book chapters, and review essays. His latest book is Down to the Crossroads: Civil Rights, Black Power, and the Meredith March Against Fear, forthcoming from Farrar, Straus, and Giroux in February 2014.
Within the Department of History, Dr Goudsouzian has been a member of many dissertation committees, mostly in the field of African-American history, and the major professor for five recent PhD students in African-American history. He has also been a member of a dissertation committee for a doctoral student at Purdue — John Matthew Smith, whose book, based on his dissertation, The Sons of Westwood: John Wooden, UCLA, and the Dynasty That Changed College Basketball, is to be published in September 2013 by the University of Illinois Press. (Dr Smith will be one of the speakers at the upcoming 15th Annual Conference on African-American History in October.)
Shortly after joining the department Dr Goudsouzian was on a committee to reorganize graduate courses in history into coherent fields of study and a committee to redesign the departmental Web site. He was the editor of the departmental newsletter, History Happenings, from 2005 to 2011. Before becoming director of the Marcus W. Orr Center for the Humanities in 2011, he served as faculty advisor for the Graduate Association for African-American History. He will continue as director of the Orr Center through the summer months of 2013.
Memphis University School archives renamed in honor of Dr John Harkins
[20 May 2013] The archives of Memphis University School are now the Harkins Archives, named in honor of the school's archivist and historian, and president of the West Tennessee Historical Society: Dr John E. Harkins. The dedication ceremony was held in the Joseph R. Hyde, Jr. Library Learning Center on 7 May. During his thirty years of service at MUS Dr Harkins was a history instructor, chairman of the History Department, Ross M. Lynn Chair of History, and author of the MUS Century Book: Memphis University School, 1893-1993.
A generous donation by David O. Sacks, MUS class of 1990, former chief operating officer of Paypal and chief executive office of Yammer, made the dedication a reality. Mr Sacks sent a letter expressing his sentiments, which headmaster Ellis Haguewood read to the gathering. Mr Sacks had studied under Dr Harkins and got to know him well as yearbook editor during his senior year, when Dr Harkins was the faculty adviser.
Dr Harkins received his PhD in history in 1976 from what was then Memphis State University. He wrote his dissertation, The Neglected Phase of Louisiana's Colonial History: The New Orleans Cabildo, 1769-1803, with Dr William Gillaspie as the major professor. In revised form the dissertation was published by Louisiana State University Press in 1996, with Gilbert C. Din as co-author. He has also published Metropolis of the American Nile: An Illustrated History of Memphis and Shelby County; Historic Shelby County: An Illustrated History; and Memphis Chronicles: Bits of History from The Best Times.
Dr Susan O'Donovan has two publications from the University of North Carolina Press
[9 May 2013] Dr Susan O'Donovan has a conceptual essay on race in The New Encyclopedia of Southern Culture, Vol.24: Race, which has just been published by the University of North Carolina Press. The volume is edited by Thomas C. Holt and Laurie B. Green, under the general editorship of Charles Reagan Wilson, Center for the Study of Southern Culture at the University of Mississippi.
The press has also released Freedom: A Documentary History of Emancipation, 1861-1867, series 3, vol. 2: Land and Labor, 1866-1867, which she co-edited with René Hayden, Anthony E. Kaye, Kate Masur, Steven F. Miller, Leslie S. Rowland, and Stephen A. West. The first volume of the series, covering the year 1866, was published in 2008.
Cambridge University Press publishes Dr Scott Marler's book on New Orleans and the 19th-century South's political economy
[9 May 2013] In its series Cambridge Studies on the American South, Cambridge University Press has just published The Merchants' Capital: New Orleans and the Political Economy of the Nineteenth-Century South, by Dr Scott Marler.
This book focuses on the merchants of New Orleans and how their conservative investment mentalities contributed to the city's unusually rapid economic downfall during and after the Civil War.
Dr Peter Brand receives funding for work at Karnak
[7 May 2013] Dr Peter Brand has been awarded $66,000 from the American Research Center in Egypt to help fund his Karnak Hypostyle Hall Project next year.
Kaylin Ewing wins award for best prospectus presentation
[6 May 2013] The Endowment Committee is pleased to announce that Kaylin T. Ewing is the recipient of the Best Prospectus Award for the Spring 2013 semester.
The members of the committee were impressed by Ms Ewing's prospectus presentation and would like to support and encourage her research with a $500 award.
The Endowment Committee offers a Best Prospectus Award every Fall and Spring semester or academic year, depending on the number and quality of presentations.
Graduate students receive dissertation writing awards for academic year 2013-2014
[6 May 2013] The Endowment Committee of the Department of History is pleased to announce the recipients for dissertation writing fellowships for the 2013-2014 academic year:
One-Semester Dissertation Writing Fellowships:
Kaylin T. Ewing
Elizabeth Warkentin
Full-Year Dissertation Writing Fellowships:
Michael Blum
Michael Lejman
Mark Janzen presents paper at meeting of American Research Center in Egypt
[29 April 2013] Mark Janzen gave a well-received paper on his doctoral research at the annual meeting of the American Research Center in Egypt held in Cincinnati this year. His paper on 20 April was heard by a number of important Egyptologists from universities including Oxford, Johns Hopkins, Yale, New York, and Chicago. A representative of the prestigious academic publisher E. J. Brill expressed interest in the manuscript, as did the editor for Brill's series "Culture and History of the Ancient Near East," Dr Thomas Schneider from the University of British Columbia.
A couple of years ago Mr Janzen's prospectus on the dissertation won second place in the Graduate Student Papers contest at a previous American Research Center meeting in Chicago. He successfully defended his dissertation on the depiction and treatment of foreign captives in New Kingdom Egypt on 5 March and will graduate in May.
Dr Andrew Daily presents paper at Faculty Brown Bag
[26 April 2013] In the last of the Faculty Brown Bag events for the semester Andrew Daily presented a book chapter/conference paper entitled "Decolonization Through Assimilation: the Union Française and the End of Empire in the French Antilles, 1944-1951."
Beverly Tsacoyianis inducted into Bouchet Graduate Honor Society
[26 April 2013] Beverly Tsacoyianis, who will be joining our faculty in the Fall semester as our Middle East historian, was recently inducted at Yale University to the Bouchet Graduate Honor Society.
The society is named for Edward Bouchet (1852-1918), who was the first African-American to earn a doctorate from an American university when he earned a Ph.D. in physics at Yale University in 1876. Members are expected to be "scholars who exemplify academic and personal excellence, foster environments of support and serve as examples of scholarship, leadership, character, service and advocacy for students who have been traditionally underrepresented in the academy."
Her membership came in part from her work in bringing the Latino Graduate Student Alliance recognition as a university-wide student group at Washington University, and for her efforts on behalf of the Scholar Rescue Fund (IIE) to take scholars out of Syria.
She also received a citation from the University of Michigan National Center for Institutional Diversity as an "Emerging Diversity Scholar."
Retirement reception for Dr Janann Sherman held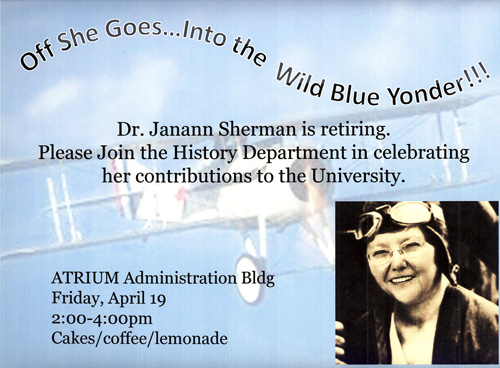 [19 April 2013] The university honored Dr Janann Sherman this afternoon upon her retirement from teaching and from serving for the past nine years as chair of the Department of History.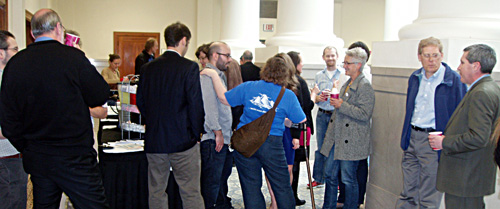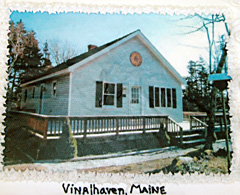 Dr Sherman announced toward the end of the reception that she was opening a branch campus at Vinalhaven, Maine, where she will enjoy her retirement. Along with a representation of Mitchell Hall, the headquarters of the Department of History, Vinalhaven was represented on one of the cakes served at the reception.
Dr Aram Goudsouzian opened the formal part of the reception and introduced Dr Shirley Raines, president of the university, as the first speaker to give tribute to Dr Sherman. She was followed by Dean Henry Kurtz of the College of Arts and Sciences; Dr Frank Andrasik, chair of the Department of Psychology, who spoke after unfurling a long scroll of notes for his address; and Karen Bradley, administrative associate of the Department of History.
After the opening tributes, others from the audience were invited to speak. Those who took up the invitation included Dr Richard Ranta, dean of the College of Communications and Fine Arts; Dr Leslie Luebbers, director of the Art Museum of The University of Memphis; Dr Jonathan Judaken, former member of our Department of History and now Spence L. Wilson Chair of Humanities at Rhodes College; Michael Lejman, doctoral student; and Rosie Bingham, vice-president for student affairs.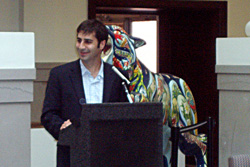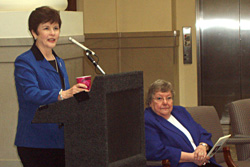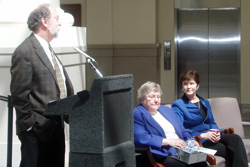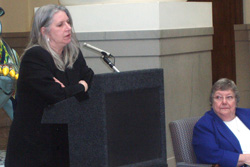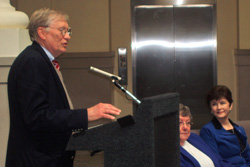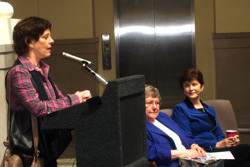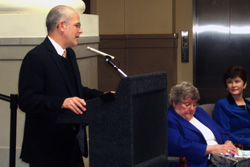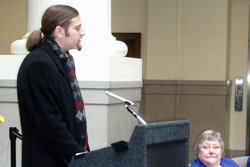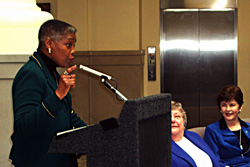 Among the gifts given to Dr Sherman was a keepsake book from the Department of History containing photographs and notes of best wishes to her.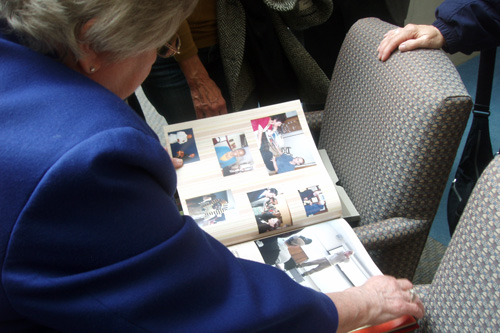 Dr Catherine Phipps leads discussion at Arts and Sciences "Great Conversations"
[18 April 2013] Since 2002, the College of Arts and Sciences has hosted the annual Great Conversations dinner in order to bring community guests together with award-winning research and teaching faculty for an evening of dining and conversation. This year's event was held this evening at the Memphis Botanic Garden.
Along with other discussion leaders, Dr Catherine Phipps led a discussion on the topic "Territorial Disputes and Instability in East Asia."
Dr Dennis Laumann participates in panel on Wangari Maatai's Unbowed: A Memoir
[16 April 2013] Dr Dennis Laumann participated this afternoon in a panel discussion of Unbowed: A Memoir, by Wangari Maathai, the Kenyan activist who was the first African woman and the first environmentalist to win the Nobel Peace Prize. Ms Maathai won the prize in 2004 for "her contribution to sustainable development, democracy and peace."
Others on the panel, held at Christian Brothers University, were Mark Behr, associate professor of English at Rhodes College; Benjamin Jordan, associate professor of history at Christian Brothers University; and Shadrack Nasong'o, associate professor of international studies at Rhodes College.
Dr Dennis Laumann serves on examining board and delivers lecture in Ghana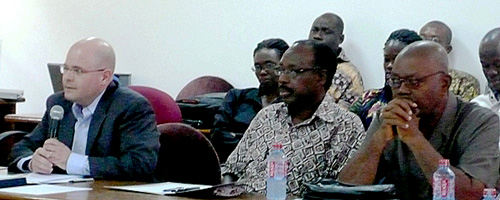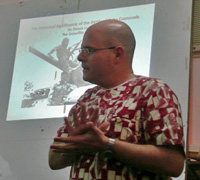 [16 April 2013] Dr Dennis Laumann has just returned from a one-week visit to the University of Ghana. The primary purpose of his trip was to serve as an external examiner for the doctoral defense of Clifford Campbell, a student in the Department of History who wrote his thesis on Caribbean influences in Ghana's recent history. Dr Laumann is shown above addressing a question to Mr Campbell. The Dean of the Graduate School is seated to his left.
Additionally, he delivered a lecture to the faculty and graduate students of the Department of History entitled "The Historical Significance of the Battle of Cuito Cuanavale" to commemorate the 25th anniversary of that key event in the defeat of apartheid in South Africa.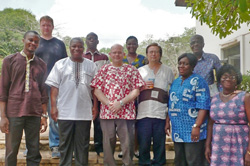 Dr Laumann is shown at the left with some of the faculty members of the Department of History at the University of Ghana. To his right is Dr Kofi Baku, the departmental chair, who visited The University of Memphis in 2008.
Jonathan Toles wins full scholarship to Yale Divinity School
[15 April 2013] Jonathan Toles, who earned his BA in History in August 2011, has accepted a full scholarship offer to Yale University Divinity School to pursue the Master of Divinity degree. As an undergraduate student, Mr Toles specialized in African and African-American history in our program.
Doctoral students present prospectuses for dissertations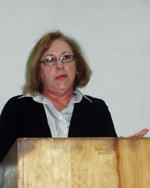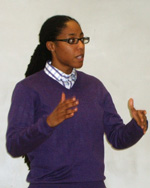 [5 April 2013] Two doctoral students today presented prospectuses for their dissertations.
Nancy Parrish (left) made a presentation on "Cotton, Factory, and People: The Production of Bemis, Tennessee, a Mill Town," a study of the mill near Jackson, Tennessee, that was noted for its differences from most mill towns in other parts of the South.
Kaylin Ewing (right) presented "Remember My Name: The Life of Alberta Hunter," a study of the Memphis-born, world-traveled singer and composer who also had a career in nursing.
Hafife Montgomery wins award for best graduate paper
[4 April 2013] Ph.D. student Hafife Montgomery, who wrote "Socialist Representations of Working-Class Women in Red Vienna" for a course taught by Dr Daniel Unowsky, is the winner of this year's Major L. Wilson Best Graduate Paper. The award was created in honor of Dr Major L. Wilson, professor emeritus, upon his retirement from the Department of History.
The Wilson award for the best undergraduate paper, announced at the departmental honors ceremony on 22 March 2013, was won by Jonathan Lohnes.
Department announces Belle McWilliams undergraduate scholarship in U.S. history and Dr Kell F. Mitchell Memorial Award for undergraduates for 2013-2014
[25 March 2013] The Department of History today announced the Belle McWilliams undergraduate scholarship in U.S. history for the academic year 2013-2014. The deadline for applications for the scholarship is 12 April 2013 at 4:30 pm.
The department also calls attention to the Dr Kell F. Mitchell Memorial Award for undergraduates, for which there is no application form — the recipient is to be the junior-year history major (61-89 credit hours) who has the highest GPA in history courses.
Phi Alpha Theta inducts new members, Department conveys honors
[22 March 2013] Epsilon Nu chapter of Phi Alpha Theta inducted new members and the Department of History conveyed honors for the academic year 2012-2013 at a meeting held this evening in the Fountain View Room of the University Center.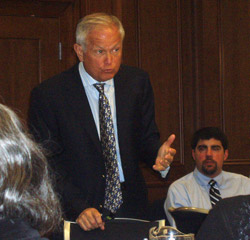 Dr Sarah Potter, faculty advisor of the chapter, welcomed the audience and Dr Aram Goudsouzian introduced the speaker for the event, Dr Randy Roberts, Distinguished Professor of History at Purdue University. Dr Roberts, a specialist in sports history and popular culture, was Dr Goudsouzian's mentor at Purdue and directed his dissertation.
Dr Roberts spoke on the Army-Navy football game of 1944, the subject of his latest book, A Team for America: The Army-Navy Game That Rallied a Nation at War. When World War II began, there was serious debate as to whether the two service academies should continue their football programs. Dr Roberts explained how Red Blaik, once the decision was made to continue the programs, built a weak Army team into one of the best teams in the nation and won over Navy in a gripping game late in 1944, when the nation was weary from the long war. American troops listened to the game on shortwave radio and after the game General Douglas MacArthur sent a telegram which read, "The greatest of all Army teams. We have stopped the war to celebrate your magnificent success."
Phi Alpha Theta inducted new members in a ritual presided over by Genevieve Donovan and Michael Nerby-Sarafolean, president and vice-president of the chapter. Those inducted on the basis of their interest and achievement in the field of history were Walter J. Babineau, Zanya Hawk Mudbone Blauser, Heather Leilani Graves, Stewart Michael Harney, Dylan Holzemer, Joseph Benjamin Johnson, Brittany Lyles, Yves Mai Orsino, Andrew Talon Overstreet, Nancy Rogers Parrish, Ariel Pettit, Lana Danielle Suite, David Lang Tucker, Robert Turner, Jason Kennedy Weatherly, and Keesa Mae Williams.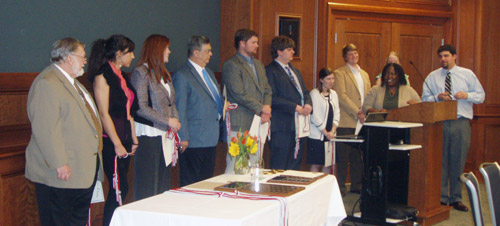 Dr Janann Sherman, chair of the Department of History, presided over the presentation of awards from the department. Jonathan Lohnes won the 2013 Major L. Wilson Undergraduate Paper Prize. The 2012-2013 Tennessee Historical Commission Prize was awarded jointly to Katherine Berger and Lydia Loden. Kaylin Ewing received the 2012-2013 Outstanding Graduate Assistant Teaching Award and Amanda Lee Savage received the 2012-2013 Outstanding Adjunct Teaching Award. Wendy Clark was presented with the Graduate Leadership Award.
Not all recipients were present to receive the awards. In the photograph below left, Kaylin Ewing, Katherine Berger, and Lydia Loden are pictured with Dr Sherman. Apologies to Wendy Clark — the photograph showing her receiving her award was badly out of focus and not usable.
As part of the closing remarks Ms Donovan and Amber Colvin, secretary of the chapter, presented flowers to Dr Sherman in appreciation of her support for Phi Alpha Theta and its activities.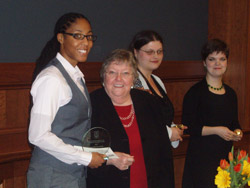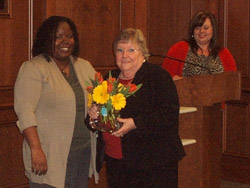 Dr Marshall Poe delivers Memphis Sesquicentennial Lecture, speaking on the history of communications
[21 March 2013] Dr Marshall Poe, associate professor of history at the University of Iowa, was the Memphis Sesquicentennial Lecturer this evening, speaking on the topic "From Grunts to Tweets: Communication and Human History" in the University Center Theater. The title was an adaptation of the title of his book, A History of Communications: Media and Society from the Evolution of Speech to the Internet.
Dr Poe maintained at the beginning of his lecture that there are certain ways to keep up an audience's attention — be a stand-up comedian (which works for perhaps 15 minutes at most, he said), be a stripper, or show a movie. Saying he would use none of these ways, he nevertheless performed somewhat like a stand-up comedian, roaming the stage with a hand-held microphone and holding the audience's attention for considerably longer than 15 minutes with his witty, interactive lecture.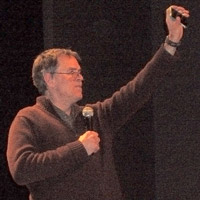 He began by asking everyone to hold up his or her smartphone and explained that it represented the latest development in communication. Communication itself, he explained, is one of the basic needs of human beings, serving to give information to others and to get information from others. With the smartphone, "you don't have to be lonely, you don't have to be ignorant." As a form of computer, it is what all previous forms of communication were tending toward — it can handle any sort of information.

The cover of his book shows images representing forms of communication — a man, representing speech; a quill and inkpot, representing writing; a hand-operated press, representing printing; a television set, representing electronic devices; and a laptop computer, representing the Internet. Speech is perhaps 180,000 years old; writing perhaps 5,000; printing, about 500; television, 50-60; and the Internet, about 20. The innovations in communication have therefore followed with increasing rapidity. Dr Poe noted that we still use all these forms of communication to some degree, but each has represented improvement in the ability to communicate.
Speech and memory are natural and practically universal among human beings; nearly all humans learn to speak with ease. They serve several purposes well, but they don't always provide what is needed; speech has a limited range, and memory can fade or fail. What was needed was the ability to conquer the limitations of space and time.
That was writing, which emerged everywhere that agriculture began and involved symbols to transmit information over greater distances and with more permanence. Symbols, Dr Poe said, could have been used as early as speech, but writing was not really natural and rather few within an early society ever learned to write. Moreover, most people did not read or did not like to read (Dr Poe noted that Americans today claim to read only one book a year, and are likely to be lying about even that amount of reading).
Printing was an advance over writing, allowing for even wider distribution of information, but Dr Poe maintained that it was not the democratizing influence that many have pictured it as being. Like writing, printing could have been done long before the era of Gutenberg. The Romans had movable type, he said, but they used it to imprint the names of emperors on sewer pipes. Printing was used by elites (commoners did not own presses) producing information for other elites (Gutenberg printed his Bibles on expensive vellum).
Television, on the other hand, was a tremendous democratizing influence, being easily available because of the technique of broadcasting information. It was easy to understand; even children who could not read or write loved it, and human beings seem to have a special love for watching and listening.
The Internet was even more democratizing. As with printing, the technology for the Internet was there before it was invented, in the form of ARPANet, developed for use by the Department of Defense and which initially prohibited personal messages, commercial use, and political use. Today the Internet, freed from those restrictions, is almost ubiquitous, providing remarkably inexpensive means to transmit any sort of information, and smartphones are rapidly becoming the way people use the Internet. The smartphone incorporates all previous forms of communication — speech, through chat rooms and text messages (and even telephoning); writing, through e-mail; print, through blogs; and audio/visuals through YouTube — and all these forms can be produced on the smartphone itself by the owner of the smartphone for use by others with similar devices.
Speaking of the implications for education, Dr Poe said, "The lecture as such is pretty much dead." For transmission of information between scholars, nothing is better than reading and writing, he maintained, but they are not the best ways to present information to students. He cited his own experience: since putting his lectures on the Russian Revolution online, he no longer has to spend time repeating the content of the lectures but can better spend the time talking about that content. This, he said, frees teachers from the rote part of learning (and students love to watch videos, he added).
Dr Poe took several questions from the audience after his lecture and most of his answers elaborated on points he had made earlier. The opening question was different — couldn't the Internet be used as an agency of tyranny by a government? Dr Poe admitted that a government could with enormous expenditures of energy and resources do so, but he maintained that the Internet is basically uncontrollable.
Dr Poe is a former writer and editor for The Atlantic Monthly and the author or editor of several books, including A People Born to Slavery: Russia in Early Modern European Ethnography, The Russian Elite in the Seventeenth Century, and The Russian Moment in World History. He has been a Fellow at the Institute for Advanced Study, the Harriman Institute, and the Kennan Institute. He is best-known, however, as the founder and editor of the podcast website "New Books in History," which brings interviews with historians to popular audiences.
The Memphis Sesquicentennial Lecture Series began in the late 1980s with the bequest to the Department of History of some medallions made to commemorate the 150th anniversary of the founding of Memphis. Because the Belle McWilliams Lecture Series was already dedicated to the subject of American history, the Memphis Sesquicentennial Lecture Series has concentrated on other areas. Dr Poe's address was also an event of the Marcus W. Orr Center for the Humanities.
Drs Janann Sherman and Beverly Bond receive the Cynthia G. Pitcock Women's History Award from St. Mary's Episcopal School
[10 March 2013] Dr Cynthia Pitcock taught history at St. Mary's Episcopal School for twelve years and now teaches at the University of Arkansas. St. Mary's honored her by creating an award named after her and made her the first recipient of it. Since then the award has been made annually to a man or a woman who has made an outstanding contribution to the study of women's history.
This year the award went to two historians instead of one — Dr Janann Sherman and Dr Beverly Bond of our Department of History. The ceremony was held on 5 March 2013, with Dr Dalton Lyon, chair of history at St. Mary's presiding. The award was conveyed by Dr Shirley Raines, president of The University of Memphis.
Dr Sherman called Dr Bond to the platform with her, saying, "We collaborate on everything." In turn, the two spoke to the students about women in their personal lives and in their research who have influenced them. St. Mary's posted a video of the ceremony on YouTube, and rather than attempt to summarize their addresses, we recommend that you view the video, which speaks for itself.
Over the years the Department of History has figured prominently in the Pitcock Award. Dr Pitcock, after whom the award is named and its first recipient, received her Ph.D. from us in 1985. Both Dr Selma Lewis, who received the award in 2003, and Dr John Harkins, who received it in 2010, received the Ph.D. in 1976. Dr Peggy Jemison Bodine, the recipient in 2006, received her Ph.D. in 1992. Dr Gail Murray, the recipient in 2011, received her Ph.D. in 1991.
Four departmental faculty members participate in discussion on "Muted Belles Revisited"
[6 March 2013] In 1994, artist Gail Rothschild collaborated with the University of Memphis Art Museum and students and faculty from the History and English departments to create the outdoor sculpture "Muted Belles," which was installed near the Communication & Fine Arts Building. Intended to be a temporary installation, the sculpture honoring several Memphis women has withstood the test of time. The Art Museum has created an exhibition in the lobby of the Communication & Fine Arts Building which will be in place through 31 March, featuring the eight women immortalized on the outdoor sculpture.
This afternoon Drs Beverly Bond, Janann Sherman, Peggy Caffrey, and Christine Eisel from the Department of History and Leslie Luebbers from the Art Museum of The University of Memphis explored the exhibition and had a conversation on the significance of the sculpture and the women it represents.
The "muted belles" represented by the sculpture are Annie Cook, Alberta Hunter, Julia Hooks, Myra Dreifus, Frances Wright, Suzanne Scruggs, Ida B. Wells, and Juanita Williamson. Those who did not have an opportunity to attend the conversation can gain a great deal of information about them from a supplement to The Daily Helmsman (a PDF document) in 1994 when the sculpture was installed. It includes short biographies of all of them and a complete transcript of a meeting of the committee to narrow the suggested nominees down to the eight who were finally selected. The transcript reveals information about other "muted belles" who did not make the final cut. Drs Caffrey and Luebbers were revisiting the scene today; both were on the 1994 committee.
Department hosts West Tennessee Day
[2 March 2013] Dr Susan O'Donovan, coordinator of West Tennessee History Day, announced at the beginning of the event today that student entries had doubled over last year — approximately 348 students from schools in western Tennessee would be participating in various categories, using the theme of Turning Points in History: People, Ideas, Events. Because of the large number of entries, competition was spread over three separate locations: exhibits and performances in the Rose Theatre Lecture Hall, documentaries and websites on the third floor of the University Center, and papers in Mitchell Hall.
Winners announced at the awards ceremony, held at 4 pm, will advance to state competition in Nashville on 20 April, and winners there will advance to national competition on 9-13 June at the University of Maryland at College Park. All of these competitions are part of National History Day.
Approximately 60 judges for the competitions were drawn from faculty members, graduate students, and historians from the community. Dr O'Donovan was assisted administratively by doctoral student Micki Kaleta and numerous volunteers and the office staff of the department, with special thanks being given to Karen Bradley.
UPDATE: [6 March 2013] A list of the winners in each category is available as a PDF document from the West Tennessee History Day site.
Department announces scholarship in women's history in honor of Janann Sherman
[2 March 2013] As noted in yesterday's report, the Department of History announced the creation of a scholarship in women's history in honor of Dr Janann Sherman, professor and chair of the department, who will be retiring at the end of this semester. The complete text of the announcement given by Dr Chrystal Goudsouzian at the ceremony follows:
This month, we take the time to honor the women who have made a difference in our lives...in our histories; we celebrate the women who make history every day. Personally, I can think of no better way to celebrate this month, than to honor Jan, who has made, and continues to make, significant contributions to this campus and the community on a daily basis. She is a part of our institutional history, and for the lucky among us, part of our personal histories. Thus, it is my great pleasure to announce, on behalf of the History Department and The University of Memphis, the creation of the Dr. Janann Sherman Undergraduate Award for the Study of Women's History.

Given annually, the $500 award is intended to assist with the educational expenses of an exceptional undergraduate student with a demonstrated interest, either through coursework or research, in the history of women, gender, or the family.

The groundwork Jan has laid through her scholarship and her administrative career for female students, staff, and faculty is immeasurable. Though Jan will no longer be here with us on campus, it is our hope that her work and her vision for this university and its students will live on, and be built upon, by the students who receive this award.

If you, like I, believe that Jan's work, and the work of our students to engage in and further women's history, equality, and rights, is integral to the betterment of our university and community, I encourage you all to consider donating to this award in Jan's honor. You will find donation cards available on your tables, and checks can be made out to The University of Memphis Foundation. Your donation is fully tax deductible and our volunteers will be happy to collect your donation envelopes in the lobby as you exit, or, if you prefer, you can mail in a donation at a later date.

This month, I encourage you to take the time to think about the women who make a difference in each of your lives. From your first grade teacher to your daughter, mother, sister, and wife, honor the exceptional women who have made your history. As our students have done through their writing, please consider writing a personal tribute for the Women's History Month website. Pick up a calendar...encourage your colleagues, friends, and students to attend this month's events. But most important, keep these women in your thoughts year-round and continue, like Jan and the other influential women on our campus, to work towards a better and more equal future for all. Thank you.
The invitation to contribute to the fund remains open. You may contribute through the university's online giving site or by mail to Dept 238, The University of Memphis Foundation, P.O. Box 1000, Memphis, TN 38148-0001. Designate the gift as being made to the Dr Janann Sherman Fund.
Women's History Month opening salutes Dr Janann Sherman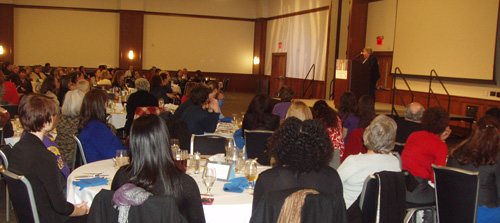 [1 March 2013] Approximately 150 persons gathered at noon today to attend the opening event of Women's History Month, a luncheon held in the University Center Ballroom at which Dr Janann Sherman was the guest of honor.
The luncheon began with a video presentation on women entitled "I Can" which had been prepared by Mikayla Jones, a student at the Campus School of The University of Memphis. Dr Stephanie Blaisdell, assistant vice president for student affairs, made the official welcome.
Dr Leslie Luebbers, director of the Art Museum, spoke about the winning poster for Women's History Month, which was submitted by a group: Brooke Smith, Corie Walker, Zi Felton, Terrance Mason, Terrell Harmon, and Zachary Morgan. The poster may be viewed on the CROW websiteunder Women's History Month. Jennifer Schnabel, assistant to the dean of University Libraries for community engagement, spoke about the Women Making History Every Day Writing Program and invited faculty members to submit entries about women who influenced their careers. Caray Oldham, vice president of the Student Government Association, gave a student's perspective on Women's History Month and introduced Dr Sherman.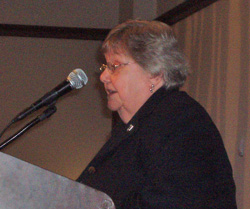 Dr Sherman's address, entitled "A Personal Journey through Women's History," traced her own life from her youth, when she had to work because of the family's poverty. "College? People like me didn't go to college," she said. She married at 18. When her husband, Charlie, began to develop blindness she found that she could use his GI BIll of Rights to attend college. She enrolled at the College of the Ozarks, where she found excellent mentoring from a faculty member who urged her to go to graduate school. "I didn't know what graduate school was," she said, but she received a 5-year scholarship to earn an M.A. and a Ph.D. in history at Rutgers University. She received the Ph.D. when she was 49 and was employed by the Department of History at The University of Memphis when she was just short of 50. She rose to the rank of professor and has served for the past nine years as chair of the department, the first woman to hold the position. She will be retiring and moving to Maine in a few months.
Dr Sherman spoke at some length about her research on Senator Margaret Chase Smith, who was the subject of her dissertation and eventually a book, learning many lessons from the Senator's life and career, and briefly about her books on Betty Friedan, who published The Feminine Mystique 50 years ago, and Phoebe Omlie, the Memphis aviation pioneer who showed that confidence in oneself can take a person to the top.
Following Dr Sherman's address, tributes to her were made by Dr Linda Bennett, associate dean of the College of Arts and Sciences; Dr Tom Nenon, interim provost of the university; Dr Kimberly Nichols, one of her first students in 1994 and a close friend of her and of Charlie as well, who is now on the adjunct faculty of The University of Memphis and Northeast Texas Community College; and Dr Beverly Bond, associate professor and her colleague in the Department of History, who has collaborated with her on several books about women and local history (including the history of The University of Memphis). Dr Nichols' remarks were emotional at times because of their closeness (Dr Bond remarked that Kim was "as close to being a daughter as anyone can be"). Dr Bond was more light-hearted, telling the audience "four things you don't know about Jan Sherman," and also emphasizing the strong personal bond between the two of them, noting that Dr Sherman was as close as her two biological sisters. Dr Bond spoke for many who were not on the platform in saying, "It's been a pleasure."
The printed program noted that Dr Chrystal Goudsouzian of the Department of History was to make a special announcement. That announcement, made as the culmination of the tributes to Dr Sherman, was that the Janann Sherman Fund has been created to honor her and to give financial assistance to students of women's history. Those who wish to contribute to the fund may do so through the university's online giving site or by mail to Dept 238, The University of Memphis Foundation, P.O. Box 1000, Memphis, TN 38148-0001. Designate the gift as being made to the Dr Janann Sherman Fund.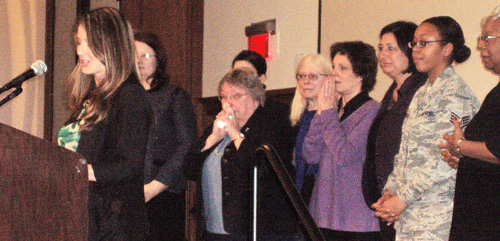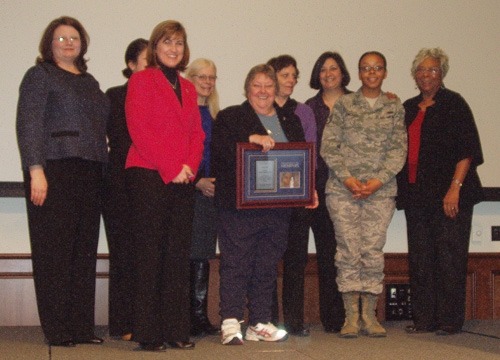 Dr Suzanne Onstine reports on latest field work at Theban Tomb 16 in Ancient Egypt
[27 February 2013] Dr Suzanne Onstine recently returned from conducting field work at Theban Tomb 16, the tomb of Panehsy, the Ramesside-period Overseer of Chanters of the Offering Table of Amun and Priest of Amenhotep I, and to his wife Tarenu, a Chantress of Amun. Tiffany Redman, Virginia Reckard, and Elizabeth Warkentin (Liz), graduate students in the Egyptology program, participated in the work. Two Spanish professionals, Miguel Sánchez and Jesús Herrerín, worked to analyze the human remains at the site.
Before leaving Egypt Dr Onstine lectured on 3 February 2013 at the Mummification Museum in Luxor, as she had done in previous seasons, presenting an update of the work.
Before Dr Onstine adopted the project, earlier work (In 1932) had recorded only a single room. Today the tomb is known to have two rooms and a long, winding corridor leading to what is thought to be a burial chamber.The first phase of the work, which she began in 2008, is digital epigraphy to record the state of the tomb, before any conservation is attempted, as it is important to record everything before doing any work in case the conservation changes the tomb. After the conservation there will be an update of the epigraphy to record any changes. The digital epigraphy is to be of the first two rooms, then eventually the whole tomb, using an electronic version of the mylar-and-tracing technique. Digital epigraphy is faster, less costly, and less likely to damage the surviving decoration than traditional epigraphic methods. The digital images are used with Photoshop to trace the images and produce a line drawing.
The second phase is the cleaning and studying the looted human remains. So far the remains have been Late Period, Third Intermediate Period, to Graeco-Roman. (The tomb was re-used over a long period, about a thousand years.) They have found one 19th-Dynasty object and excavation of the burial chamber might reveal more. Nice textiles and cartonage have been found.
Speaking of the iconography, Dr Onstine said there are two representations of both Hathor and Nut. Why there were two is unknown, but perhaps they are by different painters because of the differing styles. Six scenes are very damaged from looting, which must have happened after the 1950s, as photos from that time show them intact. Tombs did not have doors then, and this tomb was very close to the road and therefore accessible.
Information in this article has been summarized from two blogs, which you may consult for more detail and some photographs: Luxor Times, and Luxor News — Jane Akshar.
Documentary on women in the Civil War in which Dr Beverly Bond appeared now online
[26 February 2013] In 2011, in commemoration of the American Civil War, Nashville Public Television and the Renaissance Center began a series of six documentaries entitled Tennessee Civil War 150, which delved into life in Tennessee during the war. Dr Beverly Bond was one of the historical experts in the episode "No Going Back: Women and the War," which aired initially in February 2012.
The episode was one of two in the series which received a Midsouth Regional Emmy Award in January 2013, winning in the category of Historic/Cultural Program. Dr Bond recently received word from Greta Requierme, a producer of the episode, that it is now available for viewing on the NPT website at http://video.wnpt.org/video/2331459114. There is also a DVD of the episode available for sale at http://www.wnpt.org/productions/civilwar/dvd/getdvd.html.
Dr Bond modestly commented in an e-mail message, "My 'expert' section is really small and near the end, but I'm in good company."
Dr Gail Murray speaks on girlhood in the 19th century
[21 February 2013] Dr Gail Murray received her Ph.D. in history from our department in 1991. She is currently an assistant professor of history at Rhodes College and has served earlier as chair of that department.
She spoke this evening at the Brooks Museum of Art on girlhood in the 19th century in connection with the exhibit "Angels and Tomboys: Girlhood in Nineteenth-Century American Art," which is currently mounted at the museum and will continue until 12 May. She has also contributed a portion to the audio tour that is used by viewers of the exhibit.
Dr Murray is the author of American Children's Literature and the Construction of Childhood in Twayne's History of American Childhood Series and editor of and contributor to Throwing Off the Cloak of Privilege: White Southern Women in the Civil Rights Era. Her dissertation, with Dr Major L. Wilson as major professor, was "Poverty and Its Relief in the Antebellum South: Perceptions and Realities." She is currently researching and writing about Memphians who were involved in the War on Poverty in the 1960s-early 1970s, particularly women. She is also working on a longer essay about the role that southern women, both African American and white, played in attacking racial discrimination in Memphis in the half-century following World War II.

Dr Beverly Bond speaks on researching the African-American past
[21 February 2013] Dr Beverly Bond spoke this afternoon in a program in the Ned McWherter Library on the search for family in the aftermath of the Civil War on the part of African-Americans. Her lecture, entitled "Help Me to Find My People: Researching the African-American Past," referred to to Heather Williams' new book Help Me to Find My People: The African American Search for Family Lost in Slavery, and she connected her theme with pop-culture references found in television programs, novels such as Leonard Pitts' Freeman, and films such as Quentin Tarantino's Django Unchained.
She also discussed the availability and relevance of primary sources in the University Libraries' Special Collections Department, which sponsored her lecture in connection with Black History Month.
Dr Mark Danley edits volume on the Seven Years' War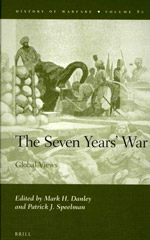 [12 February 2013] Dr Mark H. Danley, associate professor and catalog librarian in University Libraries at The University of Memphis, co-edited (with Patrick J. Speelman), wrote the introduction, and contributed a chapter to The Seven Years' War: Global Views, which was published by Brill late in 2012. His chapter was entitled "The British Political Press and Military Thought during the Seven Years' War."
Dr Danley received his Ph.D. in history in 2001 from Kansas State University and went on to earn a librarianship degree from Louisiana State University. In addition to his "day job" with University Libraries he has continued to be active in historical research and teaching. He is particularly interested in bringing together the history of information with military history. His current work is on the relationship between strategic thought, decision-making, and military reading in the 18th-century British Army.
As well as participating actively in professional associations in librarianship, Dr Danley has instructed and advised in the Master of Arts in Military History program at Norwich University, served as presenter and panel chair for the Society for Military History Conference, and from time to time taught courses for the Department of History here at The University of Memphis, most recently just last semester.
Dr Daryl Carter named a Maxine Smith Fellow for 2013
[12 February 2013] Dr Daryl Carter received his Ph.D. in history here in 2011 and is now assistant professor of history at East Tennessee State University. He has been named as a Maxine Smith Fellow for 2013 by the Tennessee Board of Regents. He will travel next week to Nashville for the opening meetings and reception. The program continues until the quarterly meeting of the board in September. It serves to prepare aspiring policymakers and high level administrators for careers in higher education.
Dr Carter reports that President Brian Noland of ETSU strongly supported his nomination and is working on securing a good mentor for him. UPDATE: Dr Carter will have as his mentor Dr Richard Rhoda, the executive director of the Tennessee Higher Education Commission.
The program is named in honor of Dr Maxine Smith, the noted civil rights leader and Memphis resident who served two terms as a member of the TBR. The objectives of the program are:
to increase the academic and professional credentials of the Fellows;
to allow Fellows to observe and participate in decision-making situations;
to provide Fellows the opportunity to experience how policy is made at the institution, senior administrative and governing board levels; and
to help increase the number of qualified applicants from underrepresented groups for senior-level administrative positions at TBR institutions.
Dr Carter's dissertation was "President Bill Clinton, African Americans, and the Politics of Race and Class" with Dr Aram Goudsouzian as major professor.
Letter from department about Forrest Park debated at City Council meeting on the renaming of city parks
[8 February 2013] Today's online issue of the Memphis Daily News (available at http://www.memphisdailynews.com/news/2013/feb/8/forrest-fire/) had some additional information about the City Council meeting held on Tuesday to discuss the renaming of Forrest Park that did not get reported elsewhere. (The Council ended up renaming three parks altogether: Forrest Park became Health Sciences Park, Confederate Park became Memphis Park, and Jefferson Davis Park became Mississippi River Park.)
In earlier controversy over Forrest Park, Lee Millar, former chairman of the Shelby County Historical Commission and a leader of the Sons of Confederate Veterans, had said that historians would be "up in arms" over removing Forrest's name.
A letter dated 18 January 2013 and signed by 45 faculty members and graduate students in the Department of History at The University of Memphis demurred, saying, "Mr. Millar does not speak for all historians. As professionally trained historians, we try to hold ourselves to ideals of rational objectivity and human decency. The undersigned faculty and graduate students in the Department of History at the University of Memphis support the removal of Forrest's name from the park."
According to the Daily News, Dr Aram Goudsouzian, professor of history at The University of Memphis who teaches African-American history, said at the meeting, "By professional historians, I speak of historians who have earned a Ph.D. in history, those who are teaching at universities or colleges, those who are members of established nationally recognized organizations such as the Organization of American Historians and the American Historical Association. I think it's fair and reasonable to say that with a few rare exceptions, professional historians in general find the celebration of Nathan Bedford Forrest Park — Nathan Bedford Forrest in this park — to be distasteful."
According to the Daily News, Mr Millar countered by saying that Forrest was a "humane businessman" and that the Ku Klux Klan that Forrest was a part of was a fraternal or social organization whose purpose was to "restore law and order to the South." Not so, Dr Goudsouzian maintained: the Klan at that time was "an organization that any legitimate historian understands to be a terrorist organization whose primary purpose was to intimidate newly freed blacks from voting and achieving equality." Mr Millar dismissed that claim, saying it was "pure Northern propaganda" spread by "Union propagandists." Dr Goudsouzian said that Forrest bought and sold people — a business that was looked down upon even in Forrest's time by the very people who bought slaves from him and others. Mr Miller then cited a speech by Forrest two years before he died in which Forrest, speaking to a black fraternal organization, spoke of racial equality.
The Daily News reported that Dr Charles McKinney, associate professor and director of the African-American Studies program at Rhodes College, spoke on the issue, saying that some historians believe Forrest was trying to build political or business alliances: "This real or imagined unity he allegedly supported at the end of his life was in fact a unity predicated on the sustained political, social and economic subordination of African-Americans. Not someone whose values I think many of us would seek to emulate."
The Daily News said that Dr Goudsouzian acknowledged that Forrest was as complex as anyone past or present and a product of his time, but he drew a distinction between chronicling persons and analyzing their role in history and honoring them. "No one is saying we should erase Nathan Bedford Forrest from our history books — our understanding of history. But a public park is not a history book. It's a public space with a monument that suggests this person stands for values that we celebrate as a community."
Council member Myron Lowery had proposed adding the name of Ida B. Wells to that of Nathan Bedford Forrest for the park where Forrest and his wife are buried. The Daily News reported that several times during the discussion between historians Mr Lowery said, "I don't need a history lesson."
It is generally understood that in giving the generic names to the city parks the City Council was acting to ward off a bill that had been introduced in the state legislature that would have deprived the city of the ability to rename any parks or to remove statues or markers from them. The ultimate names are this point wide open to speculation.
[14 February 2013] Addendum: Today's issue of the Daily Helmsman (available online) adds more information on the controversy in an article by Melissa Wray.
Isabel Wilkerson delivers Belle McWilliams Lecture in American History, speaking on the "great migration"
[7 February 2013] Pulitzer Prize-winning journalist Isabel Wilkerson delivered the Belle McWilliams Lecture in American History for 2012-2013 this evening in the Rose Theater to an audience estimated at 700 persons, speaking on the "great migration" of blacks from the American South during the period 1915 to the 1930s. Her book, The Warmth of Other Suns: The Epic Story of America's Great Migration, was the basis for her lecture.
As a preliminary to the lecture, the audience was treated to two choral pieces by the Stax Street Corner Harmonies. The first, "Middle Passage," which borrowed from the classic by the Reverend Thomas A. Dorsey, "Take My Hand, Precious Lord," was rather restrained, hardly preparing the audience for the strikingly choreographed and vigorously performed "Didn't My Lord Deliver Daniel (and Why Not Every Man?)" which followed and received a standing ovation from the audience.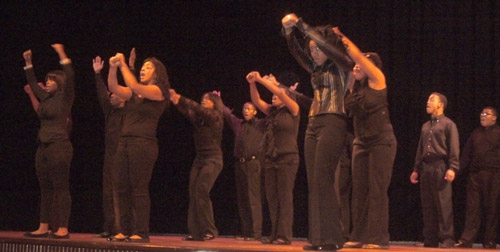 Ms Wilkerson said that her book was about how far people are willing to go to improve their lives. During the period from 1915 to the 1930s approximately 6 million blacks left the rural South for urban areas of the nation, including the Northeast, the Midwest, and the Pacific Coast, the first time that the lowest class of Americans signaled that they had options and took them. In effect, they were seeking political asylum within their own country, she said.
Although her book, based on more than 1,200 interviews gathered over fifteen years, followed in detail the migrations of three of those 6 million — one to each to the sections just mentioned — Ms Wilkerson chose to center her lecture on the more general reasons for the migration and the results that were achieved.
The situation that provoked the migration, she said, was the caste system in the South under the Jim Crow laws, an elaborate system of behavior based solely on skin color. She remarked that although many older audiences actually lived through some part of the period of migration or remember the system from its persistence long after the migration, high-school audiences find it difficult to believe that she is telling the truth about a judge in North Carolina suspending a trial until a "black Bible" could be found for swearing in a black witness, a law forbidding blacks and whites in Birmingham from playing checkers together, or another law forbidding black motorists from passing slow white motorists. Students in Hawaii suggested that if they could not pass, they would have honked the horn or tail-gated closely to encourage the white motorists to speed up and were appalled when they were told such things were just "not done" either with impunity. When one remarked, "Well, then, I would just have left," she explained that was exactly what her book was all about.
Enforcement of the caste system always implied coercion and often went to the point of violence. During the period 1889-1929 there was a lynching every four days on average, sometimes just for "acting like a white person" or for committing minor offenses such as stealing small sums. Ms Wilkerson remarked that the system caused a loss to whites as well — "to hold people down, you have to get in the ditch with them."
Ms Wilkerson explained that a partial reason for the migration beginning about 1915 was that the caste system had always depended on an oversupply of black laborers, most of them sharecroppers who did not own land themselves. The outbreak of war in Europe caused immigration to fall off at the same time that northern factories needed more workers to create the goods to support the Allies and later the American forces. Black workers from the South were part of the answer to the problem. Planters resisted, trying to keep blacks in the South, sometimes waving trains through passenger stations so that blacks could not board them.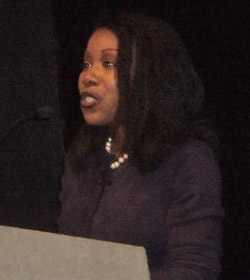 The only migration that she described in any detail was about an Alabama family, sharecroppers with nine children, the youngest of whom was so frail that they worried about his ability to survive work in the cotton fields. Long dreaming of moving to Cleveland (they even named the youngest James Cleveland -- they called him J.C.), they finally made the move. The teacher in Cleveland could not understand his dialect and thought his name was Jesse and eventually the family followed suit. This was Jesse Owens, who in 1936 won four gold medals in the Olympics with Adolph Hitler looking on.
Other than Owens in sports, Ms Wilkerson mentioned several writers and musicians who emerged out of the migration: Toni Morrison and Lorraine Hansberry in literature, and Diana Ross and the Supremes, the Jacksons, Miles Davis, Thelonius Monk, and John Coltrane in music. Indeed, she maintained, much of American culture was transformed through the migration. (Later in the lecture she said that she owed her own existence to the migration, for her parents would never have met otherwise.)
Ms Wilkerson also emphasized the political importance of the migration, maintaining that it in time produced the civil rights movement which was directed as much against reactions to blacks which had developed in northern states as against the southern caste system. The early migration had no acknowledged leaders, she said, but represented rather a people's decision. Together the people accomplished what Abraham Lincoln's Emancipation Proclamation could not do — "they freed themselves," Ms Wilkerson asserted.
Toward the end of her lecture Ms Wilkerson directed attention to the moment of departure for the migrants, usually a very poignant moment. The migrants were generally young people and their leaving the South was often a virtually complete break with the family, whom they might never see alive again. She reminded the audience that there was no Skype, no cell phones, only letters and expensive long-distance systems for the few who owned telephones of any sort, and expensive telegrams.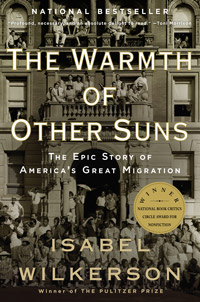 She ended with a quotation from Richard Wright, who left Natchez, Mississippi, in 1927 and passed through Memphis on his way to Chicago: "I was taking a part of the South to transplant in alien soil, to see if it could drink of new and cool rains, bend in strange winds, respond to the warmth of other suns and, perhaps, to bloom."
During the question-and-answer period which followed the lecture, someone asked Ms Wilkerson what had prompted her to write the book. She explained that everyone knew The Grapes of Wrath, which described a much smaller group of migrants. She felt that there ought to be a book like it about the "great migration," so she determined to write it.
A former correspondent for the New York Times, Ms Wilkerson was the first African American woman to win the Pulitzer Prize, for reporting she did in 1994 when she was with the newspaper's Chicago bureau. The Warmth of Other Suns won over ten major literary prizes, including the National Book Critics' Circle Award for Nonfiction, and has been named to over thirty periodicals' lists for "Best Books of the Year."
The Belle McWilliams Lecture in American History has been made possible since 1980 by the Department of History through a bequest from Major Benjamin Schultze and his sister Ms Louise Fellows. They named a fund in honor of Miss Belle McWilliams, their aunt and guardian, "who for 40 years taught American History in the Memphis Public School system." Besides the lecture series, the fund supports the Belle McWilliams Scholarships and other activities of the department. For several years the lecture has been part of a series sponsored by the Marcus W. Orr Center for the Humanities. This year it was also supported by the Program in African and African-American Studies, the Benjamin L. Hooks Institute for Social Change, the Department of English, the Center for Research on Women, the Department of Journalism, and Facing History and Ourselves.
Yves Mai Orsino awarded a Benjamin A. Gilman International Scholarship
[6 February 2013] Yves Mai Orsino, who is majoring in both history and political science and minoring in international affairs, is one of three undergraduates to receive a Benjamin A. Gilman International Scholarship for study abroad. She will study at Al Akhawayn University in Ifrane, Morocco.
The Gilman program encourages students to choose non-traditional study destinations and supports students who might otherwise be unlikely to study abroad, particularly those with financial need or in underrepresented fields of study. Recipients are chosen by a competitive selection process and will use the award to pay for eligible study-abroad costs.
Dr Jayme Stone chosen as one of the nation's top 10 first-year student advocates
[5 February 2013] Dr Jayme Stone, who received her Ph.D. in History in 2010, is now the director of Learning Communities and instructor in the History department at the University of Central Arkansas. She was recently selected as one of the top 10 first-year student advocates in the nation by the National Resource Center for the First Year Experience and Students in Transition. She will be honored at the 32nd Annual Conference on the First Year Experience in Orlando, Florida, on 23 February 2013.
According to the announcement from UCA, Dr Stone's "leadership and advocacy for residential college programming has resulted in dramatic growth in the number and diversity of institutional-themed residential colleges at UCA. Her support for Freshman Year Experience classes, introduction of the Clustered Learning Program, redesign of Freshman Interest Groups and the development of the Residential Linked Classes have had a dramatic impact on UCA's campus and culture."
Dr Robert Parrent, vice president for Enrollment Management, made the announcement of the award at the December Board of Trustees meeting. He said, "Dr. Stone is an invaluable asset to the students she serves, the colleagues she inspires, the UCA family and the greater global community."
Dr Stone also will be recognized in The Chronicle of Higher Education, the Center's online newsletter, E-Source for College Transitions, and the Center's webpage.
Dr Stone's dissertation was "'They Were Her Daughters': The Student Nonviolent Coordinating Committee and Grassroots Organizing for Social Justice in the Arkansas Delta, 1963-1967" with Dr Janann Sherman as major professor.
Shelby County Archives seeks volunteers to work with 19th-century Chancery Court records
[23 January 2013] The Shelby County Archives extends an invitation, regardless of field, to all graduate students and upper-level undergraduate history majors to assist in preparing a finding aid for researchers in 19th-century Chancery Court records. There are several hundred boxes of these records. Students who work twenty hours on the project will receive a letter of completion and work experience for their curriculum vitae.
Interested students should send e-mail to Archives Specialist Vincent L. Clark at vincent.clark@shelbycountytn.gov to receive more information.
Dr James McSwain publishes essay-review of book on corporate governance in Britain and Ireland, re-elected director of Gulf South History and Humanities Conference
[18 January 2013] Dr James McSwain, who received his Ph.D. here in 1986 and is now a professor of history at Tuskegee University, has returned from a leave during which he finished a chapter in his book manuscript on petroleum and risk management on the Gulf Coast of the United States.
Just yesterday he published a major essay-review of Mark Freeman, Robin Pearson, and James Taylor's book Shareholder Democracies? Corporate Governance in Britain and Ireland before 1850 in Reviews in History, published by the Institute of Historical Research, University of London, where he had a "place" in the 1980s courtesy of the University of Memphis; the review also includes at the end the authors' reply. It may be accessed at http://www.history.ac.uk/reviews/review/1364
He also has been re-elected as a director of the Gulf South History and Humanities Conference, the 33rd annual meeting of which will be in 10-12 October 2013 in Pensacola Beach, Forida. All U of M History Department graduate students and faculty who would like to propose a paper or panel on a topic falling within the domain of the Gulf South (including the Caribbean) should contact him at james.mcswain@gmail.com.
Dr Robert Yelle publishes book on the semiotics of religion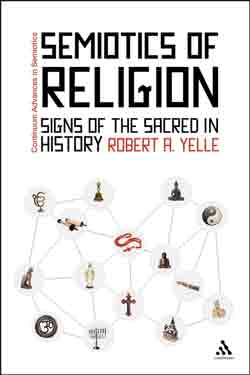 [7 January 2013] Bloomsbury Publishing has published Dr Robert Yelle's latest book, Semiotics of Religion: Signs of the Sacred in History. Although available earlier in the United Kingdom, its official release here is 3 January 2013 and it is now available for purchase in hardcover and paperback.
According to the publisher's description, following the heyday of Lévi-Straussian structuralism in the 1970s-80s, little attention has been paid by scholars of religion to semiotics. Now Dr Yelle's
Semiotics of Religion
reassesses key semiotic theories in the light of religious data. He examines the semiotics of religion from structural and historical perspectives, drawing onPeircean linguistic anthropology,Jakobsonian poetics, comparative religion and several theological traditions. His book pays particular attention to the transformation of religious symbolism under modernization and the rise of a culture of the printed book. Among the topics addressed are:
ritual repetition and the poetics of ritual performance
magic and the belief in a natural (iconic) language
Protestant literalism and iconoclasm
disenchantment and secularization
holiness, arbitrariness, and agency
In reviewing the book, Webb Keane, professor of anthropology at the University of Michigan, said: "This book is vast in scope, deep in implications, and admirably clear and forthright in exposition.The study of religion has needed a work of this kind, which brings together several research traditions and pushes the resulting synthesis in new directions.The result is an agenda-setting project of huge ambition."
Dr Yelle is an assistant professor in the Department of History and the Helen Hardin Honors Program at The University of Memphis. He received his Ph.D. in the history of religions from the University of Chicago. A former Guggenheim Fellow, he is the author of Explaining the Mantras and The Language of Disenchantment: Protestant Literalism and Colonial Discourse in British India, and co-author of After Secular Law.