A College of Health Sciences, Human Performance Center and Memphis Tigers Athletics initiative.
The Tiger Bites nutrition program is a collaboration between Memphis Tigers Athletics and the College of Health Sciences/Human Performance Center. The mission of Tiger Bites is to improve the nutrition awareness of University of Memphis student athletes for both performance and overall wellness purposes through aligning Tigers Athletics with the discipline specific expertise within the College of Health Sciences.
Tiger Bites staff are members of the Collegiate and Professional Sports Dietitians Association (CPSDA), which is a professional association representing advanced practice registered dietitian nutritionists who work with athletes in colleges, professional sports, Olympic training centers, the US Military and law enforcement. CPSDA speaks with one voice on behalf of America's leading sorts dietitians and is founded on the fundamental "food first" principle that "whole foods are the best fuel" and that athletic programs operating at every level of competition will best serve their athletes when employing the full time services of a sports dietitian.
What is a Sports Dietitian?
Sports Dietitian: A registered dietitian (RD) who is a specialist in sports dietetics and applies evidence-based nutrition knowledge in exercise and sports. RDs specializing in sports dietetics assess, educate and counsel athletes and active individuals. They design, implement and manage safe and effective nutrition strategies that enhance lifelong health, fitness and optimal performance.
Join the Team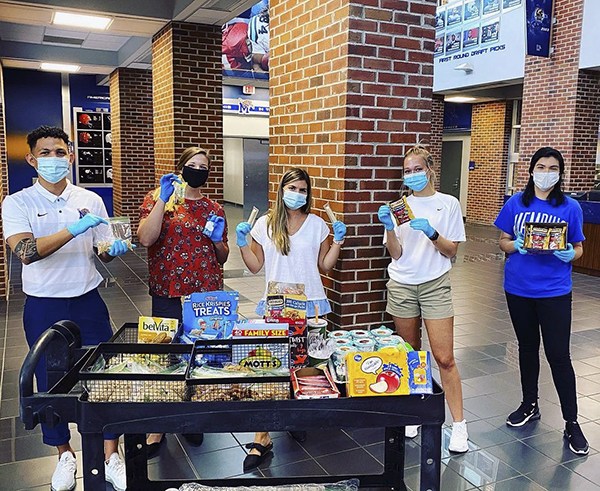 We're looking for a few students to assist with our Memphis Tigers Athletics Olympic fueling station. The position starts April 28, 2021 and continues through early June, with the possibility of continuing through the summer. This is a volunteer position open to all majors.
The primary role of this position is to function in the realm of food prep and product distribution. The primary duties include, taking orders, making smoothies and handing out snacks, drinks, etc. at our Olympic fueling station. This fueling station is a service offered to our student athletes around their weightlifting periods. This position requires one to work independently and have the ability to problem solve when issues arise.
Other duties of this position include:
Keeping track of product use and selection
Communicating with vendors and accepting deliveries
Inspect deliveries for accuracy
Keeping track of inventory and alerting Tiger Bites Staff when product is low
Managing stock using first in, first out (FIFO) procedures
Keeping time and temperatures of freezers and refrigeration
Maintaining cleanly working environment
Participate in weekly COVID testing
If interested, contact Rosalyn Sullivan at rrsims1@memphis.edu.