Sports Nutrition Research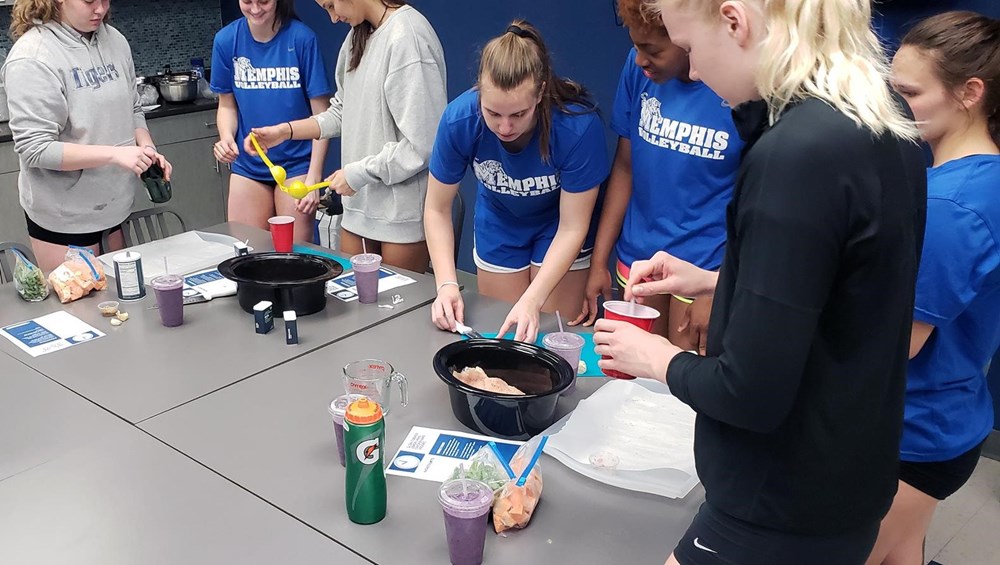 Nutrition Education to Improve Jump Height (Volleyball)
Learning to eat, cook and understand food to prepare for training and recover like champions
The Tiger Bites program represents a combined effort between the HPC and Tigers Athletics to provide nutrition support to Tigers athletes. With an awareness of the lack of nutrition understanding and eating practices amongst the team, the coach and team participated in a 6-part group cooking experience lead by the nutrition experts of the HPC. Diet and food knowledge in addition to performance variables - maximum jump height, maintenance of jump height, volleyball agility, and team dynamics - were all tracked to measure the impact of the project. Importance was placed on learning, fun and practical skills which athletes can use everyday.
Daniel Greenwood, along with College of Health Sciences dietetics director Mary Catherine Schallert and University of Memphis Campus Recreation nutrition coordinator Deidra Nelson, joined forces with Memphis Volleyball to show how good nutrition not only could be fun, but also how it could literally affect the student-athletes' on-the-court performance.
Key Finding: This interactive education embraced the hands-on nature of cooking and provided each athlete with the opportunity to cook, engage with and experience food.
Coach + Athlete Practical Implication: An applied learning experience improved retention of nutrition knowledge over 'normal' presentations. The benefits of giving athletes the opportunity to participate in the learning process is a lesson that applies to all contexts.
---
Hands on Cooking and Applied Education – Large Group Pilot (Softball)
From basic to boss in the kitchen - learning how to prepare meals from start to finish
The goal of this research is to improve the health and wellness of collegiate student-athletes through a unique nutrition education course. With an identified gap in collegiate student-athlete nutritional habits, this research puts athletes through an applied cooking series focused on learning the basics of food preparation. This specifically targets areas identified by college coaches as limitations to student-athlete nutrition behavior; that is, the ability to identify and prepare cost effective, time efficient and nutritious meals at their home.
Key Finding: Reducing barriers to cooking such as the perception of time, frustration and cost associated was crucial to athletes making the choice to cook more often.
Coach + Athlete Practical Implication: From the use of a knife to reading a recipe book, the fundamentals of any skill cannot be overlooked during the teaching and learning process.
---
Using Bone Density and Body Fat to Improve Athlete Nutrition (Track and Field)
Using scientific data and standards to drive sport specific athlete demands
Using a DEXA scan, student-athletes receive detailed information on their bone density, muscle mass and fat mass, as well as the location of this mass to better understand their body. This information is used to guide individualized nutrition programs tailored to their current status and key features of their event. A DEXA scan is a non-invasive test that uses two x-ray beams, with different energy levels, to measure tissue and bone compositions. Bone density is a crucial screening tool to predicting potential fractures, which is especially important in female collegiate athletes.
Key Finding: As the difference between good and great in track and field is narrow, the detail of the location of muscle mass placed a key role in the design of weights programs.
Coach + Athlete Practical Implication: Objective data collected at regular intervals helps athletes to keep focus on key physical metrics and remain accountable.