For Up-to-the-Minute News, follow IFTI on &
10.14.14 IFTI Designated as Southeast Transportation Workforce Development Center (SETWC)
IFTI received a four-year grant from the Federal Highway Administration (FHWA) to host the Southeast Transportation Workforce Development Center (SETWC). The Center will serve a 12-state region in the southeastern US and Puerto Rico, and is part of the National Network for Transportation Workforce. While the Center addresses the broad goals of transportation workforce development throughout the region, it also focuses on the following areas of national expertise: women in transportation, freight (rail, trucking, warehousing, and logistics), and veterans' transition into the transportation workforce.
7.31.14 IFTI Addressing National Council for Geographic Education
Dan Pallme was a featured presenter at the 2014 National Council for Geographic Education (NCGE) conference. The NCGE is a non-profit organization, chartered in 1915 to enhance the status and quality of geography teaching and learning. NCGE supports geography teaching at all levels—from Kindergarten through University. Its members include U.S. and International teachers, professors, students, businesses, and others who support geographic education. The MPO suggested Dan as a speaker. Dan spoke to the group and then hosted a window tour of the businesses related to the transportation industry around the Lamar Ave. Corridor. About 45 people participated in the tour and presentation.
7.29.14 IFTI Integral Player on the Freight Advisory Committee
Dr. Lipinski and Dan Pallme travelled to Cates Landing for the West TN Freight Advisory Council meeting. The IFTI team worked closely with the TDOT representatives to organize the event and conduct the meeting agenda. The main emphasis of the meeting was to prioritize the major projects in the West TN region.
7.25.14 MWTC New Orleans Port Tour
The Memphis World Trade Club is organizing a New Orleans Port Tour September 12-14. The purpose of the tour is to give new comers to the Industry a first handle experience with the actual workings of a deep water ocean port. Register here...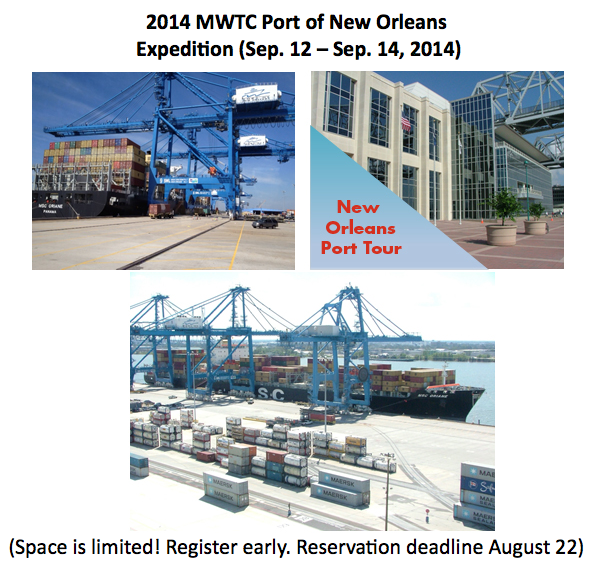 7.17.14 Society of Female Transportation Professionals Hosts Memphis Author
On Thursday, July 17 Memphis area female transportation professionals were getting into high gear - thanks to Amy Howell's book, Women in High Gear. The summer society event engaged about 25 women in a book club-style discussion about Amy's book. View event photos here.
7.15.14 IFTI Impacting Memphis-Area Transportation Entities
The IFTI team is fully engaged with and serving as experts for many area transportation organizations. On July 15, Dr. Lipinski and Dan Pallme attended the Memphis area Propeller Club where they discussed issues of the waterway system. Dr. Lipinski sits on the Transportation Committee for the Memphis Regional Logistics Council. Dan Pallme is co-chairing the Logistics Task Force for the Memphis Regional Logistics Council.
7.1.14 Dr. Lipinski Appointed to MATA Board
Dr. Martin Lipinski is making sure that Memphis area bus passengers enjoy their experience! Dr. L was recently appointed to the Memphis Area Transit Association (MATA) Board of Commissioners. This entity governs over policy for the agency. The Board is appointed by the Mayor of Memphis an approved by the Memphis City Council.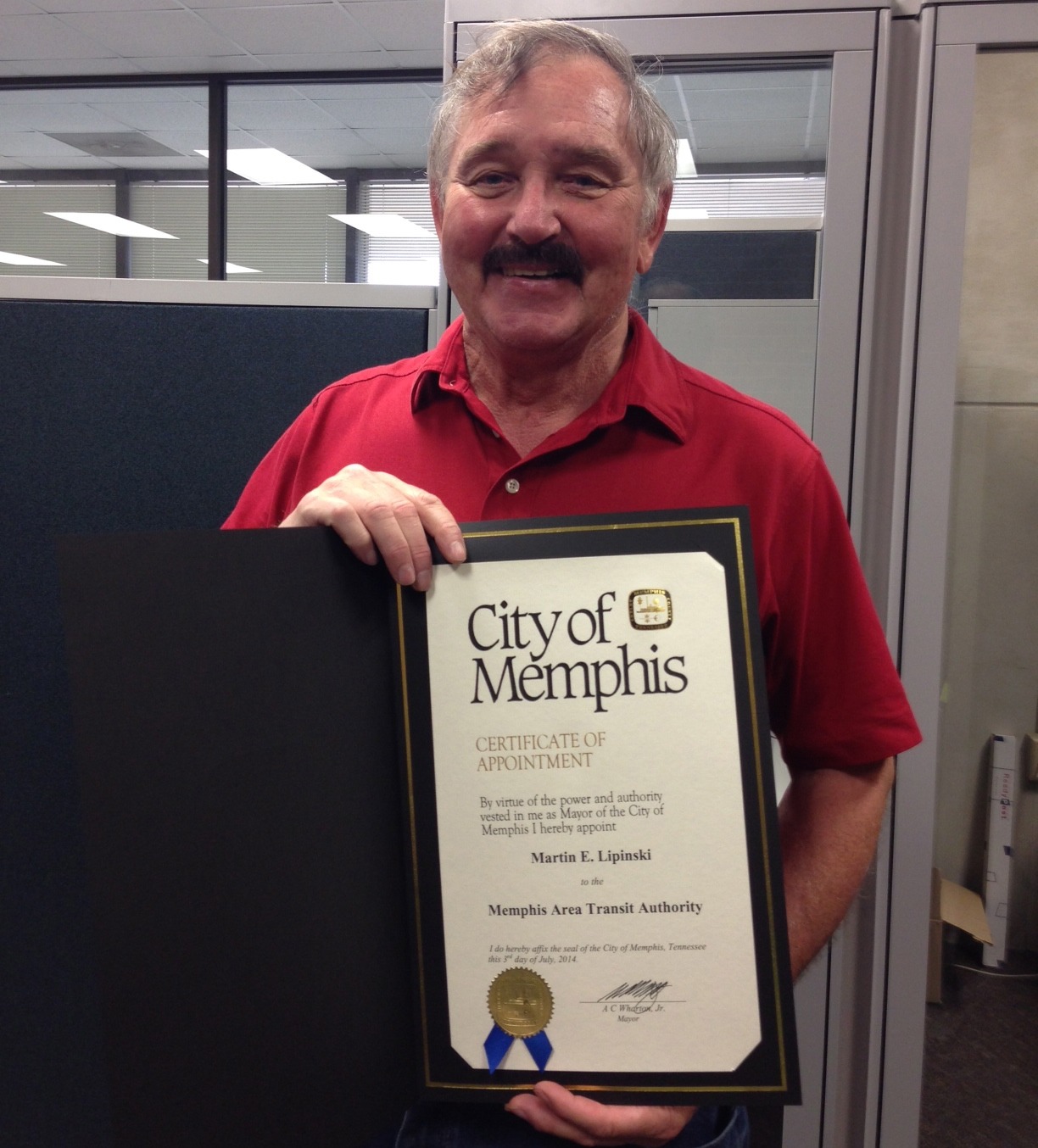 6.30.14 IFTI Meets with Staffers from Senator Bob Corker's Office
On Monday, June 30, two staffers from Senator Bob Corker's office visited the University of Memphis campus. Dr. Martin Lipinski, Dan Pallme, and Sean Ellis were invited to give the staff members updates about IFTI activities and events. The IFTI team share information about the roles that our institute plays within the Memphis community and within the greater transportation industry.
6.6.14 Annie Wise @ Eno Conference
Annie Wise, IFTI research graduate assistant, attended the 2014 Eno Conference in Washington DC. She shared some of her pictures with IFTI.
5.29.14 Dan Pallme Served as Expert Panelist for SmartWay Webinar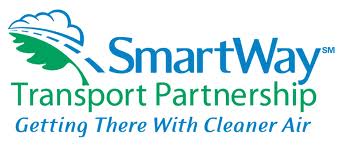 The SmartWay® Program is a public-private initiative between EPA, large and small trucking companies, rail carriers, logistics companies, commercial manufacturers, retailers, and other federal and state agencies. Its purpose is to improve fuel efficiency and the environmental performance (reduction of both greenhouse gas emissions and air pollution) of the goods movement supply chains. The webinar discussed trends in Intermodal Freight Transport. The other panelists included Ken Miller, Vice President Intermodal for J.B. Hunt Transport, Inc. and Stelios Chrysandreas, Transportation Manager for Kimberly Clark. Approximately 120 registered for the online training.
This one-hour discussion delved into current trends in multimodal freight movement, covering the transportation and economic benefits of inland ports, impacts on the supply chain and the challenges of shifting to a freight network that relies on multiple modes of transportation. To listen to the webinar, register here.
5.15.14 IFTI Participates in Norfolk Southern's Shippers' Summit
The Norfolk Southern hosted it's 2014 Shippers' Summit in Memphis, TN where 44 of top 100 domestic transportation companies are coming to meet, learn and network. Dr. Lipinski and Dan Pallme presented information to the group about trends and current issues affecting the intermodal business. The University of Memphis is the only university asked to speak to these top shippers! In addition to the presentation, Dan Pallme hosted the group for a social event downtown during the Memphis in May World Championship BBQ-fest!
5.10.14 Congrats to our Freight Transportation Leadership Academy Grads!
Early Saturday morning, Dan Pallme and seven transportation professionals officially closed the spring 2014 session of the Academy as they left the FedEx night-sort tour. This cohort included two out-of-town participants, several industry folks and a few DOT representatives. The combination of private and public views rounds out the excellent speakers and curriculum.
Here they are...they completed all four Rs: Rail, Road, River and Runway. You've earned your FTLA hardhat! To see individual shots, click here.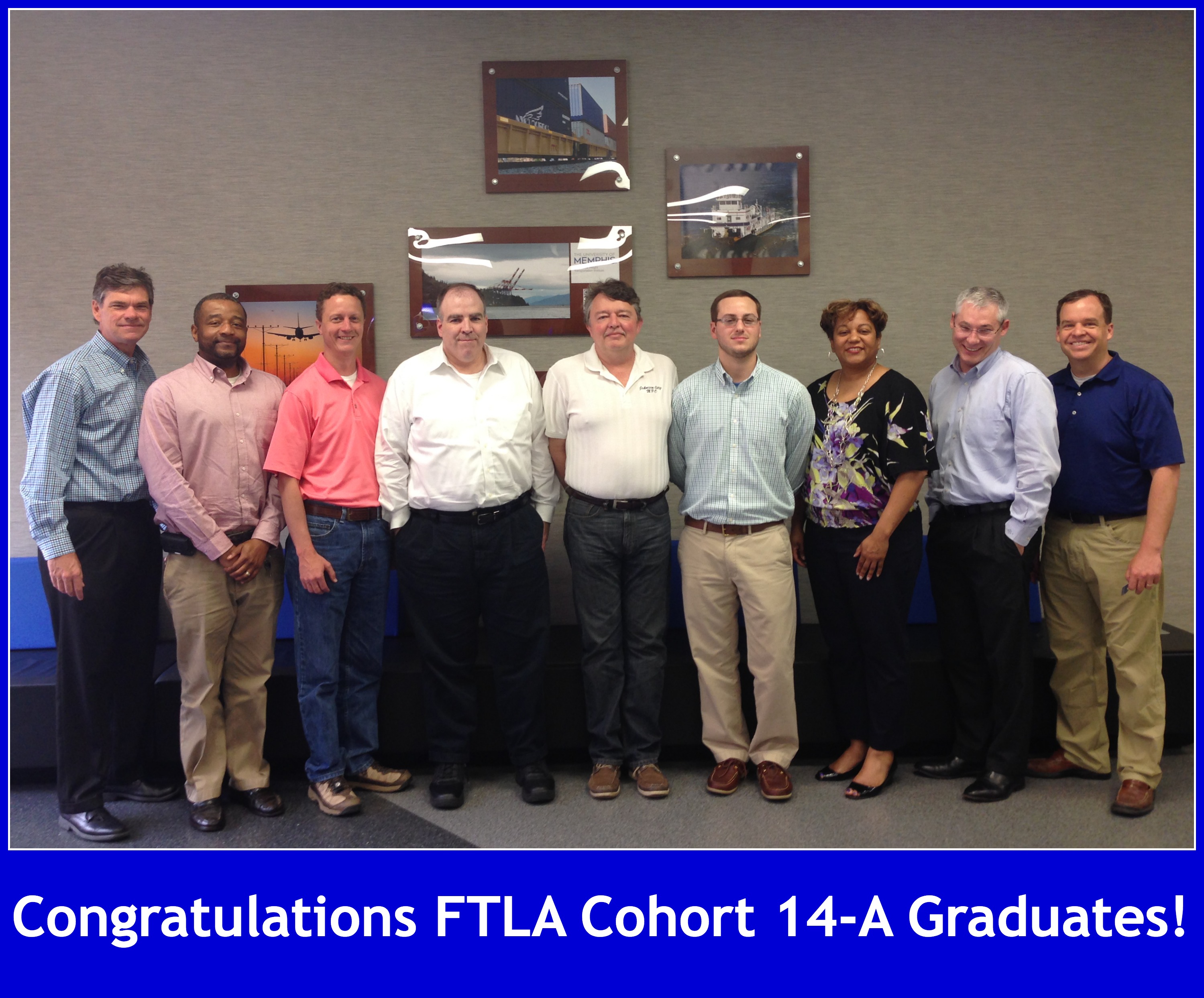 4.30.14 Dr. Mike Golias Featured Presenter at Missouri Science & Technology
Dr. Mike Golias, IFTI's Associate Director for Research, is presenting the talk, Playing Games at Marine Container Terminals, to the Missouri University Science & Technology Graduate Seminar. Marine container terminals are essential components of global supply chains and terminal operators face many challenges on day-to-day operations to remain efficient and competitive. Most of these challenges are due to the interactions between different operations and facilities within the terminals. In his presentation, Dr. Golias provides a brief overview of maritime transportation and marine container terminal operations. He then presents an optimization model that can be used to develop berth schedules at marine container terminals under vessel arrival and handling time uncertainty. He concludes the presentation by providing future research directions. Login to watch and listen to his presentation: Wednesday, April 30th @ noon
Click this link.
Enter your name and email address.
Enter the meeting password: 123456.
Click "Join".
4.25.14 IFTI Participates in White House Roundtable
Dr. Stephanie Ivey, IFTI Researcher, and Dan Pallme, IFTI Director, participated in a White House roundtable on building connected and sustainable communities. The roundtable was hosted by the Partnership for Sustainable Communities and Mayor AC Wharton. USDOT Transportation Secretary Foxx, US HUD Secretary Donovan, Administrator of US EPA Gina McCarthy, and Federal Co-Chairman of Delta Regional Authority Chris Masingill were featured guests. These groups have been working with the Memphis and other communities across the country under the Partnership for Sustainable Communities for 5 years. The roundtable allowed Memphis community leaders and our very own IFTI representatives an opportunity to share local success stories and discuss remaining challenges with senior Administration Officials.
4.23.14 Dan Pallme Connects with Future Transportation Professionals.
Dan Pallme attended the career fair at a local Memphis high school, St. Francis Assisi, to share information about finding success at the University of Memphis, selecting Engineering and Transportation Engineering as an educational focus, our Institute and careers in the transportation/logistics fields. He met with about 31 students.
4.21.14 Girls Experiencing Engineering is on the Radio!
Dr. Stephanie Ivey, IFTI Researcher and leaders of the Girls Experiencing Engineering (GEE) program, along with Shante Avant with the Women's Foundation for a Greater Memphis took the opportunity to share information about the GEE program with the Lipscomb Pitts Breakfast Club. IFTI has been a proud supporter of the GEE Transportation week for many years. Click here to listen to the broadcast.
4.10.14 IFTI Student Research Paper Wins!
IFTI student researcher, Jim Mersereau, was recently notified that his student paper, "Accessing and Increasing Safety at the Intersection of Lambuth Boulevard and Wisdom Street in Jackson, Tennessee", was awarded Third Place in the Tennessee Section ITE's annual student paper competition.
4.8.14 Dan Pallme to Present IFTI Research to the Traffic Club of Memphis
The American Society of Civil Engineers gives an annual report card on the infrastructure in the United States. They gave the infrastructure a rating of D+. In the Memphis area, we have seen many construction projects that will be improving our infrastructure. While the I240 construction and the restriction to one lane on Sam Cooper has received most of the publicity; there are several more projects on the horizon in the Memphis area. How to deal with these issues, while trying to maintain a business, will be critical to the success of transportation related companies and the general public. Dan Pallme will be presenting on some of IFTI's research that pertains to routing to save time, money and patience! Attend the event on April 8 2014 at 11:15 to hear ways you can "Use Data to Make your Trucking or Logistics Company More Efficient and Profitable." If you are interested in attending, contact Kimberly Grantham.
4.3.14 IFTI Represented at NASBITE Conference
Dan Pallme participated as a panelist at the 27th Annual National Association of Small Business International Trade Educators (NASBITE) International Conference. Dan shared insights into the current realities of 21st Century Workforce Skills and how to can guide students or clients to prepare for the global workforce. The other panelists included Dr. Carol Stax-Brown, Executive Director of Community Colleges in International Development (CCID) & Panel Members Eric Skubish Director of International, Johnsonville Sausage LLC.
3.19.14 IFTI Research Presented as Part of the Transportation Innovation Series
IFTI's research was presented on a national stage March 19th! Dan Pallme, IFTI Director, presented research conducted by Dr. Mihalis Golias and himself as part of the Transportation Innovation Series. The US Department of Transportation hosted Dan in Washington DC. to present their findings. Being chosen to be the only presenter at this event is a huge compliment to our program and researchers. Click here to watch the presentation.
3.17.14 Kelsey Ford Representing the UofM
Kelsey Ford (BSCE 2012), an IFTI student researcher and graduate student in the Department of Civil Engineering was selected to represent the University of Memphis at the Graduate Education Day Celebration at the Legislative Plaza in Nashville. Ms. Ford and Dr. Karen Weddle-West, Vice Provost for Graduate Programs, will have lunch with the Shelby County Legislative Delegation and will speak with other state legislators throughout the day about her research and the importance of Graduate Education in Memphis and Tennessee.
3.11.14 Annie Wise Selected as an ENO Fellow!
Each year, the Eno Leadership Development Conference gives 20 of the nation's top graduate students in transportation a first-hand look at how national transportation policies are developed. Students apply to the program early in the year, and those selected as "Eno Fellows" come to Washington, DC, for a week of meetings with federal officials and leaders of business and non-profit organizations in the spring. Our very own Annie Wise was invited to become an Eno Fellow for 2014.
2.27.14 CFIRE National Freight Symposium
The students associated with IFTI traveled to the University of Southern Mississippi – Gulf Park to attend the 2nd annual National Freight Student Symposium. The seven students from the U of M presented research work, participated in a team competition, listened to presentation made by public and private industry professional and participated in interview sessions with transportation companies. The University of Memphis hosted this event last year as part of our membership in the National Center for Freight & Infrastructure, Research & Education (CFIRE). The IFTI team is pictured below under the "Friendship Tree" at the University of Southern Mississippi. The tree is over 500 years old.
This year CFIRE added an outreach project to the symposium activities. The night before the event began, students from the partner universities conducted a "Family Transportation Night". Hosted at a local middle school in Ocean Springs Mississippi, the group led approximately 175 students in hands-on activities that help to introduce transportation engineering career possibilities. The University of Memphis also presented a program with much of the same hands-on demonstrations for approximately 200 Jackson Academy students in Jackson, MS on their way to the event.
2.26.14 Memphis Wins Traffic Bowl!
The University of Memphis defeated Vanderbilt in the 2014 Collegiate Traffic Bowl competition in Nashville, TN on February 26, 2014. Team members Darin Nelson, Kelsey Ford, and Annie Wise competed at the Tennessee Section of the Institute of Transportation Engineers (ITE) meeting at Tennessee State University and pulled off a landslide win! Our team will now advance to the Southern District ITE competition in Greensboro, Georgia on March 31st. Go Tigers Go!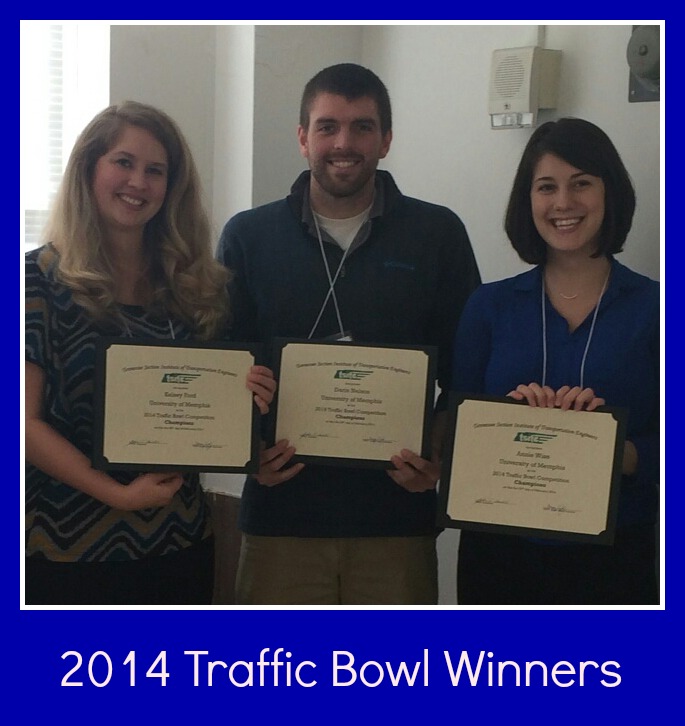 2.25.14 Jackson Academy Demonstration
While heading to the Student Freight Symposium in Gulfport, MS, IFTI researchers, student researchers and staff stopped in Jackson, MS to demonstrate STEM exercises to about 200 Jackson Academy's (JA) fifth and sixth graders and teachers February 25 in the PAC. JA teachers learned the exercises on stage. Students cheered for their teachers, who worked in teams to build race cars that would run and boats that could carry pebbles. Teachers were given the lesson plans to recreate the exercises in their own classrooms. To view all the photos from the STEM demonstration in the Jackson Academy Performing Arts Center, click here.
2.20.14 USDOT Assistant Secretary to Visit the U of M
The Intermodal Freight Transportation Institute is hosting Susan Kurland, Assistant Secretary for Aviation and International Affairs for the U.S. Department of Transportation March 5 and 6. The Assistant Secretary will tour the FedEx hub, visit the aviation optional program at Wooddale High School and chair a roundtable discussion with Memphis-area transportation industry professionals to discuss engaging women in the transportation field. Assistant Secretary Kurland leads the APEC Women in Transportation initiative on behalf of Secretary of Transportation Foxx. As the culmination of her visit, she will deliver the key note address at the Society of Female Transportation Professionals Blue Pump Gala. Read more...
1.23.14 Dr. Mihalis Golias Receives Special TRB Recognition
Dr. Mihalis Golias, IFTI faculty researcher, was honored with a special recognition for his diligent and excellent work performed on behalf of the Marine Environment Committee.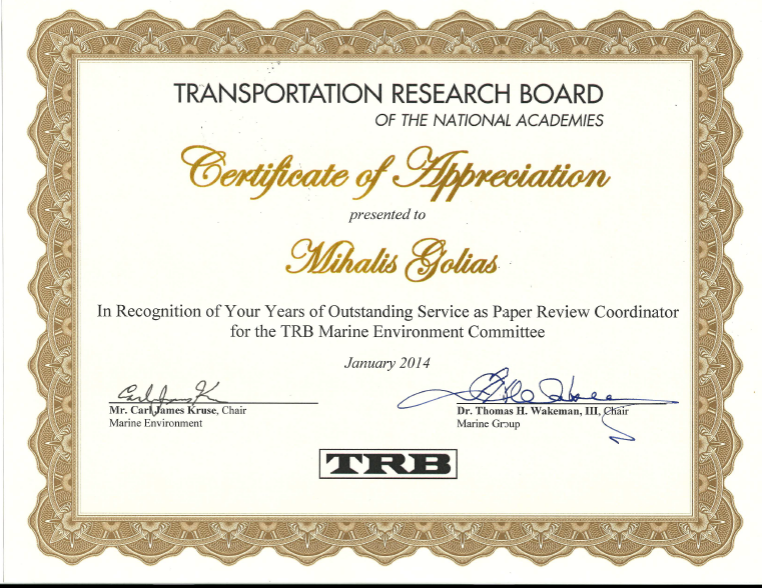 1.12.14 IFTI Student Named CFIRE Student of the Year
Virginia "Annie" Wise, a graduate student pursuing her Masters of Civil Engineering degree with a concentration in transportation, was named the 2013 National Center for Freight and Infrastructure Research and Education (CFIRE) Student of the Year. She was selected as the most outstanding student from the ten universities that make up the CFIRE consortium. Click here to meet Annie...
12.13.13 IFTI Contributes to the TN Freight Advisory Committee
IFTI's Director and Director Emeritus participated in the December 13th TN Freight Advisory Committee in Nashville, TN. IFTI is working with the MPO, TDOT and MDOT to make sure the Memphis region is properly represented. Dan Pallme moderated a roundtable conversation during the event.
11.26.13 Wooddale Flight Academy is Open!
Congratulations to IFTI's partner, Wooddale High School, for taking their Aviation career training to new heights with a formal dedication of the school's new National Flight Academy (NFA) Aviation Classroom Experience (ACE). The dedication caps a 15-month renovation project that elevates the Wooddale program to a national level as part of the NFA's network of ACE programs coast to coast. Click here for more information.
11.22.13 IFTI Researchers, Staff and Students Participate in Engineering Day!
The Herff College of Engineering opened its doors to the community and to thousands of elementary, middle school and high school students during its E-Day open house Friday, Nov. 22. The event hosted engineering competitions for the visiting students as well as showcasing engineering activities and research being conducted at the College. IFTI student researchers conducted the transportation challenge, while IFTI's Interim Director, Associate Director and PhD candidates showcased a transportation simulation.
11.20.13 IFTI and Russian Academy of Water Transport Agree to Exchange Program
IFTI hosted a delegation of 20 Russian logistics professionals as part of the International Trade Administration Special American Business Internship Training (SABIT) Program Nov. 18-20. During the program, the U of M and Volga State Academy of Water Transport signed a memorandum of agreement to hold scientific, educational and cultural exchanges. Dr. Andy Meyers, U of M vice provost for Research, signed the agreement on behalf of Interim President Brad Martin. Read more...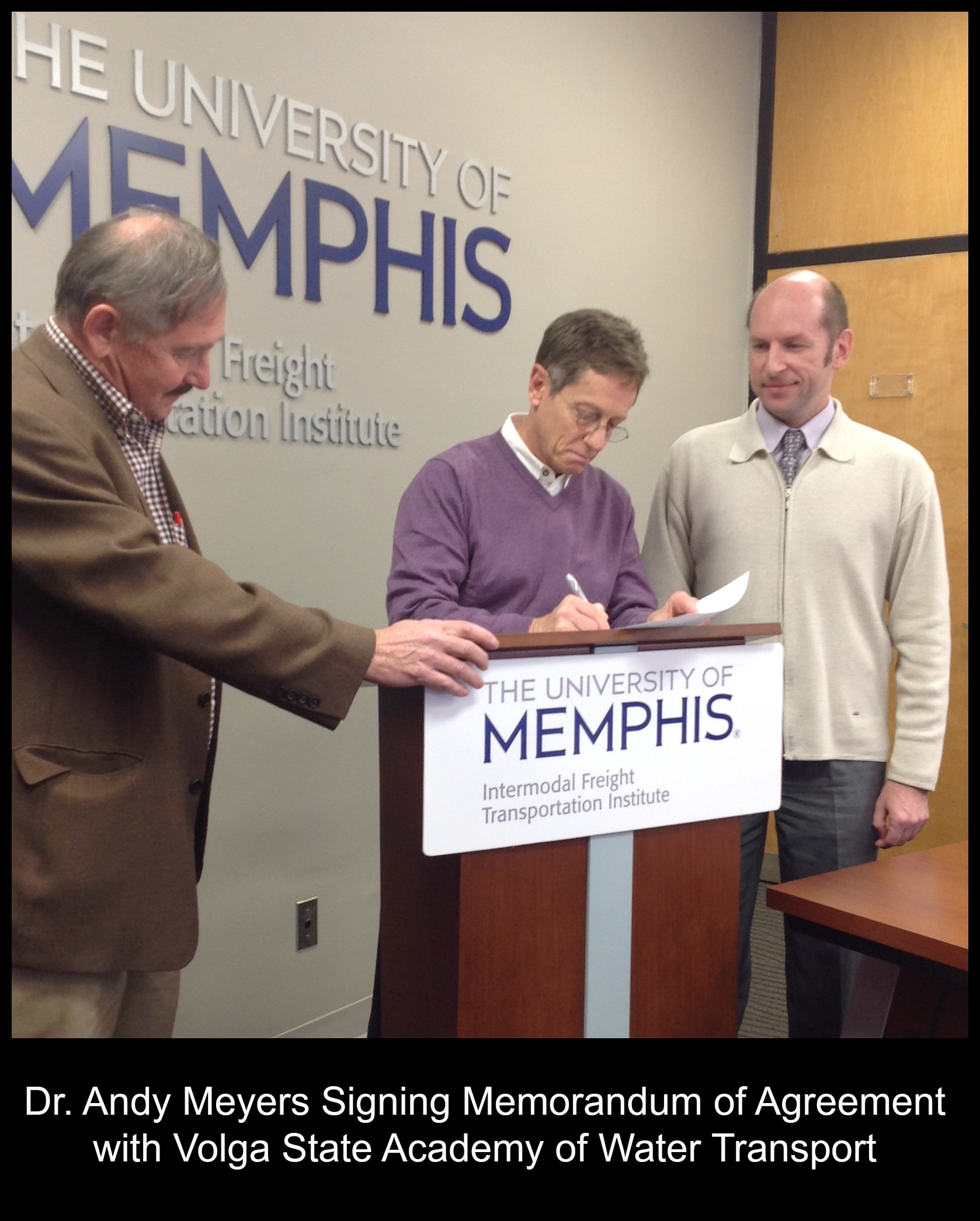 11.19.13 Multi-Disciplinary Networking at the U of M
On November 19, University of Memphis transportation and logistics students attended the Memphis World Trade Club monthly meeting featuring long-time transportation friend of IFTI, Neely Mallory. The networking and mentoring mixer was held in downtown Memphis at the historic Cotton Museum. Dan Pallme, IFTI Director, introduced the 12 U of M students to over 100 memphis area transportation professionals.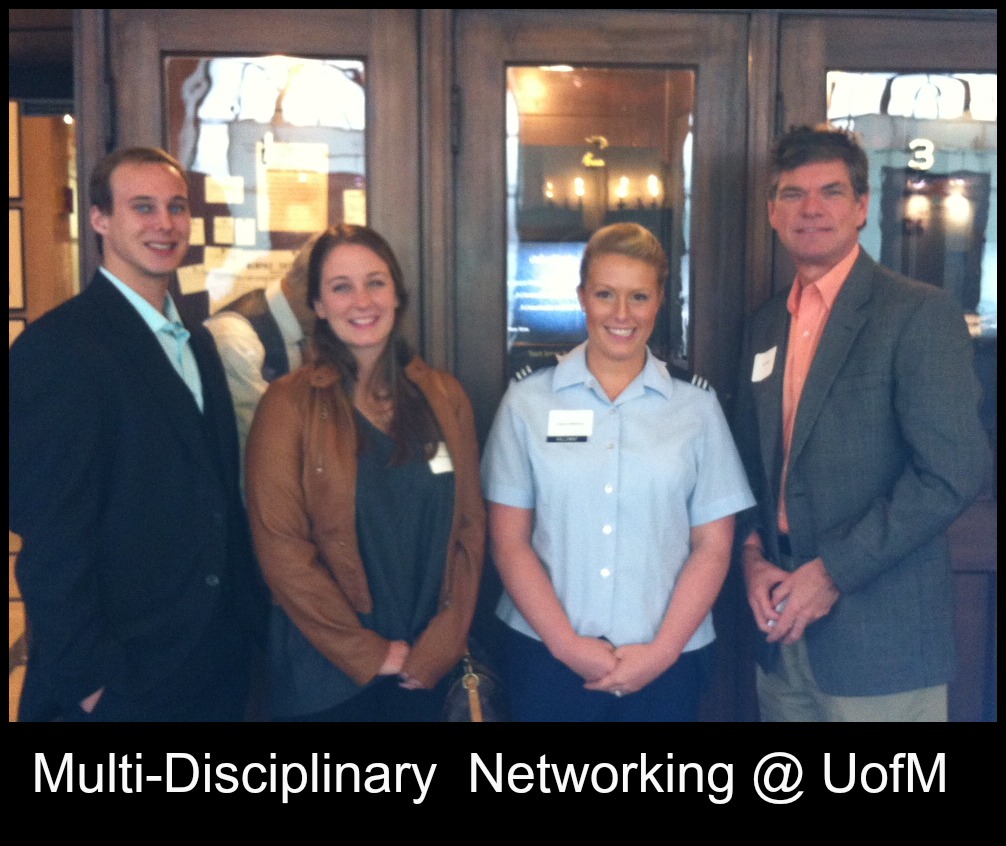 11.12.13 Driving West TN Forward
Dan Pallme served as a panelist for the Driving West TN Forward forum at the University of Memphis Lambuth Campus on November 12. The forum explored the growing use of natural gas as a source of fuel for transportation. Clean burning natural gas has become a major player in its use as a transportation fuel, with costs at one-half to one-third that of gasoline, and the need for the United States to be energy independent is at an all time high. While many utilities, public agencies, companies, and individuals are reaping the economic benefits, there is still a need to educate these groups on the significant benefits that can be realized. Approximately 50 people attended the event. Read the Jackson Sun's article.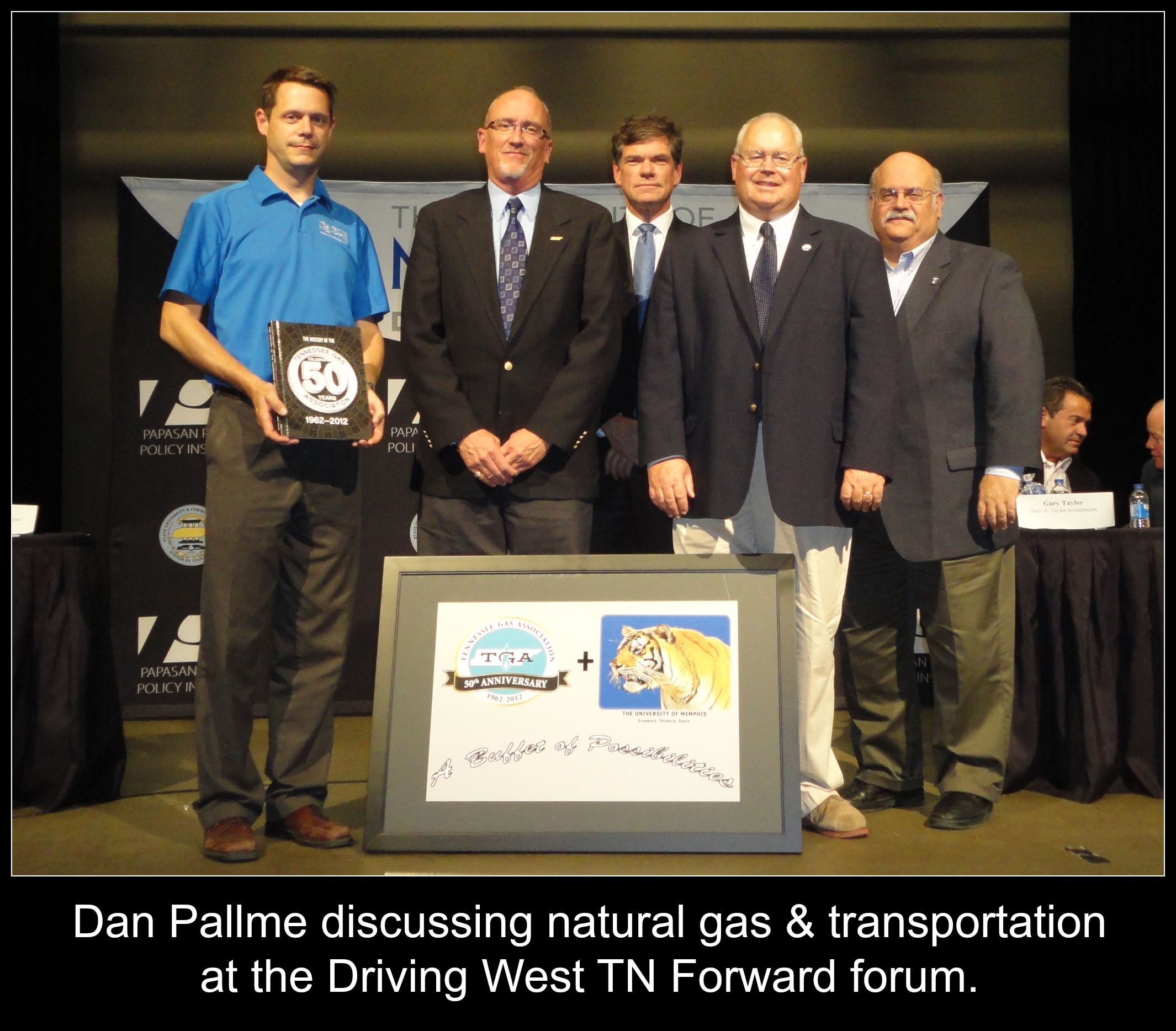 11.1.13 The White House Issued a Challenge...the University of Memphis Accepted
Challenge: Increase the breadth of women participating in the transportation workforce. IFTI accepted the challenge and then some. Click here to read RITA's spotlight article on the Center for Advancement of Female Transportation Professionals.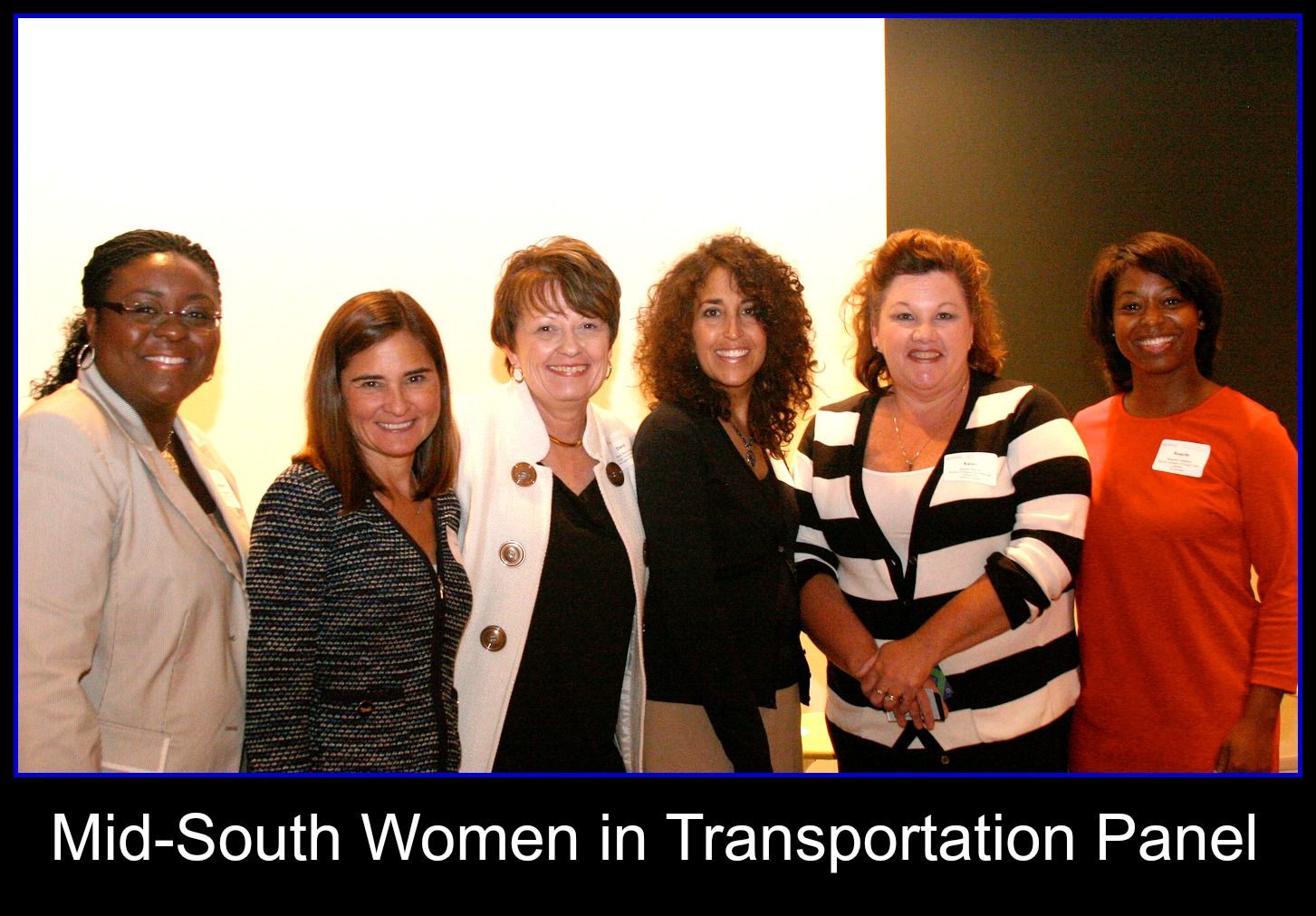 10.24.13 IFTI Researcher Presents @ Conference
The Transportation Research Board Strategic Highway Research Program (SHRP 2) recently conducted a two day symposium in Herndon, Virginia to provide a forum to explore how transportation planners, in focusing on freight flows, can benefit from using private-sector techniques to amplify existing freight-demand forecasting models, data. Dr. Sabya Mishra's research was presented in the symposium. National and international public-sector planners, modeling researchers, and private-sector supply-chain practitioners attended the conference.
10.14.13 IFTI Students Enjoy Port Night
Thanks to a generous donation from the Memphis World Trade Club, 10 IFTI students researchers attended Port Night, the Trade Club's annual evening event, on Thursday, October 10. Allan Bowden, immediate past President of the Memphis World Trade Club introduced the students to the over 700 attendees.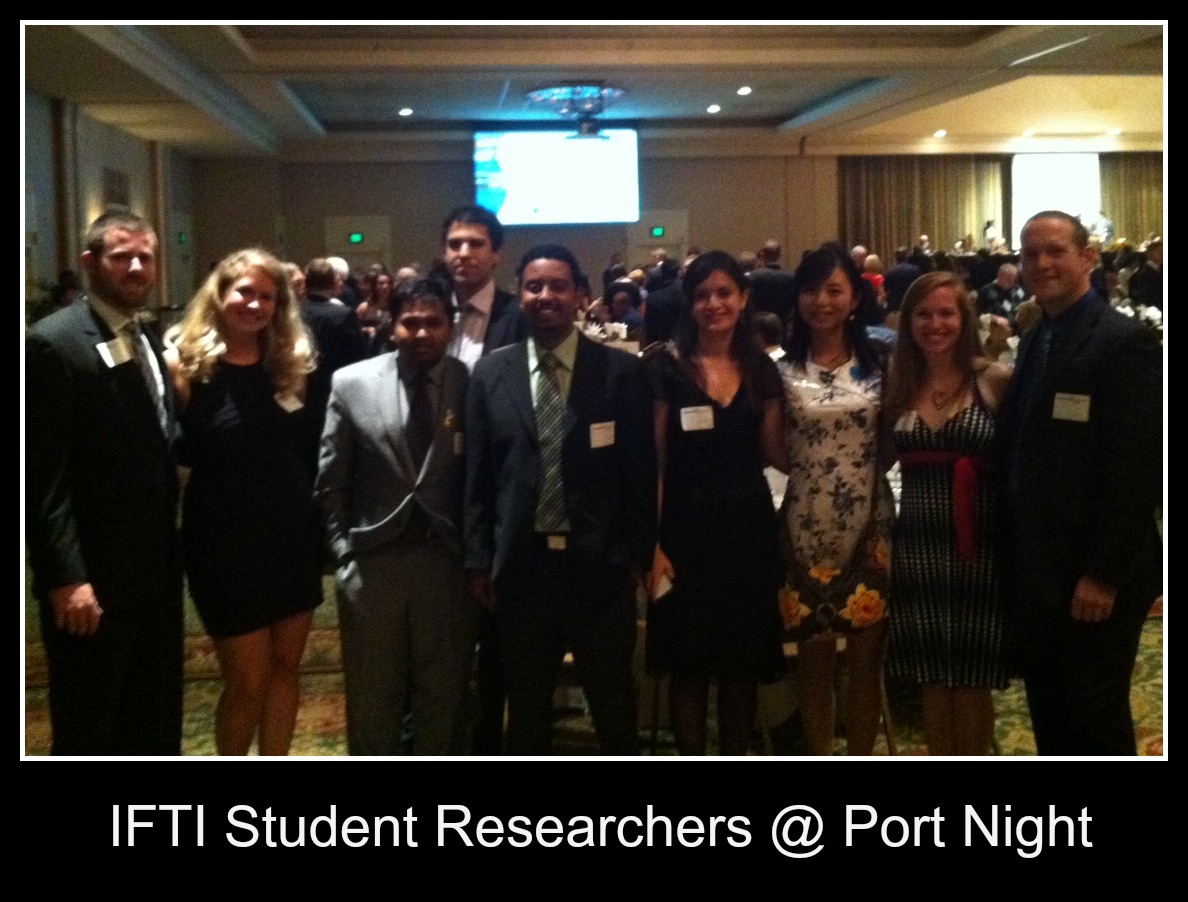 10.4.13 IFTI Participates in Quarterly MPO Meeting
Our good friends at the Memphis MPO asked Dan Pallme, IFTI Director, to serve as a speaker for the MDOT quarterly meeting. The meeting served as an opportunity for staff from each agency to meet and provide updates on projects, find solutions to operational issues and share best practices among the MPO's. Dan shared information about his work with FRATIS on the Federal level to about 35 MPO personnel from Tennessee and Mississippi.
9.24.13 Transportation and Logistics - Not Just for Men!
On September 24, 2013, Cheryl Citrone moderated the the Mid-South Women in Transportation Panel and Networking Session. The panel showcased the variety of opportunities available through transportation careers, highlighted challenges and successes of women in the Memphis area pursuing these fields, and provided an opportunity for networking amongst students, faculty and industry professionals focused in transportation. Click here to read and see more! IFTI's Center for the Advancement of Female Transportation Professionals and the Society for Female Transportation Professionals (Memphis Branch) hosted event.
9.24.13 7th Annual Intermodal Freight Conference
IFTI hosted the 7th Annual Intermodal Conference on September 24, 2013 at the FedEx Institute of Technology on the University of Memphis campus. The conference featured world-class presentations by industry experts, government officials, and transportation professors. Several IFTI students were recognized for excelling in transportation research and for their contributions to the transportation industry. Click here to read the Memphis Daily News Article. Access conference materials here.
Leaders in Transportation: Dr. Marty Lipinksi IFTI, TDOT Commissioner John Schroer, TN Senate Majority Leader Mark Norris and Rep Cohen photo courtesy of Neila Dempsey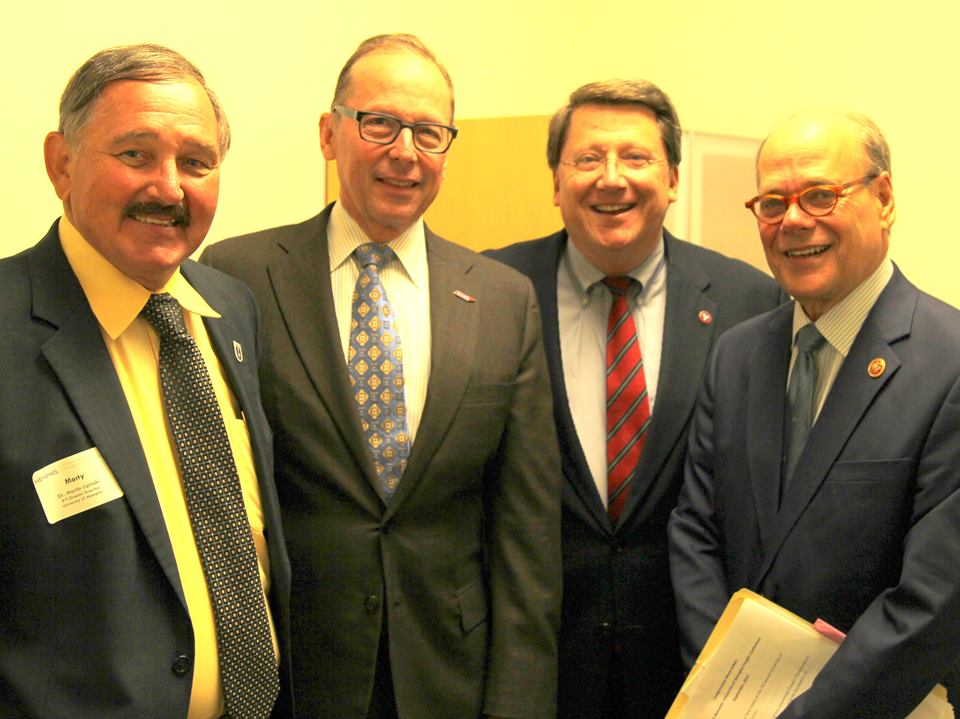 9.24.13 2013 IFTI Special Recognition
IFTI Friend of the Year

Tanisha Hall

Director of Long Range Planning

TDOT

IFTI Student of the Year

Virginia Annie Wise

TIDA Scholar

Jim Mersereau
9.20.13 IFTI Reaching Out to Memphis Area Rotarians
Dan Pallme was invited to speak at the Friday, September 20th Rotary Club of Memphis Central meeting. Dan discussed IFTI's Freight Transportation Leadership Academy and explained how the program is designed to equip industry executives with fundamental leadership skills, a base of knowledge in the four transportation modes and their connectivity as well as the opportunity to learn from and network with other transportation professionals.
9.12.13 IFTI Students Attend Women's Conference
Four female IFTI research students attended the Great Women, Great Things conference. During the conference, the students participated in professional development sessions and networked with Memphis-area women transportation professionals.
9.9.13 Intermodal Freight Conference Featured in the MJB
IFTI's good friend, Andy Ashby, featured the September 24 Intermodal Freight Conference in today's Memphis Business Journal. Click here to read the story.
9.6.13 Mid-South Women in Transportation Panel
IFTI's Center for the Advancement of Female Transportation Professionals invites you to the Mid-South Women in Transportation panel Tuesday, September 24th from 1:00-2:30. The panel session will be hosted following the Intermodal Freight Conference in the Fishbowl Room (205) of the FedEx Institute of Technology.
The free session will showcase the variety of opportunities available through transportation careers, highlight challenges and successes of women in the Memphis area pursuing these fields, and provide an opportunity for networking amongst students, faculty and industry professionals focused in transportation.
The session will also explore opportunities for the newly-formed Society of Female Transportation Professionals to provide networking and professional development for women in these fields. Please join us as we start the conversations connecting future and current transportation professionals!
9.5.13 Grab your golf clubs, put on your game face...
The 4th Annual Fight for the Freight Cup Golf Tournament is coming up! Join IFTI on Thursday, October 3rd at the Windyke Country club. Enjoy beautiful weather, great friends, refreshing drinks, good golf and lots of prizes!
9.1.13 IFTI Creates New Center for Women
IFTI's vision is to connect people to solutions in freight and logistics. The new Center for the Advancement of Female Transportation Professionals (CAFTP) achieves this mission. CAFTP provides a forum for research, education, and professional development focusing on increasing representation and advancement of women in the transportation profession.
8.20.13 IFTI Hosts TDOT Meeting
The Tennessee Department of Transportation hosted their Regional Freight Advisory Committee meeting at the University of Memphis today. IFTI served has the host institution and welcomed over 20 people to campus.
8.16.13 Dan Pallme Makes the News!
Dan Pallme was featured as a transportation expert on a Fox 13 News story. Darrell Greene was determining if Memphis is ready for a train derailment. Watch Dan in action here.
8.9.13 USDOT Chief Economist Coming to Memphis!
USDOT Chief Economist, John "Jack" Wells is joining the Intermodal Freight Conference speaker line up. This year's conference is outstanding! Join IFTI for the free conference scheduled for September 24, 2013. Register today!
8.7.13 IFTI Director Attends Meeting with Secretary Foxx
Dan Pallme was part of a small group of Memphis area transportation industryprofessionals who participated in a transportation roundtable with Secretary Foxx. The attendees included regional and state stakeholders.
8.6.13 IFTI Director Addresses Memphis MPO
Dan Pallme, IFTI Director made a presentation to the Memphis MPO Freight Advisory Committee. Dan was one of five outside speakers invited to address the group of about 45 participants. His presentation shared information about the work he is doing with IFTWG. The Committee appointed Shelby County Mayor Mark Luttrell as Chair and Mr. Don Colvin of FedEx and a member of the IFTI Executive Board as Vice Chair. This committee structure ensures that public and private sector freight stakeholders have a direct line of communication with the Transportation Policy Board (TPB). The FAC meeting agenda included presentations covering major highway construction projects in the region, new technology that can improve private sector operational efficiency, and an outline of the next steps in developing an MPO Freight Plan.The MPO is utilizing the U of M depth of knowledge with private industry. Dan and Pragati Srivastava worked together to create the agenda and flow of the meeting.
8.5.13 IFTI Associate Director Meets with CFIRE Partners
Sean Ellis, IFTI's Associate Director traveled to Hattiesburg, MS to participate the Center for Logistics, Trade and Transportation (CLTT) at the University of Southern Mississippi strategic planning and advisory committee meetings.
7.29.13 IFTI Addresses Kazakhstan Trade Delegation
Dr. Martin Lipinski and Sean Ellis shared information about IFTI with approximately 20 business owners and entrepreneurs from Kazakhstan as part of the Kazakhstan Business Connections Development Tour. Organized by International Executive Service Corps and sponsored by USAID, the group is in the United States for three weeks to visit American cities noted for their connection to trade and logistics.
7.12.13 Listen to Dan Pallme on the FHWA Talking Freight Seminar
Dan Pallme served as a panelist on the June 19th Talking Freight Seminar on the Growth of Inland Intermodal Facilities sponsored by the Federal Highway Administration. Dan provided an overall economic and transportation perspective. His presentation focused on the factors that influence the growth of intermodal facilities at inland locations and other economic development and transportation by-products associated with the opening of these facilities. Access the podcast and notes here.
7.11.13. CFIRE Project Update Webinar
Researchers from Vanderbilt University and the University of Wisconsin-Madison gave updates on two CFIRE research initiatives. Mark Abkowitz and Bob Stammer (Vanderbilt) spoke about the Multi-Modal Freight Safety, Security, and Environmental Routing Tool (RI-01) project. Download this presentation. Mark Abkowitz and Janey Kamp (Vanderbilt) and Tracey Holloway and Monica Harkey (University of Wisconsin-Madison) spoke about the Estimating the Effects of Extreme Weather on Transportation Infrastructure (RI-05) project. Download this presentation. In addition, you can listen to the audio recording for both presentations.
7.2.13 IFTI Researcher Published!
Dr. Esra Ozdenerol and Dr. Angela Antipova's findings for the research project Using Longitudinal Employer Dynamics (LED) data for the Analysis of Memphis Aerotropolis, Tennessee were accepted for publication by the Journal of Applied Geography.
6.24.13 IFTI Interim Director Addresses Congressional Freight Panel
Dan Pallme, IFTI's Interim Director, briefed the Congressional Panel on 21st Century Freight Transportation about IFTI's freight research and University Transportation Center.
6.17 - 6.21.13 Transportation Week at the U of M!
IFTI researchers and students are opening doors and minds to engineering professions through two fast-paced interactive summer programs that engage, educate, and excite Memphis area students with a number of activities designed to motivate and challenge participants to explore engineering. The Girls Experiencing Engineering Program (GEE) targets middle and high school aged girls. The male version of the program is called TRansportation Engineering Careers (TREC).
6.17.13 CFIRE Project Update Webinar
Richard Stewart (UW-Superior), Gene Clark (UW Sea Grant), David Knight (Great Lakes Commission), and Bill Likos (UW-Madison) presented updates on three projects related to the beneficial use of dredged materials. The recorded version of this webinar is now available for online viewing.
6.11-6.12.13 IFTI Hosts National CUTC Meeting
More than 130 transportation-related academicians from the major universities in the United States will attend the two-day conference. Participants will include individuals from Massachusetts Institute of Technology, Northwestern University, the University of California-Berkeley and many other schools, as well as representatives from the U.S. Department of Transportation and state transportation organizations. Read More...
5.30.13 CFIRE Project Update Webinar
Martin Lipinski (University of Memphis) and Mihalis Golias (University of Memphis) presented updates the Enhancing Rail Connectivity to Underserved Rural Communities (RI-07) project. The recorded version of this webinar is now available for online viewing.
5.6.13 CFIRE Project Update Webinar
Dr. Stephanie Ivey from the University of Memphis presented an update on the Making Freight-Centric Communities More Livable (RI-02) project. The recorded version of this webinar is now available for online viewing.
4.24.13 Dan Pallme Moderates Roundtable Panel
Dan Pallme moderated the roundtable panel on the movement of goods and people at the 2013 ITS America Annual Meeting and Expo. The roundtable speakers included Dennis Beal, VP for Global Vehicles at FedEx; Thom Mason, Laboratory Direcotr for Oak Ridge National Laboratory; and Brian Heath, President of Drivewyze Inc. Approximately 250 delegates attended the educational session.
4.16.13 Congrats to IFTI Associates!
We are thrilled to announce that not one, but two IFTI colleagues were recognized at the Herff College of Engineering Awards dinner. Sean Ellis, Associate Director, was named 2013 Outstanding Staff. Dr. Mike Golias, IFTI Researcher, received the Outstanding Faculty Research Award.
4.4.13 IFTI Researcher Headed to the White House
Dr. Stephanie Ivey has received an exclusive invitation from U.S. Secretary of Transportation Ray LaHood and the White House Office of Public Engagement to participate in a special forum on Women in Transportation in Washington, D.C.
The forum is focused on increasing opportunities for women in transportation. As a member of this select group, Dr. Ivey will share best practices relative to the education, recruitment, retention and leadership development of women. LaHood hopes to use these discussions as a catalyst for evolving strategies for overcoming barriers. Read more...
4.4.13 Opening Doors and Minds to Engineering Professions
Dan Pallme, Dr. Mike Golias and Dr. Sabya Mishra are attending the UTC conference for the southeastern region in Orlando, FL. The conference host is one of our proposed Regional partners, the Southeastern Transportation Research, Innovation, Development and Education (STRIDE) Center. Dan will be showcasing the work IFTI is doing to impact the future and current workforce.
3.27.13 Motivating Students to Dream and Soar!
As part of IFTI's yearlong partnership with Wooddale High School that is highlighting the many career opportunities in the transportation industry, both Wooddale High and Middle School students were inspired to believe in their dreams. Barrington Irving, the youngest person and the first African American pilot to fly solo around the world, presented his inspirational message to students and VIP guests in the Wooddale High School auditorium. We believe that after months of field trips, presentations and hands on projects, Mr. Irving's presentation personalized everything we have been doing this year through the Garrett A. Morgan grant.
2.7.13 The first National Student Freight Symposium and Workforce Summit Were a Success!
The Intermodal Freight Transportation Institute (IFTI) as part of the National Center for Freight and Infrastructure Research and Education (CFIRE) sponsored a combined national Student Freight Symposium and Workforce Summit on February 5-6, 2013 at the University of Memphis. Student representatives from fourteen universities showcased their research, connected with industry experts, networked with their peers, and toured local freight facilities. These students are forming the next generation of freight leaders. The two programs were integrated to provide industry professionals with opportunities to interact with some of the best transportation students from across the nation at both the undergraduate and graduate level. Conversely, the students actively networked and participated in mock interviews with the industry representatives.
The Freight Workforce Summit provided an opportunity for private industry, public sector and academic institutions to discuss the growing workforce challenges facing this industry. The participants discussed this critical issue with the intention of finding real solutions to a national problem. CFIRE provided academic representation from a wide range of academic disciplines and universities. The companies represented included FedEx, CN, Schneider National, JB Hunt, the US Department of Transportation and the Tennessee Department of Transportation.
1.29.13 Dr. Lipinski Contributes to National Publication
Dr. Lipinski was once again tapped by a national publication to share his expertise. Click here to read the article in the Christian Science Monitor.
1.12.13 Dr. Lipinski on NPR's "On Point"
Our very own Dr. L was interviewed by Tom Ashbrook, host to the NPR show "On Point". Dr. Lipinski discussed the effects of drought on the Mississippi River. Listen here.