Prof. Otis Sanford
Hardin Chair of Excellence in Economic and Managerial Journalism
Office
318B Meeman Journalism Building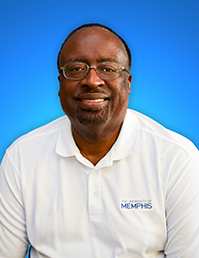 Education
B.A., Journalism, University of Mississippi
About Prof. Otis Sanford
Prof. Otis Sanford began his professional journalism career in 1975 in Jackson, Mississippi at The Clarion-Ledger as an entertainment and feature writer. He later covered police and local government at The Clarion-Ledger.
In 1977, he joined The Commercial Appeal as a general assignment reporter. In August 1977 he covered the death of Elvis Presley. Later at The Commercial Appeal, he covered the federal court beat for seven years, and also covered the state courts, county government and politics before being promoted to assistant metro editor in 1986.
In 1987 Prof. Sanford joined The Pittsburgh Press as an assistant city editor where he directed that newspaper's local, state and national political coverage. In 1992, he joined Detroit Free Press as a deputy city editor in charge of coordinating the paper's daily local news coverage.
In 1994 Prof. Sanford returned to The Commercial Appeal as deputy managing editor and in 2000 he launched The Desoto Appeal daily edition and pioneered The Teen Appeal high school student newspaper in 1997. In 2002 Prof. Sanford was promoted to managing editor and in 2007 he was named editor for opinion and editorials. In that role, he started writing a weekly column for the Sunday Viewpoint section. He also launched the citizen editorial board to give readers an opportunity to help shape the newspaper's editorial voice. In 2008 he served as chairman of the Mid-America Press Institute and in 2010 Sanford was elected president of the Associated Press Managing Editors Association.
In January 2011, Prof. Sanford joined the University of Memphis Department of Journalism faculty. He currently teaches Media Writing, Mass Media, Diversity & Society, Survey of Mass Communication and Reporting. He continues to write the weekly Viewpoint column for The Commercial Appeal and does daily political commentary for WREG-TV Channel 3 in the Memphis. He also serves as a panelist and co-host of Informed Sources, a weekly public affairs show on Channel 3.
Prof. Sanford is married and has four children. In his spare time, He enjoys going to the movies with his wife. He also is a die-hard Memphis Grizzlies fan and has been a season ticket holder since the day they moved to Memphis.