THE ACADEMIC PROGRAM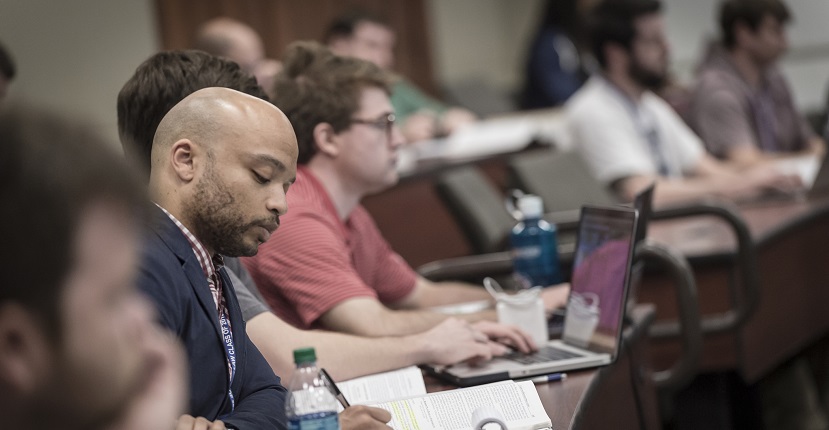 The goal of the School is to prepare students to practice law. The Law School awards the Juris Doctor (J.D.) degree. Students must complete 90 semester hours to receive a J.D. The Law School also offers a limited number of seats for part-time students, who attend classes with full-time students and have a reduced class load of 8 to 11 hours per semester.
The first-year class of roughly 130 students is divided into two sections to facilitate active participation in all facets of the first-year curriculum, which introduces students to core areas of law and to the building blocks of law practice. The goal of the first-year curriculum is to introduce students to the unique way lawyers reason and solve problems. An important aspect of the curriculum is a course in Legal Methods, ranked #29 in the latest 2020 U.S. News & World Report rankings. This course focuses on the skills required to practice law, including legal analysis, legal research, and legal writing. First-year students also have the opportunity to participate in an intra-school Moot Court competition.
Areas of Study
The upper-level curriculum offers a wide range of elective courses in which students develop substantive legal knowledge and fundamental skills while focusing on areas of interest. Courses in practice skills such as trial advocacy, mediation, alternative dispute resolution, and legal drafting also are offered. Building on its focus on skills education, the Law School has instituted a Certificate in Advocacy.
The Law School also focuses on health law by offering several upper-level courses and promoting scholarship and discussion concerning health care law and policy. Students can obtain a Certificate in Health Law, and they have the opportunity to provide pro bono health-care related legal services to low-income individuals.
Students can also obtain Certificates in Business Law and Tax Law. For more information on the Certificate programs, refer to certificate information page found here.
The Law School offers numerous for-credit externships to upper-level students seeking to learn and gain experience through work in a wide variety of supervised, off-campus legal settings. Student externs concurrently enroll in a seminar course designed to allow for ongoing reflection upon the many legal, ethical, and professional issues arising in their externship placements.
The University of Memphis Legal Clinic: Hands-on Learning through Supervised, Live-Client Representation
Housed within the Law School facility, the University of Memphis Legal Clinic is both a law office serving low-income individuals in and around Memphis and a highly specialized classroom in which upper level students continue to develop the fundamental legal skills and professional judgment they will use in full-time practice. Student attorneys engage in faculty-supervised client representation to examine law and advocacy and to navigate ethical, substantive, procedural, and evidentiary issues.
Clinic students participate in classroom seminars, in-class case rounds and presentations, case team meetings, and group and individual simulations. Student attorneys also gain exposure to the practice of law, working together with supervising faculty members and class members to address the many case, office, and time-management issues arising each day in their representations. Each Clinic student earns invaluable experience in client interviewing and counseling; drafting pleadings, motions, briefs, orders, advance directives, correspondence, and other legal documents; representing clients in negotiations, mediations, hearings, and trials; and otherwise interacting with court officials, members of the bar, and other legal decision makers. Students experience the rewards of representing under-served individuals who have compelling legal issues, such as children, elders, and those living in poverty.
Current clinical course offerings include: the Elder Law Clinic, the Housing Adjudication Clinic, the Mediation Clinic, the Medical-Legal Partnership Clinic, and the Neighborhood Preservation Clinic.
Joint- and Dual-Degree Programs
J.D./M.B.A:
For those students interested in both law and business management, the Cecil C. Humphreys School of Law, in coordination with the Fogelman College of Business and Economics, offers a degree program leading to both the J.D. and M.B.A. in less time than would be required to complete both programs independently. Enrollment is dependent on being accepted separately into both schools.
J.D./M.A.:
Students with an interest in public policy may enroll in the dual-degree program leading to both the J.D. and M.A. in Political Science. Enrollment is dependent on being accepted separately into both schools.
J.D./M.P.H.
Public health, public policy and issues of health disparities are at the forefront of many of America's unresolved social problems. Rising health care costs pose a growing threat to the economy, while for some access to even the most basic health care is tenuous. Lawyers play a central role in society's approach to these public health issues. However, their effectiveness is frequently limited by an inadequate knowledge of public health matters. To close this educational gap, the University of Memphis has created the JD/MPH dual degree program. The program offers students the opportunity to pursue the JD (juris doctor) and MPH (master of public health) degrees simultaneously. Students will have the ability to complete both degrees in four years of full-time study, a year less than it would take to complete each degree separately.
To learn more about joint- and dual-degree programs, visit our degree programs page here.
Pro Bono Graduation Requirement
The pro bono graduation requirement reflects the Law School's commitment to the highest standards of the legal profession. Each student must perform 40 hours of uncompensated, law- or school-related public service before graduation.
Academic Support and Writing Center
The Cecil C. Humphreys School of Law has an Academic Support Program open to all first-year students. This program is designed to provide first-year students with the tools necessary for academic success, and it offers both individual tutoring conducted by upper-level law students and group workshops led by the Director of Academic Support. In addition, students in Legal Methods can take advantage of the Law School's Writing Center. The Writing Center is designed to help first-year law students acclimate to the rigors of legal writing.