POSITION DESCRIPTION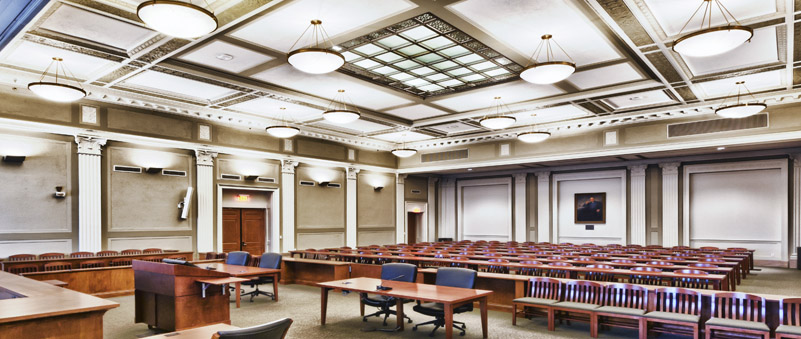 The Position
The new Dean will have an opportunity to transform the School of Law by developing, articulating, and implementing a shared vision. The Dean of the School of Law must be a visionary leader committed to excellence in research, scholarly productivity, teaching and pedagogy, and service. The Dean will serve as a broker and architect of partnerships within the University and across the larger community to facilitate excellence and encourage innovation. The successful candidate will also demonstrate the capacity to build strategic partnerships, raise funds to support the School and its initiatives, manage budgets effectively, and work collaboratively with a variety of local, state, and national stakeholders.
Responsibilities
The Dean provides strong leadership in planning, development, and implementation of all School programs and policies. Specific responsibilities include approval of hiring, tenure, and promotion decisions; effective management of resources; coordination of outreach activities; support of research, including pursuit of external funding; and School development. The Dean has primary budgetary responsibility and accountability for the School and its programs. The Dean plays a leading role in developing and implementing professional programs promoting academic and student success.
Qualifications
The Dean of the School of Law must have demonstrated significant achievement in leadership, scholarly activities, and administration. The Dean should be a transformative change-agent who is committed to shared governance and open communication. Specifically, the candidates must demonstrate evidence of the following qualifications:
A Juris Doctor or other appropriate doctoral degree from an accredited institution of higher education and qualified to hold professorial rank within the School of Law
A distinguished record of teaching, research, and scholarship
The energy and vision to lead the School of Law in its drive to increase excellence
Excellent communication and interpersonal skills for relating effectively with the varied constituencies of the School, University, and the larger community
A strong commitment to promoting diversity, inclusion, and equity
A record of responsible administrative experience and achievements
A commitment to excellence in all of the educational programs in the School, to the expansion of student success, research opportunities, and innovative program development
Ability to foster a collaborative environment
Proven record of successful external fundraising (Preferred)
Applications should include a letter of interest, CV, and full contact information for a minimum of three references. References will be contacted only at the stage of on-campus interviews. Applications are accepted at the online job posting found here.
A review of applications and nominations will begin on April 8, 2019 and continue until the position is filled.
For additional information please contact:
Dr. Kandi Hill-Clarke, Dean of the College of Education and Search Committee Chair