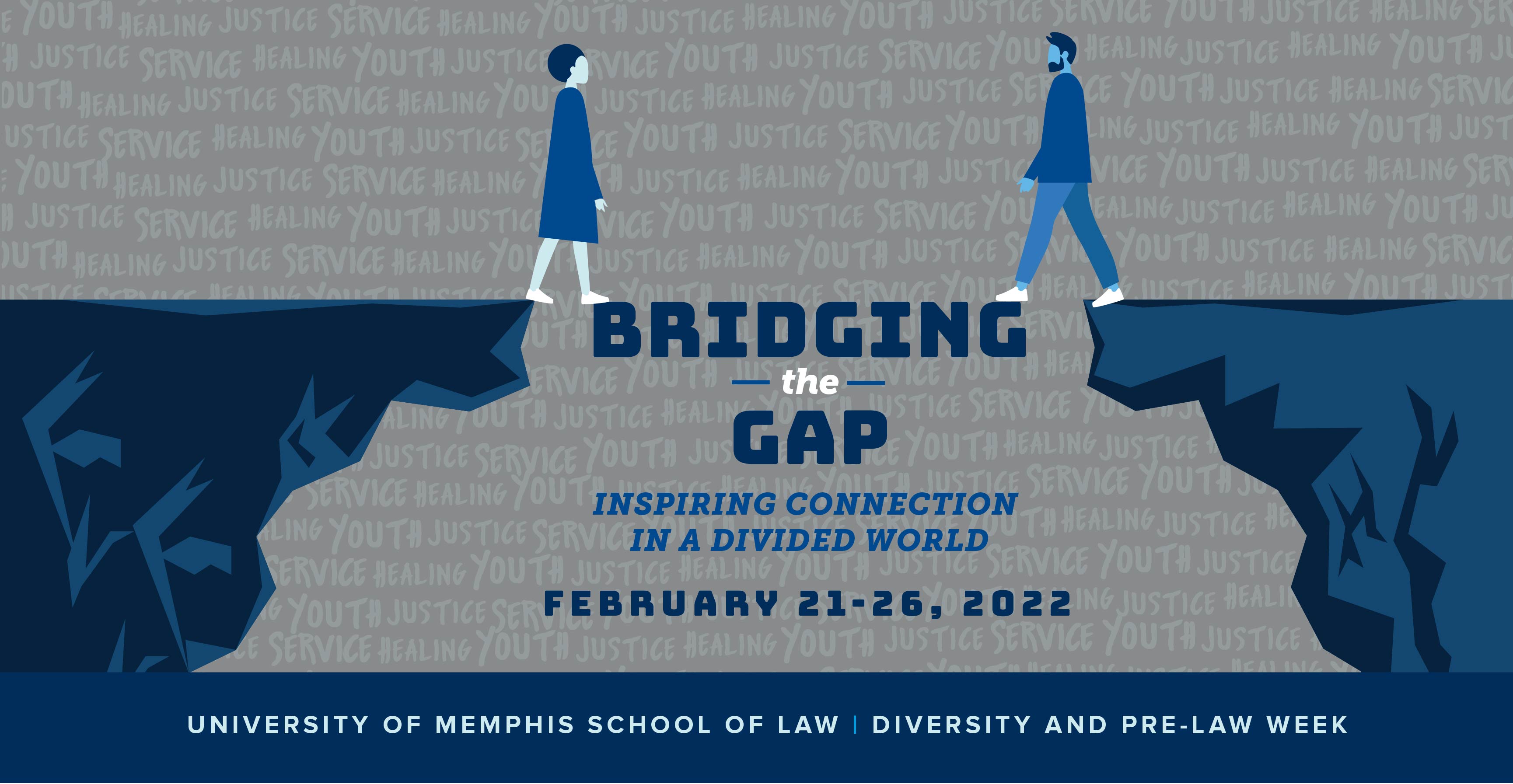 Diversity & Pre-Law Week 2022
BRIDGING THE GAP: INSPIRING CONNECTION IN A DIVIDED WORLD
February 21 - 26, 2022
Diversity Week 2022 celebrates and promotes the importance of diversity, equity, and inclusion at Memphis Law and highlights diverse student experiences and organizations while providing valuable information about the law school admissions process and legal careers to prospective students.
This year's program themed, "Bridging the Gap," explores the ways lawyers and legal environments can connect our community and bridge the "gaps" that exist between various sectors through embracing differences, justice, youth programming, healing, storytelling, service, and advocacy.
Diversity & Pre-Law Week 2022 is a hybrid week of events with some programming in-person and some fully virtual. Please note the following event designations:
Virtual Public Event: This event is fully virtual and open generally to the public. Registration preferred, but not required.
In-Person Public Event: This event is in-person as noted below and open generally to the public. To ensure these events do not exceed capacity, registration is required.
In-Person Student Event: This event is in-Person and only open to current Memphis Law students and invited guests. Registration/RSVP required as noted below.
Masks are required for all in-person events at the Law School and National Civil Rights Museum.
---
MONDAY, 2/21: Bridging the Gap Through Justice
Diversity Week Opening Keynote Address Featuring Attorney Kylar Broadus (11:50am-12:50pm)
Cosponsored by Bass, Berry, Sims, PLC & OUTLaw
Attorney Kylar Broadus is a Black trans man that has been a pioneer in the movement as an attorney, long-time activist, public speaker, author, and professor.
Attorney Broadus will discuss intersectionality, social justice, and inspiring connection between underserved communities. Attorney Broadus is known worldwide for his leadership and advocacy in the LGBT+ and Trans movements.
---
TUESDAY, 2/22: Bridging the Gap Through Identity & Youth
In-Person Student Event
Breaking the Model Minority Myth Part 1: A Two-Part Discussion About the Asian-American Experience (11:50-12:50, Wade Auditorium)
Cosponsored by Asian Pacific American Law Student Association
This documentary, hosted in a two-part viewing and discussion, will explore how the Model Minority Myth impacts both Asian-American and Non-Asian-American youth and how associated negative bias carries into adulthood.
Part One of the discussion will center the importance of early education, cultural competence/exposure, and how misconceptions about the Asian American Pacific Islander community further racial tensions generally.
Virtual Speed Mentoring for High Schoolers & Summer Program Informational (5:30pm-7pm)
Cosponsored by Bass, Berry, Sims, PLC & Street Law
High school students will have the opportunity to meet current Memphis Law students on valuable college and law school preparation advice.
Students will also be provided a brief presentation about Memphis Law's Summer Trial & Advocacy Institute (STAI) and the Memphis Bar Association's Summer Law Intern Program (SLIP).
---
THURSDAY, 2/24: Bridging the Gap Through Healing & Story Telling
Trauma-Informed Lawyering Webinar with Professors Sarah Katz and Deeya Haldar (11:50am-12:50pm)
Cosponsored by the Health Law Society
Trauma can have long-lasting consequences, but lawyers are not always aware of client trauma and the way it might impact representation. Moreover, lawyers are often under-prepared for the vicarious trauma they experience through clients. Professors Sarah Katz (Temple Law School) and Deeya Haldar (Villanova University Charles Widger School of Law) will lead a discussion on trauma-informed lawyering and avoiding vicarious trauma.
In-Person Student Event
Storytelling Workshop with Professor Camilo Romero (4:30pm-6pm, Reading Room)
Cosponsored by the Hispanic Law Students Association
RSVP Here (Students Only)
Professor Camilo Romero, co-founder of ReGeneración, will lead a small group workshop on advocacy through storytelling and human connection. ReGeneración is a peace-building initiative, launched in Colombia and now operating globally, committed to healing intergenerational trauma through story-telling workshops, cultural celebrations, and children's books.
---
FRIDAY, 2/25: Bridging the Gap Through Service
In-Person Public Event
Drop your donations for both projects in the cul-de-sac behind the Law School at 1 North Front Street from 11:30-2pm. No donations will be accepted after drop-off. Please contact Takeyshia Johnson by email about any donations prior to drop-off date.
Youth Detention Book & Art Supply Drive
Memphis Law will support youth in juvenile detention by donating books, art supplies, and other creative activities that prevent idleness such as puzzles and games.
Counselor's Closet Reboot
Gently used professional attire donations will be accepted for Memphis Law's Counselor's Closet.
---
SATURDAY, 2/26: Bridging the Gap Through Connection & Advocacy
In-Person Public Events (at Memphis Law)
Tours of the Law School Building (10:30am-11:30am)—Register to RSVP
Cosponsored by the Office of Law School Admissions
Named as having the nation's "Best Law School Facilities," our building is a must-see for any prospective student, alumni, or member of the legal community. The Law School building may also be toured virtually here.
Check out our additional admissions content at the bottom of this page!
Diversity Network Luncheon (11:30am-12:45pm)—Register to RSVP
Join us for lunch with members of Memphis Bar Association.
Mock Trial Demonstration (1pm-1:30pm)
Cosponsored by Moot Court Board
Mock trial is one of the most engaging law school activities in which a student can participate. Memphis Law students will provide a brief demonstration of a simulated trial competition excerpt in the law school's Historic Courtroom.
In-Person Public Events (at the National Civil Rights Museum)
An Afternoon with Deborah Archer, President of the American Civil Liberties Union (2:30pm-4:30pm)
Cosponsored by the National Civil Rights Museum and the Black Law Students Association
Join us at the National Civil Rights Museum for an afternoon with Attorney Deborah Archer discussing her extensive career as a civil rights attorney. The first woman of color to lead the American Civil Liberties Union (ACLU), Attorney Archer will provide insight on the legal horizon for civil liberties and bridging gaps in justice through contemporary advocacy.
Diversity Week Closing Reception (4:30 pm-6pm)
Cosponsored by the Ben F. Jones Chapter of the National Bar Association
Following Attorney Archer's remarks, join us for light fair and networking to close our week—compliments of the Ben F. Jones Chapter of the National Bar Association.
---
Available Anytime—Asynchronous Content & Recorded Sessions
---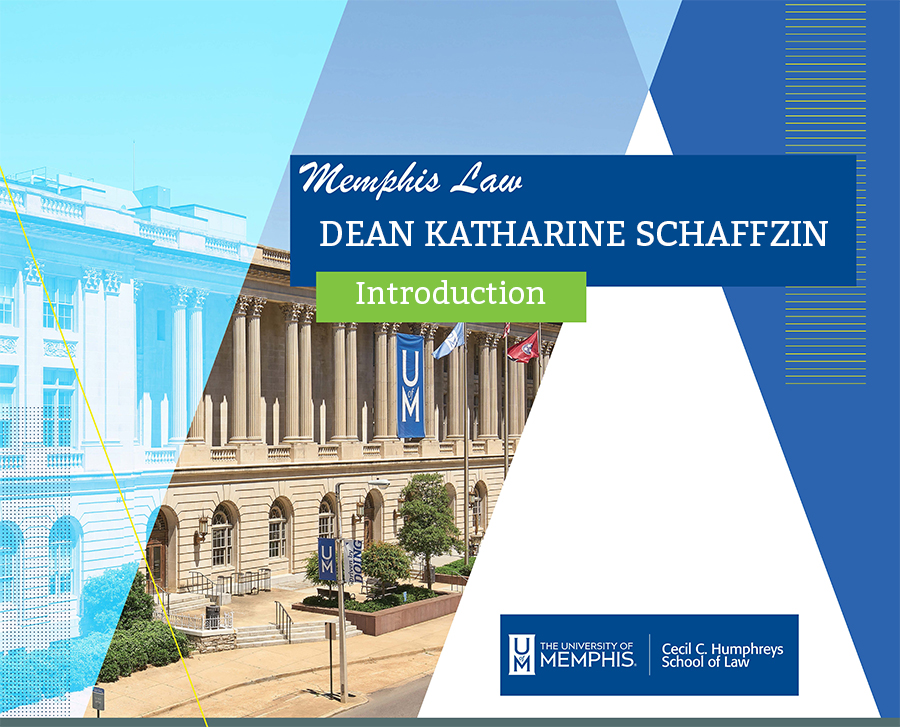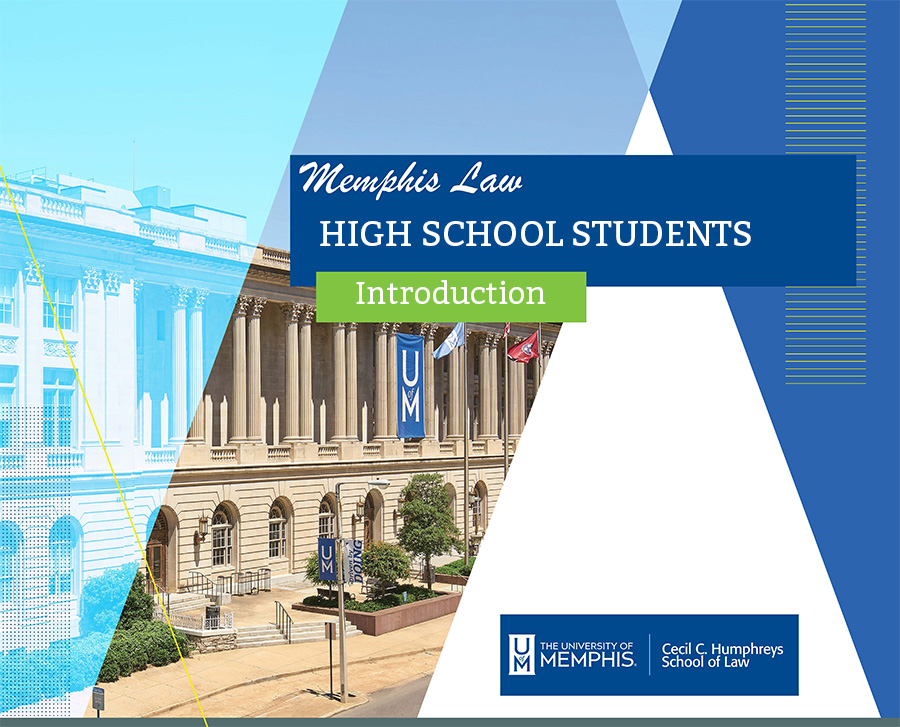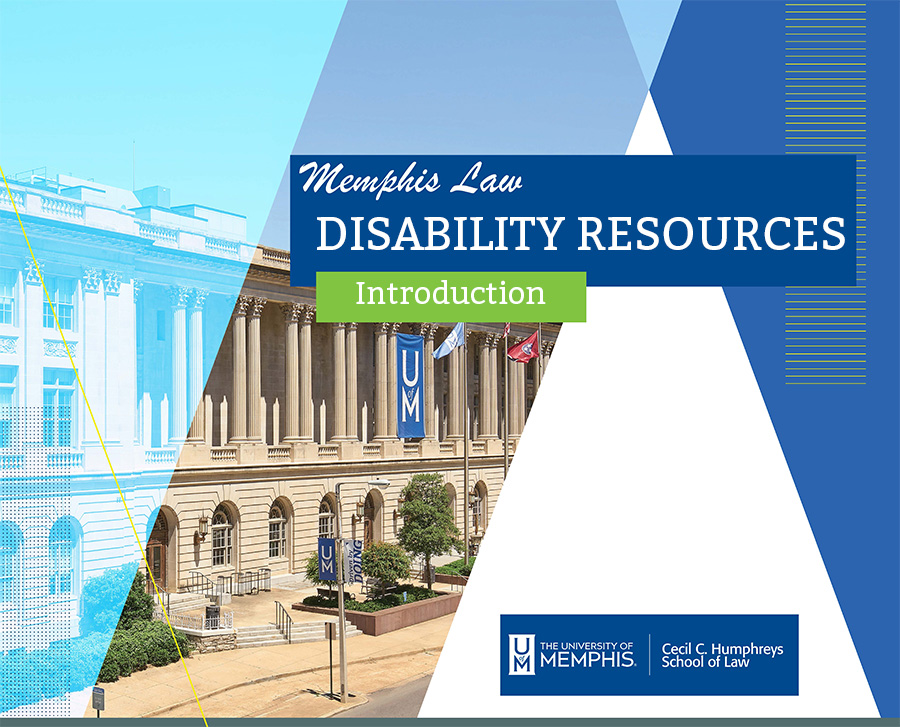 Kaleb Sy:
Marissa Pittman: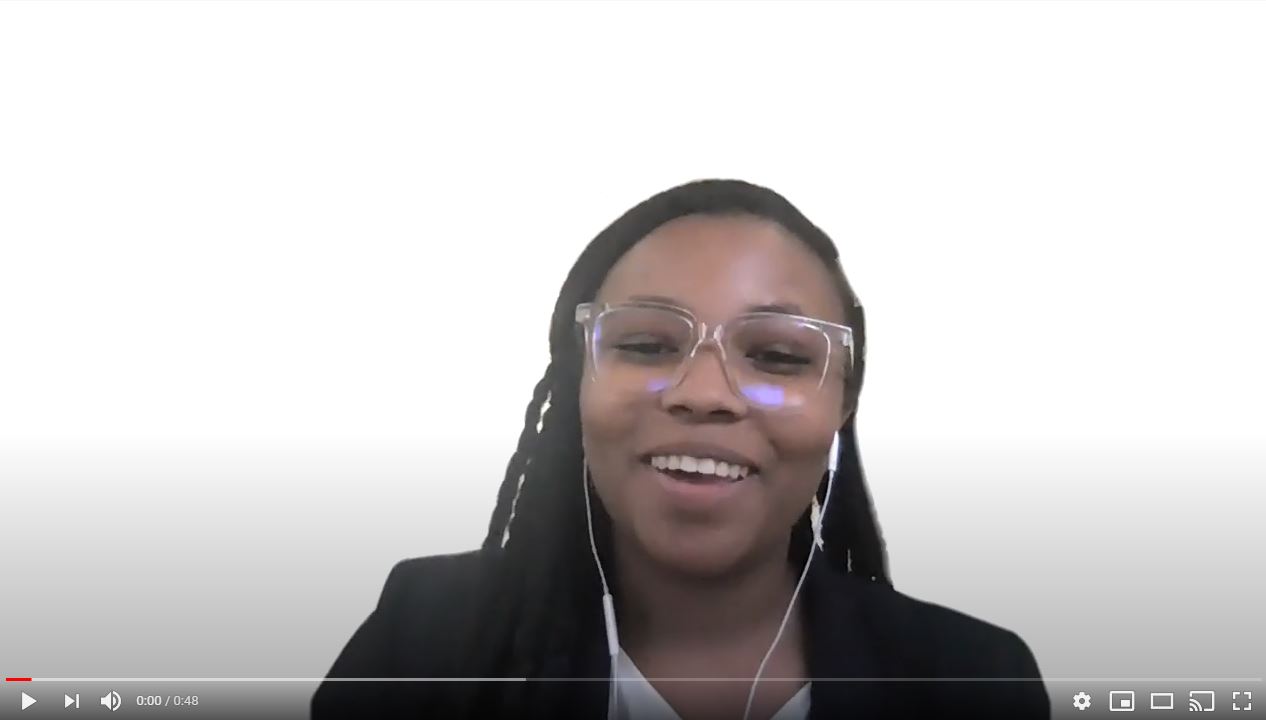 DEAN SUE ANN MCCLELLAN INTRODUCTION