IMPLICIT BIAS CONFERENCE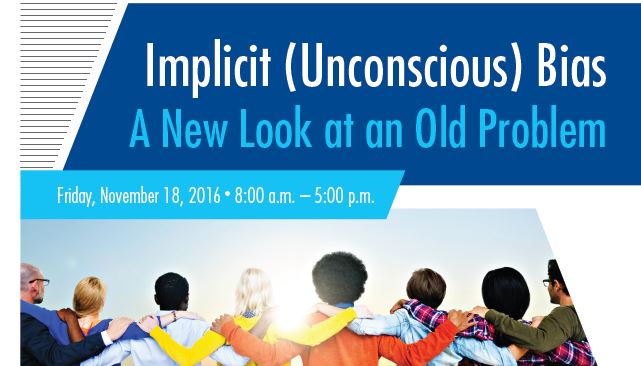 IMPLICIT (UNCONSCIOUS) BIAS CONFERENCE
FRIDAY, NOV. 18
8:00 A.M. - 5:00 P.M.
UNIV. OF MEMPHIS SCHOOL OF LAW
1 NORTH FRONT ST.
Thought by some to be an "old" problem, explicit bias continues to influence virtually all areas of American life including the business world, the media, education, and our justice systems. In addition, decision-makers may also be influenced by implicit (unconscious) bias. How implicit bias operates including strategies that will assist decision-makers in recognizing, shaping and managing its influence is the subject of this must-attend conference that will provide "A New Look At An Old Problem."
Explicit bias refers to bias that is a product of conscious, intentional discriminatory behaviors. In contrast, implicit bias refers to the more recent and controversial belief that automatic, unintentional biases and stereotypes people experience toward members of social groups or categories of people other than their own, can influence their decision-making and systemically and adversely affect members of certain groups. The importance of this topic is illustrated by the recent mandate by the U. S. Department of Justice requiring more than 33,000 of its agents and attorneys to undergo training to eliminate the influence of implicit bias in law enforcement decisions.
Non-Attorneys and government employees: $75; Attorneys: $125.
Nationally recognized experts will explore these timely and important topics, with the keynote address by Paulette Brown, Immediate Past President of the American Bar Association.
You may see the full program by clicking here.
This program is approved for 7 hours CLE (6 general, 1 dual) and 8 SHRM re-certification credits HRCI re-certification credits are pending.