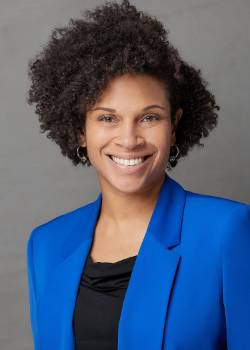 Demetria Frank
Assistant Professor of Law
Email
djcksn24@memphis.edu
Office
Law School, Room 351
About Professor Frank
Professor Demetria Frank joined the University of Memphis Law faculty in June 2013 and currently teaches courses in Evidence, Federal Courts, and a Mass Incarceration seminar. Before making her way to Memphis Law, Professor Frank was a member of the University of Wyoming Law faculty where she began her academic career teaching Torts and Trial Advocacy.
Along with law teaching, Professor Frank has a passion for community development and social activism. In January 2017 she began Project MI, a collaborative that aims to transform the criminal justice system and eliminate racial injustice by aggressive advocacy, leadership development, and connecting opportunity communities to law makers. Professor Frank's current research interests involve prisoner rights and justice involved youth intervention strategies. She is a regular speaker, consultant, and commentator on issues involving systemic bias and inequity, community development, federal court litigation practice, and the overgrowth of the detention and prison industries.
Professor Frank attended the University of Texas School of Law and began her legal career as a toxic tort litigation attorney before moving into the public sector as a Community Prosecutor in the Dallas City Attorney's Office. Her tenure as an Associate Judge for the City of Dallas and the City of Houston has been one of the most influential experiences in her legal career.
In her free time, Professor Frank enjoys cooking, travel, and spending time with her daughter, Tia.
Education
The University of Texas School of Law, 2005; University of Houston (cum laude).
Admitted
State Bar of Texas
Experience
University of Wyoming College of Law, Assistant Professor of Law (2011-2013), Brent Coon & Associates, PC, Litigation Manager (2009-2011); The City of Dallas, Associate Municipal Court Judge, Assistant City Attorney (2007-2009); Waters & Kraus, LLP, Associate (2005-2007)
Teaching Interests
Evidence, Federal Courts, Pretrial Litigation, Torts and Trial Practice
Publications
Prisoner-to-Public Communication, Brooklyn Law Review, 84 Brook. L. Rev. 115, Fall, 2018
MLK50: Where do We Go from Here, Co-authored with Professor Daniel Kiel, University of Memphis Law Review, Volume 49, 2018 (Essay)
The Proof is in the Prejudice: A Proposal Confronting Implicit Racial Bias in Uncharged Act Evidence, 32 Harv. J. Racial & Ethnic Just. 1, Spring, 2016
The Medical Device Federal Preemption Trilogy: Salvaging Due Process for Injured Patients, 35 S. Ill.U. L.J. 453, Winter, 2011
Implicit Bias & Disproportionate Minority Contact in the Shelby County Memphis Juvenile Court System, Benjamin L. Hooks Institute for Social Change, October 2018 (Policy Paper)
Social Inequity, Cultural Reform & Diversity in the Legal Profession, 13 S. J. Pol'y & Just. 25, Fall 2019 (Policy Paper)