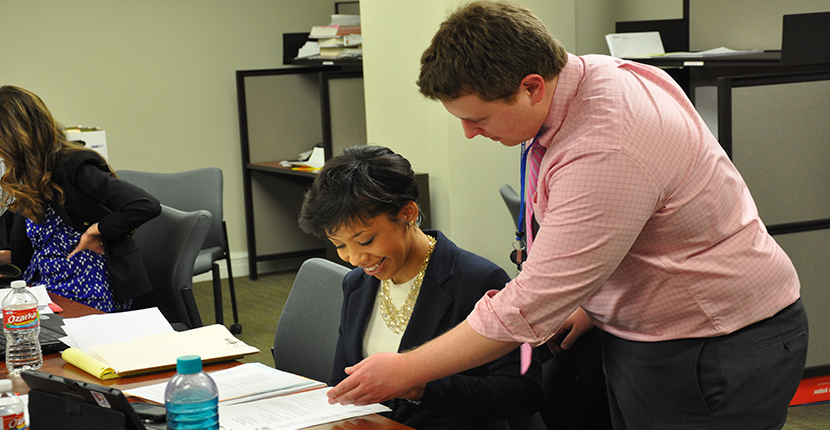 EXPERIENTIAL LEARNING
A strength of the University of Memphis School of Law is its commitment to graduating students who are prepared to practice law. Within Memphis Law's Experiential Learning Curriculum, upper-level students build upon the foundation of core doctrinal course work by immersing themselves in supervised legal activities designed to further develop essential lawyering skills and professional values.
The Experiential Learning Curriculum centers around two academic programs:
The University of Memphis Legal Clinic
The University of Memphis Legal Clinic is an academic program and professional law office housed within the walls of the law school. Working under the direct and ongoing supervision of licensed faculty members, clinic student attorneys represent clients in a wide variety of lawsuits and other legal matters, maintaining primary responsibility for all aspects of the cases to which they are assigned. Through their case-related work and simultaneous participation in a faculty-led, weekly seminar, clinic student attorneys further hone essential legal skills and take an important step toward becoming strategic, reflective, and self-aware attorneys.
The following clinics will be offered during the Spring 2018 semester:
For more information about the University of Memphis Legal Clinic, please see:
The University of Memphis Externship Program offers upper-level law students the opportunity to earn academic credit for carefully supervised legal work they perform in a variety of practice settings throughout the Memphis area. Stepping outside the traditional classroom, externship students learn by doing and observing, further developing essential research and writing skills, communication abilities, and problem-solving techniques under the direction of local judges and attorneys. To maximize this experiential learning opportunity, externship students simultaneously participate in a faculty-led seminar designed to introduce the essential habits of the reflective practitioner and assessment of the skills, relationships, issues, and mindsets that prevail in the practice setting.
Field placements through the Externship Program include the U.S. Court of Appeals for the Sixth Circuit, U.S. District Court, U.S. Bankruptcy Court, Tennessee Supreme Court, Tennessee Court of Appeals, Shelby County Circuit Court, U.S. Attorney's Office, Federal Public Defender's Office, Shelby County District Attorney General's Office, Shelby County Public Defender's Office, the National Labor Relations Board, and Memphis Area Legal Services.
To read various articles and news coverage about the work being done by students in our experiential learning program, please click here: Experiential Learning News
For more information about the University of Memphis Externship Program, please see: