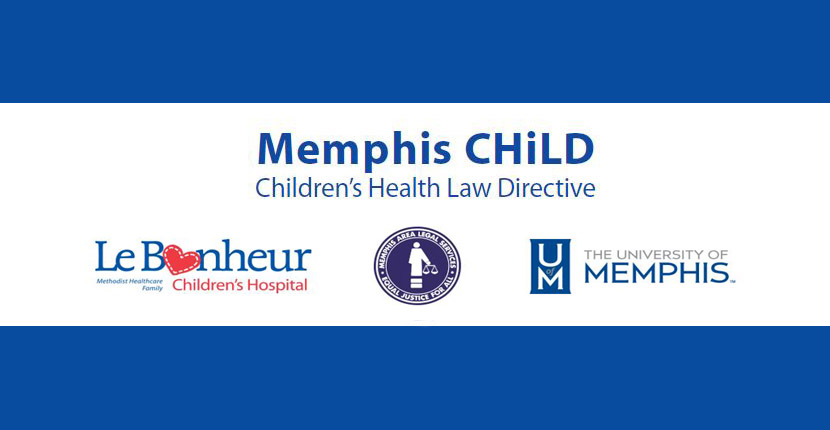 MEMPHIS CHiLD
The University of Memphis Cecil C. Humphreys School of Law, Memphis Area Legal Services (MALS) and Le Bonheur Children's Hospital have collaborated to create Memphis CHiLD (Children's Health Law Directive), the first medical-legal partnership of its kind in the region, encompassing all of Tennessee, Arkansas and Mississippi.
In addition to a variety of training programs and educational, bi-directional partnerships, Memphis CHiLD will also consist of an on-site Legal Clinic located at Le Bonheur Children's Hospital, where Memphis Law students, working under the supervision of a devoted clinical professor and a MALS staff attorney, will have devoted space to work on cases and referrals, meet with patients/clients, and conduct training sessions. Medical professionals and Le Bonheur residents will have access to the clinic as well, and will have direct involvement in the Memphis CHiLD Legal Clinic training sessions and learning opportunities available through the program.
Medical-Legal Partnership Clinic (MLP)
Mission:
To make Memphis and the community a healthier place through the identification of legal and social issues that impact patient health and providing means to address these issues though direct legal services, education, and systemic advocacy for patients.
The Memphis CHiLD Medical Legal Partnership will train students (both law and medical), attorneys, and medical professionals (i.e. residents, social workers, administrators, etc.) to recognize the types of legal issues and problems that impact the health of low-income children and their families and how to provide important legal assistance to them. This bi-directional education of an interdisciplinary team of caregivers will allow Memphis CHiLD to more holistically address the needs of patients and clients in the medical system.
The Memphis CHiLD Approach:
Memphis CHiLD will seek to educate a number of different audiences about the social determinants of health, i.e. the circumstances in which people are born, grow up, live, work, play, etc. as well as the systems designed to improve health and treat illness, and how these issues have an important impact on the health and well-being of individuals and the communities they live in.
The program will seek to educate law students and healthcare professionals in order to more effectively treat and prevent detrimental health-related legal needs for patients by doing the following:
Train Memphis Law students, Le Bonheur medical staff, and legal teams to collaborate and learn to identify needs in advance and as they see them present themselves in the hospital.
Treat patients' social and legal needs that are detrimental to their health with legal aid ranging from triage and consultation to real-world legal representation.
Adapt clinic practice and hospital policies to better respond to patients' legal needs and health-harming social conditions/factors.
Prevent harmful health-related legal needs by detecting patterns amongst patients and improving policies and regulations that have an impact on community populations' health.