Jazz is strong in Memphis.
Jazz and Studio Music Ensembles have a long and successful history at the University of Memphis. Both music majors and non-majors at the University are strongly encouraged to participate in the performing groups, as well as classes and applied lessons offered in the Jazz and Studio Music curriculum.
Having contact with guest artists and music professionals is an important part of the Jazz and Studio Music program. Recent visiting guest artists have included Bob Berg, the Woody Herman Orchestra, Joe Locke, Marvin Stamm, Randy Brecker, and Elaine Elias.
Southern Comfort Jazz Orchestra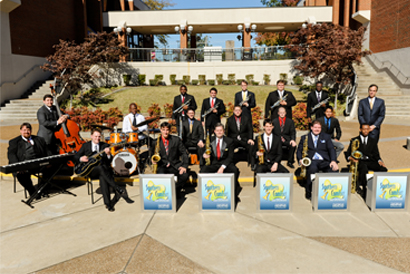 The Southern Comfort Jazz Orchestra has a long reputation of musical excellence at the University of Memphis. The group is comprised of 17 outstanding full-time university student musicians ranging from undergraduates through doctoral candidates. The ensemble performs a wide range of styles from composers Fletcher Henderson and Duke Ellington to modern composers such as Jim McNeely and Bob Brookmeyer. The group continually performs and records new student compositions, commissions, and new works from outside composers on an annual basis.
Past performances have included a tour of Europe and presentations at the International Association of Jazz Educators Conference, and the Tennessee Music Educators Association convention. Most recently the group was honored to be a part of the National Endowment of the Humanities "Looking at Jazz" series held in the Mid-South.
They have recorded two CDs, "Voices" and "Out of the Bluffs" for Select-O-Hits, Memphis.
For more information, contact Dr. Jack Cooper.
Jazz Ensemble II
Jazz Ensemble II is a 17-piece jazz ensemble that performs concerts at the University of Memphis and rehearses twice a week. Participants receive one hour of undergraduate credit. The group works on sight reading and skills necessary to play in the jazz ensemble genre. Rehearsals are Tuesdays and Thursdays from 1:00 pm - 3:00 pm. Auditions are held every fall semester. For more information contact Dr. Jack Cooper, conductor by email or at 901.678.2547.
Jazz Singers I and II
The University of Memphis Jazz Singers is comprised of 10 to 15 male and female vocal students. This group performs a wide range of music from traditional arrangements of jazz standards to more contemporary fusion jazz. Auditions are held at the beginning of each semester.
Commercial Music Combos
The Commercial Music Combos program is essential in the jazz curriculum because of the concentration on the art of jazz improvisation. Due to the size and popularity of combos, the program fields anywhere from 8 to 12 combos in a semester. All instrumentalists and vocalists are invited to enroll in the groups. Each combo has one class session of an hour a week and spends extra time on their own to prepare material for performances. The class times are TBA depending on the availability of combo members. For more information contact Dr. Jack Cooper, conductor by email or at 901.678.2547.