Hitting high notes.
With a variety of choral and other vocal performance ensembles ranging from classical to contemporary styles, numerous performing opportunities are available to music majors and non-music majors. In addition to UofM ensembles, the Memphis community offers students participation in such organizations as Opera Memphis and the Memphis Vocal Arts Ensemble. For more information, contact the individual directors listed below.
University Singers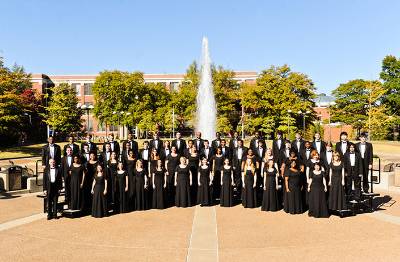 The University Singers is a mixed ensemble of undergraduate and graduate students performing choral literature from the 14th through the 20th century. During the fall semester, the group tours area high schools for recruiting purposes. International tours are planned every few years. Auditions are held at the beginning of each semester. The actual size of the group will vary depending on the number of singers available for each voice part. The ensemble meets for an hour and a half, three times a week. Members earn one hour of undergraduate or graduate credit per semester. For additional information, contact Dr. Lawrence Edwards, Director, by email or at 901.678.3767.
Chamber Choir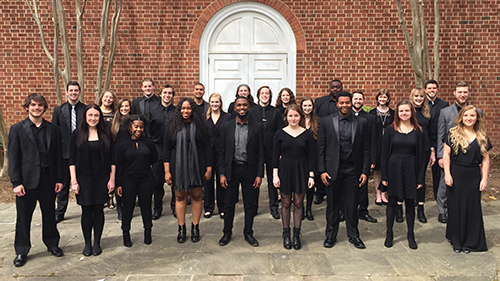 Chamber Choir is a 26-member select chamber ensemble composed of undergraduate and graduate students at the University of Memphis. This auditioned ensemble performs works of many style periods ranging from early Renaissance through contemporary. The group performs on the university campus and in schools and churches throughout the Memphis area and Mid-South. In 2015, Chamber Choir performed at the Tennessee Music Education Association Professional Development Conference and recently completed a successful concert tour throughout Italy.
Collegiate Choir
If you love to sing, join the Collegiate Choir. All students regardless of major are welcome and there is no audition. Earn one hour credit toward your degree. Everyone is welcome to join. The choir meets Tuesdays and Thursdays from 1:00 pm to 2:25 pm. Register for MUAP 2007 when you sign up for your classes. For more information, contact Emily Frizzell, Director, at emilyfrizzell02@gmail.com.