Francis Cathlina
Visiting Director of Choral Activities
Office Hours
Email for an appointment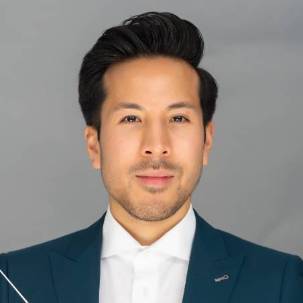 Education
D.M.A., Doctor of Musical Arts, University of North Texas, 2021
M.M., Master of Music, Michigan State University, 2019
B.M.E., Bachelor of Music Education, Baylor University, 2014
Biography
Conductor-teacher Francis Cathlina, D.M.A., is a Vietnamese-American whose career is compelled by the shared human experience of connection. His Eastern heritage shapes his work: he builds community and efficacious leaders through choral artistry.
Currently, Dr. Cathlina serves as the Visiting Director of Choral Activities and Assistant Professor of Music at the University of Memphis. He conducts the University Singers and Soprano/Alto Choir and teaches graduate and undergraduate conducting. Prior, he directed the Tenor/Bass Choir and taught conducting and music education courses at the University of North Texas as a doctoral teaching fellow.
Ensembles supported by Dr. Cathlina's direction sing to inspire through innovative programming, enhanced by the practice of Choregie. During his tenure at Centennial High School, the A Cappella Choir was nationally recognized as 3rd place in The American Prize for Choral Performance.
As a first-generation musician, Dr. Cathlina exemplifies a peerless work ethic, and he strives to instill this in all mentees. Former students describe their experience of him, highlighting his "high expectations, enthusiasm, and passion for not only teaching but for caring about every one of his students." While at UNT, the American Prize in Conducting recognized Dr. Cathlina as a National Finalist in the College/University Division for his work with the UNT Tenor/Bass Chorus. In addition, his work in the Southwestern ACDA Graduate Conducting Competition garnered him 2nd place both times he competed. Early in his career, he was designated the "Young Director of Distinction" by the Texas Choral Directors Association (TCDA).
An active clinician, Dr. Cathlina seeks to share choral music's transformative power through inclusive pedagogy. He hopes that his students mature into first-rate musicians, refined thinkers, and compassionate citizens that enhance their part of the world. Recent clinics involve students in Texas region choirs and public schools. Future engagements include guest conductor of the TMEA Region 30 HS Mixed Choir and clinics in Arkansas, Tennessee, and Texas.
Dr. Cathlina's scholarship focuses on conducting and vocal pedagogy in choral rehearsals. In summer 2021, the American Choral Directors Association's Choral Journal published his two-part article "7 Essentials for Developing Voices in Choir: Part I" and "Part II." Additionally, he serves the profession as adjudicator and coordinator and regularly presents interest sessions throughout the United States. He is an invited presenter for Southwestern ACDA (SWACDA) and Illinois Music Educators Association in 2022.
Dr. Cathlina holds a Doctor of Musical Arts degree in choral conducting with a vocal pedagogy cognate from the University of North Texas, a Master of Music in choral conducting from Michigan State University, and a Bachelor of Music Education from Baylor University. Prior to his doctoral studies, he enjoyed a varied career as a public school teacher, working with elementary through high school-aged singers with diverse backgrounds. Dr. Cathlina lives in Memphis, Tennessee with his husband, Kyle, and their dog, Coco.