Kevin Sanders
Director
Office Hours
Email for an appointment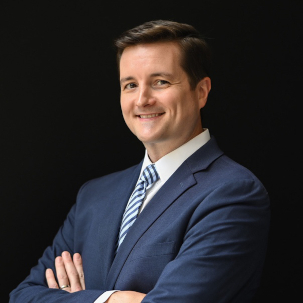 Education
D.M.A., Doctor of Musical Arts, Michigan State University, 2010
M.M., Master of Music, The Juilliard School, 2004
B.M., Bachelor of Music, Indiana University, 2002
Biography
Dr. Kevin Sanders currently serves as the director of the Rudi E. Scheidt School of Music at the University of Memphis, overseeing a comprehensive program that produces 300 events per year with over 80 faculty and staff, 400+ students, and a satellite campus in Jackson, TN.
As director, Sanders led the school of music through a transformational time with the planning, construction, and grand opening of the Scheidt Family Performing Arts Center, an 82,000 sq. ft., $40 million facility boasting state-of-the-art recording studios, large rehearsal spaces, and a 900-seat concert hall. Under his leadership, the school has moved forward in several areas, including a substantial increase in the diversity of faculty, the founding of the School of Music alumni chapter, the launch of the school's annual Blue Note magazine, and a broad expansion of the school's marketing and communications team. Sanders has also served as the catalyst for new academic programs, including an undergraduate music therapy major, and has focused the school on modernizing the undergraduate curriculum and leveraging campus and community partnerships to provide professional opportunities for students.
Sanders has established new initiatives to expand access to music education in the community and enhance the student experience, including the Scheidt Music Extension, an after-school and evening program that allows the school of music to provide educational opportunities for music enthusiasts of all ages. In addition, the school's summer programming expanded to include adult classes and camps for elementary and popular music, which led to significant enrollment growth in its first year. Sanders also established the school's Student Success Center, a centralized office for students to receive professional advising, career services, and improved access to university resources.
A classically trained musician and former tubist, his scholarly musical interests concentrate on pedagogy. His work includes eight recordings and dozens of publications, commissions, and presentations he has given around the globe, including in the U.K., China, Brazil, Australia, and Costa Rica. He has performed on five continents with some of the world's finest orchestras, including the Royal Scottish National Orchestra, Detroit Symphony, Macau Orchestra in China, and the Melbourne Symphony in Australia. He has also performed as a soloist with the United States Army Orchestra in Washington D.C. His students have been highly successful in national and international auditions, competitions, and summer festivals and hold teaching and performance positions across the U.S.
Previously, Sanders served the University of Memphis as the Dean's Fellow for Research Development, where he developed cross-campus initiatives that supported research and creative activity in the arts, and as the Associate Director for Graduate Studies and Professor of Tuba and Euphonium. Prior to that, he taught at the Crane School of Music at SUNY-Potsdam and the University of Arkansas-Fort Smith. Outside the university, Sanders and his business partner, Dr. Richard White, are sought-after keynote speakers represented by APB Speakers Bureau.
Sanders graduated from the Interlochen Arts Academy and holds degrees from Indiana University's Jacobs School of Music, the Juilliard School, and Michigan State University, with additional certification in diversity and inclusion from Cornell University and the Management Development Program in higher education from Harvard University.