Dean's Message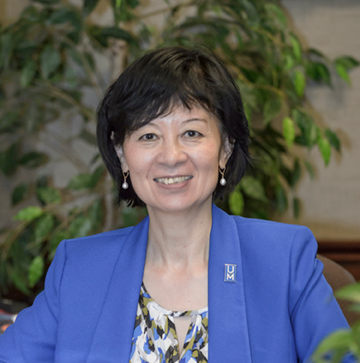 Welcome to the Loewenberg College of Nursing at the University of Memphis, the metropolitan research university! We offer student-centered, accessible, affordable, and high quality academic programs fully accredited by the Commission on Collegiate Nursing Education (CCNE).
Our distinguished faculty, motivated students, dedicated staff, and engaged community partners share a common goal - achieving health equity of the global community through Academic Nursing, academic-practice partnerships, engaged and interdisciplinary scholarship/research, rigorous scientific inquiries, and community impacts.
American Association Colleges of Nursing (AACN 2016) embraces a new vision for Academic Nursing, calling for enhanced partnership between academic nursing and health centers/practice settings to achieve improved health outcomes and foster new models for innovation. Nursing leads change and advances health.
For over 50 years, we have shown a proven record of preparing graduates for being professional nurses, advanced nurse practitioners, clinical nurse educators, academic and practice nurse leaders, and nurse scholars/scientists. Our graduates help transform the nation's healthcare to be accessible, affordable, coordinated, high quality, and improve health outcomes for diverse populations, families, and communities. Our PhD Program in Nursing focuses on health equity research through interdisciplinary and impactful efforts to transform healthcare.
We embrace the core values of caring, diversity, integrity, and leadership, and continue to strive for excellence to achieve our strategic goals – high quality and innovative academic programs, student success, technology integration, research advancement, and productive partnerships from local to global.
This is what we do at the Loewenberg College of Nursing – making a visible and transformative impact at home and around the world. I welcome you to browse our website, follow us on Twitter (@uofmnursingdean), visit our fabulous $60M Community Health Building or our Lambuth Campus in Jackson TN, and meet our talented and caring faculty, staff, and students!
We are driven by doing. We collectively and strategically build a vision to excel! Go Tigers!
Lin Zhan, PhD, RN, FAAN
Nursing Dean and Professor
Wharton Executive Fellow