Dean's Message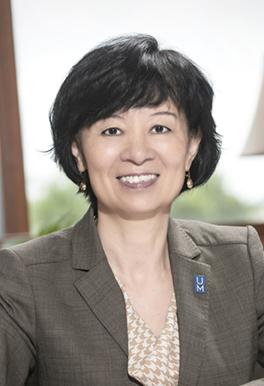 Welcome to the Loewenberg College of Nursing at the University of Memphis, the metropolitan research university! We offer student-centered, accessible, affordable, and high-quality academic programs fully accredited by the Commission on Collegiate Nursing Education (CCNE).
Amid the COVID pandemic, our faculty, students, and staff transitioned to remote teaching, learning, and working based on CDC recommendations and guidelines. The newly created Your-health Helpline, led by a group of faculty members, has provided timely responses to questions related to COVID-19. Our faculty gathered available lab supplies and PPEs (masks, gloves, ventilators) to support local health care facilities for frontline nurses and healthcare workers as they risk their lives to save lives.
In these challenging times, we continue to be committed to what we do well as our distinguished faculty, motivated students, dedicated staff, and engaged community partners share a common goal-achieving health equity of the global community through academic nursing, academic-practice partnerships, engaged and interdisciplinary scholarship/research, rigorous scientific inquiries, and community impacts.
We are engaged with national dialogues identifying ways and strategies to sustain and advance academic nursing (American Association of Colleges of Nursing and American Academy of Nursing). American Association Colleges of Nursing (AACN 2016) embraces a new vision for Academic Nursing, calling for enhanced partnerships between academic nursing and health centers/practice settings to achieve improved health outcomes and foster new models for innovation. Nursing leads change and advances health. The work of Essentials Revision is re-envisioning higher nursing education to be competency-based, across four spheres of care: 1) disease prevention/promotion of health and well-being; 2) chronic disease care; 3) regenerative or restorative care, and 4) hospice/palliative/supportive care.
Finally, we continue preparing graduates to be professional nurses, advanced nurse practitioners, clinical nurse educators, academic and practice nurse leaders, and nurse scholars/scientists. Our online graduate programs are ranked #31 and #13 for Veterans by US News and World Report (2020). Our graduates help transform the nation's healthcare to be accessible, affordable, coordinated, and high quality to improve health outcomes for diverse populations, families, and communities. Our PhD Program in Nursing focuses on health equity research through interdisciplinary and impactful efforts to transform healthcare.
The year of 2020 is the year of nurses and midwifery! We honor all nurses that make a difference and save lives!

Lin Zhan, PhD, RN, FAAN
Nursing Dean and Professor
Wharton Executive Fellow