Anita Davis Boykins, DNSc, FNP-BC, PMHNP-BC
Associate Professor/UMRF Ventures Professor
Office
3525 Community Health Building
Office Hours
Contact for appointment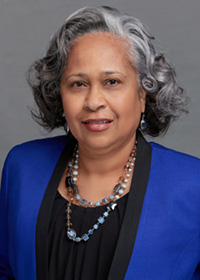 About Anita Boykins
Dr. Anita Davis Boykins completed her Doctor of Nursing Science and Master of Science in Nursing degrees at the University of Tennessee Health Science Center. Her nursing career began after receiving an Associate of Science degree in nursing from Mississippi University for Women. Later, she received a Bachelor of Science in Nursing (BSN) degree from Lewis University.
Most of Dr. Boykins' experience has been directing and teaching in Family Nurse Practitioner (FNP), Psychiatric and Mental Health Nurse Practitioner (PMHNP), and Doctor of Nursing Practice (DNP) programs. She has more than 25 years of experience in nursing education and as a nurse practitioner. She is board certified as an FNP and adult PMHNP. Dr. Boykins experience as a nurse practitioner has been with diverse underserved populations in primary care and behavioral health settings and as a Sexual Assault Nurse Examiner (SANE).
Dr. Boykins also has experience in nursing administration and has held leadership positions in clinical and academic nursing settings. She is passionate about nursing education and the nurse practitioner's role in improving health outcomes for individuals with medical and psychiatric disorders. She teaches the graduate advanced role development course and has taught in the undergraduate mental health nursing course.
Dr. Boykins is an inaugural recipient of a University of Memphis Research Foundation Ventures Professorship award. She was recently awarded a 2.7 million, four-year US Health Resources and Services Administration (HRSA) Advanced Nursing Education Workforce (ANEW) grant. The ANEW grant supports innovative academic-practice partnerships to prepare FNP students through academic and clinical training for practice in rural primary care settings. Federal funding for program grants, publications, and presentations focus on nurse practitioner education and workforce development. Her scholarly interest is on nurse practitioner (NP) program development and education and preparing NPs to deliver integrated care to individuals with co-morbid psychiatric and medical problems.