Annapoorna Mary, PhD MSc (N), RN, CCRN, CNE
Associate Professor, PhD Program Director
Office
3562 Community Health Building
Office Hours
Contact for appointment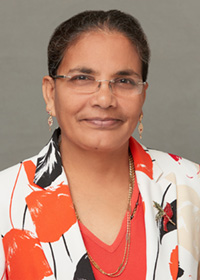 About Annapoorna Mary
Dr. Mary received a Doctor of Philosophy in Nursing from University of Tennessee (2004-2007), a Master of Science in Nursing from Sri Ramachandra Medical College & Research Institute (2000-2002), a Bachelor of Science in Nursing from Madras Medical College (1997-1999) and a Diploma in General Nursing & Certification in Midwiferey from St. Ann's School of Nursing (1980-1984).
She specializes in Medical Surgical Nursing and Critical Care, as a sub clinical specialty. Dr. Mary teaches Evidence Based Practice (BSN and RN-to-BSN programs), Advanced Nursing Research (MSN program), Clinical Pathophysiology and Intro to Professional Nursing. Her online teaching courses include Advanced Nursing Research and Evidence Based Practice (MSN and RN-to-BSN programs).
Dr. Mary's service to Loewenberg College of Nursing includes Co-Chair of the Students Affairs Committee, Undergraduate Curriculum Committee Member, Graduate Council Member, Nurse Research Council Member for Baptist Memorial Health Care, Research consultant for BMH-Collierville DTI Study, BMH Institutional Review Board Member, University of Memphis IRB Member, Progression committee member, Admission committee member, International Board of Examiner for PhD Thesis: Universities in India.
Dr. Mary practices in Critical Care & Emergency Room & MRT. Her research interests are Critical Care, Medical Surgical Nursing, Cardiac Nursing, and nursing education (Critical Thinking and clinical reasoning & EBP).