Jacqueline Bowen Buford, MSN, RN
Clinical Assistant Professor
Office
4542 Community Health Building
Office Hours
Contact for appointment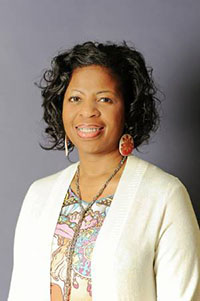 About Jacqueline Bowen Buford
Ms. Buford currently serves as a clinical instructor in the Loewenberg College of Nursing (LCON) where she teaches Adult Health Med-Surgical I. Her education includes a Master of Science in Nursing Education (MSN) from Walden University in Boston and a Bachelor of Science in Nursing (BSN) from LCON. She is currently enrolled in LCON's Nurse Practitioner Program.
Ms. Buford is a member of Sigma Theta Tau, the International Honor Society of Nursing. She is also active in the community. She and her family have adopted Ford Road Care Home as their community health mission. She is a member of the Health Ministries at Pilgrim Rest Baptist Church.
A registered nurse for the past 22 years, Ms. Buford worked in the fields of med-surgical nursing, home health, hospice and research in ambulatory surgery at University of Tennessee Health Science Center, where she currently works PRN status, acute care facilities, long-term care facilities and school health. Jacqueline has been married for the past eight years to Terry Buford. She and her husband thoroughly enjoy traveling abroad.