Kerri Wilson
Clinical Assistant Professor
Office
318 Hyde Hall, Lambuth Campus
Office Hours
Contact for appointment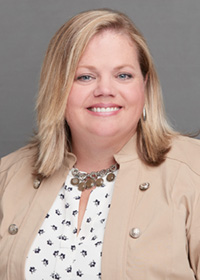 About Kerri Wilson
Kerri Wilson began her career in nursing in 1996 after graduating with a BSN degree from Union University in Jackson, TN. As a registered nurse, she spent several years working in critical care departments before beginning an 11-year career in the cardiac catheterization lab. In 2009 she began working in nursing education, teaching at a local community college in their ADN program, and later as a nursing education specialist for the cardiac and electrophysiology labs at Vanderbilt University Medical Center in Nashville, TN.
Professor Wilson joined the University of Memphis in 2018, where she has taught Intro to Professional Nursing and Common Adult Health Alterations. Her passion in nursing is education, adult health, especially cardiac nursing.
Professor Wilson earned her MSN degree from the University of Memphis in 2013. She holds a professional certification in nursing professional development from the American Nurses Credentialing Center(ANCC). She is a member of American Nursing Association (ANA), Tennessee Nursing Association (TNA), and Association for Nursing Professional Development (ANPD}.
During the summer months, she enjoys volunteering as a camp nurse at a local non-profit camp and retreat center. She is also an avid knitter and can often be seen working on new projects.