Nathan Knappier, MSN, RN, CNE
Director of Simulation/Clinical Associate Professor
Office
4548 Community Health Building
Office Hours
Contact for appointment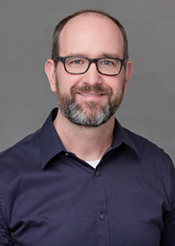 About Nathan Knappier
Nathan Knappier is a clinical associate professor and the director of Simulation at the Loewenberg College of Nursing. He provides leadership in the integration of simulation and technology across the undergraduate and graduate curriculums. He chairs the Loewenberg College of Nursing's technology committee.
Professor Knappier is a certified nurse educator (CNE). He received his Bachelor of Science in Nursing and Master of Science in Nursing Education from Union University. He received a Master's of Divinity from Harding School of Theology.
He has been teaching nursing students since 2009. The majority of Professor Knappier's nursing experience is in pediatrics. He is a member of the American Nurses Association, Tennessee Nurses Association, National League for Nurses, and Tennessee Simulation Alliance.
Professor Knappier is an avid indoorsman. He enjoys spending time with his family, travel, and listening to podcasts.