Paulette Palmer, DNP, RN, CNE
Clinical Assistant Professor
Office
3534 Community Health Building
Office Hours
Contact for appointment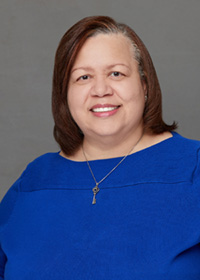 About Paulette Palmer
Dr. Paulette Palmer is a clinical assistant professor at Loewenberg College of Nursing. She received her Doctor of Nursing Practice (DNP) in the Adult Gerontology Acute Care Nurse Practitioner program at The University of Tennessee Health Science Center. She also completed graduate and undergraduate studies at The University of Memphis and Capella University. Her research interests include improving outcomes in adult critically ill patients requiring mechanical ventilation.
Dr. Palmer is a Certified Nurse Educator. She has over 40 years of practice experience with clinical expertise in leadership, staff development, acute/critical/emergency care, telemetry, hemodialysis, and skilled nursing. She is a faculty for the American Heart Association in the disciplines of Advanced Cardiac Life Support and Basic Life Support. She continues to practice at Regional One Health and assists in supervisory coverage for nursing and the hospital.
Dr. Palmer is a member of the American Nurses Association, Tennessee Nurses Association, American Association of Critical-Care Nurses, and Beta Theta at-Large Chapter (Counselor) of Sigma Theta Tau International Honor Society of Nursing. She serves on the Progression and Student Affairs committees for Loewenberg College of Nursing.
Dr. Palmer is a past recipient of The Daisy Faculty Award, a national program that recognizes the commitment and inspirational influence of nursing faculty on their students. She is also a recipient of the first Paulette Palmer-Robertson Service Award in recognition of her valuable contribution to The Ladies of Roses Mentoring Program. She is a life member in Alpha Kappa Alpha Sorority, Incorporated.
Dr. Palmer shares her time with her parents, siblings, son, and three grandchildren. Her hobbies include dancing, traveling, and watching sports.