Rebecca Adkins, APRN, BC
Clinical Associate Professor
Office
4556 Community Health Building
Office Hours
Contact for appointment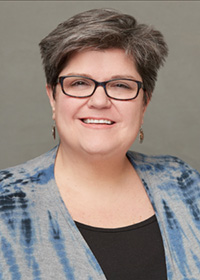 About Rebecca Adkins
Ms. Adkins currently teaches in the MSN program. Her primary teaching assignment is overseeing clinicals in the Family Nurse Practitioner track. Ms. Adkins is also developing the Advanced Nursing Skills course for FNP students. She has taught Gerontological Nursing to BSN students in the past and hopes to develop more geriatric content for the FNP students in the future. Ms. Adkins has been active in the Gerontological Advanced Practice Nurses Association and serves as treasurer of the local chapter. She is also a member of ANA, TNA, and the Greater Memphis Area Advanced Practice Nurses Association.
Ms. Adkins has been an Advanced Practice Nurse (APN) for 14 year and works primarily in long term care in the specialties of geriatrics and wound care. She has prior experience as a Registered Nurse (RN) in the ED and Home Health. Ms. Adkins' APN professional history includes experience in health and wellness, acute care, home health, burn and wound care, and general family practice. She obtained a Bachelor of Science in Nursing (BSN) from The University of Memphis and a Masters of Science in Nursing (MSN) from University of Tennessee Health Science Center, specializing in family health care. She also has an Associate's Degree in Nursing (ADN) from Shelby State Community College and a Bachelor's Degree in Education (BSed) from The University of Memphis.
Becky is a busy mom with one daughter, Rachel. They are both very active in the theater and independent film communities of Memphis and surrounding areas. Becky enjoys reading, writing, and traveling whenever possible.