Tracey Power, DNP, RN, CCRN, CPN
Clinical Assistant Professor
Office
4509 Community Health Building
Office Hours
Contact for appointment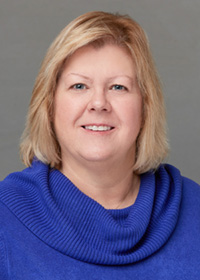 About Tracey Power
Tracey Power serves as an assistant clinical instructor in the Loewenberg College of Nursing family. She currently teaches Pediatric as well as Complex Health Alterations II (Critical Care) clinicals, Health Assessment Lab, and has experience teaching Adult Health Simulation.
Dr. Power has been a clinical nurse for 35 years in Memphis. She obtained her Diploma in Professional Nursing from St. Joseph Hospital School of Nursing in 1985; her BSN from The University of Memphis in 2008 as well as her MSN in Nursing Education with an emphasis in critical care nursing from The University of Memphis in 2011. She recently graduated with a DNP in Executive Leadership from Union University in Jackson, TN, 2019.
She is certified in Pediatric Nursing and Critical Care Nursing both Adult and Pediatric. Dr. Power received the Daisy Faculty Award for Exceptional Nursing Faculty in 2013 from Baptist College of Health Sciences.
Dr. Power is a member of the Association of Critical Care Nurses where she is an active volunteer for the national organization. She holds a lifetime membership in the Emergency Nurses Association. She is a member of the American Nurses Association, Tennessee Nurses Association, Sigma Theta Tau Beta-Theta Chapter, and Society of Pediatric Nurses.
Tracey has been married to the love of her life, Van, for 29 years and they have one son, who is a 2016 graduate of The University of Memphis Fogelman College of Business. They have one pet, Rebel, a Rat Terrier who is the Queen of their Castle. The Powers also are Beekeepers and own Power Honey (mostly as a hobby). Tracey loves to read, travel, and work in her vegetable and flower gardens.