Y'Esha Williams, PhD, RN
Clinical Associate Professor
Office
3566 Community Health Building
Office Hours
Contact for appointment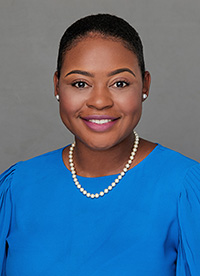 About Y'Esha Williams
Dr. Williams received her BA in Biology from the University of Mississippi (2008). She received her MSN (2012) and PhD in Nursing Research (2016) from the University of Tennessee Health Science Center. Dr. Williams has been an assistant professor at the Loewenberg College of Nursing since 2016. Before that, she worked as a Charge Nurse at Parkwood Behavioral Health Hospital.
Before becoming a nurse, she pursued her passion for teaching as a high school Biology and Anatomy and Physiology teacher. She was tasked with assisting her students to pass their State Examinations, encourage them to appreciate the value of a quality education and achieve life goals. She was able to help them understand that regardless of their socioeconomic status, there should not be monetary limitation placed upon their ambitions and educational advancements. From there her teaching philosophy was born.
Dr. Williams strongly believes, in order to be successful in the classroom, instructors should be aware of their personal biases and resolve them in order to be fair-minded and impartial to all students. She also believes that students have the right to a quality education and instructors are responsible for inspiring and motivating their students. Additionally, a learning environment should have high standards and positive student outcomes, and a diversified faculty, student body and curriculum is vital for the every changing patient and provider demographics. Teaching has been very rewarding to Dr. Williams because she is helping to mold future nurses all while watching as students mature from novice to competent caregivers.
At current, Dr. Williams is very engaged with research and her areas of interest include obesity, depression, and physical activity in African American mother-child dyads. Moreover, she is interested in contraceptive options in African American teenagers, and promoting healthy sexual behavior amongst all.
Dr. Williams is a member of Sigma Theta Tau International Honor Society of Nursing and the Southern Nursing Research Society.