The Psychological Services Center
Services | Fees For Services | Location and Hours | RRB Information

Department of Psychology
The University of Memphis
400 Innovation Drive
Memphis, TN 38152-6400
901.678.2147
Room 126, Psychology Building
At the Psychological Services Center, general outpatient psychotherapeutic and psychological assessment services are provided to the individuals and families of the greater Memphis metropolitan area. The Center's mission is threefold:
train future psychologists,

provide affordable help to those in need of psychological service, and

promote research to support the empirical bases of psychology practice.


Students in the Clinical and School Psychology Doctoral programs, as well as those in the specialist program in School Psychology, are the professional staff of the Center. Our training faculty, which includes our Psychology faculty and adjunct faculty chosen for their professional expertise, closely supervise the services provided by these advanced graduate students.
The direct result of this training is affordable psychological services for the citizens of Memphis and the surrounding communities. The Center is one of the only low-cost psychology clinics in the city. Every year hundreds of individuals and families who could not otherwise afford psychological assistance receive quality services at reduced fee.
Finally, the Center is dedicated to applied research. All clinical grants and research projects where clinical services are delivered use the Center as the service delivery setting. Thus, the Center's efforts are closely associated with the Psychology Department's focus on applied psychological research and the empirical-basis of psychology practice.
James P. Whelan, Ph.D.
Counseling Services
Adult Services
Individual counseling is provided for clients who are experiencing interpersonal difficulties at home or at work. Problems such as depression, anxiety, phobias, sleep disturbances, adjustment problems, and stress-related difficulties are commonly treated. The center also has a state-of-the-art program on the treatment of problem gambling. Additionally, marital/couples' therapy is provided for couples who are experiencing difficulties related to conflict resolution, spouse abuse, sexual dysfunctions, or other problems requiring joint intervention.
Child Services
Services are provided for children experiencing difficulties at school or at home. Services include individual counseling, consultation, and other interventions for use in the school and/or home. Center staff who specialize in dealing with childhood problems work closely with children, their parents or guardians, and school personnel in the management of the child's difficulties.
Family Services
Counseling is provided for problems requiring family interventions. Therapists trained in family therapy provide counseling for problems resulting from interpersonal conflicts, blended families' issues, and adjustment to divorce.
Health Psychology
Individual and group counseling is provided to aid clients in such activities as smoking cessation, weight loss, pain and headache management, adjustment to chronic illness and traumatic loss, and stress reduction. Therapists trained in medical psychology and cognitive-behavioral interventions work with individuals experiencing problems in such areas to promote a more healthy lifestyle.
Specialty Services
Psychoeducational Evaluation
Services include the evaluation of intelligence, achievement, personality, psychomotor, and other skills and abilities in children, adolescents, and adults. The staff work closely with school personnel in the evaluation of children suspected of being eligible for special education (e.g. children with learning disabilities, mental retardation, giftedness, attention deficit/hyperactivity disorder, behavioral disorders). In conjunction with The University of Memphis Office for Students with Disabilities, the Center provides evaluation and consultation for students experiencing academic problems in college.
Elimination Disorders
Screening and treatment are provided for children with problems of enuresis or encopresis. The emphasis of the program is on training parents to deal with the frustrations of soiling or bedwetting, and to implement behavioral treatment procedures for the child in the home.
---
For further information or to schedule an appointment to talk with one of our therapists, please call The Psychological Services Center at 901.678.2147.
Fees for Services
Fees for services at The Psychological Services Center are based on the total family income of the client. Students at University of Memphis who are enrolled at least part time are eligible for a special low fee. Additionally, University of Memphis faculty and staff receive a substantial discount for all services. Please contact the clinic at 901.678.2147 for more specific information.
---
For further information or to schedule an appointment to talk with one of our therapists, please call The Psychological Services Center at 901.678.2147.
Location and Service Hours

The Psychological Services Center is open from 9 a.m. to 8 p.m. Monday through Thursday and from 9 a.m. to 3:30 p.m. on Friday. The Clinic generally remains open even when University classes are not in session. Therapists are on duty during operating hours to handle emergency situations.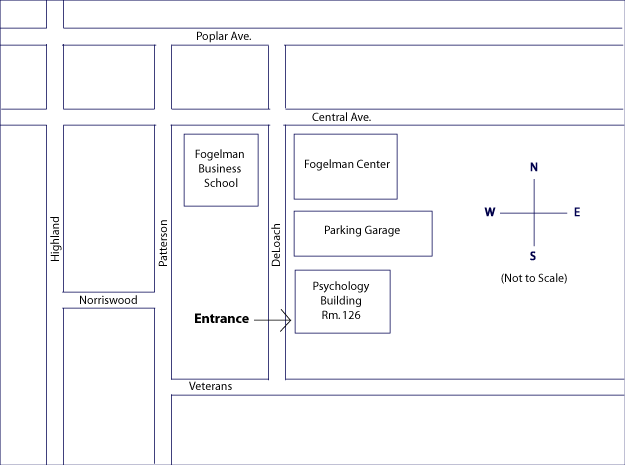 The Psychological Services Center is located on the first floor (Room 126) of the Psychology Building on the University of Memphis campus. This building is located at 400 Innovation Drive, one Block south of Central Avenue. Parking is available at the parking garage on Innovation Drive, located directly next to the Psychology Building or in the parking lot next to the Psychology Building off of Veterans Street.
RRB Information