By Sara Hoover

A typical English professor's office usually consists of piles of books, papers and general clutter. In some ways, Dr. Reginald Martin's office is no different. Almost every square inch of his walls is adorned with awards, articles and degrees. Until recently, he also had file cabinets filled to the brim with meticulously kept letters and manuscripts.

Martin, professor of English and coordinator of African-American Literature in the College of Arts & Sciences, donated more than 15,000 items to the Memphis Public Library. Entries include works from Martin, Ernest Gaines and Ishmael Reed. Digital media that contains recorded interviews and writer presentations were also donated.

The Dr. Reginald Martin African-American Literature & Writing Collection is housed in the history department at the Benjamin L. Hooks Central Library.

"The reason I gave it to the public library and not the 10 other private, rich universities that were asking me for it was that these universities had limited access. Whereas, since I'm a product of public schools, I want the public library to have it so that anybody of whatever age can come in from the community and use the materials."

Martin, who has authored and edited eight books, recognizes the value of manuscripts in different stages and writer's biographies as a way to fully understand someone's work or a literary movement.

"Most of the archive existed before there was e-mail. So you had real letters between me and Germaine Greer or me and Ishmael Reed. A bunch of famous or nearfamous people going back and forth about how literature should be taught in the South, how African-American literature should be promoted. I think that would be the key thing for any researcher who was trying to understand the period between '79 and '89 - a real pivotal period for codifying what African-American literature study is going to be. As I read more and more biographies and life studies of a writer, I began to see how important that stuff was."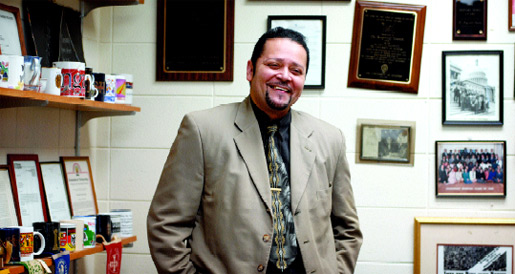 Martin donated more than 15,000 manuscripts, letters and other items to the Hooks Library. (Photo by Lindsey Lissau)
The collection comprises 35 years worth of saving that began when Martin was 17.
"I wrote to this famous writer, Anne Sexton, a big Pulitzer-prize winner in poetry, and she wrote me back to my amazement. This really got me excited and helped me out later because when I went off to college I became Sexton's research assistant. I thought, 'I should save this letter.' I started thinking if I ever really do anything with my career, maybe I'll get a lot of things like this and somebody can use them for research."
The donation is Martin's way of giving back to the community, something instilled in him by a grandparent.
"My grandfather was convinced I would never get a job and he made me promise if I ever actually did, I would do something to help the community. So, when I started saving all these articles and doing these interviews and making these audio tapes back in the '70s, it was kind of to keep my promise to him."
Martin, a U of M alumnus (MA '79), did achieve his grandfather's dreams of employment and broke a record by being the youngest full professor in U of M history.
The donation is also a way for Martin to come full circle with the library. The Memphis Public Library originally denied African-Americans access, including Martin and author Richard Wright.
"They not only denied Richard Wright the ability to check out books. As best I can research, from 1925 to 1965, all citizens of Memphis paid something called a library tax. That included African-American citizens, but they couldn't go in. It's incredible, right? First, you couldn't go in. Then, you had a race-specific library in the '60s. Then, you had one library that was integrated, but you could only check out a certain number of books. I think the African-American limit was two."
Martin was "greatly honored" when the library named the collection after him. It opened in October 2008 and is appraised at $45,000 by Menza-Barron Appraisers of New York.
"I laugh more than anything. I remember '74. I remember saving these two scraps of paper."
Dr. Jerry W. Ward Jr., Dillard University distinguished scholar and professor of English and African world studies and past U of M Moss Chair of Excellence in English, believes the collection "is invaluable to anyone studying African-American Literature, Southern culture of the past 40 years, or studying how a manuscript changes in different editorial phases."
Martin hopes it will have several uses for students and researchers of literature and writing.
"For example, Callaloo, a famous African-American journal, is founded in New Orleans. I've got the letters between the two principals on why they broke up and how the journal ended up at Virginia. That stuff would be invaluable to somebody who wanted to understand Southern African-American arts at the time because that journal was very big — not only on literature — but on photography, graphic arts, song lyrics. That stuff would be invaluable because it coincides with the civil rights movement."
Martin also has a rejection letter from Toni Morrison.
"It's really famous that nobody's ever seen. I was working on a book called Erotique Noir in '90 and I wrote her and I said, 'Ms. Morrison I'm so and so and I was wondering if you could provide us with X. We could pay you X.' She took my letter and took a big, red, felt pen and she wrote on it, 'No, absolutely not under any circumstances I am writing anything.' That's important I think to be in the archive."
Because of his archivist experience, Martin has kept the collection alphabetized and catalogued by genre — a librarian's dream.
"I was the original research assistant for the Tulsa Center for Women's Studies with Germaine Greer. I was the archivist. It just really taught me a lot about archiving and how to keep certain things together. That's kind of what I did with the files in the African-American literature collection. If you pull 'black aesthetic,' there's going to be stuff on that folder that has sub-references. I think that will be helpful."
One area that remains to be catalogued is the digital media, but the library plans to do that within the next five years.
"African-American literature never really ever had its own program or its own archive in the South before. Now it has both."