For release: August 23, 2010


For press information, contact Gabrielle Maxey, 901/678-2843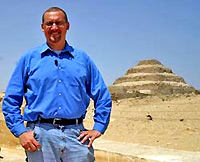 Dr. Peter Brand

University of Memphis history professor Dr. Peter Brand has received a $200,000 grant from the National Endowment for the Humanities (NEH) to continue efforts to publish hieroglyphic texts and pictorial wall carvings from the ancient Great Hypostyle Hall in the Temple of Karnak in Luxor, Egypt.

The Hypostyle Hall of Karnak Temple is second only to the pyramids at Giza as the most popular tourist attraction in Egypt. It is visited by millions of tourists every year, yet this impressive monument has never been adequately studied or published.

The Karnak Hypostyle Hall Project has been recording Egyptian inscriptions at the Temple of Karnak since 1992. "We will publish a series of books with descriptions, translations, and analyses of these texts and wall carvings along with photographs and technical drawings of all these inscriptions," said Brand, director of the project. "We will also expand our project website, http://history.memphis.edu/hypostyle, to include the same data presented in these books, in addition to hundreds of high resolution digital color photographs of the carvings and inscriptions. Users will be able to take a virtual tour of the Hypostyle Hall and find any of its hundreds of inscriptions for themselves."

Elaborate scenes and hieroglyphic inscriptions decorate the walls, columns, and roof of the temple. Religious themes prevail. To document the hieroglyphic texts and wall scenes from the ancient temple, Brand and his students often work on scaffolding 80 feet in the air.

"The grant Dr. Brand received will enable him to present his findings in a format that will make the scenes and texts from this important site accessible to the world for the first time," said Dr. Lorelei H. Corcoran, director of the U of M's Institute of Egyptian Art & Archaeology.

Brand, who joined the U of M in 2001, received his M.A. degree from then-Memphis State University in 1992 and his Ph.D. from the University of Toronto in 1998.