By: Heather Larsen-Price

Just a glimpse of the faces in the crowd at Grant Park during Barack Obama's acceptance speech on Nov. 4 was enough to communicate the historical significance of the 2008 presidential election. It is truly amazing to sit back and think about how far this nation has come.

It is evident that many Memphians are deeply moved by the significance of this election in light of the history of this city and its role in the Civil Rights Movement.

We have known that this election was going to be historic since March 4. On that day John McCain surpassed the number of delegates that he needed to claim the GOP nomination. Meanwhile, Hillary Rodham Clinton's primary campaign was revived by wins in Ohio and Texas. In this situation, Americans had three historic choices at their fingertips: the first female president, the first African-American president or the oldest president ever elected. These historic options inspired a lot of citizens. And, people are more likely to participate politically when they think that their votes will count —not just in terms of closeness, and the Democratic primary race was certainly close — but in terms of choices.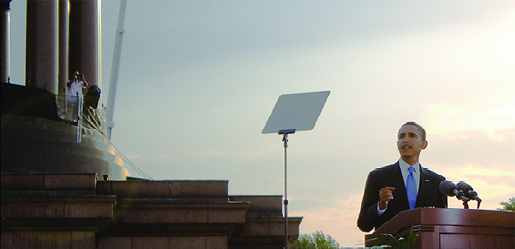 The recent election in which Obama was elected president is historical for
many reasons, a U of M professor says.
There is plenty of evidence that Americans were truly inspired by this presidential race, and I believe this evidence demonstrates that this election was historic in more than one respect. Voter registration rates went through the roof across the country in the first few months of 2008. Over 3.5 million new voters registered in the first three months of the year.This includes increases for important groups such as women, blacks and young people. To put this into perspective, nearly one in 65 adult Americans registered to vote in just the first three months of 2008. Things were certainly looking up for democracy and political participation in America!

Americans continued to be part of this process in record numbers when both parties held their conventions in late summer.The convention speeches of both John McCain and Barack Obama were watched by more than 38 million viewers, which set new records for convention viewership. To put convention viewership into perspective, the audiences for the Obama and McCain speeches were bigger than the audiences this year for the Academy Awards, the finale of "American Idol" and the Olympics opening ceremony in Beijing.

Voters once again proved they were interested in politics when Sarah Palin and Joe Biden faced off in the vice presidential debate in St. Louis on Oct. 2. The viewership for this debate, at 69.9 million viewers, tied for the second highest viewership in history for any debate. With registration rates on the rise and citizens seemingly so in tune to the 2008 presidential race, one nagging question remained as we rounded the corner toward Nov. 4: Were citizens still inspired and ready to go out and vote for their candidate?

The final voter turnout tally is not likely to be released until early December. But, the percentage of registered voters casting ballots this year is projected at 60.7 to 61.7 percent. American University's Center for the Study of the American Electorate reports that Americans did set a record for number of votes cast in this presidential election but failed to make history with the percentage of voter turnout. The percentage was not as high as expected, according to the Center, because Republicans stayed away from the polls. However, the turnout rate for 2008 is expected to be the same or one percentage point higher than it was in 2004.

So maybe we didn't quite reach historic voter turnout rates, but the American public was certainly engaged in the 2008 presidential election. Citizens were inspired by their options and remained interested in the election throughout the process. People were talking about the candidates and the issues, and that certainly makes for a healthier democracy. In the end, the outcome of Nov. 4— the election of Barack Obama as the nation's first black president — is certainly inspirational for Americans and the rest of the world.

Heather A. Larsen-Price has been with the U of M's Department of Political Science in the College of Arts and Sciences since 2006 after receiving her PhD from the University of Washington the same year. She was often quoted by local and national media about the recent presidential election. Her broad research interests include American political institutions, public policy processes, as well as decision-making and information processing.Her area of specialization is presidency studies. Larsen-Price teaches courses in American government, public policy and political methodology. Her research has been published in American Political Science Review.