For release: June 3, 2009


For press information, contact Gabrielle Maxey, 901/678-2843

The Ciba Foundation has donated $200,000 to establish the Ciba Foundation Scholars Fund in Chemistry at the University of Memphis. The gift will fund scholarships to attract, educate, and retain top undergraduate and graduate students in chemistry. The Foundation also made a $50,000 gift toward purchasing equipment that will directly support undergraduate chemistry research.

Based in Tarrytown, N.Y., the Ciba Foundation has been supporting science education for more than 25 years. The Foundation was established through Ciba Corp. to advance science education by forging partnerships among schools, business, and communities. Through the years it has supported programs and learning experiences that bridge the transition from school to career. Ciba Corp., now part of BASF, operates a water and paper treatment facility in West Memphis with a staff of 145 employees.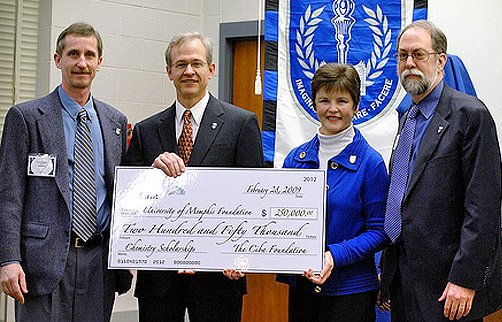 Jim Morse of Ciba (second from left) presents the U of M gift to Dr. Peter Bridson, associate professor and chair of the Department of Chemistry; U of M President Shirley Raines; and Dr. Henry Kurtz, dean of the College of Arts & Sciences.
"The Chemistry Department would like to thank the Ciba Foundation for its generous donation, and to recognize in particular one of our alumni, Jim Morse, manager of environmental health and safety at the Ciba plant in West Memphis, for initiating the donation," said Dr. Peter Bridson, associate professor and chair of Chemistry. "Part of the donation will be used immediately for the purchase of equipment to be used by students who are studying new materials being synthesized by several research groups in the department. The remaining funds will support scholarships for students studying chemistry. The faculty and students of the department are very grateful for this support."
The first scholarship will be awarded for the fall 2009 semester.
"We are extremely proud to support the outstanding work of the University of Memphis," said Ciba plant manager Debbie Dalley. "This grant demonstrates the longstanding and unwavering commitment on Ciba's part to enriching science education and supporting workforce development in our local communities by equipping young people with the skills they need to succeed."