For release: March 17, 2009


For press information, contact Holly Beuke, 901-678-1332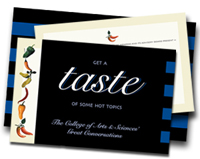 The dinner conversation will include such topics as today's stock market, how presidential agendas are influenced, and exploring Mars, when University of Memphis professors lead discussions of "hot topics" during the College of Arts & Sciences' Great Conversations dinner Thursday, April 16, at the University Holiday Inn, 3700 Central. The evening will begin with a wine and buffet supper at 5:30 p.m., followed by dessert, coffee, and lively conversation at 6:30.
During this eighth annual exchange of ideas, professors and distinguished graduates of the College of Arts & Sciences will lead discussions on more than 20 wide-ranging topics, including Memphis and the medical implant revolution, how to develop an idea into a bestselling book, Confucianism and Chinese culture, exotic orchids, earthquakes along the New Madrid Seismic Zone, climate change in Antarctica, and the state of healthcare today.
A full list of possible topics is available online at the Great Conversations Web site, cas.memphis.edu/conversations. The final list of topics presented that evening will depend on the number of people requesting reservations for each subject.
Reservations are required for the dinner. They may be made online (there is a link at cas.memphis.edu/conversations) or by email to Holly Beuke at habeuke@memphis.edu.
The deadline for making reservations is April 8.
The cost is $75 per person for the general public and $65 for members of the U of M Alumni Association and the University of Memphis Association of Retirees.