For release: October 19, 2009


For press information, contact Gabrielle Maxey, 901/678-2843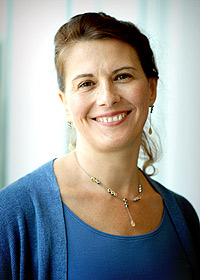 Dr. Danielle S. McNamara

The University of Memphis has appointed Dr. Danielle S. McNamara as director of the Institute for Intelligent Systems (IIS). She replaces Dr. Art Graesser and Dr. Stan Franklin, who led the Institute for 24 years. They will continue their teaching and research.



A professor of psychology at the U of M, McNamara has published more than 150 papers and brought in more than $8 million in project funding since she joined the U of M in 2002.

Her work involves the theoretical study of cognitive processes as well as the application of cognitive principles to educational practice. She serves as associate editor for three top journals in the field and has served on numerous society governing boards, funding agency review panels, and editorial boards. Her academic background includes a B.A. degree in linguistics from the University of Kansas, a master's degree in clinical psychology from Wichita State University, and a Ph.D. degree in cognitive psychology from the University of Colorado.

The IIS is an interdisciplinary enterprise comprising researchers and students from the fields of computer science, mathematics, cognitive psychology, physics, neuroscience, education, linguistics, English, philosophy, engineering, and business. The Tennessee Board of Regents recognized the success of the IIS with its prestigious Academic Excellence Award in 2007.

Under the leadership of Graesser and Franklin, IIS faculty have given thousands of conference and workshop presentations and garnered more than $40 million in external funding over the past two decades. More than 150 postdoctoral fellows, graduate students and undergraduate students have been trained and funded on these grants.