Student Leadership and Professional Competencies [SLPC]
A student engaged through Student Leadership and Involvement will be exposed to a variety of experiences that will enhance what they learn in the classroom. Below are the six competency clusters that University of Memphis students should aim to develop through their different experiences on, and off, campus.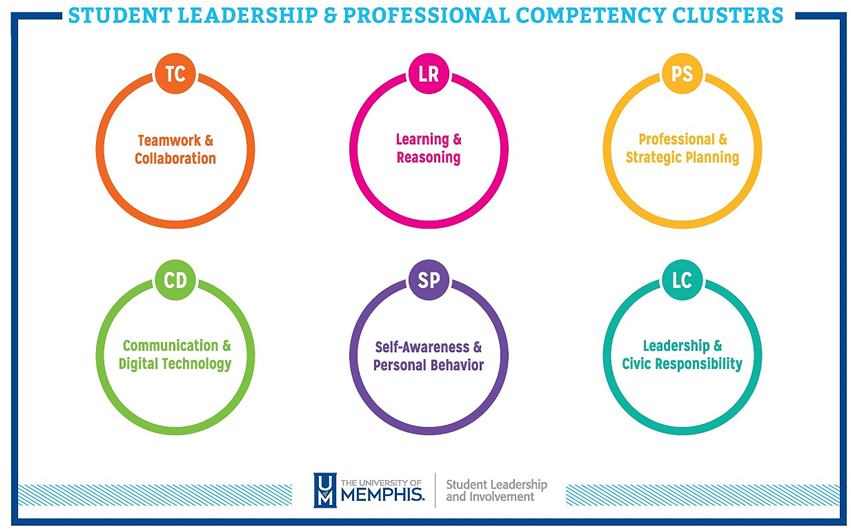 SLPC Conference
The Office of Student Leadership and Involvement and Career Services are proud to partner together to present the SLPC Conference "Virtual but Vital". The conference will take place the afternoon of Friday, November 6th, from 12:00-4:30pm, virtually. This conference will address the Student Leadership and Professional Competencies (SLPCs), and will feature high-level executives for major companies in the city. Students will hear from UofM staff, local community professionals, and community leaders, as they all discuss how these competencies impact student leaders and how they will translate to life after college.
Tracking Competency Growth
Students can track their development across the Student Leadership & Professional Competencies through reflections in the Experience feature of Tiger Zone. Tracking competency growth allows students to reflect on how their involvement experiences support their co-curricular learning and contribute to their post-collegiate professional life. Click the following link and follow the below steps to begin tracking your competencies!
Track your competency growth here!
Click "add experience."
Select the competency you wish to reflect on.
Complete the questions.
Click "save."