Finals 2022 Study Breaks
In an effort to support students during Finals 2022 a number of campus departments have planned events to provide a space to study, destress, and hang out. Learn more about the events below!
UofM Dining


Late Night Breakfast | Wednesday, April 27 | 9 - 11 PM
Tiger Den Eatery
---
R. Brad Martin Wellness Center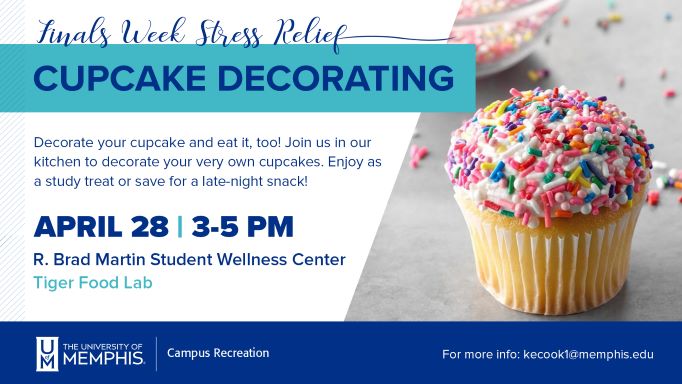 Cupcake Decorating | April 28 | 3-5PM
R. Brad Martin Student Wellness Center
Tiger Food Lab
Decorate your cupcake and eat it, too! Join us in our kitchen to deocrate your very own cupcakes. Enjoy as a study treat or save for a late night snack.
---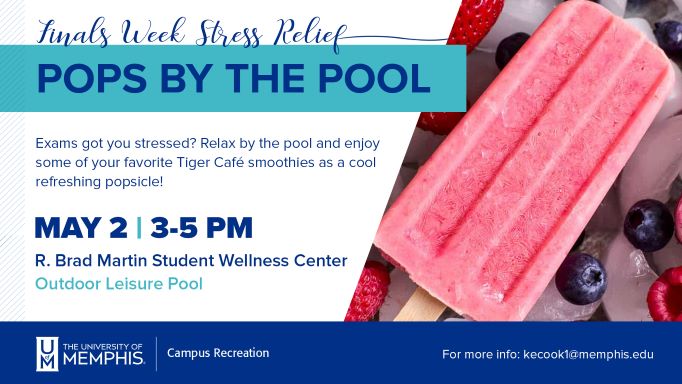 Pops by the Pool | May 2 | 3-5 PM
R. Brad Martin Student Wellness Center
Outdoor Leisure Pool
Exams got you stressed? Relax by the pool and enjoy some of your favorite Tiger Cafe smoothies as a cool refreshing popsicle!
---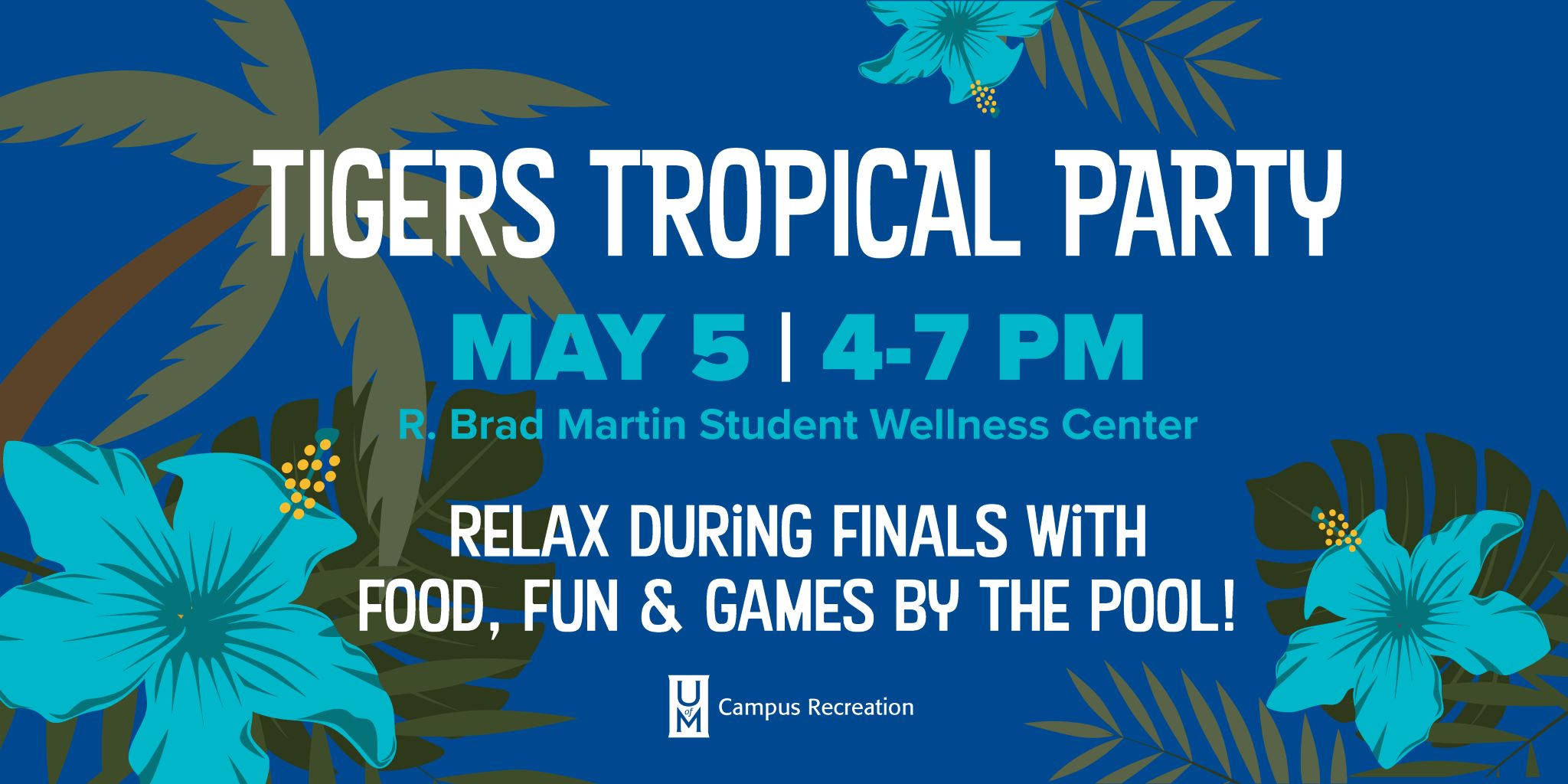 Tigers Tropical Party | May 5 | 4-7 PM
R. Brad Martin Student Wellness Center
Relax during finals with food, fun and games by the pool!
---
Student Health and Counseling Services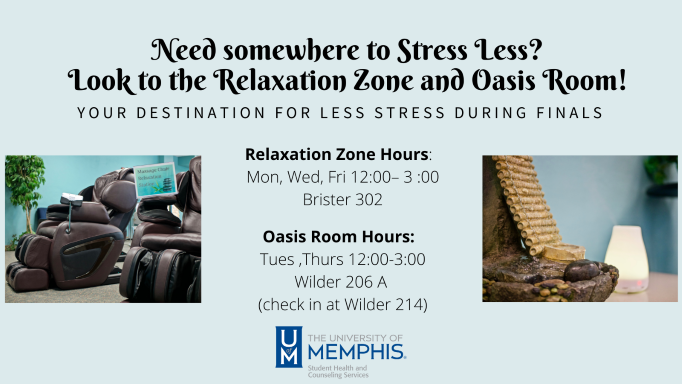 Need somewhere to stress less? Look to the relaxation zone and the Oasis Room! Your destination for less stress during finals.
Relaxation Zone Hours: Monday, Wednesday, Friday 12 - 3 PM, Brister 302
Oasis Room Hours: Tuesday, Thursday 12 - 3 PM, Wilder 206A (Check in at Wilder 214)
---
Ned McWherter Library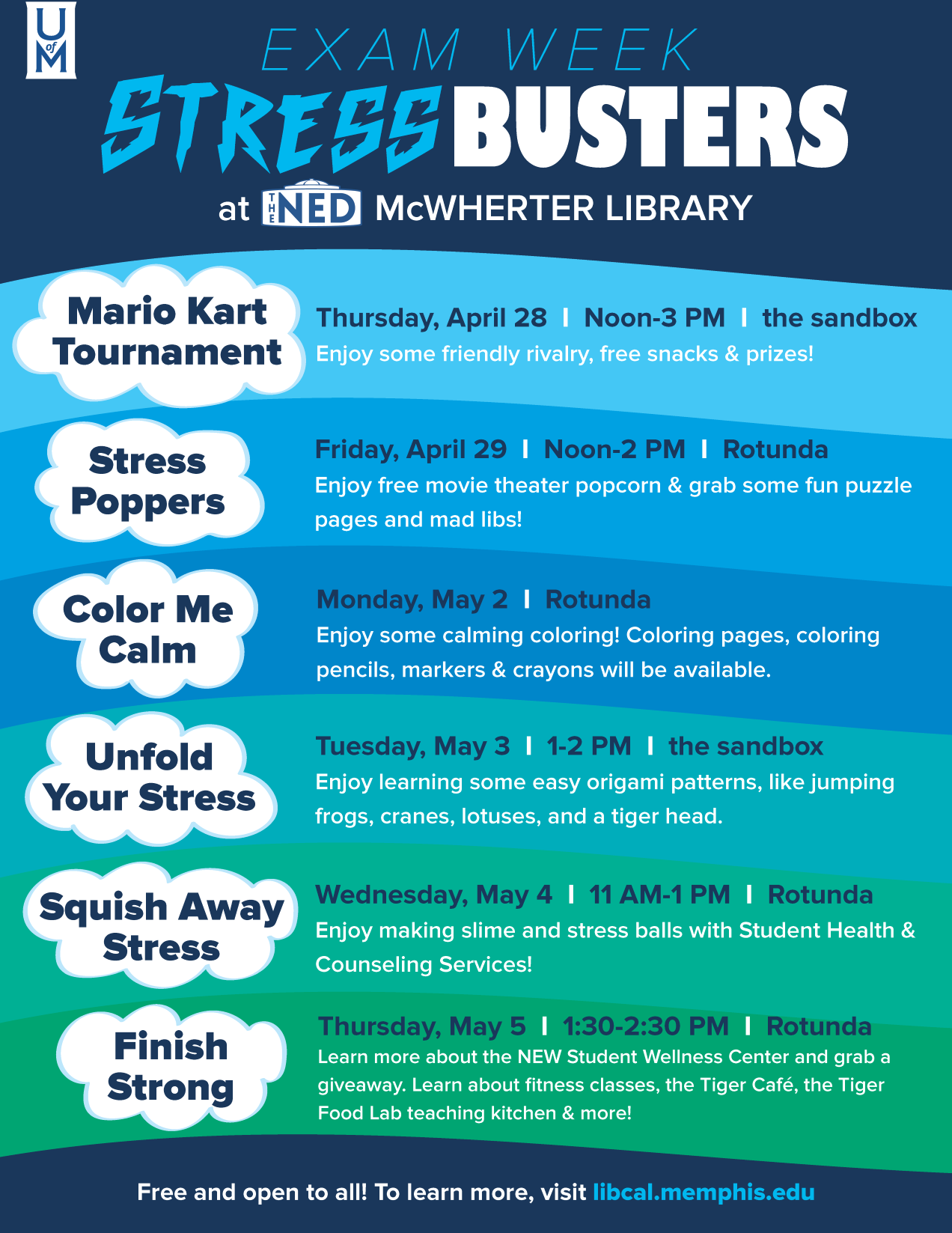 Mario Kart Tournament | Thursday April 28 | 12 - 3 PM
the sandbox
Stress Poppers | Friday, April 29 | 12 - 2 PM
Rotunda
Color Me Calm | Monday, May 2 | All Day
Rotunda
Unfold Your Stress | Tuesday, May 3 | 1 - 2 PM
the sandbox
Squish Away Stress | Wednesday, May 4 | 11 AM - 1 PM
Rotunda
Finish Strong | Thursday, May 5 | 1:30 - 2:30 PM
Rotunda
---
To add an event to this calendar please send graphic and information to mktyler@memphis.edu